Save Your Life from Various iOS/iPadOS/tvOS Issues
iPhone is disabled? iPad won't turn on? Apple TV boot loop? Stuck on spinning wheel or recovery mode? Don't panic. Fixcon can handle over 150 iOS/iPadOS/tvOS issues to get your device back to life.
Disabled Screen
Won't Charge
Stuck on Apple Logo
Won't Turn On
Boot Loop
White Screen
Black Screen
Frozen Screen
Restore Failure
Update Failure
Apple TV Issues
Other iPadOS/iOS Issues
Fix iOS/iPadOS/tvOS and Keep Your Data Intact
Differing from other solutions that may erase your device, the Standard Repair of Fixcon can fix common issues, like won't turn off, keep restarting, etc., without loss of data.

2 Repair Modes to Ensure Highest Ever Success Rate
Fixcon innovatively offers 2 powerful system repair modes for you to fix issues more efficiently. It makes every effort to ensure all the iOS/iPadOS/tvOS problems can be fixed with the highest success rate.
Standard Repair
Standard Repair mode will fix all the common issues for your iPhone/iPad/iPod Touch/Apple TV while keeping all data intact.
Advanced Repair
Advanced Repair enables you to fix more stubborn issues such as iPhone stuck in black/white screen, won't turn on, etc. It's easy to bring your dead device back to normal.
Not Just Repair, Fixcon Brings You More
Downgrade iOS/iPadOS without Jailbreak

Don't like the latest iOS or iPadOS? Fear not, Fixcon enables you to downgrade your iOS/iPadOS to any versions that Apple is still signing. No jailbreak required & no data loss.
Upgrade iOS/iPadOS at Ease

Having trouble updating your device? With Fixcon, you can upgrade your iOS or iPadOS to the latest version in just a couple of clicks without the risk of bricking your device.
Reset iDevice without Password

Forgot your iPhone passcode? Fixcon enables you to reset your disabled iPhone, iPad, iPod Touch to factory settings without password so that you can regain access to it.
1-click to Enter/Exit Recovery Mode

Failed to enter Recovery Mode after too many attempts? Or your device gets stuck in recovery mode? Fixcon gets you out of these troubles with one click.
3-Step to Fix iPhone/iPad/iPod Touch/Apple TV to Normal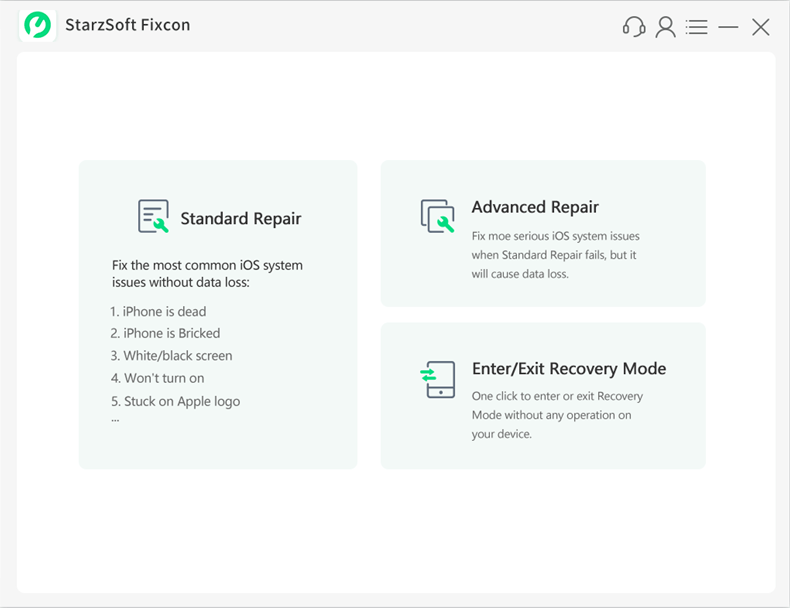 Step1.Choose a mode Step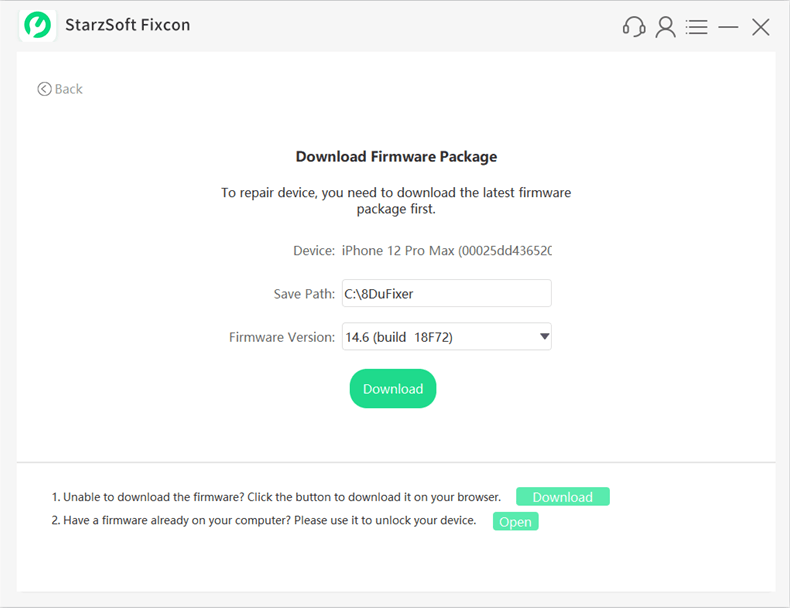 Step2.Download firmware Step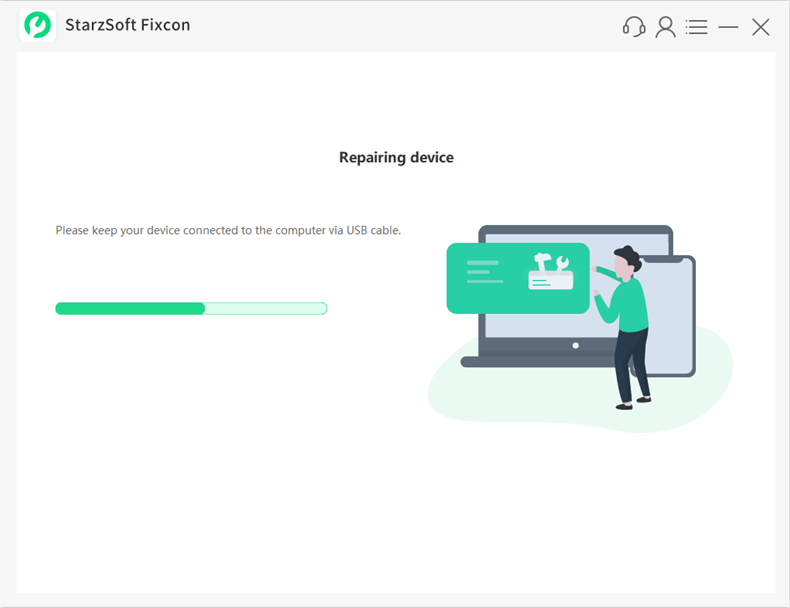 Step3.Step to repair
Don't Just Take Our Word for It
Go Get Starzsoft Fixcon
Fix System Issues and Revive Your Crashed iPhone/iPad/iPod Touch/Apple TV Now!
Free Updates
You will enjoy the free updates forever after the purchase.
Money-Back Guarantee
Get refund within 7 days under accepted circumstances
Secure
Your personal info will always be 100% protected.
24/7 Customer Service
Our 24/7/365 customer service is there for you all the time.
More About StarzSoft Fixcon
FAQs

What's the difference between Standard Repair and Deep Repair?
Standard Repair mainly focuses on fixing stuck issues, such as stuck on white/black screen, stuck on Apple logo, etc. It won't cause data loss, this is why we recommend you try this mode first.If the issues cannot be fixed by Standard Repair, you can try Deep Repair which will easily repair your device and factory reset it. Please note that this mode will erase all your data.

What's the difference between Fixcon Repair and iTunes Restore?
iTunes Restore can be used to repair iDevices by resetting them to factory settings. But it comes with a low success rate, data loss, and more issues. StarzSoft Fixcon is specially developed to fix various iPhone/iPad/iPod Touch/Apple TV issues. It has three repair modes with a higher success rate and will never cause problems after using it. Although our software needs to use firmware, it works totally differently from iTunes. That's why Fixcon can fix the issues that iTunes can't.

What can I do with the free trial version?
StarzSoft Fixcon provides you with 2 free features: one-click to Enter or Exit Recovery Mode without operating your device. This can be used to fix some simple bugs. As for using Standard Repair and Advanced Repair, you'll have to activate the full version.
Hot Guides