As PDF is such a well-suited format for presenting written information, it has become the preferred format for many types of reading resources.
Although PDF is widely used to read ebooks, ePub is preferred because of its adaptability in terms of page count, font size, and so on. PDF to ePub conversion makes it possible to enjoy a high-quality reading experience on ebook devices like the Kindle and the Kobo.
No special coding techniques or methods are required for this. Using specialized converting tools is the quickest and easiest option.
Whether you're using a Mac, PC, iOS, or Android device, you should be able to find a suitable PDF to ePub converter in this article.
iLovePDF
iLovePDF is a comprehensive document management solution that helps businesses streamline their processes and increase efficiency. It provides a centralized platform for team members to manage, organize, optimize, and edit PDF documents quickly and easily.
With features such as merging, splitting, compressing, rotating, and annotating documents; converting documents in multiple file formats; and creating document groups with business logos and signatures; iLovePDF is a great choice for any organization looking to digitize their files.
Organization and Optimization
iLovePDF makes it easier for staff members to organize their PDFs with its drag-and-drop interface.
It allows users to process multiple files at the same time from within the unified platform. Additionally, users can edit PDFs by merging them into one file or splitting them into separate pages.
They can also compress large files to reduce size without sacrificing quality in order to save storage space. Other optimization tools include rotating the orientation of pages as well as adding annotations when needed.
Conversion and Translation
The conversion feature in iLovePDF is highly useful because it lets users convert documents into multiple formats such as Word, Excel, PowerPoint, and JPG.
This enables teams to share or exchange information in different file formats without any hassle. Additionally, users can translate documents into a variety of languages as well, which makes international collaboration seamless.
Creating Document Groups and Signatures
When working on confidential documents or sensitive information that needs extra security measures, iLovePDF allows teams to create document groups with specific watermarks or unique signatures that can be applied automatically upon opening the document group.
This ensures full protection of important data while allowing authorized personnel to access only what they need for their tasks at hand.
Overall, iLovePDF provides an extensive suite of tools that enable businesses to manage their digital assets more efficiently than ever before.
Although it does not have a PDF-to-EPUB converter feature yet, it offers other converters that help teams save time and resources when dealing with multiple file types on a daily basis.
While there are many other options out there for similar tasks, including PDFWIZ, which is great for converting PDFs into EPUBs specifically – iLovePDF stands out from the competition due to its range of features designed specifically for managing digital documents on an all-in-one platform.
DoPDF
doPDF is a free-to-use program developed by Softland that allows you to create PDFs from any document or image file.
As a result, it can be used for various tasks such as converting documents into PDFs, printing them, sharing them with others, etc. This section will explore the features of doPDF and how it stands up against other PDF utilities on the market.
PDF Conversion
One of the main features of doPDF is its ability to turn almost any document format into a printable PDF format.
This includes Word/DOC/DOCX, HTML, Excel, PowerPoint, and other file types. It also allows users to save the final PDF in different sizes, such as A4 or A5. Furthermore, graphics within the document can be made bigger or smaller if needed.
The best part about doPDF lies in its installation process, which makes it very easy to access from within Microsoft Word itself. Additionally, it uses very few computer resources so that your work isn't disrupted by this tool's performance demands on your computer system.
Comparison with Other Tools
When compared with other tools on the market that offer similar features, such as Adobe Acrobat Pro DC or Nitro Pro 12 (two popular alternatives), doPDF offers just ordinary value at a fraction of the cost – since it's completely free.
Therefore if you are looking for an all-in-one solution for creating, editing, and converting documents into PDF files, then doPDF shouldn't be at the top of your list.
However, if you are looking specifically for a tool to convert PDF documents into EPUB files, then doPDF wouldn't be suitable as it does not have this feature included in its package – although there are many third-party add-ons available online that could add this functionality.
For example, PDFWIZ is a great option for those who need their documents converted from PDF to EPUB quickly and easily without any hassle.
It supports batch conversion processes so multiple files can be converted simultaneously; it also provides excellent security measures during conversions due to its 256-bit encryption protocols; and finally, it's incredibly easy to use with just three simple steps needed for successful conversion processes.
PDFWIZ – The Best PDF to EPUB Converter
If you're looking for an effortless way to seamlessly convert your PDF files into other formats, then PDFWIZ is the perfect tool for you.
With a few easy steps and no prior technical experience, this innovative converter helps you switch any PDF file into HTML, JPG, DOCX, or TXT in just seconds.
All you need to do is select your desired file, drag and drop it into the converter window, and then watch as it quickly converts with professional precision.
Here is how to convert PDF to EPUB using PDFWIZ:
Step1 Download and launch PDF WIZ on your computer. Click on the "PDF to EPUB" option on the first screen.
Step2 On the next screen, add the PDF file to the conversion box by either dragging and dropping the file or selecting it from your computer. You can convert multiple PDF files at once.
Step3 After adding the PDF file, select the pages you want to convert, choose a destination folder, and click "CONVERT NOW" to start the conversion process.
Step4 Once the conversion is complete,, and the status bar reaches 100%, you can either open the newly converted EPUB file or navigate to the destination folder to find the file.
Advantages of Using PDFWIZ
1 Increased productivity – With PDF WIZ, users can easily convert between different file formats and edit PDF files with ease, thus boosting productivity.
2 No file size limit – With no file size limit, users can convert and edit large documents without any restrictions.
3 No privacy risks – Users can be assured that their data is kept safe and secure from any potential breaches or hacks.
4 Multiple document conversion – Users can convert one or multiple documents into different formats such as Word, Excel, PowerPoint, images, HTML, EPUB, and XPS with exact saving formats as preferred.
5 Split, Merge, and Compress – PDF WIZ also offers features for document splitting and merging, as well as compressing files for easier storage or sharing on the web.
6 Page and Image Extraction – Extract pages or images from documents quickly and easily with the help of PDF WIZ's extraction feature.
7 Password Management – Securely manage passwords with encryption to protect sensitive data and documents while allowing access to authorized users only.
FAQs
How do I convert a PDF to EPUB?
To convert a PDF to EPUB, you can use a dedicated tool like PDF WIZ. Simply download and launch PDF WIZ, then click on the "PDF to EPUB" option. Add the PDF file you want to convert, select the pages you want to convert, choose a destination folder, and click "CONVERT NOW" to start the conversion process.
Can I convert PDF to EPUB for free?
Yes, you can convert PDF to EPUB for free. PDF WIZ offers a free trial version, which you can use to convert PDF to EPUB. However, there may be limitations on the number of pages you can convert or other features available in the full version.
Which is the best PDF-to-EPUB converter?
PDF WIZ is a reliable and efficient tool for converting PDF to EPUB. It offers a simple and intuitive interface, fast conversion speeds, and various customization options. Overall, it is a great choice for anyone looking for a high-quality PDF to EPUB-converter.
Conclusion
Converting PDF to EPUB is a convenient way to make your PDF documents more accessible and readable on different devices. PDF WIZ is a top-notch tool for this purpose, offering fast, accurate, and customizable conversions.
Whether you are looking to convert a single PDF or multiple files, PDF WIZ has got you covered with its intuitive interface and various customization options.
With its fast conversion speeds, high-quality output, and affordable pricing, PDF WIZ is definitely worth considering if you are looking for a reliable and efficient PDF-to-EPUB converter.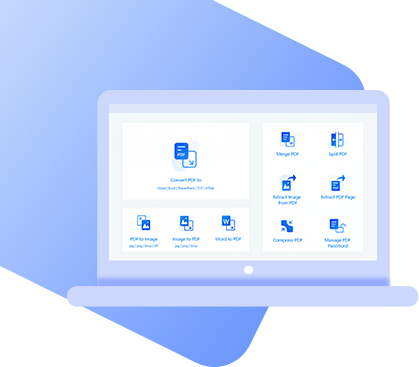 An all-in-on PDF toolkit that boosts productivity.
Converts to and from PDF and edit PDF as you want.
No file size limit. No privacy risks.

Free Trial
100% Clean & Safe