The Apple pencil is a nice tool to use because it's precise, possesses tilt sensitivity, has palm rejection ability and lots more. So, what could make a handy tool like this stop working? And how do we fix the Apple pencil not working issue? This article would give answers to these questions.
Tips to Try Before You Start Fixing Apple Pencil Not Working

Before you start fixing the problem of Apple pencil 2 not working, try these tips:
1. Check If Your Apple Pencil Model Works with Your iPad
Apple pencils are Apple-designed styluses specific for iPads. They are meant to work like traditional pencils, except they are used on iPads and not paper.
The two versions of Apple pencils available are the: Apple Pencil 1(released in 2015) and Apple Pencil 2(released in 2018). These are a list of iPads that each version is compatible with:
Apple Pencil 1:
iPad (9th generation)
iPad Pro 12.9-inch (2nd generation)
iPad Pro 12.9-inch (1st generation)
iPad Pro 10.5-inch iPad Pro 9.7-inch
iPad Air (3rd generation)
iPad (8th generation)
iPad (7th generation)
iPad (6th generation)
iPad mini (5th generation)
Apple Pencil 2:
iPad mini (6th generation)
iPad Pro 12.9-inch (5th generation)
iPad Pro 12.9-inch (4th generation)
iPad Pro 12.9-inch (3rd generation)
iPad Pro 11-inch (3rd generation)
iPad Pro 11-inch (2nd generation)
iPad Pro 11-inch (1st generation)
iPad Air (4th generation)
So check for your iPad model and it's compatibility with Apple Pencil.
2. Check If Your Apple Pencil Needs Charging
Before you declare your Apple Pen as having issues, check if it needs charging.
To check if your Apple Pencil 1 is charging, on your iPad plug your Apple Pencil into the lightning connector. This Apple Pencil comes with a charging adapter, so you can charge it with a USB power adapter.
To check if your Apple Pencil 2 is charging, turn on your Bluetooth then attach your Apple Pencil to the magnetic connector on the longer side of your iPad, you would see a charge status appear on your screen.
3. Check If There are Pencil Tip Problems
If you think, something is wrong with your Apple Pencil, then you could check the tip for any problems. If you run your fingers along the tip of your Pencil and it feels rough, and the plastic is worn down. Then something is wrong with your pen.
Now, if one of those tips shows there is a problem with your Apple Pencil, then the following suggestions are for you.
How to Fix the Issue of Apple Pencil Not Working
To fix the issue of my Apple pencil is not working, try these suggestions:
1. Restart Your iPad Then Try to Pair Again
Your iPad might be the reason your Apple pencil connected but not working. If your Pencil is fully charged and you still encounter problems, then a restart of your device will help. Simply, hold down the power button on your iPad, and swipe the slider that appears on your screen.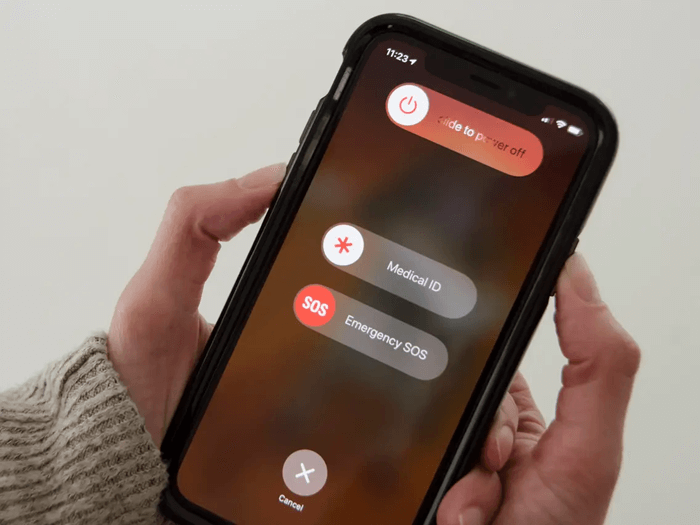 2. Turn Off and Then Turn On Bluetooth
Your iPad and Pencil may not work so well if your Bluetooth connection is turned off. So to check for Bluetooth, do this:
1. Turn on your iPad and enable Bluetooth in Settings.
2. Next to the Apple settings you will see an information icon, tap on that.
3. On the next screen you see, tap Forget device.
4. A confirmation screen pops up, confirm that you want to Forget the device.
5. Place your Apple Pencil 1 into the lightning part of the iPad. For Apple Pencil 2 place your Pencil magnetically beside your iPad.
6. At this point a Bluetooth pairing request might appear, select Pair or the Pencil would pair automatically if it has paired before.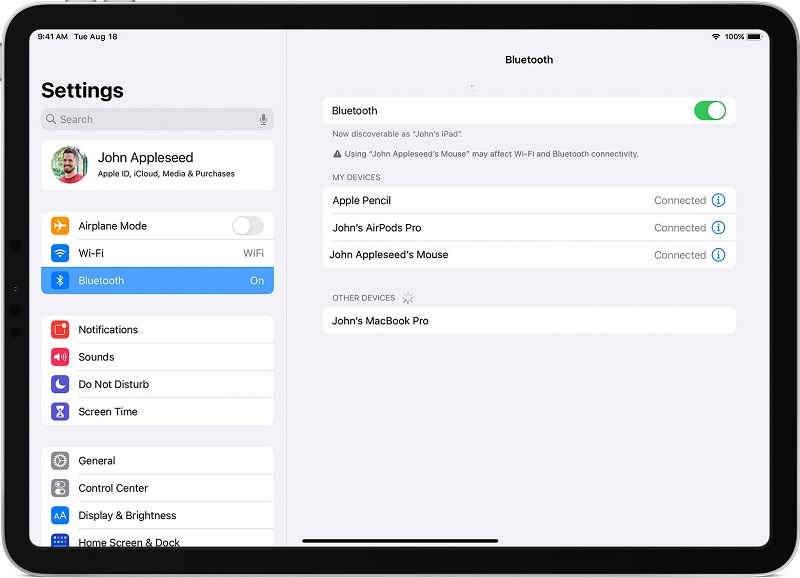 3. Forget Your Apple Pencil, Then Try to Pair Again
Forgetting your Apple Pencil enables you to reset connection and your Pencil pairs afresh.
So go to Settings >> tap Bluetooth >> Then tap the information button >> Finally, tap on Forget this device. Once it's done, you can repair your Pencil with your iPad.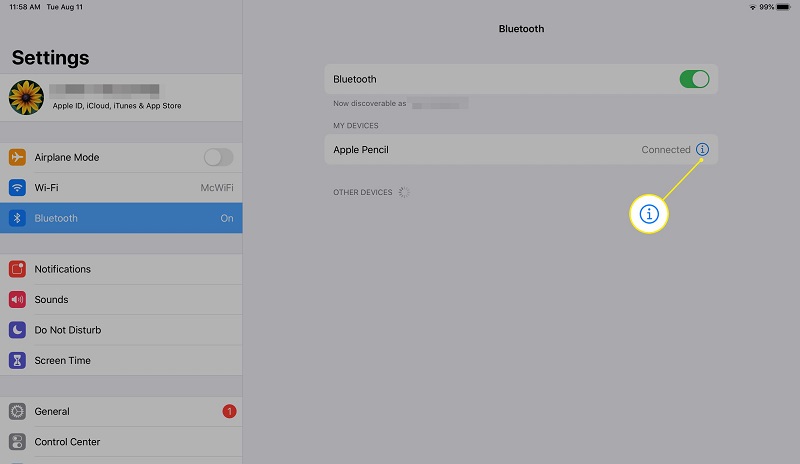 4. Check If It is the App That Does Not Support Apple Pencil
If your Apple pencil double tap not working on a particular app, it could be because the app does not support Apple Pencil or the app has crashed.
So you could close the app and reopen, if your Pencil is still not working then the app might be incompatible with your Pencil.
5. Contact Apple Support to Fix Apple Pencil Not Working But Connected
If you are still unable to fix the issue of Apple pencil 1st gen not working you would have to contact Apple support via email, phone call or online. Make sure to book an appointment.
So what happens if the problem is from your iPad not the Pencil, how do you fix it?
How to Fix iPad Not Working with Apple Pencil
As long as your device is compatible with an Apple pen, this solution would work for you. Sometimes there might be a bug or a software glitch that needs to be fixed so that both devices can work seamlessly.
We present to you, StarzSoft Fixcon. The software built to fix all Apple device problems no matter how simple or how complex. The great thing about this software is that it is not complex and it ensures you do not lose your data.
So, to fix an iPad that is not working with its Apple Pencil, we suggest the Standard Mode. Follow these steps:
1. Download and Launch the Fixcon Software on your laptop. Once that is done, select Standard Repair.

2. Using a USB cable, connect your iPad to your Personal computer. Fixcon will detect your iPad automatically and proceed to the next phase.
3. Download the Firmware package. Fixcon would give you options of suitable Firmware packages for your iPad, select your preferred package and install. Patiently wait for the download to complete.

4. As soon as the download is complete, click on "Continue" to commence system repair.
Once the repair is over, your iPad will restart. The issue would be fixed. You can use your Pencil on your iPad freely and your data would be intact.
Frequently Asked Questions
Q1: Why is my apple pencil not working?
Answer: Your Apple Pencil might suddenly stop working because it might need to be charged or the connection to your device might have to be redone.
Q2: How do I know if my Apple Pencil is broken?
Answer: If your Pencil tip or nib feels rough to touch or it doesn't glide smoothly and gently on your iPad Screen then it's broken. If it has an exposed metal, it's broken as well.
Q3: What is the lifespan of an Apple Pencil?
Answer: If your pencil battery is properly maintained and not kept aside for a long period of time it has No Defined Lifespan.
Conclusion
With your Apple Pencil, you can do anything, on your iPad. If you find the Apple pencil not working, you could restart your device, pair and unpair your Pencil or best yet, we highly recommend our one time fix for Apple devices – StarzSoft Fixcon.