Converting PDFs can be incredibly useful in different environments but before you can do this, you need a PDF converter. It won't be a surprise to find out that there are lots of tools that can help you do this and one of those is Wondershare PDF Converter. As a popular PDF tool we want to ensure users are informed so we're going to be reviewing and explaining the facts of this software.
Part 1. Wondershare PDF Converter Full Review
What actually is this software? In basic terms, Wondershare PDF Converter is a collection of PDF tools that, as the name obviously states, has a keen focus on conversions. That's not all you're able to do with the software:
Convert PDF to formats such as Word, Excel, EPUB, and images
Merge PDFs and create a new PDF with all the pages together
Selectively convert file pages to avoid converting entire large PDFs
Unlocks password encrypted PDF files using a conversion method
A minimal and simplistic user interface that makes the software very easy to use
OCR scanning turns images into text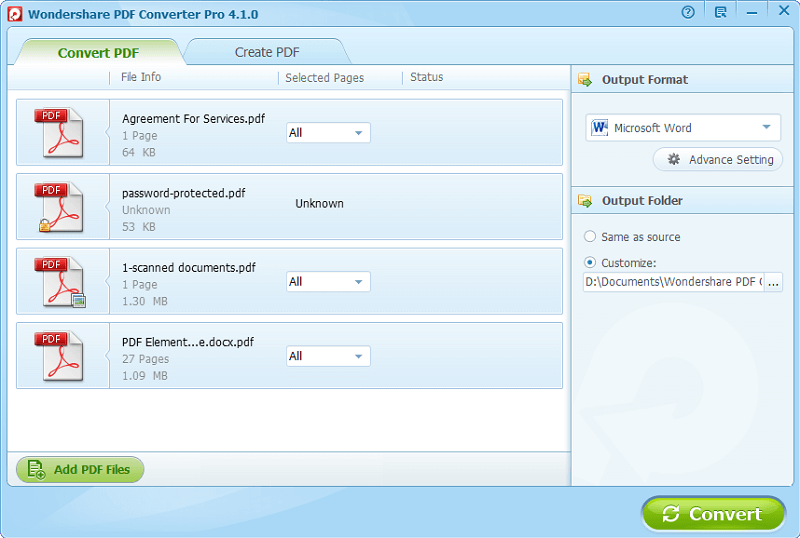 Users have the opportunity to give these features a shot themselves without paying by downloading the free trial. Unsurprisingly though, the free trial doesn't paint the full picture and a subscription (starting from $39.95) needs to be bought. This begs the question of how much better the Pro version is than the standard (free) version – we'll dive into this later.
1
Performance
Even if the features we've seen so far in this Wondershare PDF Converter review aren't the most impressive, performance isn't something which it lacks.
1. Conversion: File conversions rarely fail and the quality of the processed files is always high. So, in this area, the converter doesn't let us down and you can expect good results whatever the formats in question are.
2. Limits: Moving on to actually handling the files, things take a slight downturn. Without the Pro version, there are limits placed on how many files can be converted at once and the size of those files.
Does this stunt the effectiveness? Most of us only convert small PDF files and, on occasion, convert a few files at a time therefore it isn't a huge burden.
3. OCR: Back onto the topic of quality, this becomes questionable when the OCR is used. Basic files that contain text and only a small amount of formatting will always be successfully converted. Documents with images, too much colour, and extensive formatting, will be a struggle for PDF Converter and the quality is a gamble.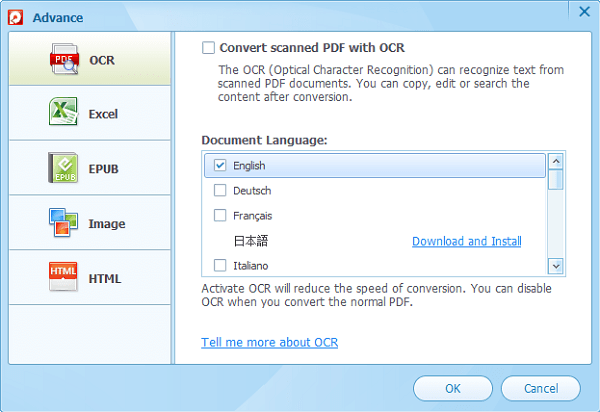 Let's not make that criticism the focal point of our performance review though because like before, the majority of documents we process are simple and OCR will be successful. As a positive, this software's OCR scanning is faster than other OCR tools!
2
Standard Version vs Pro Version
Bypassing the limits of the PDF Converter's free version will unleash a long list of new features. Comparing the standard and Pro versions will help you decide if paying for Wondershare PDF Converter Pro is genuinely worth it. Thus, when you buy Pro, here's what you unlock:
● Convert files (Word, HTML, images, etc) to PDF files
● Combine multiple PDFs so that they are only in one file
● Add PDF encryption to fully protect a PDFs contents
● Access OCR scanning to turn images into editable Word documents
Obviously if these features appeal to you then buying a Pro license is a possibility. However, we have doubts regarding the price of Wondershare PDF Converter Pro and what it unlocks.
3
"Is there a crack version?"
The simple answer is yes, there is a crack version for Wondershare PDF Converter just like there is with most software. It may be tempting to try the cracked version because it's free, but we highly recommend against this.
You should never consider using cracked software for two reasons. The first reason is that it's illegal and if you're caught downloading the crack there could be legal repercussions. The second reason is that cracks are known to be coded with malware in them – if you install a false crack then a virus could install, and your personal data may be at risk.
Part 2. Best Free Alternative to Wondershare PDF Converter
Perhaps this Wondershare PDF Converter review wasn't persuasive and an alternative to the software is what you have in mind. If so, PDF WIZ is exactly what you'll want by your side and it'll provide you with various PDF management abilities that all office workers need.
| | | | |
| --- | --- | --- | --- |
|   | PDF WIZ | Wondershare PDF Converter | Wondershare PDF Converter Pro |
| Price | Free | Free | $39.95/1 year |
| PDF to Word/Excel/PPT/Image | | | |
| Word/Excel/PPT/Image to PDF | | | |
| Merge PDF | | | |
| Extract Image from PDF | | | |
| Extract PDF Page | | | |
| Split PDF | | | |
| Compress PDF | | | |
| Encrypt PDF | | | |
| Supports OCR | | | |
Converting is a key ability of PDF WIZ. Users can take a PDF document and convert it to Word, Excel, PowerPoint, HTML, and even a basic text file. There's also an image converter – working both ways, you can convert images to PDF or a PDF to images. Given that PDF files can't easily be edited, using one of the many conversion options is the much simpler option. Converting isn't the only notable features from PDF WIZ: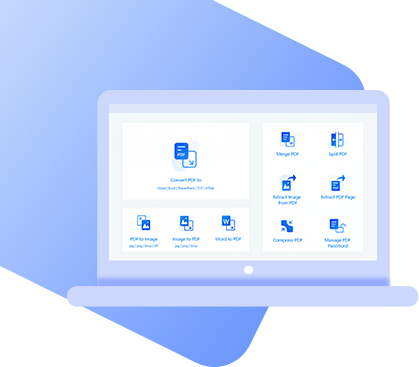 Separate a PDF document and store it as multiple files
Compress PDF files so that their file sizes are significantly smaller
Bring multiple PDF files together and save them as one file
Add or remove password protection on a PDF document without expertise
PDFs are handled locally, securely, and aren't sent anywhere after being processed
Everything is free to use for all users (no paywall!)
There are a whole bundle of reasons to start using PDF WIZ. As an office worker it can be handy to quickly convert PDFs to one of several formats, and perhaps even add a password to a document before sending it.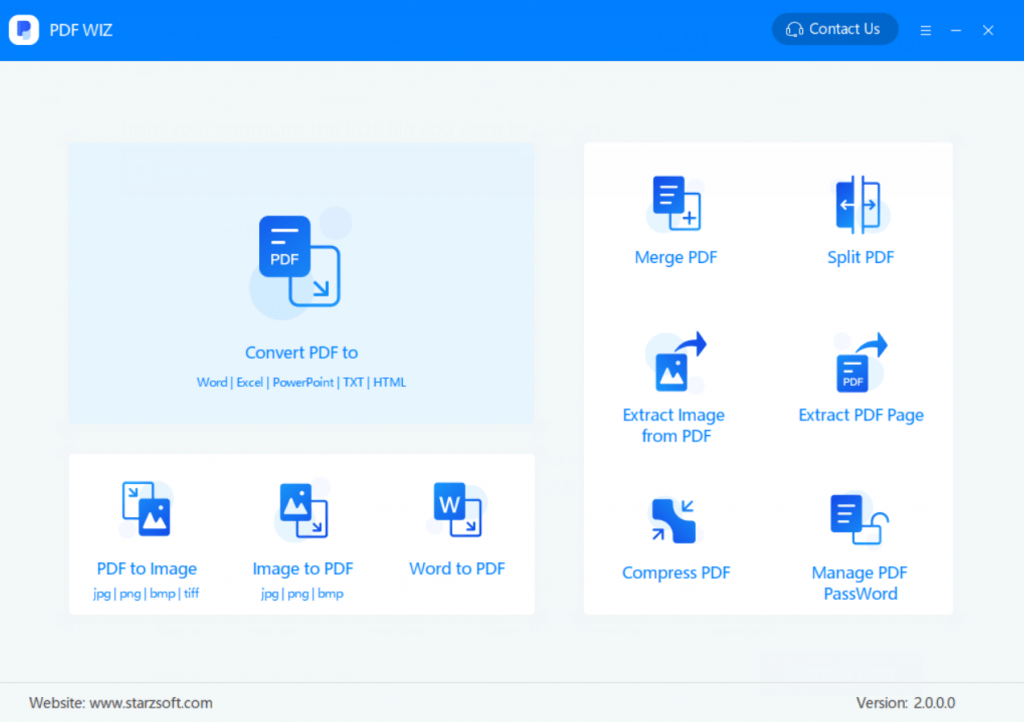 Moreover, the fact that PDF WIZ is free gives it a huge advantage over Wondershare PDF Converter – whilst the latter offers a free trial, it's not a cheap program to use.
Conclusion
You've now got a decision: either use Wondershare PDF Converter which has a couple of significant negatives or use PDF WIZ which is completely free and is much more stable. Both of them are fantastic toolkits, don't get us wrong, and we've highlighted this fact in our review. That said, it's evident that PDF WIZ is on top.