Restoring or updating the iOS of an iDevice is one of those quick fixes that let you start afresh when Apple devices malfunction.
But have you ever tried to restore or update an iPad or iPhone with iTunes, and you just can't get past the annoying message: "The iPhone Could Not Be Restored. An Unknown Error Occurred (2003)"?
Yes, you guessed it, this is an error message code-named Error 2003. It is a very common error to users trying to leverage the power of the iTunes restore feature to get themselves out of a snug.
What is iTunes Error 2003?
The iTunes error 2003 can occur when you have a new IOS firmware update downloaded and you want to restore your device with the new iOS firmware using iTunes.
It may also occur when your device is stuck in recovery or DFU mode, or it could just be displaying the iTunes icon, and getting it back up with iTunes restore feature doesn't seem to cut it.
The reason this error occurs is because of connection problems between your Apple device and your computer caused by either software issues in your device, in your computer, corrupted iTunes components, or simply because of a faulty USB connection.
Quick Fixes to iTunes Error 2003
Whatever the case, do not lose your mind over this. It can be fixed easily, and there are multiple ways to do it.
Below are the methods that you can try to get past the iTunes error 2003 and successfully restore or update your Apple device..
Use StarzSoft Fixcon
The first and most likely culprit for this iTunes error is the software on your phone. But you don't have to contact Apple Support for a software issue that you can fix by yourself easily.
There are many utility tools to use out there that you can pick from, but I'd recommend StarzSoft Fixcon. It is a powerful, but an easy-to-use tool that I have been using for any iOS recovery tasks lately.
StarsSoft FixCon has a simple and user-friendly interface that you don't have to be a tech expert to fix an of your iOS errors including the iTunes error 2003.
You don't have to worry about losing your data when you are using StarzSoft FixCon because you can choose back up your data first to recover later.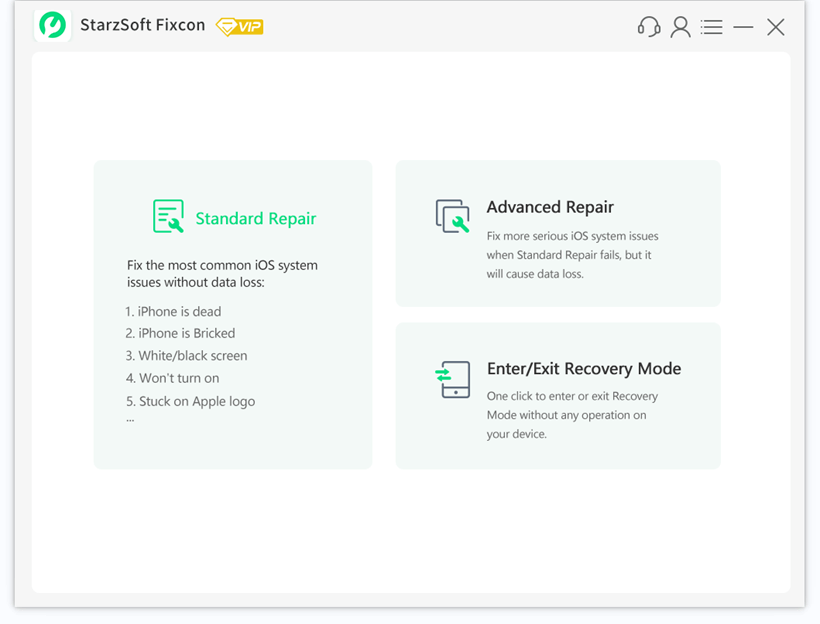 You can also choose fixes that leave your personal data intact.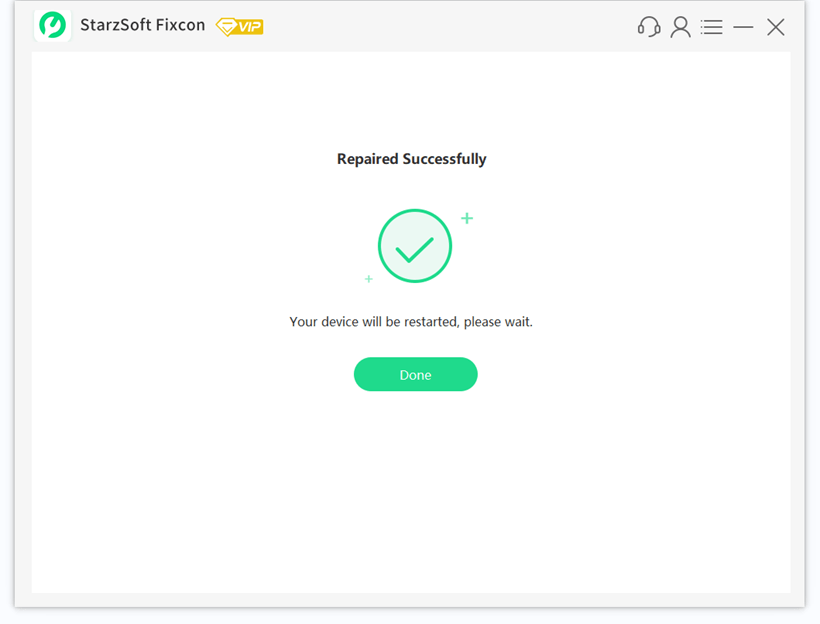 Whether you have an iPhone, iPad, iWatch, or an AppleTV, most of the time than never, this should be the fix for all your device software problems.
Update iTunes
Another possible fix can be to update your iTunes version. Sometimes iTunes files in your computer can get corrupted, making it hard for iTunes to communicate with your device.
Computer files can be corrupted by malware or viruses, causing what is called an iTunes component corruption error. The iTunes error 2003 is one of these component corruption errors.
You can get this fixed by simply navigating to Help in your iTunes menu bar and then selecting Check for Updates.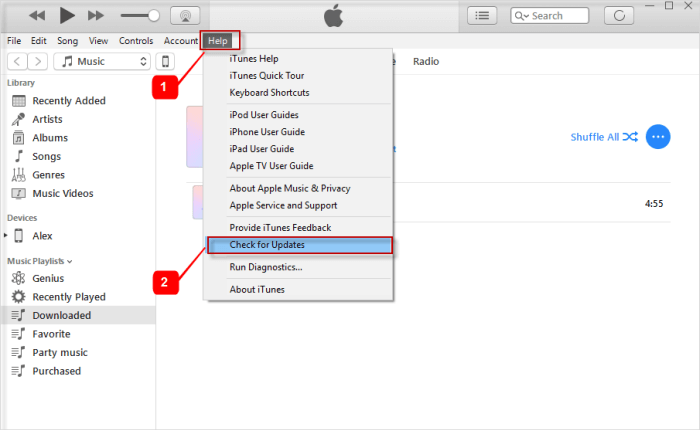 iTunes will search on Apple servers for an updated version and download it. After updating your iTunes, restart your computer and try to restore your Apple device again.
You should now be able to restore your device without hitting the iTunes error 2003.
Fix USB Connection
Another simple fix that you can try is to check the USB connection between your computer and your Apple device.
If the connection is compromised by either a faulty USB port, an unsuitable USB cable, or a loose USB connection, you are most likely to receive the iTunes error 2003.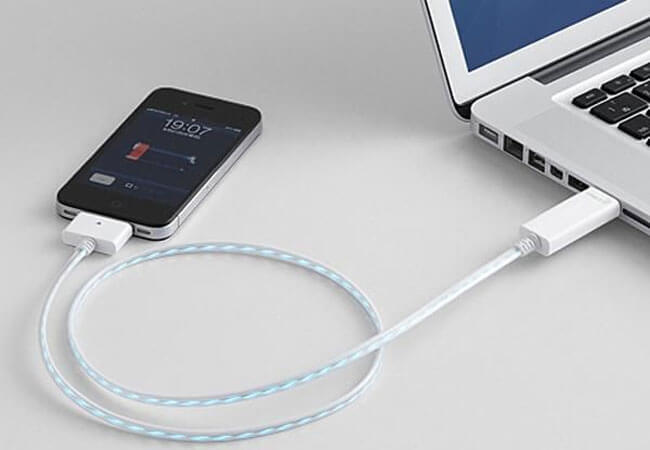 Make sure that you are using the Apple-recommended USB cable for all your data transmission tasks between your computer and your device.
The cable must be of working condition and it must always be kept safely. When restoring your Apple device, make sure the cable is fitted correctly into the USB port.
You can also try switching the USB port for faster data transmission or just to make sure it isn't the USB port that is failing.
Sometimes that is all you need to do to fix the iTunes error 2003 when restoring your Apple device.
Update Apple Device Drivers
If you are using a device with the newer iOS versions and your computer's Apple USB drivers are outdated, you will run into connection problems that will give you the iTunes error 2003 during the restore.
With iOS versions changing regularly and device drivers getting updated as frequently, it is important to make sure all your Apple USB drivers are up to date.
From your computer, run the Apple Software Update application from the Start Menu. The application is installed bundled with iTunes.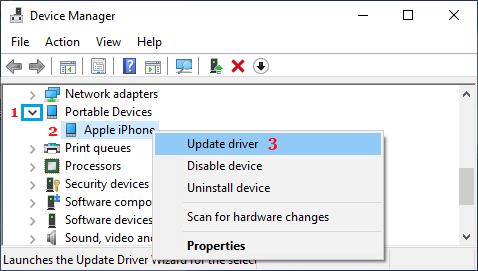 Once you open it, it will search for all Apple updates from Apple servers. Make sure you are connected to the internet. Install any update that will be found and then restore your Apple device.
This fix should sort out all your connection problems that are due to outdated Apple USB drivers.
Final Words
Now that you know exactly what the iTunes error 2003 is, why it comes occurs, and the many different ways to fix it, you should not sweat over it the next time you come across the error.
The fixes we have discussed above are the quickest and yet cheapest ways that you can fix the iTunes error 2003 without having to pay a lot of money at the electronics repair shop or shipping it to your nearest Apple Service Center at a hefty sum.
The quick fixes above can be used to solve other errors of the same kind which include the iTunes error 2003, error 2005, and error 2006.
Any Apple user should be able to follow these steps without worrying about bricking their device or beaching the warranty of their device.