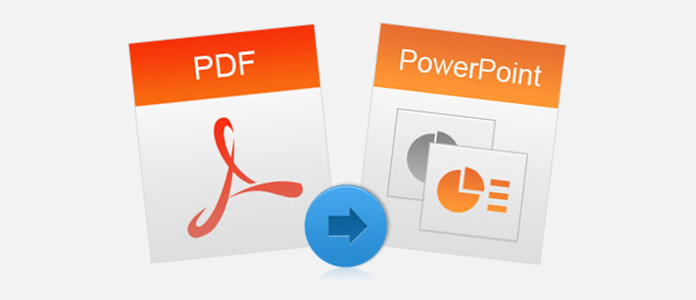 When preparing for a presentation, you may come across a PDF file featuring important supporting information, including graphs, charts, and images. If you have enough time, you can always extract important information manually and add it to your PowerPoint presentation. Most people are strapped for time. To make things easy for you, we will show you easier ways you can use to convert PDF to PPT.
Method 1: Use Computer Programs to Convert PDF to PPT
Computer programs make the whole process of converting PDFs to PPTs, Excel files or word files extremely easy. The major downside that comes with opting to use computer programs is that they are not entirely free. Most will have a free trial version – the free trial version will either come with a lot of limitations or will expire after a certain period of time.
Generally, computer programs are ideal for when you are working with confidential documents. Since the computer programs will be working within your computer, you should be able to avoid information leakage. On top of keeping your information safe, dedicated computer programs usually offer more customization features – compared to most online tools (we will look at the online tools in the next section).
Below, we have some of the top-rated computer programs you can use to convert PDF to PPT:
PDF WIZ – 100% Free PDF to PPT Converter
If you are looking for a tool that's worthy of your trying in terms of PDF to PPT conversion, PDF WIZ is the one you should give a try. This tool converts PDF files to PowerPoint presentation slides in simple steps without charing. You can use it for free for a lifetime after you have downloaded it to your computer. The features that make PDF WIZ stand out are listed as follows:
A 100% free PDF toolkit with full access to all features.
No registration or activation is needed.
Offline use on computers to avoid privacy risks.
Easy to use. You just need a few clicks to get your PDF converted.
How to convert PDF to PPT using PDF WIZ:
Step 1: Download PDF WIZ, launch it on your Windows computer, and click on the Convert PDF to button on the home screen to continue.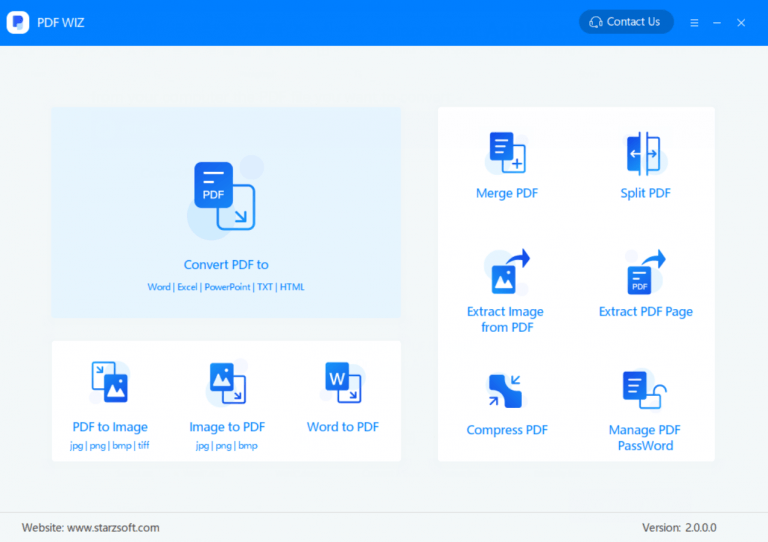 Step 2: On the screen that follows, drag and drop your PDF files that you want to convert to PPT into the box at the center, choose PPT of the "Convert to" option, and hit Convert Now.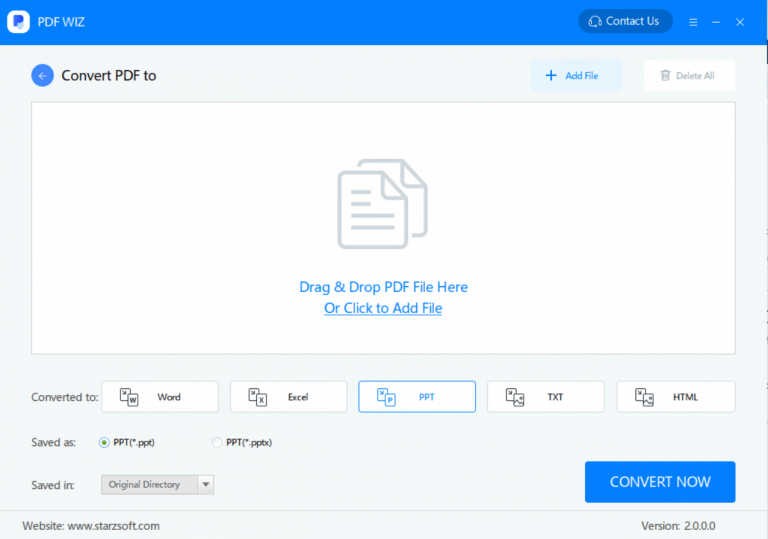 Step 3: When the status bar goes to 100%, click on the file or folder icon beside the status bar to review the completely PPT files.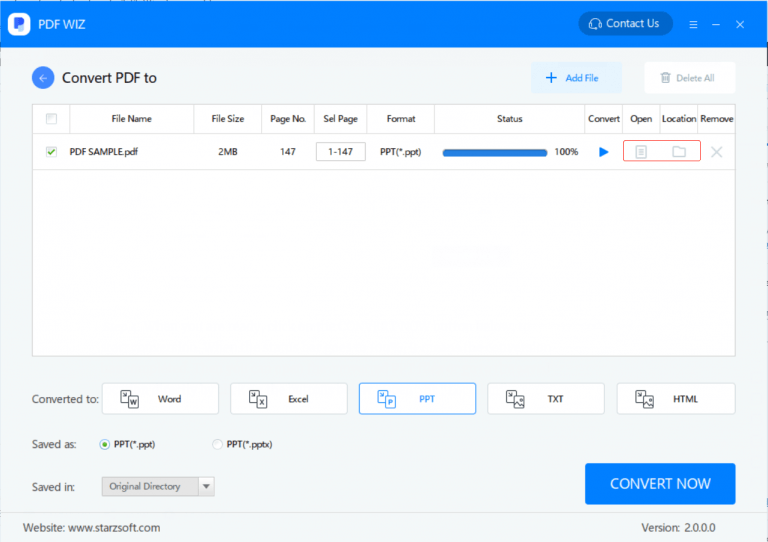 This tool will require you to pay $48 per year to keep converting your PDF files to PPT and other document versions. The process of converting your PDF to PPT using SodaPDF is not complicated. The steps outlined below should show you how to do it:
Step 1: After installing SodaPDF on your computer, open the file you would like to convert to PDF in the tool.
Step 2: On the Convert Module, tap on the PDF to PowerPoint option.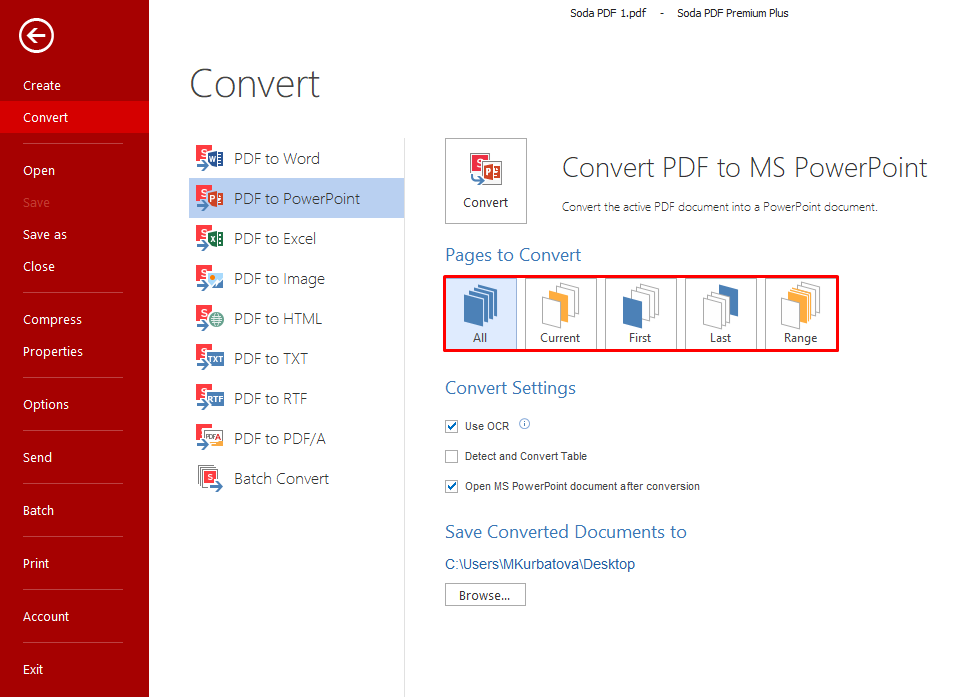 Step 3: Under pages to convert, choose the option that works best for you. You can choose between All, Current, First, Last, or you can enter a Range.
Step 4: Under Convert Settings, select whether you would like the tool to use the OCR. Also, you can select whether you would like the PPT to be opened automatically or not. If the PDF document does have tables, you will need to tick the checkbox for "Detect and Convert Table" for the application to retain the tables.
Step 5: Select the location where you would like to store the converted document under "Save Converted Documents to".
Step 6: When you become ready to convert your file, hit the Convert button and wait.
Use Online Tools to Convert PDF to PowerPoint Slides
The majority of PDF to PPT converters available online are free. This is the major reason a lot of people prefer to convert PDF to PPT online.
To convert PDF to PPT online, you will need to upload your document to a third-party server. This gives the server owner access to your document. Since you cannot control whether the server owner views the file or not, it is essential that you only use the online converters with less sensitive documents.
Note: While most online converters claim that they respect their users' privacy, some of the converters do not honor their claims. Determining which online converter honors its claims and which one does not is next to impossible.
Below, we have some of the best online PDF to PPT converters. We have outlined the steps you will need to follow to use each tool.
ilovepdf.com
Step 1: Visit https://www.ilovepdf.com/pdf_to_powerpoint on a computer web browser.

Step 2: If the documents are available on your computer, you can simply drag and drop them in the work area. Alternatively, you can tap the Select PDF file button. Options to add files from both Google Drive and Dropbox are available.
Step 3: After adding the PDF file, you will have to wait for the conversion to complete before downloading your PPT.
Freepdfconvert.com
Step 1: Visit https://www.freepdfconvert.com/pdf-to-ppt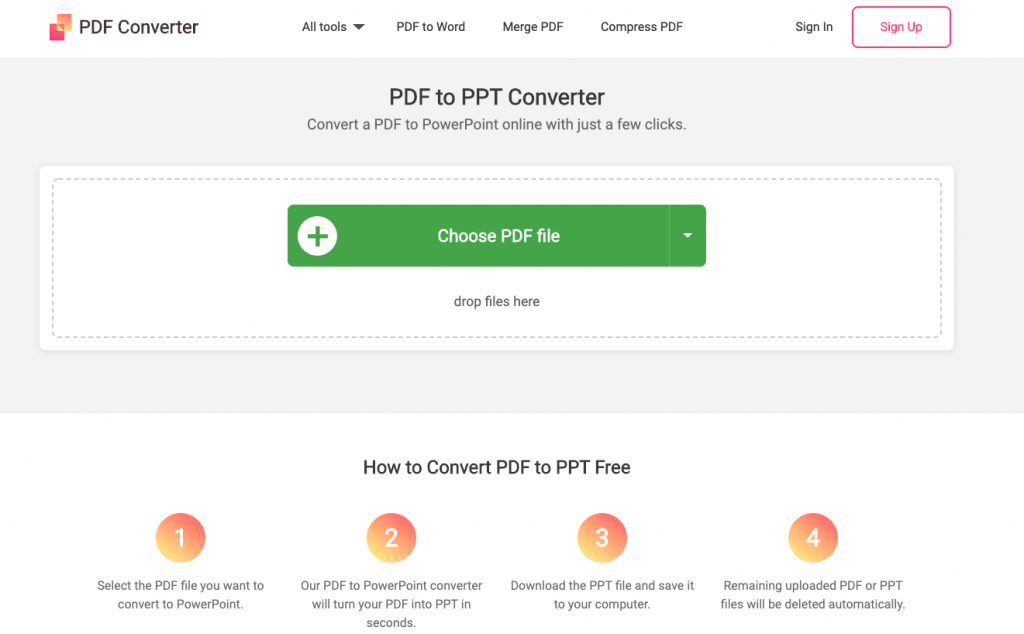 Step 2: Select the file you would like to convert to PPT. You can always do this by dragging and dropping the files. The online tool does allow its users to select their documents from cloud storages, including Google Drive and Dropbox. You can also insert a link to the PDF document.
Step 3: The moment you upload the files, the conversion will be initiated automatically. After the conversion, you can download the PPT to your computer.
Summary
If you have a PDF file that you would like to use in your presentation, you can convert it to PPT quickly and easily. The tools we have outlined in this article should help you automate the whole process. If you choose to use the online programs, make sure that the documents are not sensitive. For sensitive documents, be sure to stick with the desktop programs.