Looking for a reliable PDF tool? You will be glad to know that there are lots of options available. From document viewing to editing to merging and more, these tools allow you to manage your PDF just the way you want. PDFsam is a open source tool that has become quite popular because of its amazing functionality and ease of use.
| | | | | | |
| --- | --- | --- | --- | --- | --- |
| | PDFsam Basic | PDFsam Enhanced | PDFsam Visual | PDF WIZ | Adobe Acrobat |
| Price | Free | $49/Year | €29/Year | Free | $155.88/Year |
| Merge PDF | | | | | |
| Split PDF | | | | | |
| Extract PDF Page | | | | | |
| Compress PDF | | | | | |
| Extract Image from PDF | | | | | |
| Encrypt PDF | | | | | |
| Decrypt PDF | | | | | |
| Convert PDF | | | | | |
| Edit PDF | | | | | |
PDFsam Basic/Enhanced/Visual Review: Pros, Cons & Performance
PDFsam is a reliable PDF tool that allows you to merge and split PDF documents with ease. This open source tool is compatible with all major platforms and it is designed to be a lightweight, hyper-focused solution to manipulating documents in the easiest and quickest way possible. There are three different versions of this tool available i.e. PDFsam Basic, PDFsam Enhanced, and PDFsam Visual. Basic version is the most popular as it covers the needs of most users.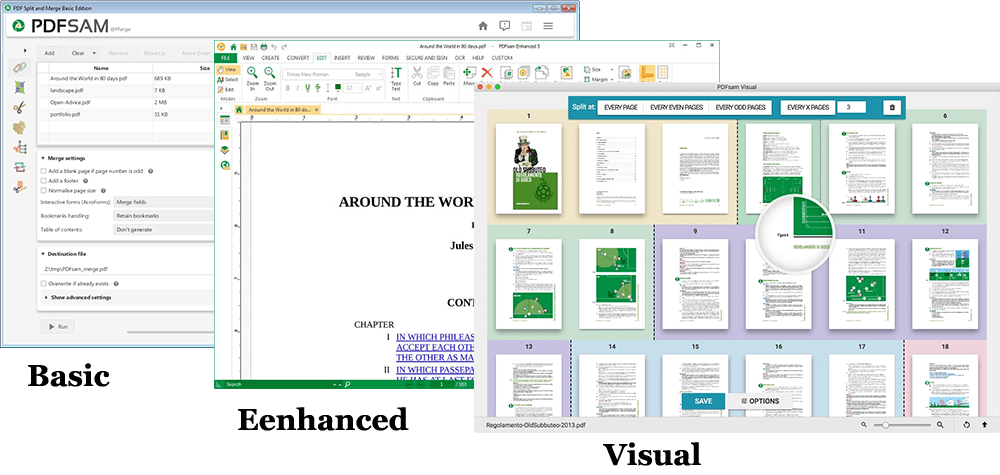 1
Pros & Cons of PDFsam
+ POSITIVES
Despite being a free tool, it is quite powerful and feature-rich

Fully compatible with virtually all operating systems (Windows, Linux, and Mac)

No installation required. All you need to do is download the tool and you can start using it instantly

Load PDF files with a simple drag & drop feature

Distinctive, easy-to-use, and intuitive GUI

You can create, edit, or modify PDF files conveniently. Furthermore, it also allows you to merge, split, and re-order documents
– NEGATIVES
Not Easy for Beginner: Even though the interface is user-friendly, there are lots of features that are not clearly explained. So, it may take time to learn to use all the different features of PDFsam.
Limited Features on Free Trial: While PDFsam is a free tool, it does have a Premium version which you can purchase to support the developers. The pop-up ads window frequently shows up when you are using the tool reminding you to upgrade to the Premium version. This can be annoying.
Compatible: PDFsam Enhanced version is not available on Mac, which can be a deal breaker for some users.
Java Required: The proper functioning of PDFsam requires Java. While this might not be a big issue for most people, some new, beginner users may face difficulty trying to make the tool work.
User Experience: Some users have reported various errors occurring from time to time during use.
2
Performance
PDFsam, particularly the Basic version, feels like the combination of several small utilities that you can access via a simple interface. While there are a lot of features of the tool, the interface is very intuitive and makes it easy for you to access different areas of the software without any issues.
The lack of unwanted options is also great. You can easily get to grips with the interface of PDFsam, which makes this tool suitable for novice users. Learning to use all the features of the software may take some time though as most of the features are not clearly explained. Another thing you should keep in mind is that the installer of PDFsam Basic prompts you to install some additional tools, but you can easily opt out of those.
Top 2 Alternatives to PDFsam
1
Best Free Alternative to PDFsam Basic – PDF WIZ
StarzSoft PDF WIZ is one of the best tools that you can use if you are looking for a PDFsam alternative. The reason why this tool is recommended is that it is also free and it is equipped with basically the same features.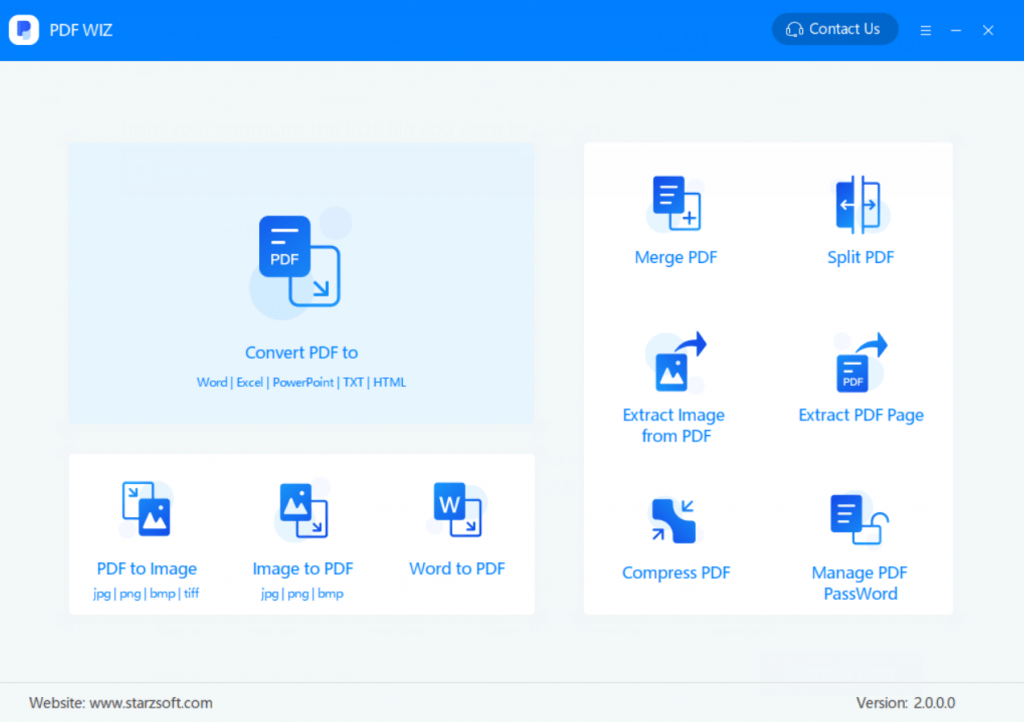 It is a reliable PDF toolkit. You can easily convert any documents into PDF format. With PDF WIZ, PDF handling is simplified thanks to its user-friendly interface and easy to follow operations.
+ POSITIVES
Powerful PDF converter. You cnn convert virtually all file formats e.g. HTML, Word, PowerPoint, etc. to PDF and vice versa. The converted PDF file will be compatible with all PDF readers and editors
Powerful PDF converter. Easy PDF document manipulation. You can make changes in the document before or after converting the file
Not Just Conversion. Apart from PDF file conversion, PDF WIZ is equipped with several other useful features, such as PDF file password management, PDF compression, merge PDF, split PDF, extract media from PDF document, and more
No Locked Features. You can access all the features of the software for free
2
Adobe Acrobat
Adobe Acrobat is another powerful alternative to PDFsam. It is one of the most popular softwares by Adobe and it allows you to basically perform all the operations related to PDF viewing, creation, and manipulation.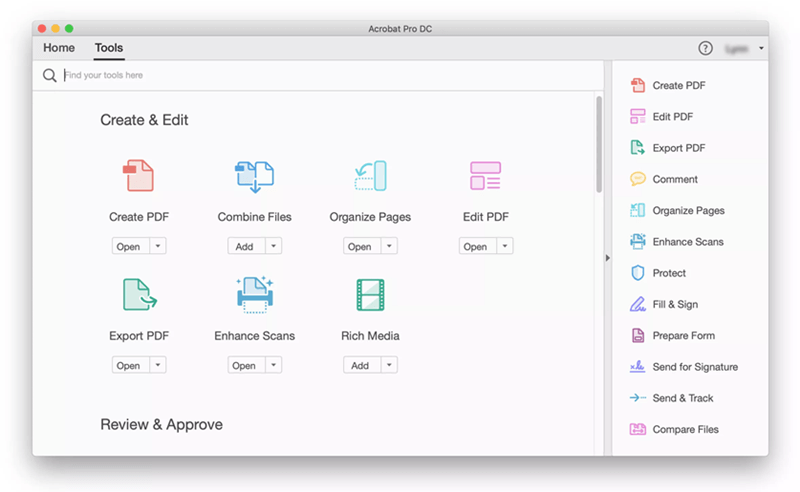 There are tons of features of this tool which can be overwhelming for new users to get the grasp of. However, it's intuitive, user-friendly interface really helps accessing any feature you want with ease.
+ POSITIVES
Lots of useful features make Adobe Acrobat an all-in-one PDF solution

Intuitive, user-friendly interface makes the tool easy to learn and customize

Customer support is great. You can visit Adobe's official website to access support resources and help

The software has some excellent security features that are designed to provide complete control over the security of your documents
– NEGATIVES
Because of tons of features and utilities, Adobe Acrobat can occasionally suffer from performance issues, particularly on old hardware

Some users have reported stability issues e.g. freezing, crashing, etc.

Even though the user interface of this tool is highly customizable, the default interface can be somewhat confusing particularly for new users

This tool is not free. In fact, it is one of the pricier PDF manipulation tools available on the market
Conclusion
In conclusion, PDFsam is a great tool mainly because it offers so many features free of cost. From PDF creation to document manipulation and more, this tool can basically cover all your needs. However, there are some limitations of this software.
So, if you are looking for alternatives then you might want to give PDF WIZ or Adobe Acrobat a try. PDF WIZ is a recommended option as it is free and suitable for both beginner and advanced users.