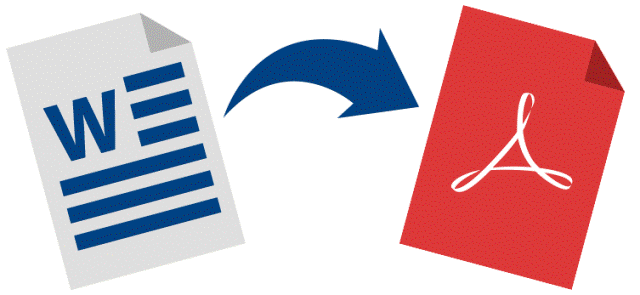 In this article, we will focus on making Word to PDF conversion much easier for you. We will show you the top-rated Word to PDF converters you can use. However, before showing you the paid and free Word to PDF converter you can use, let's see why people convert Word to PDF.
Part 1: Why You May Want to Use a Word to PDF Converter
1.    The PDF is More Mobile-Device-Friendly
A lot of people are relying on their tablets and smartphones to accomplish most tasks, including reading documents. Compared to the Word documents, PDF documents are more accessible on the mobile devices – all you will need in order to view the PDF files is a PDF viewer.
If you are using an Android device, it is possible to download a free PDF viewer on Google Play Store. If you are using an iOS device, you can get a free Portable Document Format (PDF) viewer ideal for your device on the App Store.
Note
While Word readers for mobile devices are available, most of the readers don't display the Word document correctly.
2. Numerous Word Processors Exist
Contrary to what some Microsoft Word users think, more than 1 Word processor exists. This means that you could be communicating with people who have a different processor installed on their computer. Varying Word processors will handle the same Word document differently – some of the processors won't display the word document in a good way.
The PDF format, on the other hand, is a more universal document format which can be accessed in a similar way via a wide range of software. This tells you that simply converting a Word document to PDF makes it more accessible to a wide range of readers – all these readers, irrespective of the software they decide to use will see the document in the exact same way.
3. Multiple Versions of Microsoft Word Are Available
Older versions of the Microsoft Word software are incapable of opening Word documents created using newer versions correctly. To give you an example, text created using Microsoft Word 2010 software will lack spaces if you open it in older versions of Microsoft Word.
PDF documents will open in a similar manner irrespective of the PDF reader you decide to use. The Portable Document Format files maintain their format across all readers.
4. References Often Become Mismatched
If you open a Word document on a different computer, maybe using a different version of the Word Software, your table of contents will end up becoming a mess. The page numbers may end up changing. This can be a nuisance for the report and eBook writers.
Using a Word to PDF converter will help you avoid dealing with messy page numbers and table of contents on your document. PDF documents will open in a similar manner on all computers with the table of contents intact.
5. Word Documents Do Not Retain Their Formatting
When opened on a different computer, the Word documents get reformatted. This means that the format you had spent your time perfecting will get lost.
By simply using a good Word to PDF converter, you should be able to retain the formatting. PDF documents will never reformat irrespective of the software used to open them.
Part 2: How to Convert Word to PDF or PDF to Word?
There are various ways through which you can convert Word documents to PDF and vise Versa. In this section, we will look at the top methods.
1. Use Online Word to PDF Converters (for One-Time Users)
If you do not convert Word documents to PDF regularly, online tools may offer you ideal results. The online tools could actually make your work much easier considering that you won't even need to install the Word to PDF converter on your computer.
All you will have to do is upload the document > wait for the online tool to initiate and complete the conversion automatically > download the converted document to your computer.
Some of the tools may need you to select the output format and then hit a button labeled "Convert" to initiate the conversion. The moment you load an online tool, you should find the instructions you need to follow on the homepage.
Below, we have some of the online Word to PDF converters you may want to use:
Online Word to PDF converters have both advantages and disadvantages. We will list both below:
Advantages of Using Online Converters
1. Most of them are 100% free
2. They are generally convenient
3. Software downloads are not required
4. They are very effective for one-time conversions
5. They make the conversion of small files extremely quick and easy
Disadvantages of Using Online Converters
1. When you are uploading files, you may be restrained by internet speed.
2. You will need internet access to convert your files – you cannot work offline.
3. Online tools are not friendly for large file and bulk conversions.
4. Privacy risks – although the online tool may claim that they delete the documents immediately after conversion, this may not be the case. Some online converters may reserve the files on the servers and access them later.
5. The online tools require you to submit your email address and also pay a certain amount of money for you to access the desktop version of the converter.
2. Use a Paid Desktop Software (Ideal for Frequent Users)
If you convert Word to PDF regularly, investing in a paid desktop tool may be a good idea. The desktop tools will allow you to work exclusively on your computer – since you won't need to upload the file to an online server, as you would do when using online converters, desktop computers help you keep your files private.
Most desktop tools have a free trial version. The free trial version either expires, forcing you to upgrade to the paid version to keep using it or has very limited features (to access the advanced features, you will have to purchase a license).
Most of the desktop tools will work in an almost similar manner – they will require you to install them on your computer > Launch them > Open the Word document in the software > and then proceed to follow the onscreen instructions to complete the conversion process.
Below, we have a couple of desktop Word to PDF converters you may want to use:
1. Foxit PDF Software – the standard Foxit PhantomPDF is worth $129.00.
2. Adobe Acrobat DC – Adobe Acrobat DC standard subscription will cost you $13/month or $156 per year.
3. Icecream PDF Converter – This will cost you $39.95.
4. Talkhelper PDF converter – This will cost you $129.
5. PDFelement – The pro version is worth $129 per year.
Similar to the online tools, the paid desktop Word to PDF converters do have their benefits and limitations. We will look at both below:
Advantages of Using Paid Desktop PDF Converters
1. They work offline – they won't require an internet connection.
2. No privacy risk – you won't be uploading your documents to a third-party server.
3. They are ideal for converting large and multiple files.
4. Desktop tools produce high-quality documents after conversion. Online converters often produce low-quality documents.
Disadvantages of Desktop Word to PDF Converters
1. There are not free – the free trial versions do expire.
2. Some of the tools will charge you depending on the number of features you need. The more features you need, the more expensive the tool will be.
3. If you are not a frequent user, paying for the desktop programs may be a waste of your money.
3. PDF WIZ – The Best Word to PDF Converter for All Users (Free Desktop)
PDF WIZ eliminates the privacy concerns associated with online converters and the cost issues associated with desktop tools.
Being a desktop software, PDF WIZ eliminates the need to upload your documents to a third-party server during conversion – this means that you are the only person who can access the original and converted document.
Being 100% free, the Word to PDF Converter eliminates the need to pay for the desktop tools we had listed earlier on in this article.
The good thing about having PDF WIZ on your computer is that it eliminates all your PDF conversion issues. On top of being an excellent Word to PDF converter, the tool helps with the following conversions:
PDF to Word – for when you want to edit your document.
PDF to PowerPoint – for when you are putting together your presentation.
PDF to Excel – if you want to change the data entries.
PDF to Html – for when you want the document to be accessed via a web browser.
PDF to Image – for when you want to share the document in the form of a JPG, JPEG, PNG, TIFF, etc.
PDF to Text – if you want to edit the document in a format that is less complex than Word.
Image to PDF – you can convert numerous images into one PDF document.
In addition to making conversions associated with PDF files extremely easy, PDF WIZ offers the following features:
PDF Splitting – Allowing you to separate a single PDF document into numerous desirable files.
Extract Images from PDF files – These will be saved to your computer quickly and easily.
Manage PDF password – Improve your document's privacy or control what the users can do with your document.
Extract pages from the PDF document – get pages featuring information you are interested in from the PDF document.
How to Use PDF WIZ
Since the main focus of the article is Word to PDF conversion, we will show you how to convert Word documents to PDF using PDF WIZ below:
Step 1: Download and Install PDF WIZ on your computer.
Step 2: Launch the tool and then choose "Word to PDF" on the home screen.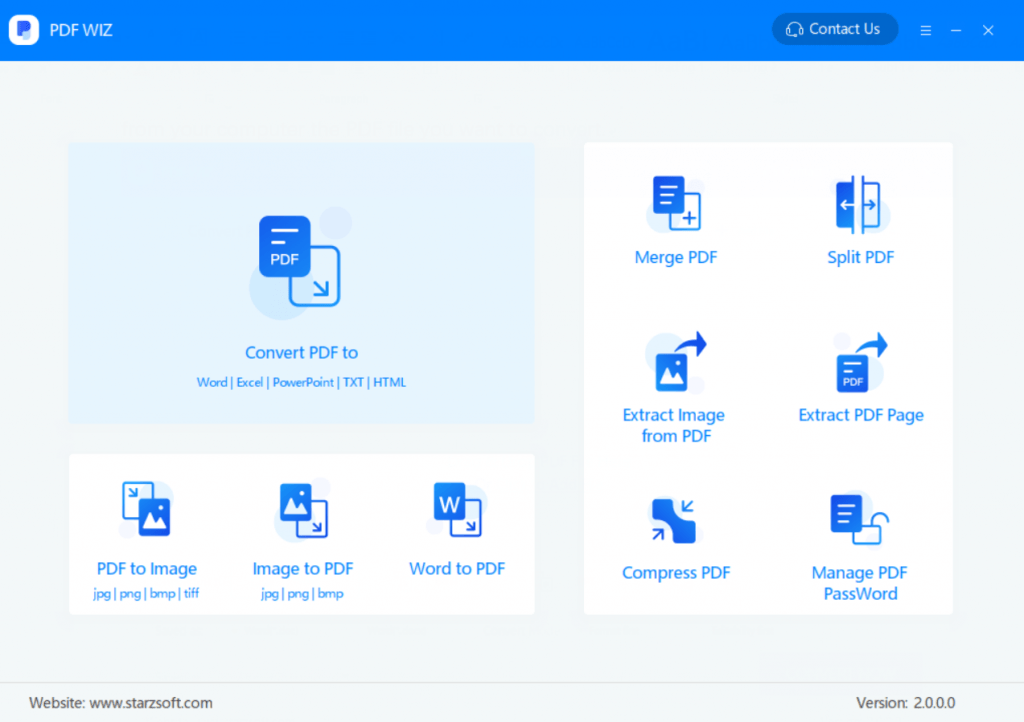 Step 3: On the next screen, either click the Add File button on the top-right or drag and drop the document you would like to convert.
Step 4: Select the pages you would like to convert (if you do not want to convert the whole document), where you would like to save the converted document and then hit the Convert Now button on the bottom-right corner.
Unlike the paid desktop tools and online tools, PDF WIZ does not have any limitations. Below, we will show you the advantages offered by the tool.
Advantages of Using PDF WIZ as a Word to PDF Converter
The tool is extremely quick – it will complete the conversion within a couple of seconds.
The tool is extremely easy to use – you will only need to follow simple onscreen instructions.
The tool allows you to select the pages you would like to convert.
The tool is 100% free.
The tool helps you protect your privacy – you are the only one who can access your documents when using PDF WIZ.
The tool is ideal for both one-time users and people who perform Word to PDF conversions regularly.
The tool is capable of handling all other PDF-related conversions.
Conclusion
If you have been looking for an ideal Word to PDF converter, PDF WIZ is the best option. The tool helps you avoid all the limitations associated with online tools while providing all the benefits offered by paid desktop PDF converters for free.
PDF WIZ is available for all Windows PC users. Simply downloading the tool to your computer should give you the ability to handle all PDF-related conversions.