Have you been looking for the most effective methods for how to mirror iPhone to PC screens (and vice versa)? If so, then you may want to consider today's methods to mirror your iPhone screen onto your PC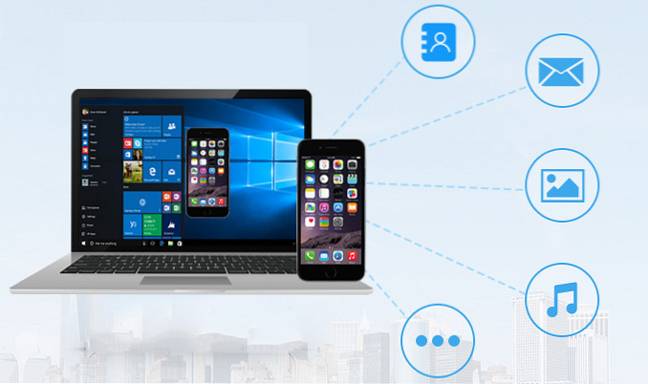 – and we'll be outlining several handy tools that can help you mirror your iPhone screen, as well.
What Can iPhone Screen Mirroring Do?
First of all, we need to briefly consider what iPhone mirroring is and how it works. Indeed, many people are not entirely sure how iPhone mirroring works, but this can actually be a massive benefit to many people. So, how does it work?
Well, with iPhone mirroring, you are able to display your iPhone's screen directly on other device screens, such as your PC or a smart TV. However, in order for screen mirroring to be completed effectively, it's critical that your device is connected to the same network. In addition, you may want to use an HDMI cable to connect the device with your PC.
There are countless amazing opportunities that you could benefit from when you mirror your iPhone device to your PC – and this is definitely worth considering if you ask us!
From sharing your messages with other people through to playing iPhone games on your computer and more, there are numerous different ways this simple technique could help you make the most of all the opportunities available to you – and, let's face it, iPhone screens can be pretty small for those wanting to enjoy the full experience.
Why We Need Tools to Help Mirror iPhone to PC and Laptop Screens?
At this point, we've briefly looked at why you might want to mirror your iPhone to a PC device – but how do you actually go about this?
Well, there are several different ways you could go about this, but using a tool to mirror your iPhone to PC is the most common method for a few simple reasons. However, perhaps the most apparent reason why this is so popular is simply that it's the most effective and hassle-free method.
Indeed, in many cases, trying to connect your devices without specialist tools may prove difficult. Luckily, there are numerous great tools that can make mirroring your iPhone to a PC easy – and we'll briefly be considering some of these tools as follows to make your decision a little bit easier.
How to Mirror iPhone to PC Via WiFi/USB? [HOT!]
So, what are some of the different iPhone mirroring tools you could try for your own device's screen sharing efforts? Well, there are several different tools you could use to learn how to screen mirror your iPhone to PC, including the following options we have presented below.
Of course, there's no single tool that's necessary an ideal solution; as such, we recommend you consider the pros and cons of each to make your decision a little more straightforward overall.
1
iPhone Mirroring Via WiFi
First of all, we need to consider the most obvious way to mirror your iPhone device: by using a WiFi connection. Indeed, iPhone mirroring via WiFi is often the simplest method to use for your iPhone device, and could be an excellent option to consider as such.
However, you will need to ensure that you've started out with an appropriate iPhone mirroring tool, all the same, to connect your screen through WiFi. We've picked a couple of good recommendations as follows that may offer an effective solution for your own iPhone unlocking needs.
1. Reflector
The first tool for today's list is Reflector, which is a highly valuable and effective tool for those looking for a versatile opportunity.
One of the most notable features and benefits of the Reflector tool is that it's one of the most easy-to-use tools on offer and can support countless different devices, including Chromebooks, Android devices, iOS devices, Macbooks, and Windows devices. What's more, the Reflector app also features a free trial version, making it suitable for use in almost every instance.
To use the Reflector tool,
1. Start by downloading the tool onto your device
2. Ensure your device is connected to your WiFi connection to proceed.
3. Activate the screen mirroring function, and then look out for your PC device;
4. Within a few moments, you should see your iPhone screen appear on your PC.
Pros and Cons of Reflector Tool
The main benefits of the Reflector tool are that it's exceptionally easy to use and can be used across countless different device types. You can even use it for live streaming your screen, which can offer benefits in certain scenarios.
However, the main drawback of the Reflector app is that it works through AirDrop rather than having its own inbuilt interface, which is definitely worth mentioning as a limitation to the tool's power.
2. Mirroring 360
A second wifi-based iPhone mirroring software you could try is Mirroring 360, which is capable of working across numerous platforms, including iOS, Android, Windows, Mac, and Chromebook devices.
With this in mind, the tool is definitely versatile, and works effortlessly through a WiFi connection – making it easier if you don't want to spend time connecting USB cables and the like.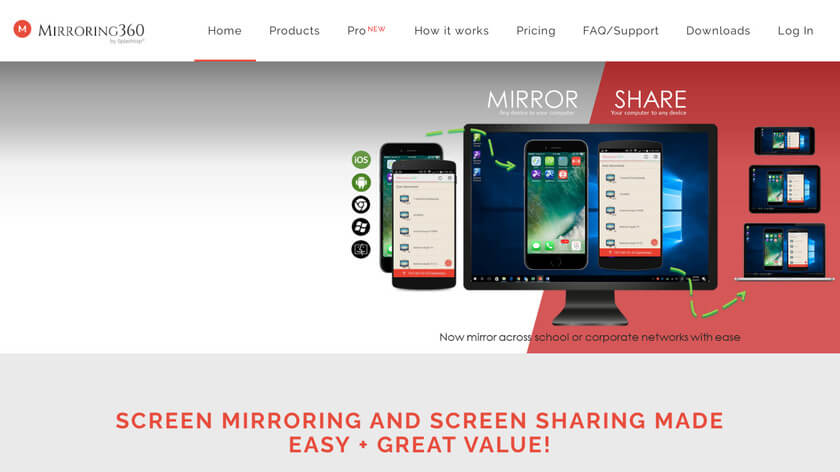 Pros and Cons of Mirroring 360
There's a lot to love about the Mirroring 360 tool, for sure – and its versatility across device types is one of the main benefits. Indeed, you can share your screen effortlessly over WiFI to any PC or computer; what's more, the Pro version of the app allows users to broadcast their screens to up to forty users with just one handy URL. This makes the tool highly effective for presentations and the like.
However, there are two notable drawbacks of the Mirroring 360 tool that we should mention.
The first is that most of the screen-sharing features are locked behind a premium subscription.
In addition, the Mirroring 360 tool is out of date, and hasn't been updated since iOS 13
– as such, there's no saying how long the tool will continue to work for, and this might mean that the Mirroring 360 app is rendered ineffective with future iOS updates.
2
iPhone Mirroring Via USB
At this point, we have considered some of the different tools you could use to mirror your iPhone screen over WiFi – but what if you'd prefer to use a USB cable, instead? If this is something that takes your fancy, there are plenty of other, excellent options you could consider, including the following tools.
1. Lonely Screen
It's perhaps not as versatile as some of the other iPhone screen sharing tools we have mentioned thus far, but there is still no doubt that the Lonely Screen tool is a popular choice of iPhone screen sharing app for many people. But what is it that makes Lonely Screen so effective?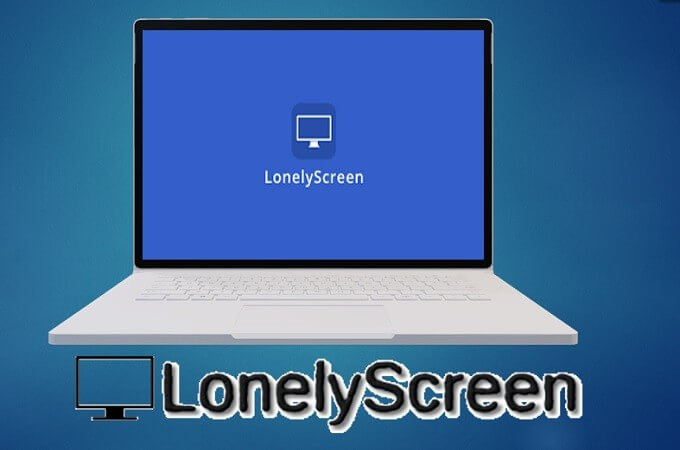 Well, as with the Reflector app, the Lonely Screen app effectively converts your PC into an Airdrop-compatible device, making screen sharing easy. However, we should point out here that this is only so effective; indeed, this does also make the tool less powerful compared to others and relies on Airdrop working effectively.
Pros and Cons of Lonely Screen
There's definitely a lot to love still about the Lonely Screen tool, which is effective for both Mac and PC devices. One of the more unique features of the tool is that it enables users to take screenshots of their screens during use, a valuable feature for many people.
Naturally, the biggest criticism of the Lonely Screen tool is the same as for Reflector; while it's highly effective, it is reliant on Airdrop working securely. In addition, it's worth considering that the Lonely Screen app is relatively expensive outside of the Free Trial, especially for business users.
2. ApowerManager
Another tool you may want to consider is ApowerManager, a well-known iPhone screen sharing tool that's also a file manager. This two-in-one functionality certainly makes it a versatile solution, which is just part of why the tool is so popular for those wanting to share their screen.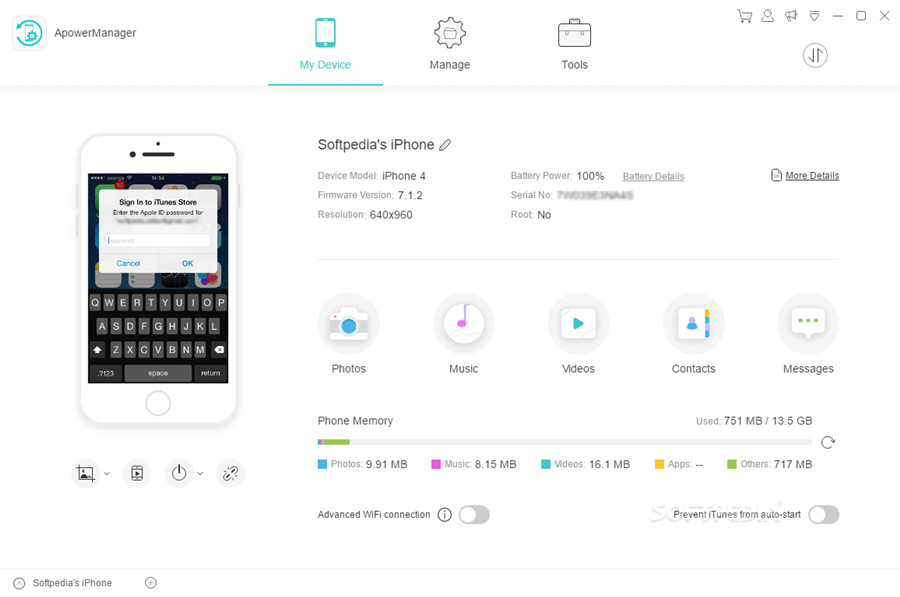 Pros and Cons of ApowerManager
If you're looking for an easy-to-use and powerful screen-sharing tool, ApowerManager might be the right choice for you.
The tool allows you to easily mirror media files and your iPhone's standard content; what's more, the tool provides an almost seamless connection speed. If that wasn't enough, ApowerManager also offers free-to-use functions, which is naturally well-appreciated in many cases.
However, the main issue with the ApowerManager tool is that it can sometimes be a little tricky to use initially; the QR code can sometimes be a little fiddly, which could be worth considering as part of your own choice.
3
How to Mirror iPhone/Android Phone to PC with USB or WiFi —— StarzMirror
StarzMirror is a tool to mirror iPhone /Android phone to PC. With StarzMirror,
1. You can watch movies, play games, meeting on a bigger screen.
2. You can mirror, control, and record screen on a PC.
3. Mirror Multiple up to 6 Devices Simultaneously.
4. Free trial to test for new users.
How to Mirror iPhone to PC with StarzMirror
Step1: Download and launch the StarzMirror tool on PC.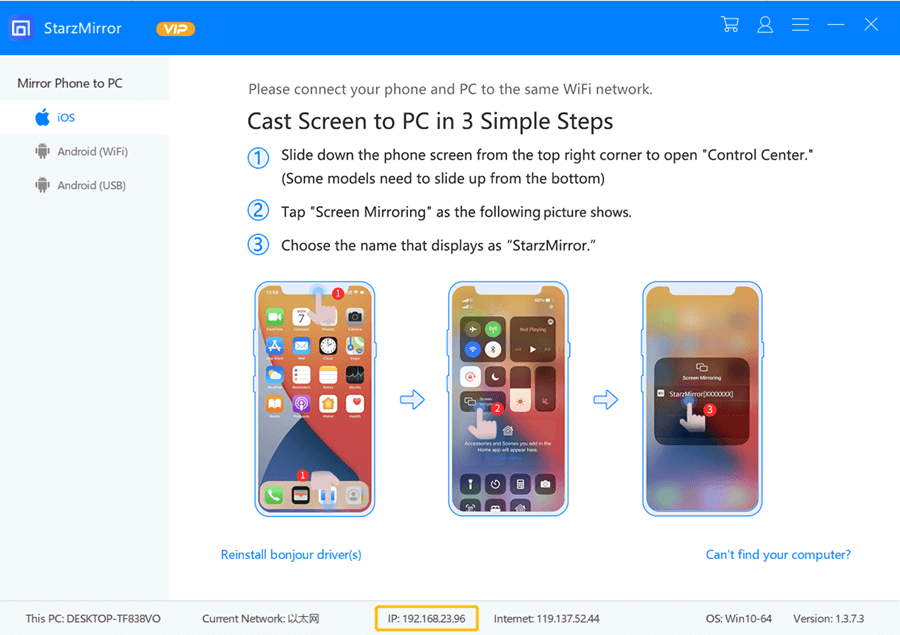 Step2: Make Sure to connect iPhone and PC to the same WIFI network.
Step3: Click "Screen Mirroring" on your iPhone and select the PC, then you will successfully mirror.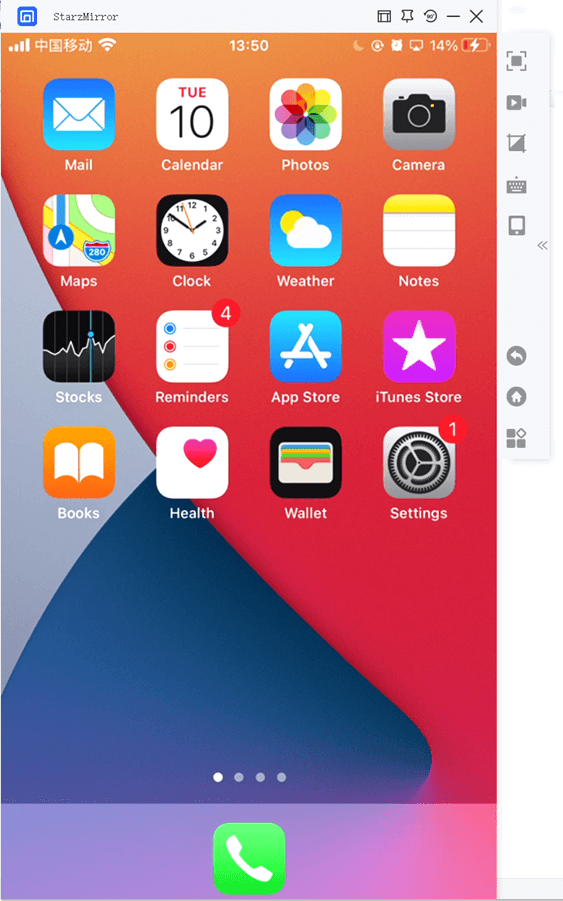 To know more about StarzMirror, here's the User Guide for you.
Conclusion
If you have been looking to learn how to mirror your iPhone screen to PC and laptop screen, then we hope today's guide may have given you some new ideas for how to proceed.
Indeed, learning how to mirror your iPhone screen to your PC doesn't have to be a major challenge, if you need a tool to mirror both iPhone and Android Phones to PC even up to 6 at the same time,we highly recommend using the StarzMirror tool. We're confident that you may be able to find an effective solution from today's guide.