It's not uncommon for people to have their Google screens black on their laptops, tablets, and smartphones. This can happen when you're using certain apps or web pages that require more power from your device than what it has available.
The reason why Google screen black is so common is because people rely on their smartphones too much and this puts a lot of strain on battery life. Another reason could be that you have tried to install an app that was not compatible with your device or it has been corrupted in some way.
Let's find out more about why google screen turns black, what are the possible fixes and how can you recover data that may be lost.
Why is My Google Screen Black? Top Reasons Here
The following are some of the most common reasons why your Google screen might be black:
You're running an app that uses up too much battery power for your device to handle.
Your device's battery needs charging but it isn't connected to a power source.
Your device on which you are using Google like computer/laptop/tablet/smartphone has been infected with malware and it's trying to protect itself by shutting down parts of your device.
You are using an outdated version of Google.
You have turned the battery saver on.
How to Fix When Google Screen is Black
Fix 1: Disable the Chrome Flags
To repair the Chrome black screen after sleeping, disable Chrome flags.
You can disable various Chrome settings to fix Google going dark on your computer. Flags are untested features that may cause instability. Therefore, it is advised that you enable these with great caution.
Disable the flag immediately if the issue appeared after it was enabled.
1. Copy this chrome://flags/.
2. Paste it into the address bar of Chrome to see all the flags that are supported there.
3. Disable all the flags.
Fix 2: Disable Plugins to Solve Black Screen on Google
To repair Chrome's flickering black screen, disable plugins.
1. Go to More tools > Extensions can be selected by clicking the menu button.

2. Now, a list of every extension will show up. By selecting the switch icon next to each extension's name, you can disable every extension.
3. Restart Chrome after disabling all extensions to see whether the issue persists. If you're wondering what caused your Google screen to go black, extensions may be to blame.
4. It's possible that a plugin is buggy or insufficiently compatible with the version of Chrome you're running, which is why the problem manifests.
5. You must locate the troublesome plugin and disable it in order to solve the issue.
You can start disabling extensions one at a time until you identify the one that is the problem if the problem doesn't recur. Once you've located it, you can either disable it or take it out of Chrome.
Fix 3: Turn Off Hardware Acceleration in Chrome
The most popular fix for Google Chrome's black screen problems is to turn off GPU compositing for all pages.
1. Make a desktop shortcut for Google Chrome.
2. Go to Properties. Properties can be accessed by right-clicking the shortcut.
3. Add the following text to the Target text field: To disable the GPU, type "[space]-disable-gpu" (the path should resemble chrome.exe" -disable-gpu"). GPU disable.
4. To save the changes, click Apply, followed by OK.

5. Open Chrome and then type the following into the address bar before pressing Enter: chrome:/settings/system
6. Simply turn off the option to use hardware acceleration when it is available after that.
7. Relaunch Chrome.
For most people and scenarios, this solution turned out to be the best option. However, try a different way if you're still having problems with the black screen in Google Chrome.
Fix 4: Resize the Window to Check Google Screen is Black Issue
To resolve Chrome's black screen when playing movies, resize the window. Users claim that resizing Chrome might be all it takes to solve this issue.
1. Simply click and hold the Google title bar to resize it to achieve that.
2. After completing that, return Chrome to its original size and determine if the issue persists.
Remember that this is merely a temporary fix and won't end the problem. If the black screen returns, simply resize your browser once more to cure the issue momentarily.
Fix 5: Add a -no-sandbox Argument to Chrome's Shortcut
Users claim that by adding a -no-sandbox argument to Chrome's shortcut, you may be able to resolve black screen problems with Chrome on Windows 10.
1. Right-click the shortcut for Chrome. From the menu, select Properties.
2. Go to the Shortcut tab and add -no-sandbox at the end of the Target field.
3. To save changes, press OK after selecting Apply.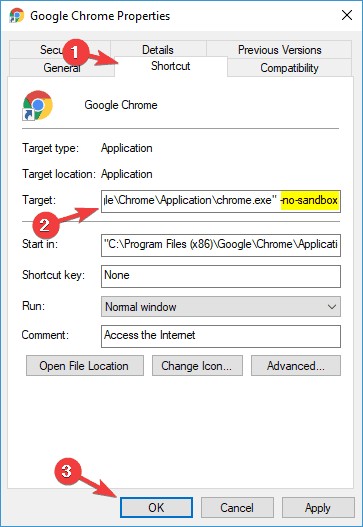 In case you didn't know, remember that Google Chrome separates its processes using a Sandbox mode.
This implies that even if malware is encountered by your browser, it will be contained within the Sandbox mode.
As you can see, Sandbox mode is a valuable security tool, although it occasionally affects Google Chrome's look. Some users advise disabling Sandbox mode to solve the issue.
Fix 6: Reset Chrome If It is Black
One solution to get rid of black screen is to remove Google Chrome.
1. In Chrome, click the menu icon, then select Settings.
2. Scroll all the way down to the bottom of the Settings menu and select Advanced.
3. Click Reset settings after navigating to the Reset and clean up section.
4. To confirm, press the Reset button.
If Chrome is giving you trouble, you might be able to fix it by simply setting Chrome back to default. You will reset all of its settings and eliminate all extensions by doing that.
How to Recover Lost Data on Windows Due to Google Black Issue
Data loss may occur while trying to solve the Google screen black issues. You will notice that it has become quite hard for you to open some or many files that you have downloaded through Google browser.
Do not worry, different files and any relevant data can be recovered using the StarzSoft Data Recovery Tool that you can use during or before trying the fixes.
Currently, StarzSoft Data Recovery, which has become even more specialised, is available on many social storage sites. Even if your device frequently malfunctions or has significant issues that lead to data loss problems of any kind, it is a comprehensive solution.
1. You need to know how to download and install the software on your computer before using it. It is available on the official website and pretty simple to complete.
2. Choose the choice—a disc, folder, or device you want to recover data from , click Next.

3. Following the scan, you will have access to all of the recovered data; to restore it, simply choose the required data and select the Recover button.
Conclusion
Now you have read all about how to solve the issue of Google screen turned black, use the given solutions and get your issue solved right away. Do not worry if you lose data while implementing the fixes. You can use StarzSoft Data Recovery to get the lost data back.