Instagram is a great way to communicate with your friends. Using Instagram, you can share memories with your friends and family members.
Unfortunately, some iPhone users are having some issues with Instagram. iPhone users have been noticing the issues in running Instagram appropriately. There can be some software issues behind this chaos. However, you can solve this issue effortlessly.
This article will tell you why is instagram not working on my iphone and how to fix the Instagram not working issue on iPhone issue.
Part 1: How to Fix Instagram Not Working on iPhone with Quick Tips
1. Quit and Restart Instagram
If you're having an issue running the Instagram app on your iPhone, the first thing you need to do is quit the app and then launch it again. When you open the app again, it can refresh your app to fix the Instagram not working on iPhone issue.
To quit your app, you'll need to double press iPhone's home button and slide the Instagram app to the left side to remove it.
Then, you need to launch the Instagram app again to check whether it is running. If the issue still exists, you need to look for another solution.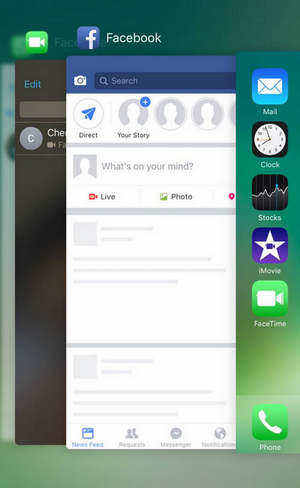 2. Restart iPhone to Fix Instagram Not Working on iPhone
If restarting the Instagram app doesn't make things look better, you can try restarting your device. This process can solve the majority of iPhone-related issues. Since it refreshes your iPhone completely, you'll be able to overcome the minor bugs.
To restart your iPhone, you'll need to hit and hold the Volume and Volume down buttons for some time. Later, you'll need to leave the buttons once the Apple logo makes its presence felt.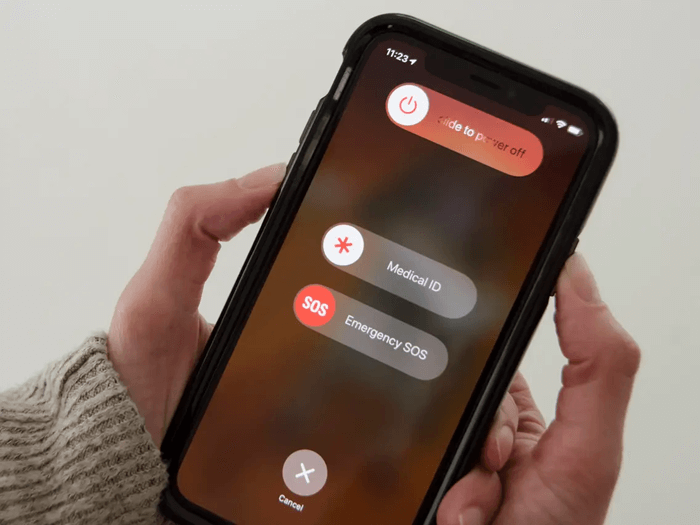 After restarting the iPhone, please navigate the Instagram app and launch it again.
3. Update Instagram to Solve Instagram Won't Open on iPhone
Despite applying a couple of appropriate techniques, if you're still competing with the Instagram won't open on iPhone issue, there might be some other factors creating this chaos. Instagram regularly introduces updates to make the user experience better and clearer.
If you have an older version of Instagram, it might cause your app not to function properly. To get rid of this issue, you'll need to navigate App Store. Later, you can hit on your Account option. You can select Instagram and tap on the Update icon if the new update is available.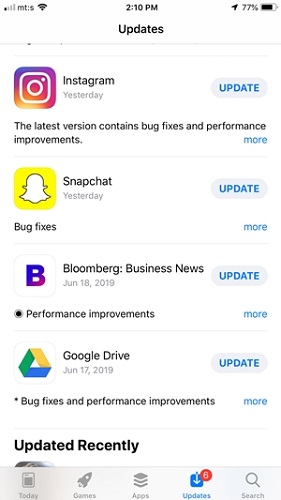 After updating the Instagram app, you can try launching it. If it runs well, you've solved the issue. If not, you can try other tricks.
4. Turn Off WiFi and Then Turn On
Sometimes, you'd be unable to run Instagram appropriately due to an unstable internet connection.
If you're using a WiFi network, you need to check whether the connection you're currently using is stable or not. For this purpose, you'll need to turn towards iPhone settings and select the WiFi option from there.
Later, you'll need to disable your WiFi connection from the device. After doing it, you need to enable it again to see how this works now.
If disabling and then enabling the WiFi again worked for you, it means you were having an issue with the WiFi connection. If it also doesn't change the scenario, you'll need to look for other solutions.
5. Turn Off WiFi and Change to Use Cellular Data
If no trick worked in your favor, you need to check the status of your WiFi network. Sometimes, the WiFi connection you use runs pretty slowly that can affect the functions of Instagram.
If your internet connection disconnects, again and again, running any application would be fairly tough. In this scenario, you need to turn off your WiFi option and turn on the cellular data option to see how things shape now.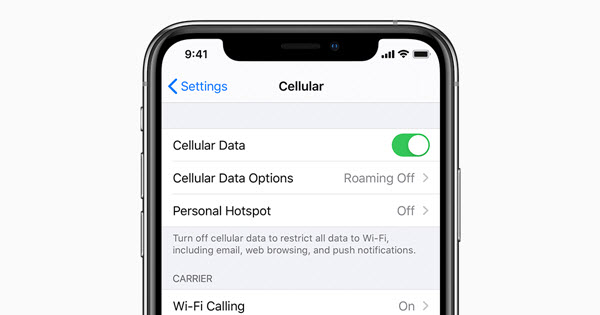 If Instagram runs appropriately after turning to cellular, your WiFi connection or settings are the issues.
6. Update iPhone to Solve Instagram Not Working on iPhone
Apple regularly releases the new iOS device updates to make sure the users don't face any issues regarding the functions of the iPhone.
If you didn't notice the availability of a new update and still using the older version, this might create some software issues. In this process, it is the possibility that some of your apps don't work well, and Instagram is surely one of them.
It is why you need to keep checking the availability of the new updated version. To install a new version of the iPhone, you'll need to open settings and then navigate to the update option from there. Later, you can tap on it and get your job done.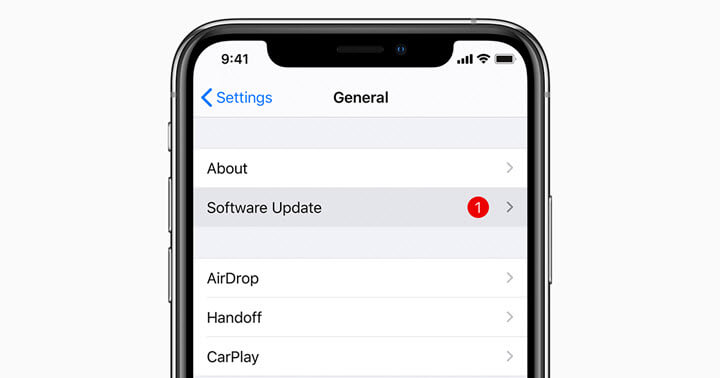 7. Fix Instagram Wont Open on iPhone via Reinstalling It
Despite updating the new iPhone version, you can try something else if things remain the same. You've got the option to delete the Instagram app in the first place and then install it again.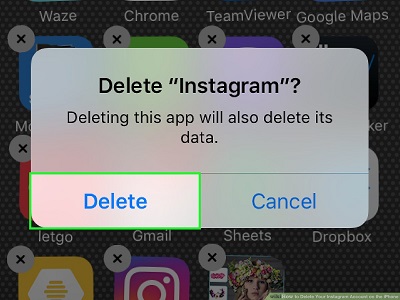 For this purpose, you'll need to open the App Store and navigate to the Instagram app. After finding it, click on Uninstall option on your right side. After removing it, you can install it again from there.
8. Check to See If the Server Instagram is Down
Due to some technical glitches, Instagram tends to go down often. When this happens, people wouldn't be able to explore the features of Instagram.
The majority of people don't notice the technical glitch and would rather say there's something wrong with their device restricting them from using Instagram. When Instagram doesn't work properly, you need to check if Instagram is down. If yes, you need to wait for a while before Instagram sorts this issue out.
9. Try It in A Browser to Solve Instagram Not Working on iPad/iPhone
If no trick helped you to run Instagram app appropriately, you need to log in with your Instagram on a web browser.
You can opt to go for a Chrome or UC browser for this purpose. After launching a web browser, you'll need to give your personal information and start using Instagram from there. Now, you need to assess the situation and see whether Instagram runs normally or not.
Part 2: How to Fix Instagram Not Working on iPhone in One-click Using iOS System Recovery Tool
If you're unable to fix the Instagram wont open on iPhone 6/7/8/X/11/12/13
issue, you need to purchase the services of StarzSoft Fixcon. It allows you to tackle any iPhone issue with complete control.
You can get rid of the Instagram won't open on iPhone problem by repairing your device through a standard repair method.
Here's the step-by-step guide to putting things in order.
1. Install and launch Starzsoft Fixcon, hit Standard Repair without a second invitation.

2. After connecting your device with Desktop, please look for available firmware package options. Finding a reliable option and click on the Download option to download it.
3. Now, you can to start repairing the device by hitting the continue button option from there. After a few moments, your process will get completed.

4. Now, please launch Instagram and check the outcome of repairing your device using Starzsoft Fixcon.
It will take some minutes before things start getting normal. After restarting your iPhone, try syncing your Calendars again.
Conclusion
Facing issues with Instagram is a common gig for iPhone users. However, you can fix this issue by following the solutions we've talked about above.
Of all the methods, using StarzSoft Fixcon is the best one. Its user-friendly interface and great ability to fix any iPhone issue make things look pleasant for you.