Screen mirroring is a fantastic way to share your mobile and computer's screen to another PC without the need of any cables or hardware. One screen mirroring software that has become extremely popular is Anydesk. Knowing that customers want to invest in the best and the right screen mirroring tool, here's our Anydesk honest review that will help you make an informed decision.
Screen mirroring is quite a handy feature for almost everyone. Whether you are a teacher who wants to screen mirror their mobile phone and display important content on a bigger screen, or you simply want to watch Netflix on a bigger screen, a screen mirroring tool allows you to do that.
This review of Anydesk will help you learn everything about this popular software, its pros and cons, its price, and whether you should try it or not. So, keep reading to find out all the details about this popular software.
What is Anydesk?
Anydesk is essentially a screen mirroring software for Chromebook, Windows, Mac, Android, iPhone, and iPad. Using Anydesk, you can quickly screen mirror the device and see the content on another PC or Mac. In addition, Anydesk eliminates the need for hardware and cables, making it convenient for everyone to screen mirror any device's screen.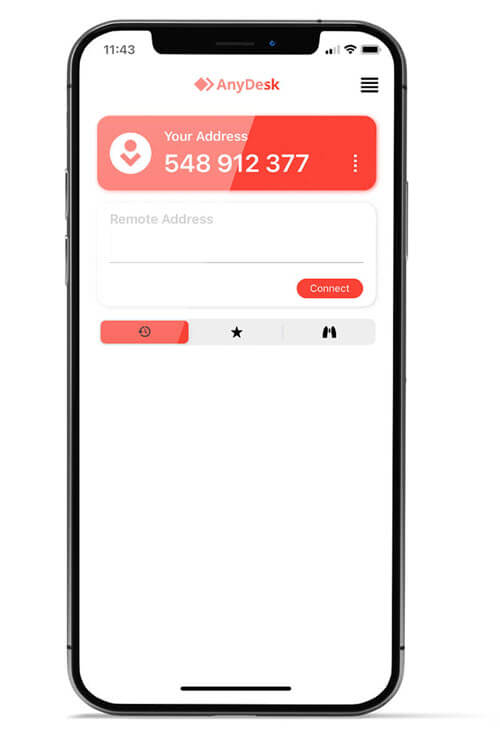 Anydesk assures that with the help of this software, you can do high-quality screen mirroring. Moreover, apart from screen mirroring, the same software also lets you record the mirrored screen. This means that you can quickly record the device's content that you are mirroring using one software only. Anydesk is available for a free trial, and after using it, if you think it is worth the money, you can buy it too.
Key Features of Anydesk
Screen Mirroring
The most crucial feature of Anydesk is screen mirroring. You can use Anydesk to mirror any device and use it for recording and presentations. The screen mirroring function works on iPads, iPhones, Chromebooks, Mac, Android devices, and Windows PCs. If you want to mirror your Windows computer to a Mac, you can do that conveniently with Anydesk.
Screen Sharing
Screen sharing is a feature available only for Anydesk Pro Edition. This feature makes Anydesk even better! It lets you share your device's screen with up to 40 participants. The screen sharing feature can come in handy for people who have multiple participants. The host can share their screen and quickly start a conference or meeting.
Mirroring Assist
Mirroring assist is a function that makes finding your target computer quickly even if there are multiple devices. Mirroring assist can be used to mirror an iOS device or any Mac to another computer within the same network; however, using different subnets. One can easily get connected by scanning the OR code, clicking on the shortcut, or simply entering the nine-digit number you see on the computer.
What Can You Use Anydesk For?
There are multiple things that you can do with Anydesk. In fact, many institutions are now using Anydesk to mirror their device and let the participants see what's there on the device. Some of the occasions where you can use Anydesk are:
Presentations
If you don't want to worry about cables and additional hardware, you can simply use Anydesk to mirror your screen. No need to be dependent on the projector. Anydesk works wirelessly, which sets you free from missing cables or projectors not working. You can connect it to any computer and start the presentation. Be it a classroom presentation or for a meeting, Anydesk does planning for a presentation convenient.
Education
The education sector is widely using screen mirroring software, such as Anydesk. In schools' teachers often use screen mirroring tools to mirror their computer screen or mobile phone to share important information about a topic. One can connect their device directly to an interactive whiteboard or computer + projector and get on with their class.
Screen Recording
If you want to record a device's screen while mirroring it, Anydesk can come in handy because the new Anydesk Pro Edition lets you do that. This feature is helpful for those who want to record live content shared in a classroom, meeting, or anywhere else. In addition, this feature eliminates the use of multiple software.
PC Screen Sharing
When it comes to sharing the screen with other participants, Anydesk makes that possible too. Screen sharing can be done with one participant or up to 40 participants. This way, you will not have to download the content and send it individually to different people. Instead, you can just share the content of your device.
Web Meetings
In web meetings, using screen mirroring is quite regular. If you are preparing for a web meeting and you are worried that the participants won't see what you are sharing, Anydesk will easily overcome this challenge. You can broadcast your content to remote audiences conveniently.
Gaming and Media
You can also use Anydesk to mirror your screen when you are playing. You can record the game if you want as well. Moreover, using Anydesk lets you share photos and videos with your loved ones too. There's no bigger joy than enjoying the memories when everyone is together.
Cost of Anydesk
Anydesk provides you with a free trial, which you can try to check whether Anydesk is the right option for you or not. And to buy Anydesk, you can choose from the following two licenses: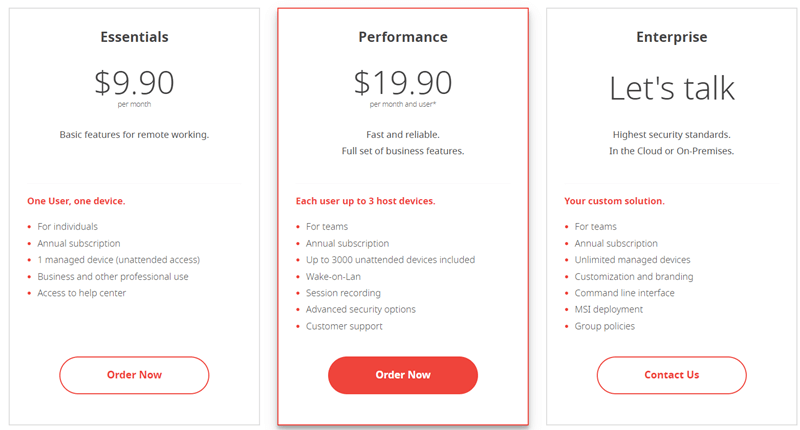 Essentials License: The essentials license will cost you $9.9 per month. This will include one receiver license for Mac or Windows PC. With this license, you will be able to mirror your device to different devices. This will be a one-time purchase, and if you want to move the license to another computer, that can be done too.
Performance Subscription: The pro subscription comes for $19.9 per month. The pro feature will provide you with a screen sharing feature missing in the standard license. The subscription will be renewed every year. You can quickly move the subscription from your current computer to another without any limitation. This subscription comes with phone support and also includes screen sharing.
Apart from these two licenses, Anydesk also has Education/Corporate license. However, the price for it can be known only by contacting customer care. This will essentially be a large deployment license.
Pros and Cons of Anydesk
Pros
Anydesk Pro Edition offers an additional feature, which is screen sharing with up to 40 people.
Anydesk allows you to record your screen.
The setup process is simple, and the software is easy to use.
The tool comes with a free trial version, which is excellent.
The free trial lets you explore all the features.
Cons
The screen sharing feature is available only for the Anydesk Pro Edition users.
Anydesk doesn't have a live chat or phone number to contact their customer care team.
Customer Support of Anydesk
Anydesk customer support is available from Monday to Friday from 8.00 am to 5.00 pm. You can get in touch with customer support. Anydesk also has a dedicated FAQ page, which you can check to find answers for commonly asked questions. This will save you time from contacting the customer care department.
Best Alternative to Anydesk
If you want to find the best alternative to Anydesk, then StarzMirror will be your best choice.
StarzMirror is the latest screen mirror software that you can use to mirror your Android/iPhone screen to any computer. It also features a help guide for those who need additional clarification on how it works and some interesting related videos.
What makes StarzMirror different from Anydesk is its ability to minimise lag, since it doesn't rely on any third party software.
Once you have downloaded and installed StarzMirror, you can plug in your Android device via USB. When the initial setup wizard is complete, you will be able to find it on the "Mirror" page where you can cast your phone screen to your computer.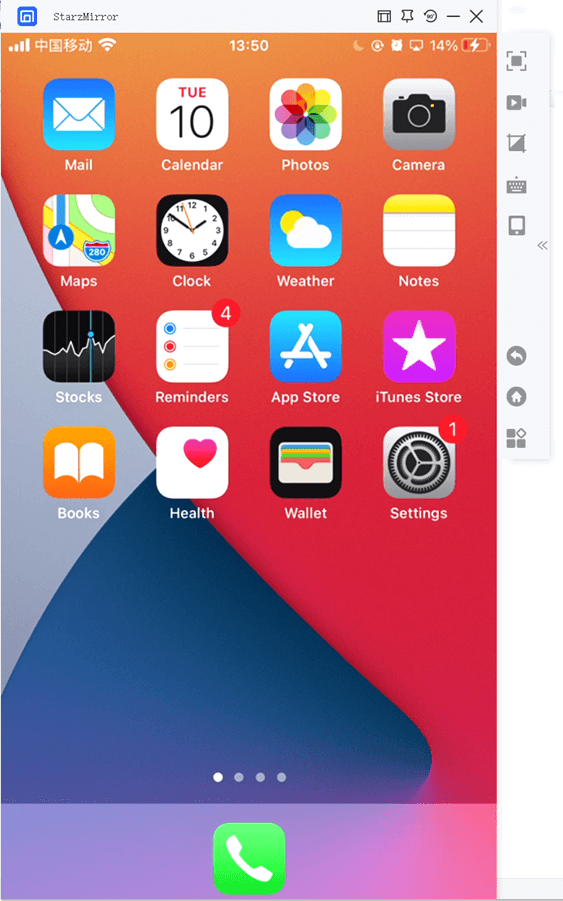 Verdict
Overall, StarzMirror is quite a good screen mirroring software to go for. It does precisely what it promises to offer. Mirroring a device's screen becomes easy with StarzMirror. Price-wise, StarzMirror is affordable.
To sum up, if you want to mirror your device's screen, you can go for this software.