The most frequent concerns that iPhone customers have with their smartphones, aside from cracked screens, are charging problems. This is understandable considering that one of the few parts that naturally deteriorates with time is the battery in your iPhone—or any smartphone, for that matter. Batteries for iPhones are not immune from the effects of time.
However, you shouldn't immediately buy a new iPhone if you see that it won't charge past 80%. There are a few causes if your iPhone stops charging at 80%, and the most of them are simple to resolve. Discover why your iPhone stops charging at 80% and how to fix it by reading on.
Why Does the iPhone Stop Charging at 80 and How to Fix It
Reason 1: The Battery in Your iPhone is Self-Preserving
In order to extend the life of your battery, Apple may have added a mechanism that causes your iPhone to occasionally stop charging at 80%. Most people want to keep their phone's battery at 100% as much as they can, however it turns out that this can harm your iPhone's battery.
For starters, lithium batteries are put under more stress when fully charged and kept there, shortening their lifespan.
Apple has developed a battery optimization function in iOS 13 that reduces how quickly your iPhone charges and even holds it at 80% to prevent overstressing the battery in order to prolong the life of the battery.
Fix 1: Turn off "Optimized Battery Charging"
If you have iOS 13 installed on your iPhone, the Optimized Battery Charging feature will be turned on by default. This function employs a number of strategies to increase the battery life of your smartphone.
It accomplishes this, among other things, by prohibiting your iPhone from charging past 80% at specific periods. But you may easily disable this option in your battery settings if you prefer to have your phone fully charged.
1. Go to settings menu and click on Battery.
2. Turn on optimized battery charging.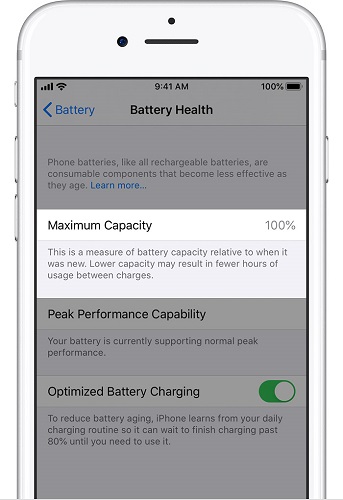 Reason 2: Your iPhone Gets Too Hot
Temperature is another frequent cause of your iPhone's charging interruption. As already said, one of the quickest ways to deteriorate and shorten the lifespan of your iPhone is heat.
The iPhone will automatically stop the battery from charging after 80% if you are charging it in a particularly warm environment. Apple will address the issue by preventing your iPhone from charging past 80%. This is because keeping your phone in a warm environment and charging it for extended periods of time both put your battery at risk.
This is likely the cause of your charging problems if you observe a relationship between them and the weather.
Fix 2: Reduce Your iPhone Temperature
Try reducing the temperature of your iPhone by these steps.
1. Turning it off.
2. Unplugging it from the charger.
3. Removing it from direct sunlight
4. Putting it in a colder environment to determine if this is the issue.
While it can be challenging to regulate the temperatures your iPhone is exposed to due to the weather, keeping your phone away from extreme temperatures will help your iPhone's battery last longer.
Keep your phone out of the kitchen when you're cooking, inside when you're outside, in the shade while you drive, and out of the car when it's hot outside to achieve this.
Reason 3: Damaged iPhone or Its Charger

Finally, while regrettable, the issue could be caused by a faulty or damaged iPhone or charger. There's a decent likelihood that the problem is with the new charger you've started using with your iPhone recently.
Fix 3: Use Reliable Charger
To identify the problem's root cause, try switching between various cables, chargers, and wall outlets. As a result of dust accumulation, your phone's charging port on the bottom may also need to be cleaned.
If none of that helps, the problem is probably with your iPhone. Fortunately, battery-related problems are typically easy to fix. Since iPhone batteries need to be replaced every two years, there's a strong chance that all you need is a quick battery swap! So what you need to do is:
Change iPhone battery
Change charger
How to Fix It with One-click If Your iPhone Stops Charging at 80
StarzSoft Fixcon is the quick and accurate solution to fix "iPhone stops charging at 80" and other IOS device breakdowns and concerns that lets you fix them in one click and through a beginner-friendly process.
If you're experiencing iOS/iPadOS/tvOS troubles and if your iPhone stops charging at 80 when everything seems fine, go for it. You merely have to utilise the Standard Repair option in StarzSoft Fixcon and adhere to the instructions.
Now we will walk you through downloading and utilising StarzSoft Fixcon in just three easy steps.
1. Choosing the Standard Repair option, connecting your iPhone to your computer through USB is undoubtedly a straightforward process.
2. Follow the instructions displayed on the screen as quickly as possible. However, click the "Next" button first. The process typically begins right away.

3. Fixcon instantly recognises the model type of your device and other information, and it also install the required firmware files. Keep your focus on the current job, make only the selections you want, and then click "Download."
4. Click on Continue so that you make sure you have opted for this choice to start the system repair.
Other General Fixes for iPhone Stops Charging at 80

1. Don't Let Your iPhone Reach 0%
The ideal method for maintaining battery efficiency used to be to let your phone's battery drop to 0% before charging it back to 100%. This was true in the past, but modern smartphone batteries operate significantly differently.
The battery in your iPhone operates most effectively when it is kept between 20% and 90%. You may prolong the battery life of your phone by trying to stay as close to that range as you can.
2. Check Battery Health and Optimize It

Users of iPhones and iPods should also check the status of their batteries in Settings to find out additional information about the battery. The iPhone may charge slowly after reaching 80% battery life if the "Optimised Battery Charging" function is selected in order to prevent battery ageing.
3. Visit Local App Store
The best course of action is to go to your local Apple Store if neither of these remedies seems to solve the problem and you've established that the problem is with your iPhone and not with a broken charger or cord.
Apple will do a free diagnostic test to determine the cause of your charging problems, and depending on the situation, may even make a free repair offer! If your iPhone is under a year old and already experiencing battery problems, you stand a decent chance of getting this problem fixed for free.
FAQs
At 82%, should I replace the battery?
After 500 full charges, your iPhone should still have up to 80% of its initial battery capacity. Your battery's capacity to keep a charge begins to decline as the battery health percentage falls below 80%. However, you should not think about replacing the battery as it may be financially burdening. You can simply focus on the technical fixes.
If the battery is full, does the iPhone cease charging?
When your battery is full, the charger will automatically turn off, however in some circumstances, if the battery lowers to 99%, it will require more power to reach 100% again.
How long is the battery life on the iPhone 80?
Battery replacement is advised when the battery health is under 80%. Depending on your usage, this typically happens two years after you purchase your iPhone.
Conclusion
The first step in extending the life of your iPhone battery is to understand what influences it. You may offer your battery the longest life possible by utilising high-quality iPhone chargers and keeping in mind the charging advice from this page.
Apply the suggested fixes like StarzSoft Fixcon if your iPhone stops charging at 80 to quickly resolve the problem.