The iPhone gives you access to several functionalities that allow you to conveniently access files and data, move from one app to the next, and, most significantly, wake up your phone without unnecessary stress.
Taping your iPhone lightly is one method for doing so. However, some iPhone users appear to be having difficulties with this capability. Here we have come up with the solutions if your iPhone's tap to wake option is not working.
Part 1: Solutions You Should Try First to Solve iPhone Tap to Wake Not Working Problem
Here are the working solutions that you should try initially to solve the iPhone 13 tap to wake not working problem.
1. Force Restart to Fix Touch to Wake iPhone Not Working
Force restarting your iPhone is a typical solution for many iPhone problems. Most likely, restarting your iPhone will resolve the iPhone "tap to wake not working" issue. The following are the steps for restarting your iPhone X or later:
1. Increase the volume on your iPhone and quickly release it.
2. Click and quickly release the decrease volume button on your iPhone.
3. Continue to press the side button until you see the Apple logo, then remove your hand from the button.
4. Hold down the side button on your phone until the Apple logo appears.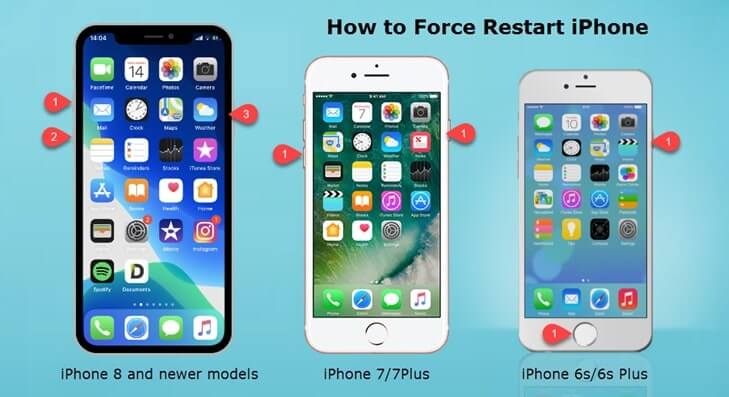 2. Update iOS If Your iPhone Tap to Wake Not Working
Apple is continually updating its iOS software. It is how they assist people in resolving software faults such as tap to wake not working. Here are the steps to follow to confirm if your iOS is up to date and to install the update right away:
1. Tap the Settings app with the gear icon on your iPhone's Home Screen.
2. On the Settings screen, go to the General tab.
3. Select Software Update.
4. Now, select the Automatic Updates option.
5. On the Automatic Updates screen, you will see two options. They are, respectively, Download iOS Updates and Install iOS Updates. Select both options. Your phone will automatically update to the latest version of iOS as soon as an update is available.)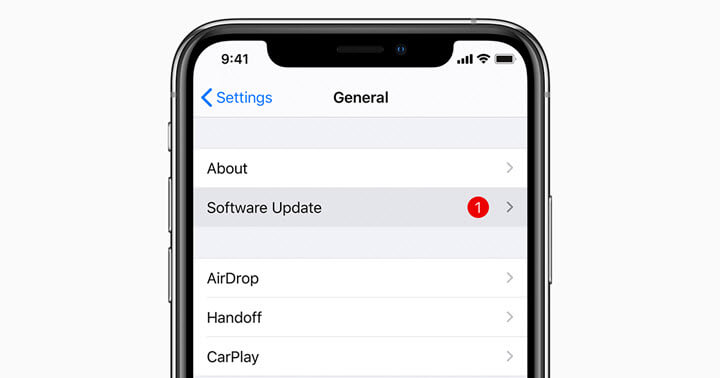 3. Remove Screen Protector or A Case
Sometimes the screen protector or a case may also cause tapping issues. For the solution, you should consider removing that.
1. Adhesive should be softened.
2. Pry up the Screen Protector's corners.
3. To completely remove it, use the corner openings.
4. Clean the Screen of Your Phone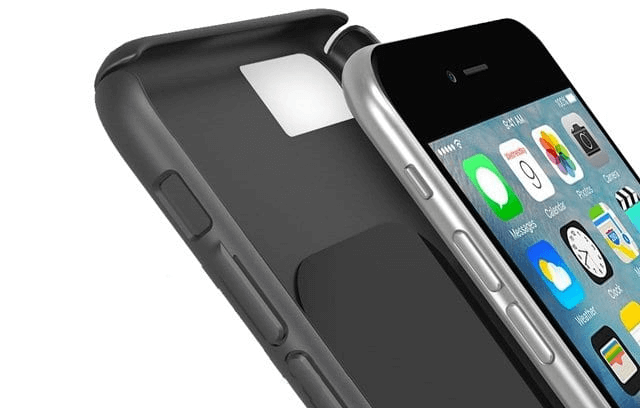 Part 2: What to Do Next? Fix Tap to Wake Not Working iPhone with Particular Ways
1. Disable Tap to Wake and Then Enable It Again
1. Go to the Settings app.
2. Navigate to the iPhone's settings, select Accessibility and then Touch.
3. To disable the feature, slide the Tap to Wake switch to the OFF position.
4. Turn off Tap to Wake in iPhone Settings. Now, if you lock your iPhone and try to tap the display, nothing happens.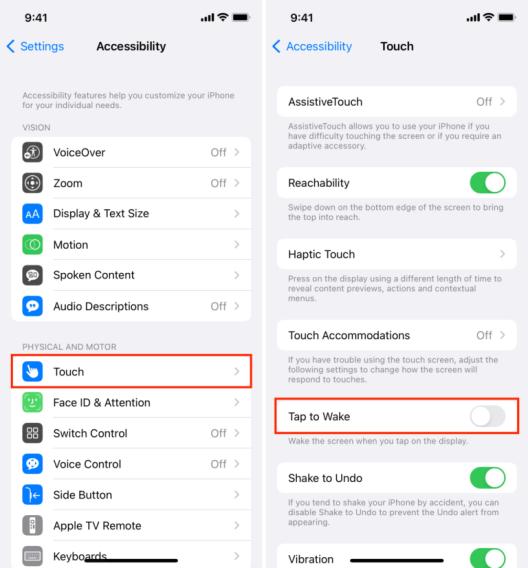 2. Reset All Settings to Try
Unfortunately, if the problem remains, you must reset your 'Network Settings.' This may or may not work 100% of the time, but it is good enough to justify a go. Resetting your network settings, however, will also reset your Wi-Fi networks and passwords, cellular settings, and VPN settings.
Here's how to restore your 'Network Settings':
1. Open the Settings app on your iPhone and navigate to General.
2. Then, under Reset, select Reset All Settings.
3. A popup should appear on your screen, and you should click Reset All Settings to confirm your selection.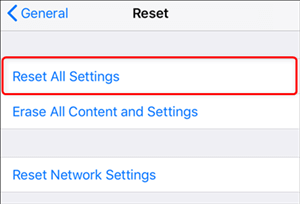 We expect positive results from all of the methods outlined previously. But if this doesn't work, we'll go on to the next possible solutions.
Part 3: Still Not Working? 3 Ultimate Methods Here
1. Fix iPhone System Glitches with Starzsoft Fixcon
StarzSoft Fixcon is the most appropriate solution for all types of iPhone and IOS device glitches and problems and can fix iOS/iPadOS/tvOS "tap to wake not working" difficulties in a matter of seconds if you're having problems with your iPhone, including the iPhone "tap to wake, not working"issue , it should be your one-stop shop.
You should use the Standard Repair option to correct an iPhone tap to wake not working issue.
1. Open StarzSoft Fixcon and then immediately reach out to the main menu, and then look for different repair options. In the drop-down box, you will see Standard Repair, choose it.

2. Fixcon will identify the model type of your device and download the required firmware files. Select your preferred option and click the "Download" button.
3. After you successfully download the firmware package you will see the Continue option in the form of a green box. Click on this option so that the system repair can be initiated.
Waiting for the completion of the repair option was all that you needed to do till now. After that, you will notice the 'tap to wake not working' error has been resolved.
2. Restore with iTunes to Fix Tap to Wake iPhone Not Working
In iTunes on PC, here is how you can restore your iPhone, iPad, or iPod touch.
1. Attach your device to your PC.
2. Click the Device button on the top left of the iTunes window in the iTunes software on your PC.
3. Select Restore, follow the onscreen prompts after clicking Restore.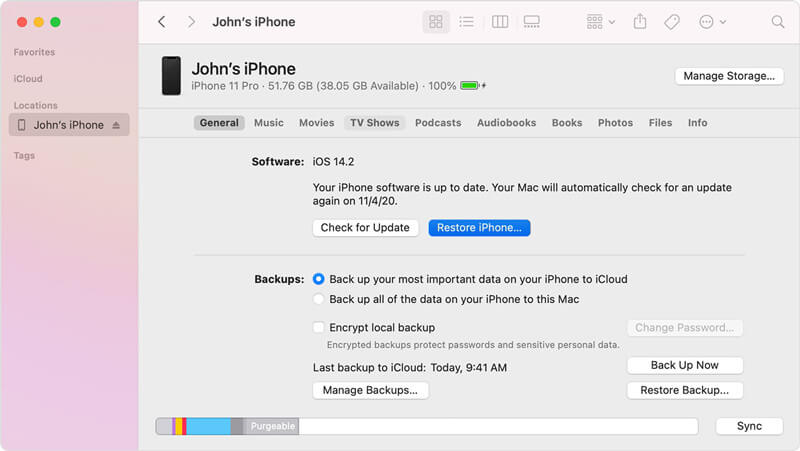 3. Change to Use Raise to Wake
When you raise your iPhone to look at it, the Lock screen is automatically activated. From there, you can quickly check your alerts, open Control Center, take a photo, or access widgets by swiping left or right.
To enable or disable Raise to Wake, navigate to Settings > Display & Brightness.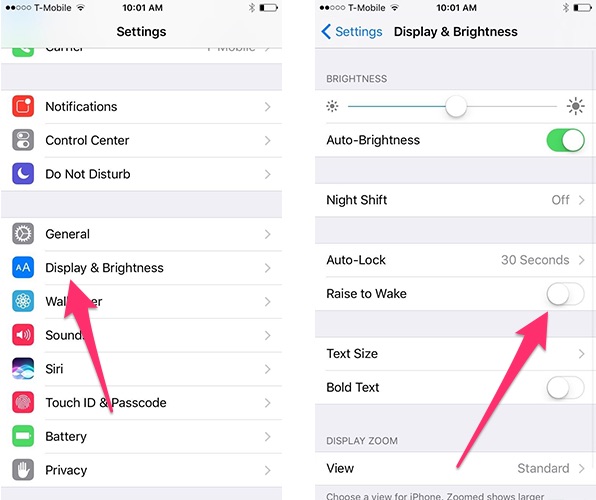 Part 4: Faqs You May Want Know about Tap to Wake iPhone
Why does my iPhone not wake up when I tap it?
If Tap to Wake is not working, make sure it is enabled because the problem occurs when you do not have the appropriate settings. To see if the Tap to Wake feature is enabled, navigate to Settings > Accessibility > Touch and enable the 'Tap to Wake' toggle on this screen. It could help to turn it off and then back on again.
How do I wake up my phone without the power button?
If you want to wake up your phone without pressing the power button, there are several options.
1. Press the power button.
2. Press and hold the home button.
3. Tap the screen twice.
4. Wave your hand in front of the proximity sensor.
5. Make use of a third-party app.
Conclusion
Well, now you know almost all the commonly used solutions that can solve the "tap to wake not working" problem. Tap to wake up iPhone users can access the lock screen without using the side or power buttons. If your iPhone does not support this seamless operation, you can try any of the fixes listed above. However, we propose StarzSoft Fixcon if you want to solve the "tap to wake not working" problem as well as all other types of bugs on any of your iOS devices.