Question
"I have been seeing irritating lines on my iPhone for a week now. Despite cleaning out the screen, I haven't been able to fix the issue. How would this issue be resolved"?
It is a pretty common iOS problem, and users have been experiencing this since iPhone 4. Notably, a user may have to deal with lines on iPhone screen.
The reason behind this might be a software or hardware glitch. However, you can fix this issue without making much of your effort. Follow this guide, and you'll know how to fix green lines on iPhone screen.
Part 1: How Many Kinds of Lines on iPhone Screen Issues are There
As we've discussed above, both software and hardware damages can cause black/white lines on iPhone screen. Here is the list of the common problems behind this fuss.
1. If your device accidentally falls on the earth, it can cause inconvenience. It means, iPhone's LCB wire can be disconnected from your phone's logic board.
2. Apart from a bad connection between the logic board and flex cable, lines can appear if you produce ESD excessively.
3. If you've damaged your display screen unintentionally, it can cause vertical lines on your device.
Part 2: What Should You Do Before Repairing Coloured Lines on iPhone Screen
If you're worried about lines on iPhone screen, you need to look for an appropriate solution to fix this problem. However, before going for a solution, you need to back up your important data. You can back up your data using iCloud or iTunes.
Don't forget to acquire a lightning cable backing up data via iTunes. However, if you want to back up your data through iCloud, you'll need to have enough iCloud Storage to serve your purpose.
Part 3: How to Fix Lines on iPhone Screen When It is a Software Issue
Fix 1. Force Restart to Fix White Lines on iPhone Screen
The first thing you should try to eliminate horizontal or vertical lines on iPhone 11/12/13 screen is to restart your device hard. Luckily, the chances of you getting rid of lines on screen after restarting your iPhone are immense. Here's the guide to force restart your device.
For iPhone 6 or earlier versions
Hit the Power and Home button and hold them for around 15 seconds. After, it will be turned off, and then after a few moments, it will turn on again.
For iPhone 7 or Plus
Press the Volume a down and Wake/Sleep button simultaneously until your iPhone gets started again.
For iPhone 8 or later versions
After pressing the Volume Up button, you'll need to release it afterward. Later, you'll need to click on the Volume Down button and the Power button until the Apple logo appears.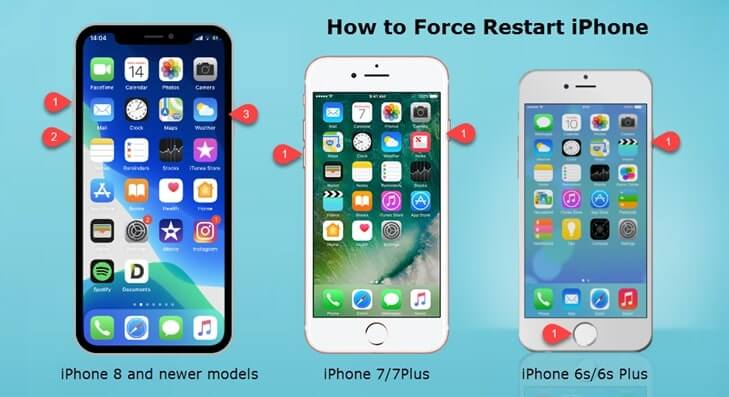 Fix 2. Enter iPhone Into and Out of DFU Mode
If restarting your device isn't proven to be helpful, you need to look for something else. For instance, you can try putting your device into DFU mode.
Doing so can assist you in fixing the issue you must be having currently. After putting your device into DFU mode, you'll need to put it out of DFU mode to see how it works for you.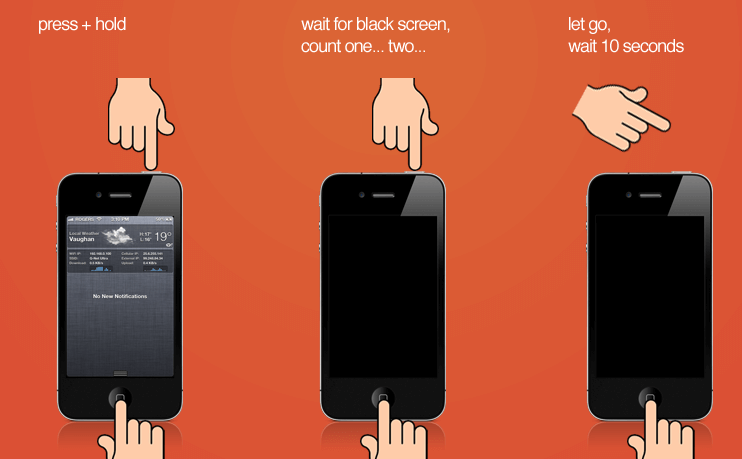 Fix 3. Restore iPhone with iTunes to Solve iPhone 11 Lines on Screen
Despite testing a couple of methods, if the lines on your iPhone's screen persist, you need to restore your device through iTunes. Follow the step-by-step guide to putting things in order.
1. After visiting the iTunes website, download it and launch the application afterward. Later, you need to connect your iOS phone device to the PC.
2. Select your iPhone device whenever it appears in iTunes. Later, you need to select Restore iPhone after visiting the summary panel.
3. Next, you can hit the Restore icon to confirm your operation. After this, your device will be restored, and the lines you were seeing in your iPhone will disappear.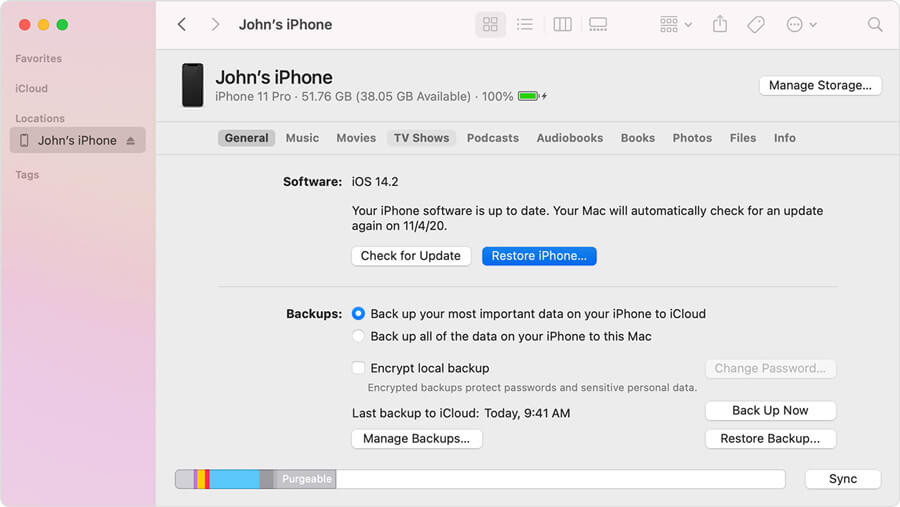 Fix 4. Erase All Content and Settings on iPhone
The following solution to get rid of lines on the iPhone screen is factory resetting your device. Unfortunately, you might lose your essential performing this operation.
That's why you need to back up your data before taking this extreme step. After you've got your backup, follow the steps below to put the things in order.
1. After navigating to iPhone settings, hit the "General" option from there.
2. In this phase, you'll need to click on the Reset option and then hit the 'Erase All Contents and Settings' option.
3. If this process also doesn't help you, you need to take care of some hardware issues with your iPhone.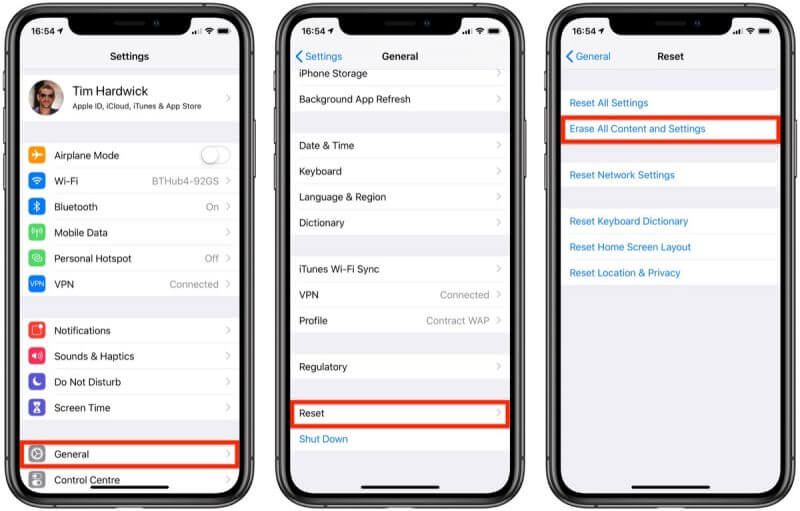 Part 4: How to Fix Lines on an iPhone Screen When It is a Hardware Issue
Fix 1. Check If the IC Connector is Damaged
If you're struggling with lines on the iPhone screen due to hardware issues, the first thing you need to check is the IC connector.
You need to analyze the connector from every angle, and if you find something wrong with it, you may need to replace your screen. Moreover, you don't need to squeeze the IC connector to increase your headache.
Fix 2. Check the Electro-Static Discharge
If IC connect is doing fine, ESD can be a massive factor behind vertical lines on iPhone. If the product produces too much, ESD or a human tends to produce excessive ESD during installation or testing, and it can create chaos for your iPhone's screen.
To avoid this situation, you can reduce any static charge with the help of a body static remover before going for installation or testing.
Moreover, you'll also need to keep your ion fan on and also try wearing an anti-static bracelet during the repairing job.
Fix 3. Check the Display Connections on the Cables and the Logic Board
If you don't find any issue with the things we've discussed earlier, you need to assess the logic board and flex cables. If there's even a slight amount of debris or dust on your connectors, you need to put it away using rubbing alcohol or a brush.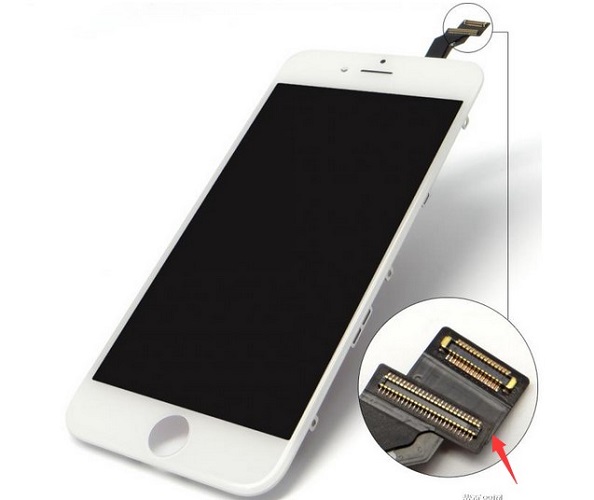 Part 5: How to Fix Green Lines on iPhone Screen with the Most Straightforward Solution
Despite having tested every method, if you're unable to fix lines on iPhone screen, try out StarzSoft Fixcon. Apart from offering quality services, it allows you to acquire its premium version at reasonable rates. Follow the guide below to repair your device with no data loss using Starzsoft Fixcon.
1. Download Fixcon on your device, launch it. Later, you need to select the Standard Mode option. Moreover, you'll also need to connect your iPhone to your PC.

2. Get the appropriate firmware package downloaded on your iPhone after clicking the "Download" button icon.
3. Now, you'll need to hit the icon to initiate the repairing process. After getting done with it, you'll need to check whether iPhone lines are still there on your screen.
Sum Up
You don't need to worry about the white/green line on iPhone screen. Since we've explored the ways to help you get rid of issues, you can take the prominent notes from this article.
You need to apply all the solutions mentioned in this article to make things better for you. Of the solutions you'll find here, StarzSoft Fixcon is probably the quickest and best way to fix your issues. The best thing about it is its ability to eliminate many iPhone glitches with minimal effort.