WhatsApp is probably the most used social media app, and most of the users opt to use this platform when calling their beloved ones. However, iPhone users have revealed that WhatsApp sometimes doesn't respond well and can't receive the notifications, connect the calls, or receive the messages.
There can be some major reasons behind this issue, but you don't need to feel deplorable about it as we'll explore the most reliable ways to fix the "WhatsApp not working on iPhone" issue.
Part 1: Why is WhatsApp Not Working on My iPhone
We can't tell you the exact reason behind the issue you're facing. However, it has to be a software issue as many iPhone users face software issues. Here are some of the main reasons Whatsapp not connecting iPhone.
Poor Wi-Fi connection
Outdated app software
Software crashes
WhatsApp server maintenance
Part 2: How to Fix WhatsApp Not Working on iPhone with Settings (7 Ways)
1. Restart iPhone to Fix Whatsapp iPhone Not Working
If you're having some issues with your WhatsApp, the first thing you'll need to do is restart your iPhone. Doing so can help you fix a lot of iPhone issues. Here's how to restart your iPhone.
1. Press and hold iPhone's power and Volume buttons until the power off sliders appear.
2. Drag the slider to the right side and turn your device off. Later, you'll need to press the power button to turn your device on again.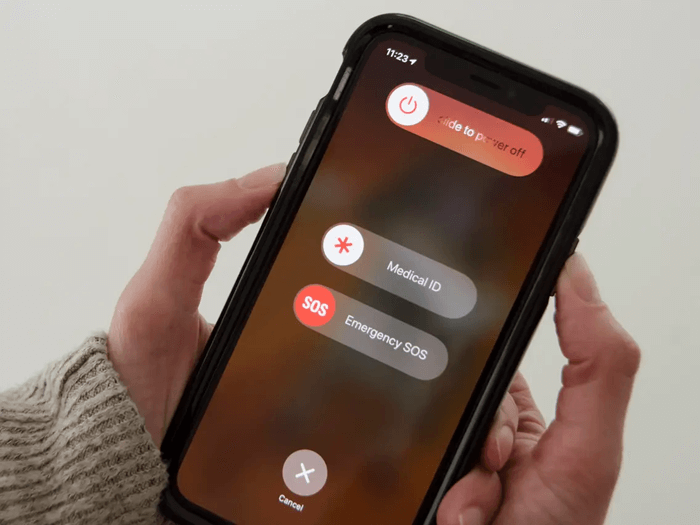 2. Turn Airplane Mode On and Off
You can also fix the "WhatsApp not working on iPhone" issue by enabling and disabling the Airplane Plane mode. For this, you'll need to launch settings and navigate to Airplane. Enable the option and then turn it off again to see how it goes.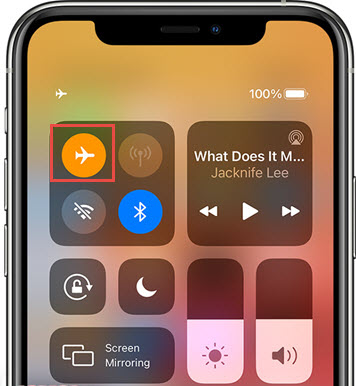 3. Turn Cellular Data on to Fix WhatsApp Not Working iPhone
You can't run WhatsApp if you don't turn the cellular data or Wi-Fi connection on. Sometimes, people forget to turn their cellular data connection and wonder why their WhatsApp isn't running.
To turn the Cellular data network, you'll need to hit the "General Settings" option and then navigate the Cellular network option and turn it on.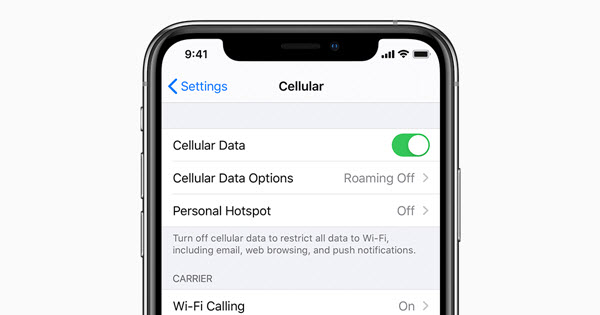 4. Reconnect Wi-Fi to Solve WhatsApp Notifications Not Working on iPhone
If you've connected your iPhone to a Wi-Fi connection but still your WhatsApp doesn't work, it might be some issues with your Wi-Fi network.
What you need to do is turn your Wi-Fi connection off from the settings and then turn it on again to see whether the issue you were facing has been solved or not.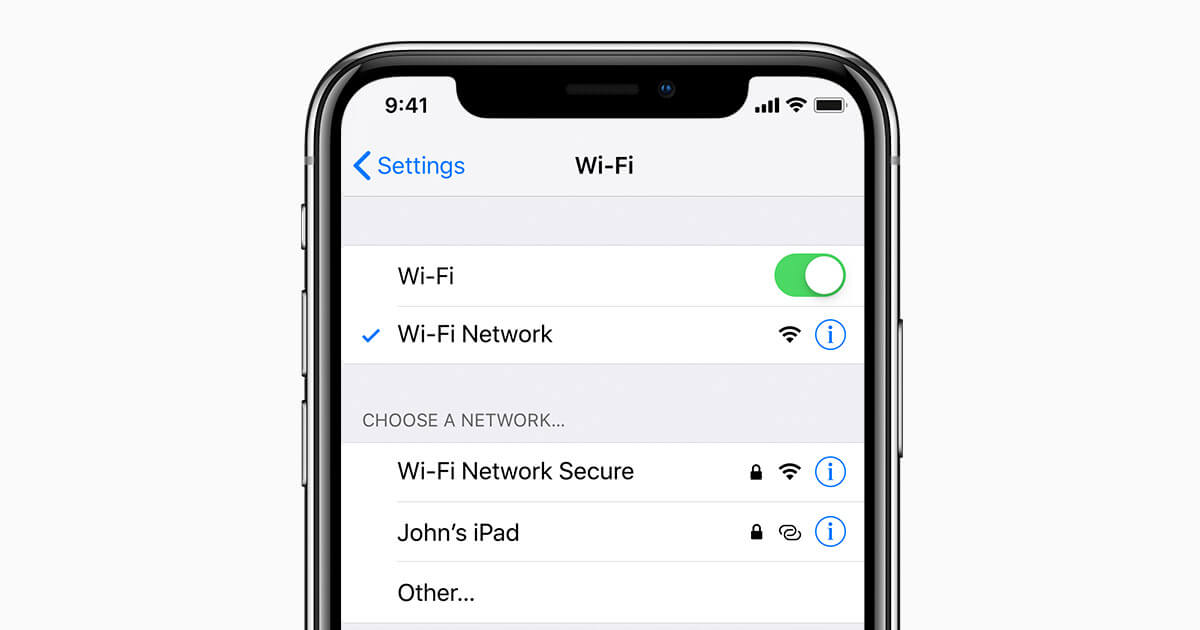 5. Try Connecting to Different Wi-Fi Hotspots
If you don't find any issue with your Wi-Fi and cellular network, you can try connecting iPhone with your family members' mobile Hotspot. If this also doesn't improve things, navigate to the next solution.
6. Reset Network Settings to Solve WhatsApp Says Connecting iPhone
Another thing that you can try to get rid of the "WhatsApp not connecting iPhone" issue is by resetting the network. Although doing so can erase Cellular VPN settings, you can prevent the scare you're dealing with. Here's the step-by-step guide to reset network settings.
1. Launch iPhone settings and move onto the General option. Later, you'll need to select the "Reset" option.
2. Now, all you need is to hit th "Reset Network Settings" option and confirm the action.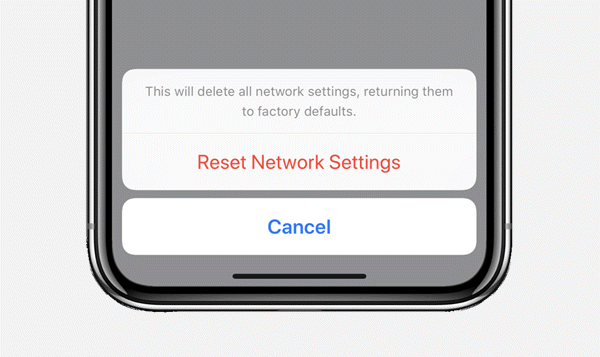 7. Turn Off Content Restrictions on iPhone
Apple has introduced a Content Restriction feature that allows you to stop your kids from accessing some applications.
Hence, this feature might prevent you from using WhatsApp appropriately. To get rid of this issue you're struggling with, you'll need to turn this feature off. Here's how to turn this feature off.
1. Navigate to Screen Time after hitting Settings.
2. Select Content Restrictions after hitting the Content and Privacy Restrictions option.
3. Lift restrictions from WhatsApp after hitting the Apps option.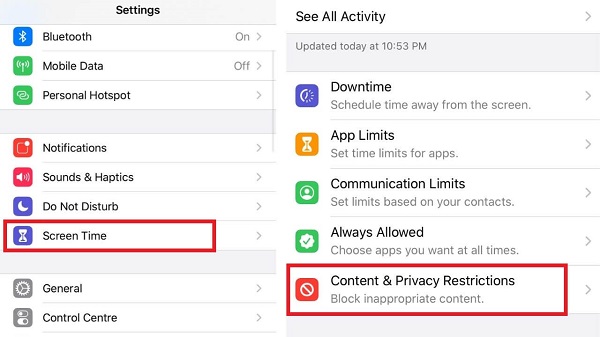 Part 3: How to Fix WhatsApp Not Working on iPhone via Checking WhatsApp Status (5 Ways)
1. Check the Server Status Of WhatsApp
Despite trying so hard, if you haven't found a way to help your cause, you need to ask your friends if they are also facing it. Sometimes, the WhatsApp server goes citing maintenance purposes.
If that's the case, you don't need to worry about it, as every social media application tends to get updated after some time.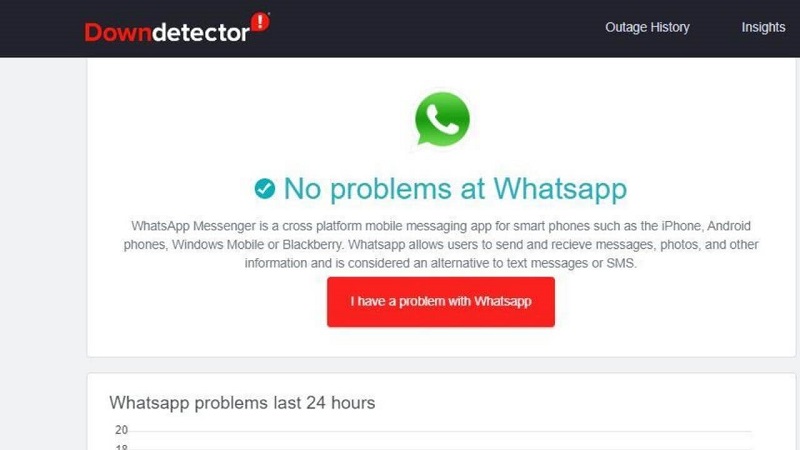 2. Check WhatsApp Blocked List
If you're unable to get messages from your friend on WhatsApp, you need to check the Blocklist as you sometimes accidentally block your friend and end up not receiving any message.
For this, you'll need to launch WhatsApp settings and then navigate to Privacy settings. Next, tap on Blocklist and check if your friend's number is also there. Remove your friend's number if you find it in the WhatsApp block list.
3. Update to Solve WhatsApp Connecting Issue iPhone
You can also update WhatsApp to check whether doing so helps your cause or not. You can navigate to App Store and find the WhatsApp app. After finding it, you can hit the update option to get your application updated.
4. Force Restart WhatsApp
If nothing bothers to help you to get rid of the "WhatsApp not working on iPhone" issue, you can quit the app and start it again. In this way, you can refresh your app and start working appropriately.
To quit your app, you'll need to double the Home button and drag the WhatsApp app to the right side after finding it. After a few minutes, you'll need to start the app again to see how this thing works.
5. Uninstall and Reinstall WhatsApp
Before heading for a third-party tool, the last thing you could do is try to solve the issue by removing the app and then installing it again.
Most of the time, reinstalling WhatsApp solves many issues. To remove your app, navigate to settings and then select Applications. Next, you'll need to remove the application from there.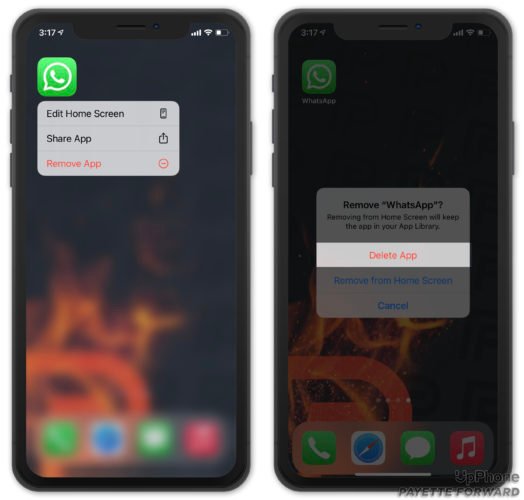 Later, you'll need to Install WhatsApp again after visiting App Store.
Part 4: How to Fix WhatsApp Not Working iPhone with Starzsoft Fixcon (Best Solution)
If you're unable to fix the issue, you should consult Starzsoft Fixcon. It is flawless third-party software that holds the complete ability to protect your iOS devices from any issues.
For instance, StarzSoft Fixcon can help you eliminate approximately 200+ issues with ease. Moreover, you can also repair your device with no data loss using this immaculate tool.
Steps of repairing iOS device via Starzsoft Fixcon
1. After installing and starting Fixcon, don't waste time before visiting the tool's interface. From there, you'll need to seek to "Standard Repair" mode. Remember, you won't lose any data by selecting "Standard Repair".

2. All you need to do is get a prestigious firmware package downloaded in this phase.
3. You'll only need to press the "Continue" icon in the last gig and restore your iPhone pretty quickly. The process isn't supposed to take more than a few minutes. After getting it done, you need to check the issue you were facing is fixed or not.
Conclusion
If you're facing issues with your WhatsApp, you can read this article as you'll find proper ways to fix the "WhatsApp not working on iPhone SE/11/12/13" issue.
Of all the methods we've introduced in this article, using Starzsoft Fixcon is the best method. Considering its high-quality services, you're recommended to use StarzSoft Fixcon.