Safari is to iPhone as Chrome is to Android. That little rhyme shows your safari app is very important to you, as it has web access, browses and adds webpages to your list and for quick access, it can add webpage icons to your home screen.
In addition to that, your safari app has access to and syncs to your passwords, bookmarks, browsing history and more. Safari app is also available on Mac devices and iPads, so undoubtedly it is one app that must always be functional.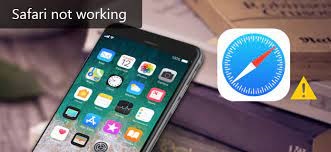 So what happens when there is a problem and safari not working on iPhone? Can you fix it? How do you fix it? As always there is a solution to your iPhone issues here. Let's take a look at some of the issues your safari app could develop.
Part 1: How Many Kinds Safari Not Working Issues are There?
This section will explain just a few issues the safari app can develop:
1. Safari running slow: As with every browser, at some point safari can run slower than expected. On Macs, this can be as a result of opening a lot of tabs at this point safari starts struggling to bear the load.
2. Safari not responding: Sometimes you could tap your safari app or clock on it with your mouse and it doesn't respond; it just keeps showing a non-stop, endless loading circle. This is disheartening.
3. Safari keeps crashing: Just like the issue in number 2, the safari app might just start crashing, if you try to open it, it closes almost immediately. Safari apps can develop this issue.
4. Safari not playing youtube videos: Sometimes Youtube videos won't play on your safari browser or the videos won't show clearly, probably show a green or dark screen and sometimes you may have clear video but no sound.
5. Hiding Website URLs: You might notice that some website URLs don't show fully, probably the root of the site address is what is displayed. This is noticed in new versions of the app, but this can be fixed in the settings tab.
So we have seen some of the problems that the safari app can develop. Why is safari not working on my iPhone? How can you fix the problem if the safari app on your iPhone is not working? Let's discuss these.
Part 2: Why is Safari Not Working on My iPhone 12/13
1. Safari app has a problem: Like every other app, the safari app could develop a problem. It might be a system glitch, it might be overloaded or it needs an update. So, if any of this is wrong with your safari app, it won't work properly. All you have to do is find out which of these is the problem and fix it.
2. WiFi connection: Remember that your safari app works with an internet connection, so if you aren't connected to WiFi or it is too slow your safari app will not work. To check properly, you can try another app that uses WiFi, like Facebook, Facetime or Instagram, if those apps don't open then the issue is with your WiFi.
3. Cellular data: So what happens if you use a cellular network to access your safari app? Sometimes if your service is not fast enough to load your data, it might affect your safari app, it won't work.
These are just a few reasons why safari on iPhone not working. We've seen the problem, let's take a look at solutions.
Part 3: How to Fix Safari Not Working on iPhone iOS 15
Follow these suggestions as they apply to solving the issue:
1. Use StarzSoft Fixcon to Solve Safari Keeps Crashing
We did not save the best for last, we brought it first. StarzSoft Fixcon is the best option for you to fix your iPhone problems. When it comes to Fixcon, you can trust it 100 percent, it gives you great value, one of which is you don't lose your files. Suppose you already bookmarked some sites you would like to revisit and then your safari app stops working, imagine fixing it and losing the information you saved, painful right? Well, with Fixcon you don't have to worry about this, it saves your data while solving your problem.
Let's see how you can make use of this ingenious software:
1. Download the app on the official webpage, and use the free trial version to test out its goodness.
2. Select the standard repair option. This is the mode for issues like this and it ensures you don't lose your data. The other two modes you would see are for more complicated problems and they don't protect your files from being lost. So stick to standard repair.
3. You need a laptop for this stage and the rest to follow. After selecting standard repair and launching the Fixcon software, connect your iPhone to your laptop with a USB, not Bluetooth. Your device is automatically detected once you do this but if not, you can always do so manually by pressing the next button.

4. As soon as this is done, download the Fixcon firmware package that is fit for your device. Note that this download might take a while.
5. Once the firmware is downloaded, click on continue to initiate iPhone repair. Please do not interrupt the process at any point, kindly wait patiently for it to complete the process.
Once the process is over, your iPhone will restart and your file is sure to be intact.
2. Close and Reopen the App to Solve Safari Not Playing Youtube Videos
So, this suggestion fixes very minor crashes or bugs. So if your safari app is not working, closing the app and reopening it would give it a fresh start.
1. To close and reopen the app for iPhones with Home buttons: Double-press the button to open the app switcher. After that, swipe up the Safari app and off the top of the screen. When Safari is closed it no longer appears in the app switcher. Open Safari again to see if it's working now.
2. To close and reopen the app for iPhones without Home buttons: Swipe upwards from the bottom to the centre of the screen. Then, hold your finger in the centre of the screen until the app switcher opens.
3. Proceed to swipe up the Safari app and off the top of the screen. When Safari is closed it no longer appears in the app switcher. Open Safari again to see if it's working properly now.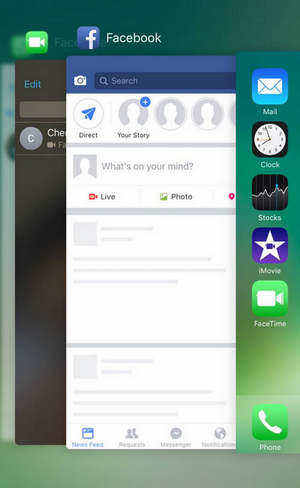 3. Clear History and Web Data
Since your iPhone is built to save Web data whenever you visit a page in safari, your saved data can sometimes slow your safari overtime when this is the case. Follow these steps:
Go to Settings >> tap Safari >>Scroll down tap Clear History and Website Data >> finally confirm your decision by tapping Clear History and Data again.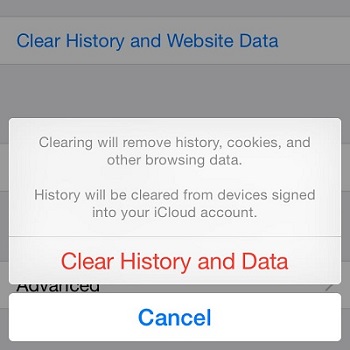 Once you have cleared this stored data, reopen the app to see if it works.
4. Fix Safari is Running Slow with iOS Update
When it comes to your iPhones, the importance of updates cannot be overemphasised. To fix existing bugs and glitches, updates are necessary to keep all your apps up and running. So, if your safari app is not working, ensure you check that your iOS is up to date.
To check for updates, follow these steps: Settings >> General >> Software update >> Download and Install if there is a new update.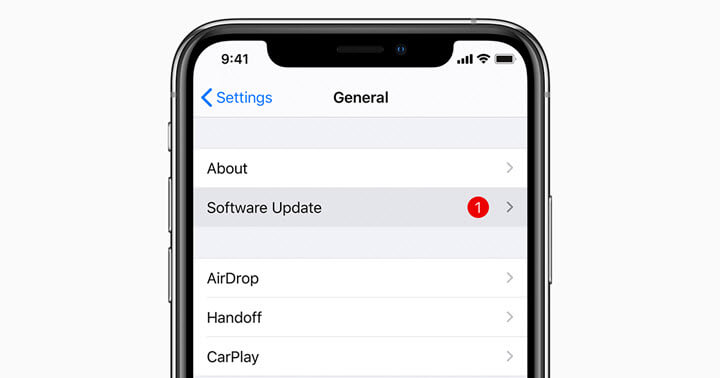 At last, turn on your device and go to App Store to download the latest version of the apps you need again.
5. Contact Support
Apple support is available online, over-the-phone, through the mail, and in-person, so if you tried our suggestions and you still have a safari app that is not working, reach out to them. But we are confident you would find a solution from our suggestions.
Final Words
Yay! We have finally solved the problem of your safari app not working. Remember to check your Internet connection, update your phone and best of all, use StarzSoft Fixcon software for a complete repair and data retention experience. Now go ahead and surf all you want!