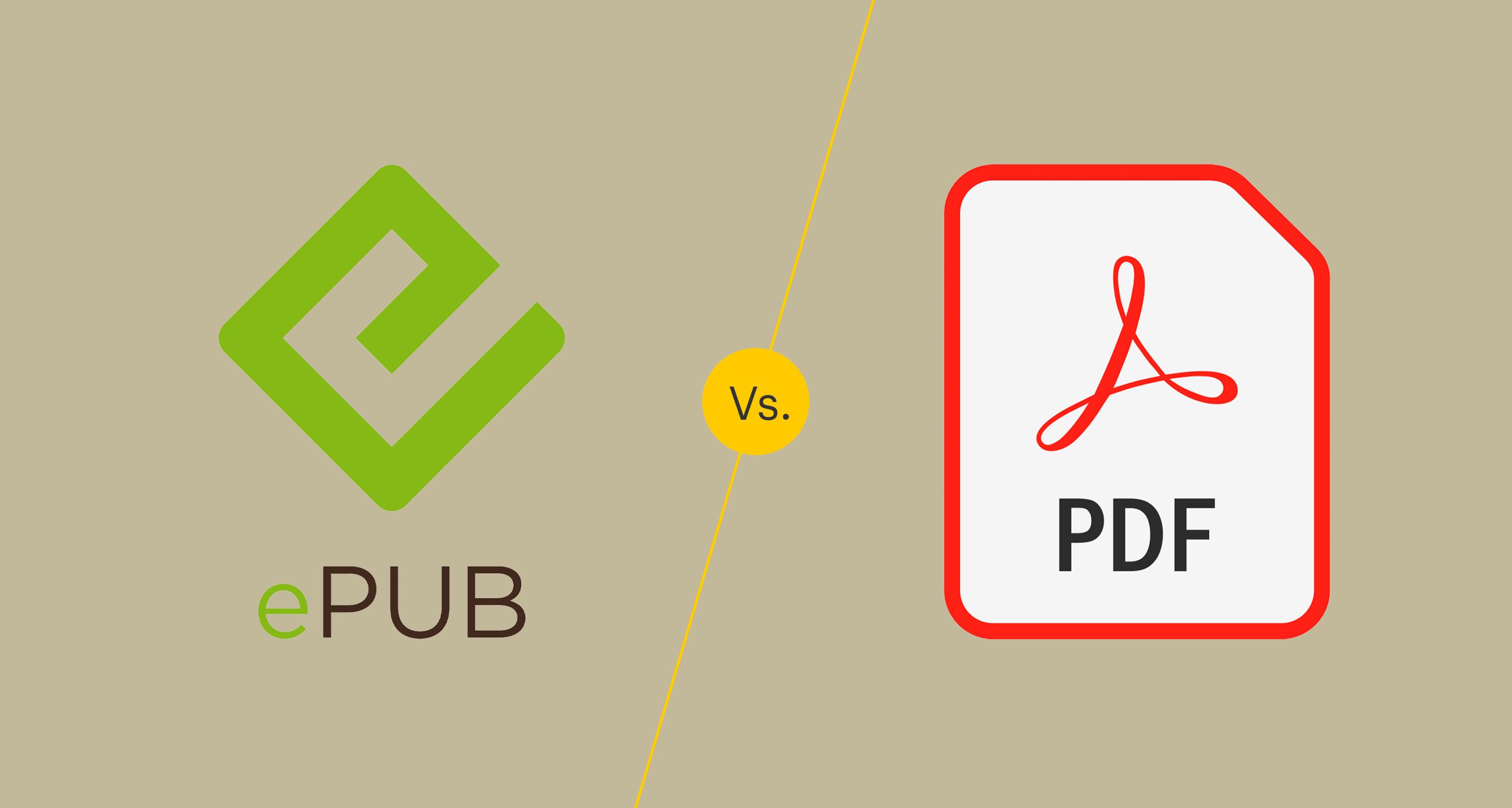 The more we do things electronically, through the internet the more we adapt to digital methods. This is how ePub and PDF started in order to publish and distribute visual and written media in digital format. Using the digital formats enabled us to publish and distribute economically and widen the reach of target audiences. They also allowed interactivity, flexibility, and increased customization. With these two options comes the real crux of the matter, which is better ePUB or PDF?
What is PDF?
Portable Document Format (PDF) is the oldest eBook format. It was developed in the 1990's by Adobe. It is basically the equivalent of paper in electronic format. Fundamentally it shows various content – written text, images, graphics and interactive content in a fixed digital form. It is used across various sectors from education and business to government.
PDF files can be shown and distributed in the same form across different devices with software that enables reading the files. It has become a valuable electronic tool because of its security features; add effective watermarks, set utility restrictions, and expiration. All these features protect the file from forgery, copying, and illegal reproduction.
What is ePub?
Electronic Publication (ePub) came a little later to meet the needs of digital publishing companies. The International Digital Publishing Forum developed ePub and became the standard for digital publication format. This eBook format features more flexibility and lends to accessibility for those with disabilities.
Improved features include a security feature – DRM; and support XHTML that can carry text, images and other supporting files. This enables end-users or readers of eBooks to reflow, and change typography – font family, font size, and spacing.
Differences between ePub and PDF
The number of significant differences between the two formats can be narrowed to five major areas:
Creating and Editing an eBook
ePub: This format is easier because there are many software options available. Both paid and open source is available for conversion and editing. ePub is made up of style sheets, XHTML files and JPG for images. Changes can be made by editing HTML codes.
PDF: In creating or editing a PDF you'll need Adobe Acrobat's PDF or Pro versions. This requires you to pay for the software and monthly subscription that goes along with it for a certain time period. There are also converter solutions that allow to convert your content to PDF format as well as editing your existing eBook files.
Fixed Vs. Flexible Flow
ePub: This is the best eBook publishing option because it allows readers certain control over the flow of the screen display especially the font style, size and spacing. Readers are more comfortable in consuming the eBook because they can make these changes as they see fit according to their level of ease.
PDF: This format has a fixed flow of content. This has been the primary feature that publication companies want to change. For readers to read the content comfortably, they had to zoom in the display but that also had certain limitations such as how big can be displayed on screen without resorting to pinching and adjusting as you continue to read the eBook. While it can be read on most devices, screen display adjustment is limited because the format was specifically created for big screen such as desktops, laptops and large screen devices in the 90's.

Multimedia Display
Digital content advancement enables end-users to experience more especially with eBooks. They are not like the ordinary paper books that contain texts and images only. They can contain more such as video, audio and graphics. They are multimedia platforms on their own.
ePub: These are more interactive because they allow the display of other media elements without the aid of additional software. This interactivity makes them more engaging than regular books or other formats, in this aspect.
PDF: These files are more static in this area because additional software or apps are needed in order to play other media elements.
Accessibility
ePub: These have an advantage in the aspect of the screen display. EPUB was created specifically for eBook users, thus, the format is easily accessible and compatible with almost all software tools and eReader devices with the exception of Kindle. There's no difference in reading an EPUB from a computer to a smartphone because it easily adjusts to the size of the display.
PDF: As a fixed file format, they are best viewed and more appropriate for desktops or laptops.
Security Features
Because both formats are used for publishing eBooks, they both have security features to protect the author and publisher from copyright infringements and unauthorized reproduction.
ePub: Digital Rights Management (DRM) is used for security and protection. This secures the document from being shared to unauthorized individuals and/or sets a limit on the time the ePub can be accessed. DRM encrypts the files so they can't be accessed without an electronic key.
PDF: Passwords have a lock system to secure files and limit access to your document. There are certain software solutions that unlock passwords for documents such as password recovery solutions. This can be an issue with the security of the format. Once the password is unlocked, the document can be accessed/used/distributed by unauthorized individuals.
What these formats have in common
Obviously, these formats have one thing in common… they provide information digitally. There are two additional things ePub and PDF have in common which are also listed as differences.
The first is both are readable on many platforms and used by millions of people every day.
Second, both formats have security features; however, they are separate kinds of security features, as described previously.
Why choose ePub over PDF?
It is easy to see how ePub is an improvement over PDF. That being said, the latter is still being used across different industries and sectors because of its reliability and access. But if you want a more interactive and end-user friendly digital publication, ePub is the format needed for that reason alone. In the end, as content creator and publisher, the purpose, engagement, and target reach are considerations in choosing the best file format for any publication.
Ultimately, content and eBook writers have to choose a format for their books. ePub has all the advantages to create great content. Writers and publishers want to create engagement, retention and interactivity. Amazon, Apple, Nook and Kobo are online retail outlets and distributors that accept ePub files for eBooks and ePublications.
PDF reading is like reading a hard copy or a physical book in the sense that its format is restricted and can't be mixed easily with other media like videos. ePub, on the other hand, was created to provide end-users more control over text content, allowing for a richer experience and offers greater security measures to protect the published work.
With PDFs you will fall short. Online retail and distribution platforms no longer accept the PDF format. If you're a writer or content creator and used PDF, to distribute on these popular sites, you will have to convert to ePub to make sure your eBook will be accepted by these outlets.
Affordable PDF to ePub converter
There are many software solutions, free and paid ones that can convert from PDF to ePub. As with any software varieties, not all have the same features when it comes to quality and security. Among currently available options, PDF Wiz is the best way to convert to ePub for multiple reasons, as outlined below.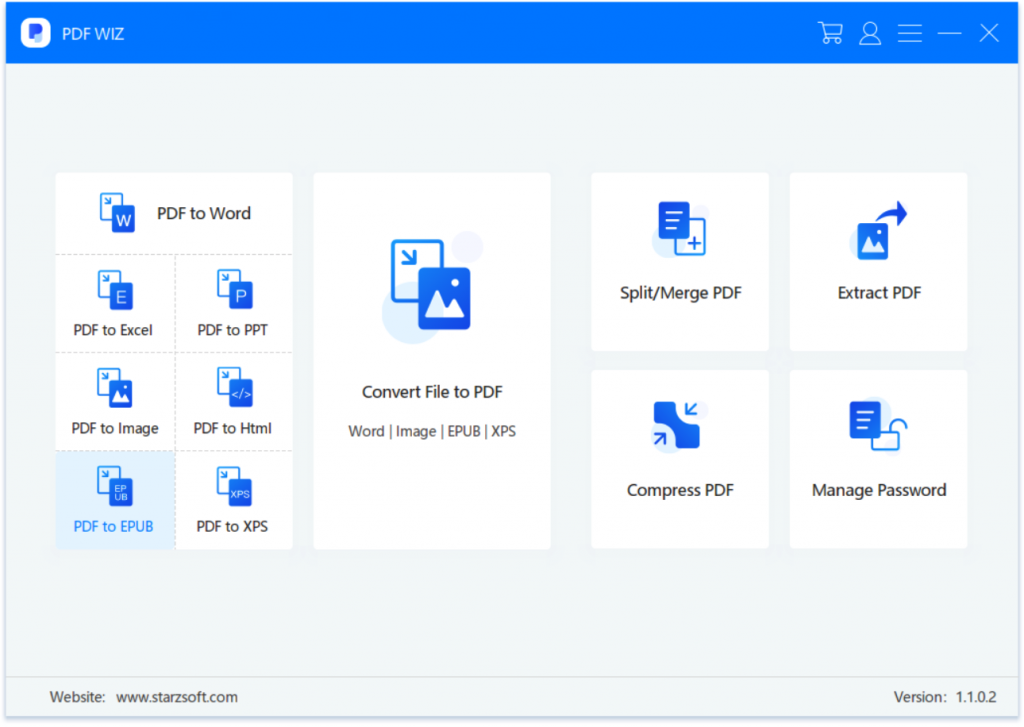 PDF WIZ includes an advanced format conversion solution allowing you to do more. Converting your PDF files to a variety of formats including ePub safely. Aside from conversion, files can be split, combined, pages extracted, and shrinking the size of the file. There is also a handy tool to remove and add passwords.
Then, the piece de resistance… the ability to convert batches of files efficiently and effectively, while maintaining each document's formatting. If you've ever tried batch conversions before, then PDF Wiz is a dream come true. No unexpected errors or long conversion times, with matched formatting, every file, every time. Android, Mac, Windows all work with this software too!
Sound too easy? It is. No issues, no hidden fees, just more time to be productive. With your newly created ePub you can easily distribute and publish your works. Ready to download your trial? Visit this page now!