Smartphones are conveniently small so that you can carry them around without it becoming a burden. In turn, this means their screens are also fairly small and sometimes this makes it hard to view certain content.
Perhaps the movie you're trying to watch on your iPhone doesn't look great on a small screen, or maybe you just struggle to read texts. Whatever the reason, sometimes a program like ApowerMirror is what you need.
Part 1. ApowerMirror Review: Does It Work?
1. What is ApowerMirror?
ApowerMirror is a computer program that allows you to view your iOS or Android device's screen on the computer. While it doesn't let you interact with iOS devices outside of expanding the screen (e.g. send texts from your computer), on Android devices you are granted some level of control.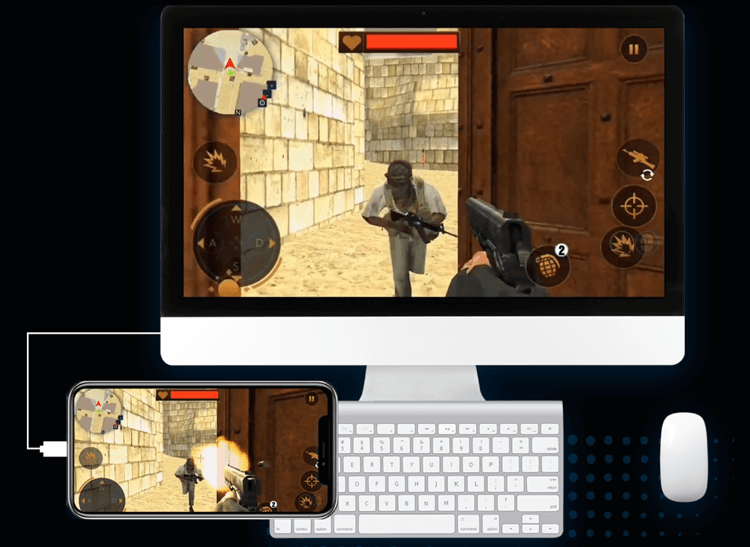 Things like playing Android games on your computer are made ten times easier as you will no longer require the likes of an Android emulator. Another feature it comes with is data transfers, enabling easy file transfers between smartphones and your computer.
2. Pros
Easily mirrors iOS/Android screens to a computer
Can be used to control your Android device from a computer
Data can be transferred between the computer and device
Compatible with the latest iPhone and Android models
A limited but free version is available so that you can try before you buy
3. Cons
iOS devices cannot be controlled in the same way Android devices can be
ApowerMirror is relatively new meaning there isn't a lot known about it yet
Sometimes the mirrored screen quality drops without reason, making it unreadable
4. Is it Free?
Yes and no. To begin with, you can use ApowerMirror free of charge. During this period, you'll have access to the free demo version of the software which many users use as an opportunity to familiarise themselves with how it works. This, unfortunately, does mean that a lot of key features are inaccessible until you purchase one of the licenses that are available
However, once you have obtained a license, you'll gain full access to the software and all of the features that it entails. There are currently 3 licenses available:
Lifetime License. Have access to the software forever, $59.95.
Annual License. Have access to the software for one year, $39.95/year.
Monthly License. Have access to the software for one month, $29.95/month.
Pricing may fluctuate depending on whether the developers are offering discounts at the time, but as you can see this is a fairly expensive software to use.
5. Is it Safe?
For any software that we review the safety of that tool is of paramount importance to us. Of course, we wouldn't want to recommend any software that has malware embedded in them or which will cause harm to your computer or smartphone in any way.
To guarantee the safety of ApowerMirror we did several things. First, we ran it through a handful of antivirus and antimalware tools – the results came back clean and there was no harmful code found in the program. In addition, we reviewed hundreds of user reviews to gauge what the general user experience was – again, we were not disappointed and the overwhelming majority of users were satisfied with the safety of ApowerMirror. Finally, we determined that all of the personal data handled by this software (including anything stored on your device that may be accessed while using the software) is not transferred to any third-party servers or elsewhere.
Overall, ApowerMirror is a completely safe software and none of the features it offers will put you at risk. Be assured that while using the software your devices and data will all be safe.
6. How to Use it (via Wi-Fi)
Now that we've learned a little about ApowerMirror and you have a good idea about what it has to offer, the next thing to consider is its functionality. If you are deciding whether or not to use a program, you'll want to know how it works and how you'll be using it.
ApowerMirror is great in this sense. One great thing about this tool is that it offers two connectivity options: USB and Wi-Fi. In our opinion, connecting wirelessly is the superior option. It means no cables are needed and is simply a more convenient solution.
Setting that aside, now we'll be explaining how the program works for both iOS and Android devices. For simplicity, we'll be focusing on the basic screen mirroring function rather than the Android-exclusive control features.
For iOS
To begin with we'll be looking at how you can use ApowerMirror on iOS devices. In this case, we'll be using the Wi-Fi connectivity method which lets you mirror your iOS screen without having to connect your iPhone with a USB cable.
Step 1 – Install the ApowerMirror software on your computer and download the app to your iOS device.
Step 2 – Next, confirm that both the iPhone and PC which you have ApowerMirror installed on are connected to the same Wi-Fi network.
Step 3 – On your device, launch the app and tap on the Mirror button that is shown. When your PC name is shown, tap on that too.
Step 4 – Next, swipe down on your iOS device to display the Control Center, tap on Screen Mirror, and tap Apowersoft.
After following these steps you'll be able to view your iOS device's screen on the ApowerMirror software from your computer. As mentioned above you'll also have the option to connect via USB, although the steps will differ.
For Android
When you're on an Android device, the process for using ApowerMirror is slightly different, although it is similar. Here's how it works:
Step 1 – Download and install the ApowerMirror app on your computer and also on your Android device.
Step 2 – Connect the Android device and PC to the same Wi-Fi network if they aren't already.
Step 3 – Next, open the app on your Android device and tap the Mirror button, select Apowersoft from the list of detected devices, and tap Start Now.
Just like with iOS you'll have the option to connect via USB. However, the USB method is a lot more complicated and it's simply easier to connect over your Wi-Fi network.
Regardless of the connectivity method, doing this will display your Android device's display on your PC.
Part 2. Alternatives to ApowerMirror
After reading through our ApowerMirror review above you'll either be confident that it's the screen mirroring tool you want or perhaps you decide that it's not ideal. If you fall into the latter group then you'll be happy to know that there are other options out there that do the same job.
1. StarzMirror
StarzMirror is the best alternative to ApowerMirror if you're in the market for a universal screen mirroring tool. It connects with wireless devices and your PC to mirror Android, iOS, and Windows screens.
It has many of the same features as ApowerMirror.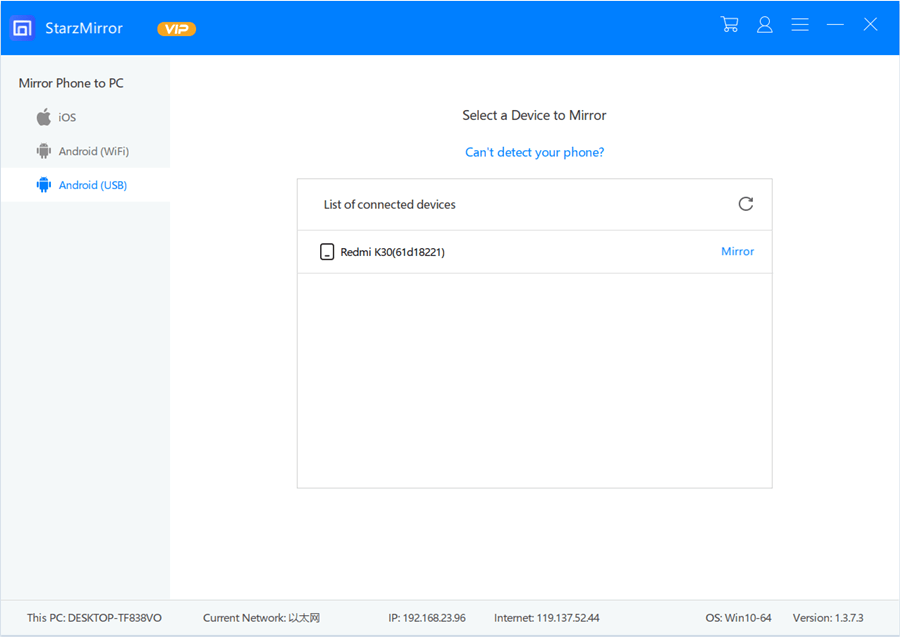 This easy-to-use tool allows you to access other computers on your local network, but you can also remotely access servers for file sharing or multiuser games.
StarzMirror lets you group all your screens in one window and have live previews of everything from different devices.
You can also use a virtual keyboard and mouse when editing documents on remote machines since the only input device is your device's touchscreen.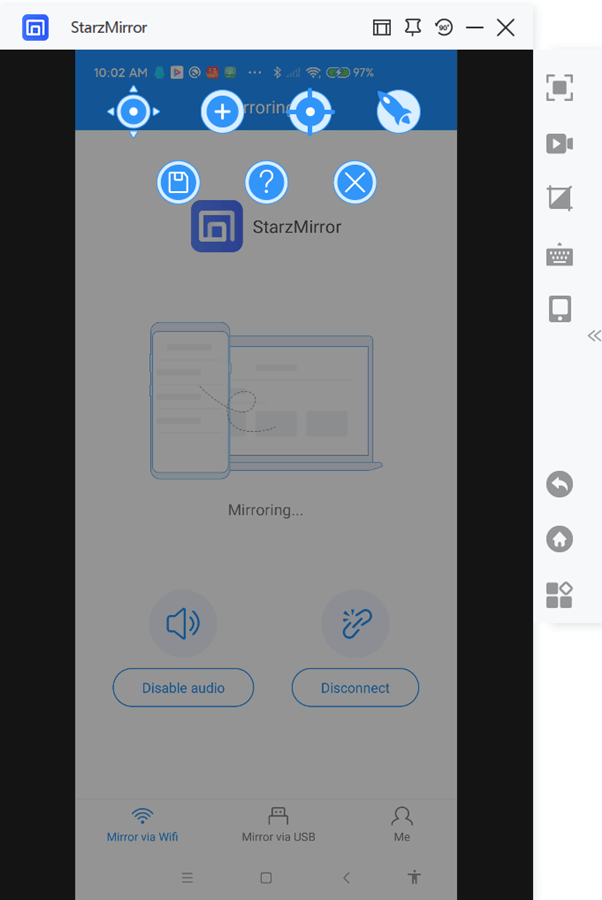 2. Mobizen
The next alternative that we found which works in a different way is Mobizen. What makes this tool interesting is that it's not an installable program but rather a web-based application, meaning no installation is possible.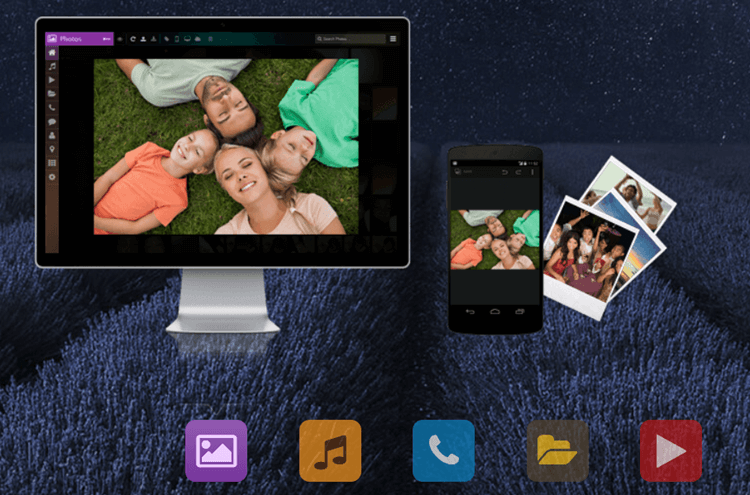 All you need to do is have your PC and smartphone on the same Wi-Fi network and you can establish a clean connection. One huge benefit is that Mobizen is free to use meaning you won't need to purchase a pricey license to get the full functionality from it.
Pros
Supports both iOS and Android devices
Uses Wi-Fi connectivity, doesn't require a wired connection
This is a web application, so you don't need to install anything on your PC or smartphone
Completely free to use
Cons
Sometimes the connection can be laggy and may disconnect often
If you have a weak Wi-Fi connection, the video quality will be degraded
An account is necessary to fully access the tool's features
3. AirMore
Similar to Mobizen is AirMore, and this is also a web-based solution but which offers a lot more features. Like Mobizen, this doesn't require you to install any software or apps, it's just a simple tool that you can start using straight away.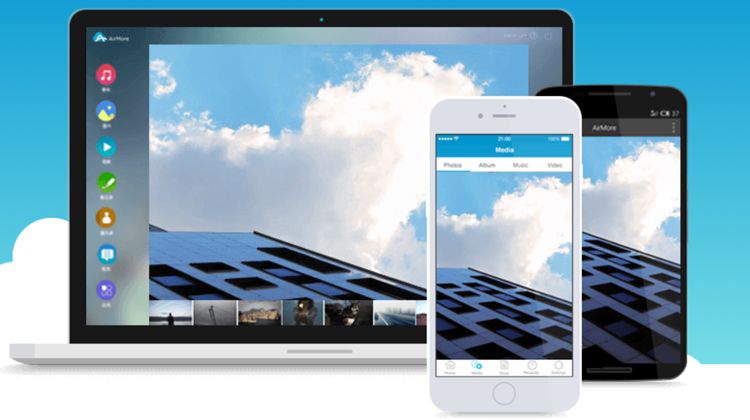 How does this differ from other tools? On top of offering screen mirroring, it's also capable of data management. In other words, you can transfer files between your computer and device, and you have access to your device's data.
AirMore is free to use, doesn't have intrusive ads like most free tools do, and is incredibly easy to use regardless of how tech-savvy you are.
Pros
Free and easy to use
Doesn't require account registration to be used
Offers unlimited usage and data transfers
Provides screen mirroring and data management features
Cons
USB connectivity is not supported
The quality can sometimes lower if the connection is weak
Conclusion
Hopefully, by reading our ApowerMirror review you now understand what to expect from using this software. It is clear that it goes beyond a simple screen mirroring tool for iOS and Android devices, especially since it offers features that let you access your smartphone data from the PC. While it does have a few weaknesses (such as not offering control of iOS devices), it also has obvious strengths.
If you decide that ApowerMirror isn't for you then don't worry, we'd suggest trying either of the alternatives we detailed instead which also offer great functionality.