PDF is a standardized type of file that can be viewed on almost any device whether it be an iPhone, an Android phone, a Macbook, or a Windows computer. In some cases you just need to open and view a document, but in other cases you might want to make edits. Sometimes you want your clients to be able to fill out PDF forms right from their computer, or other times you need to add texts or signatures.
Whatever the reason, sometimes you need to edit your PDF files. But how do you do that? Today we will teach you how to make a PDF editable.
How to Make a PDF Editable on Windows?
Option 1: Make a PDF Editable for Free
PDF WIZ is a PDF Toolkit that allows you to edit and convert your PDF files quickly and with ease. The program allows you to make a variety of changes and edits to your PDF files including text inserts, splits, merges, compressions, and extractions. With the help of this software, you can edit your PDF files with just the click of a few buttons – simple, easy, and free.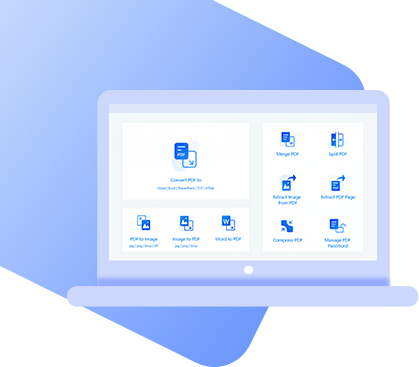 What does PDF WIZ offer?
Simple and easy edits and changes PDF files
Simple and easy conversions to other file types
The ability to work offline so that you know your privacy is secured
Free access to all software features with no limitations
Unlimited conversions and edits
Here's how to use PDF WIZ to make a PDF Editable for free:
Step 1: Download PDF WIZ to your computer and launch it. On the first screen that pops up, click on "Convert PDF to Word"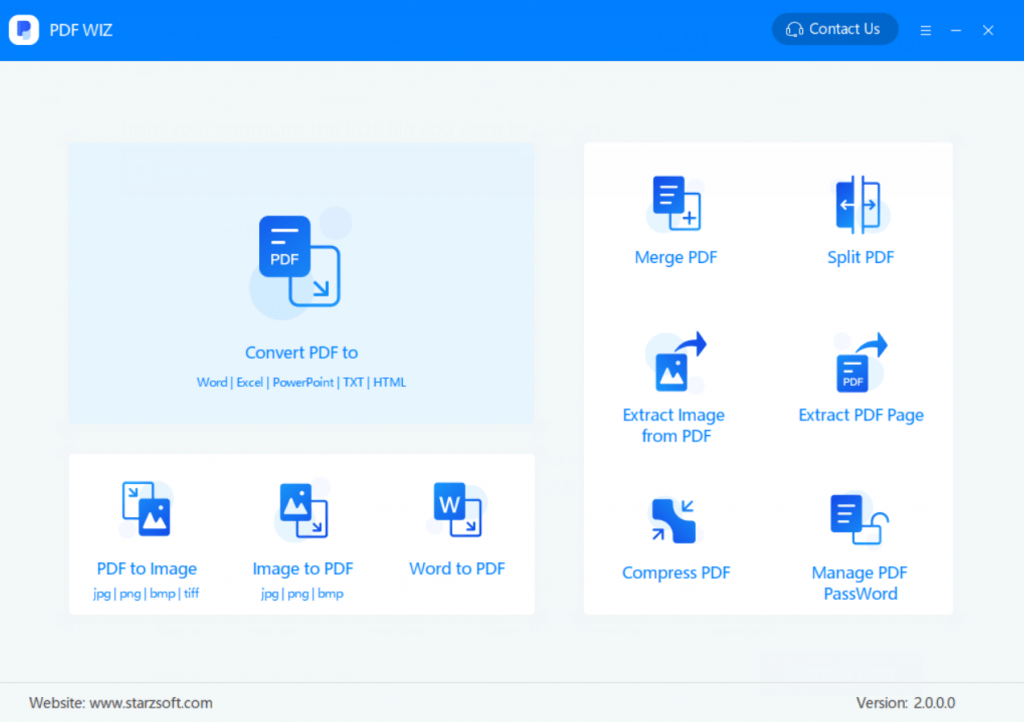 Step 2: Drag the PDF file that you would like to convert into the converting box. Alternatively, click "Click to add file" and open the file you wish to convert.
1. Choose which pages you wish to convert
2. Choose a location to save your converted file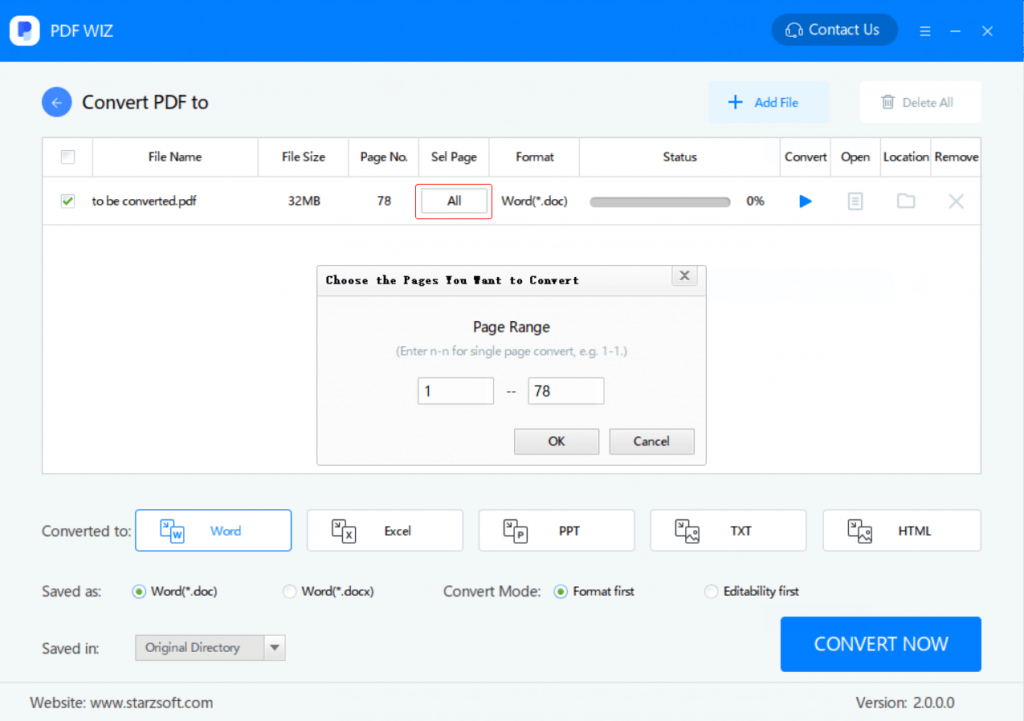 Step 3: Click "Convert Now", wait for the status bar to load to 100% and click "open"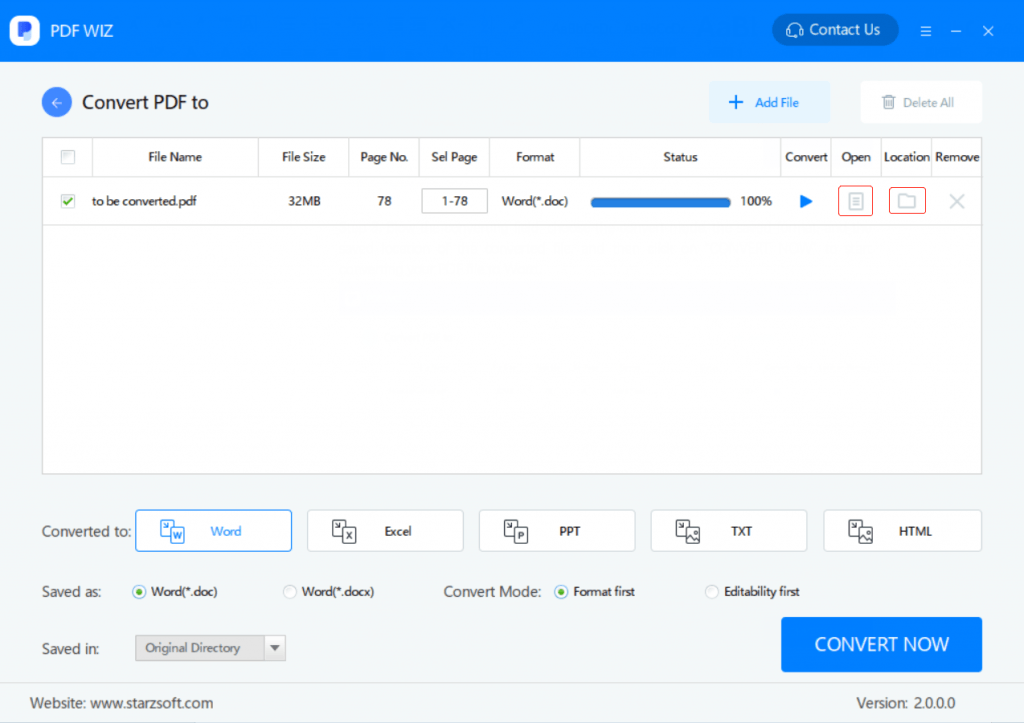 And that's it – using PDF WIZ to make edit your documents is that simple!
Option 2: Make a PDF Editable in Google Docs
If you need to convert or edit PDF files often, downloading a program like PDF WIZ is probably the best way to go. But if you only have a single PDF file to convert, you might prefer to just go online and use a free PDF program there. Assuming that you have a Google Account, you can use that account to make your PDF editable through Google Docs.
Here's how to use Google docs to make your PDF files editable:
Step 1: Go to your Google Drive and login to your Google Account.
Step 2: Click on "New > File Upload" and then click on the PDF file that you wish to edit.
Step 3: Wait for file to upload and then right click. Click on "Open with Google Docs".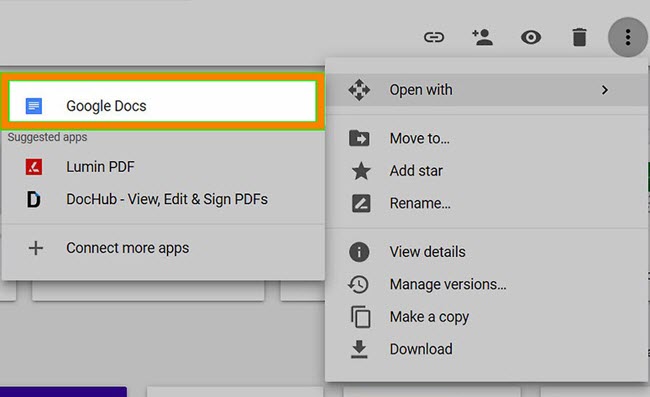 Step 4: Wait for document to open in Google Docs and then click "File > Download as".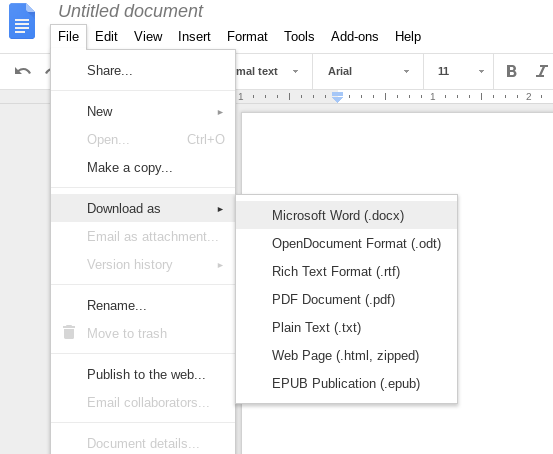 Step 5: Choose which type of format you would like to save your PDF as.
When using this method, the quality of your PDF file may be reduced. In addition, working online can put your privacy and security at risk. As a general recommendation, if you have any highly private files that need to be converted, you are much safer to use an offline program like PDF WIZ.
Option 3: Make a PDF Editable in Acrobat
Adobe Acrobat is a reliable and secure program that you can use to safely and quickly edit your PDF documents. Having said that, it's important to note that Adobe Acrobat is not a free software.
While the creators do offer a free trial run, regular use of Adobe Acrobat requires you to purchase a license for use. In most cases, they charge monthly fees. As such, Adobe Acrobat is only recommended for people who do a large number of edits and conversions. It would not be worth the purchase for a single use.
With that being said, here is how to use it to make a PDF editable:
Step 1: Open Acrobat and then open the file you wish to convert.
Step 2: In the right pane, click on "Edit PDF" tool.

Step 3: Click on the text or image that you want to edit, and use the tools available to create your edits.
Common edits for PDF files in Adobe Acrobat include adding text, adding lines and paragraphs, resizing elements, adding, moving, or resizing images, and adding links, headers, footers, or watermarks.
You May Like: How to Make a Fillable PDF without Adobe Acrobat
Option 4: Make a PDF Editable in Word
If you have word, opening and editing a PDF file is extremely easy. Like PDF WIZ, Word is a program that you can use to safely and quickly make edits to PDF files offline, which ensures that your documents are safe and secure.
Here is how to use Word to edit your PDF file:
Step 1: Launch Word and open your PDF file by clicking "File > Open" and then browsing for your PDF file.

Step 2: From here, Word will alert you that it is going to make a copy of the PDF and convert it into a new format. Click "Ok".
When you use the Word method to edit your PDF files, documents might not look exactly as they did in PDF. While Word tries to create perfect conversions, sometimes the page-to-page correspondence can be broken in the conversion process.
How to Make a PDF Editable on Mac?
In fact, the ways to make PDF editable on Mac is nearly the same as on Windows. You can use either Adobe or Google Docs to do this.
Besides, you can also use QuickLook or Preview to make PDF files editable on mac.
Mac PDF Editable on Mac with QuickLook or Preview
Quick Look (available for Mojave & Catalina) or Preview comes bundled with the Mac operating system. Both of them are great tools for Mac users to edit PDF files.
With Quick Look
If you've updated to Mojave or Catalina, here are the steps to make PDF editable with Quick Look:
Step 1. Locate the PDF file, select it and press the spacebar. A preview of the file will appear.
Step 2. In the top right of the preview, click on the edit tool which looks like a pencil.
Step 3. Now you'll see all the tools in it, such as drawing tool, shapes, etc. Choose the one you need and edit your PDF now.
With Preview
If you haven't updated to Mojave or Catalina, you can make your pdf files editable with Preview app. Here're the steps:
Step 1. Find your PDF file and right click on it.
Step 2. Choose Open with > Preview
Step 3. Click on the icon that looks like a Pencil. Then use the various tools in Preview to edit your PDF file.
Apart from using these, you can also use an online tool to manage it. However, we don't recommend it. Here are the main reasons:
Why You Should Never Use Online Tool to Edit PDF
While online PDF editing tools can be a simple and quick solution, they can also jeopardize your privacy. Anytime your documents are scanned into or opened in an online program, they run the risk of becoming publicly visible. In addition, anytime you download documents from an unknown online source, you also run the risk of downloading a virus.
In Conclusion
A better option? Make a PDF file editable by using a software program that you can download and use offline. Programs like PDF WIZ are still easy to use, but don't jeopardize your privacy or put your computer at risk of being infected with a virus.