How cool it is to enjoy movies, streaming shows on larger screens. To enjoy the entertainment at its best, you can mirror your Mobile phone with the Computer screen. However, it is not possible to do this via a USB port, and the only medium left is opting for wireless mode.
In the case of iPhone gadgets, you can easily enjoy the multimedia on Apple TV because it allows mirroring on Apple gadgets. However, it is not a resourceful option for the ones who do not have Apple TV or Apple gadgets.
So, to help you mirror your iPhone, we have come up with this guide. In this article, you will get guidance on how to mirror your iPhone's screen to a PC or laptop.
Learn About Screen Mirroring
Screen mirroring means duplicating your Mobile's screen to a bigger screen like your laptop or PC. However, the first condition of casting your smartphone's screen on a PC is that both devices should be connected to the same Wi-Fi network.
Many smartphones come with an in-built screen mirroring feature which acts as an additional benefit while screening the device. You can use third-party applications when casting it on a PC having Windows Operating System.
Methods to Mirror Your iPhone to Computer
There is always a need to download a third-party application to mirror your iPhone to the computer screen. While in the case of an Android smartphone, it can be done effortlessly with your Phone app.
Best Way – Using StarzMirror
No matter where you are, no matter what you're doing, you can always stay connected by using the StarzMirror!
Whether it's to share your screen with a client, project your screen to a monitor, or just to show off that awesome meme your friend sent you – StarzMirror is there for you.
Here's how to use it:
1. Download and install the StarzMirror on your computer.
2. Make sure the devices are connected to the same wifi network.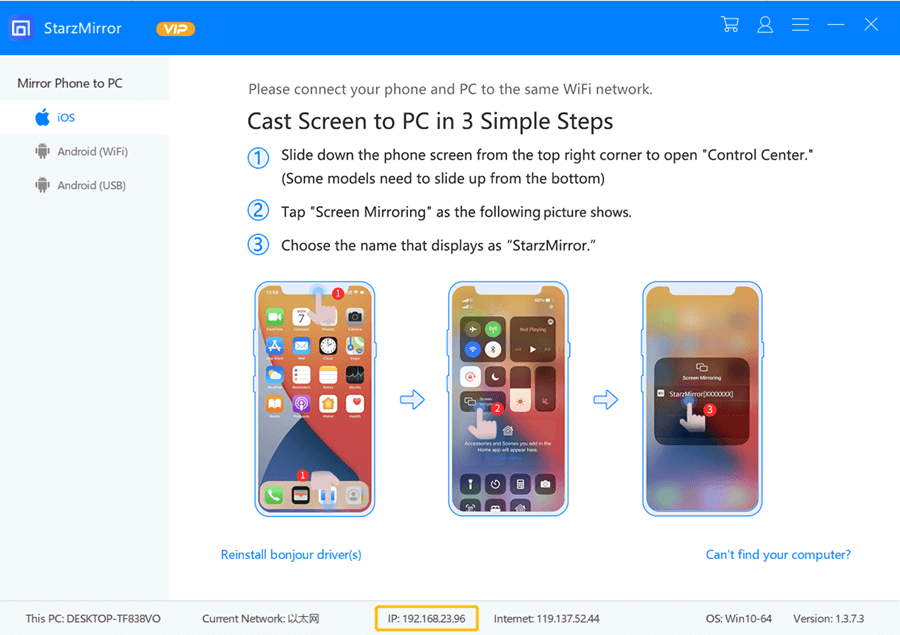 3. On your iPhone, open the Control Center and tap Screen Mirroring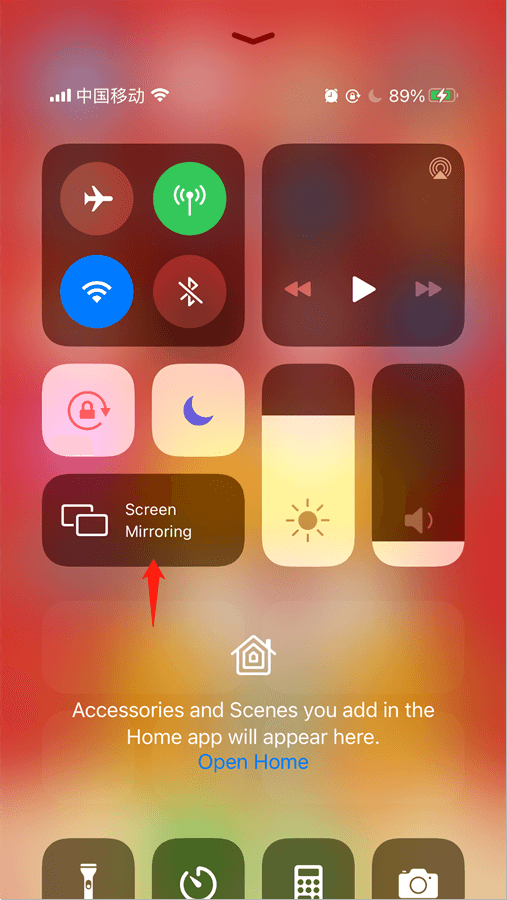 4. Choose the name that start with "StarzMirror"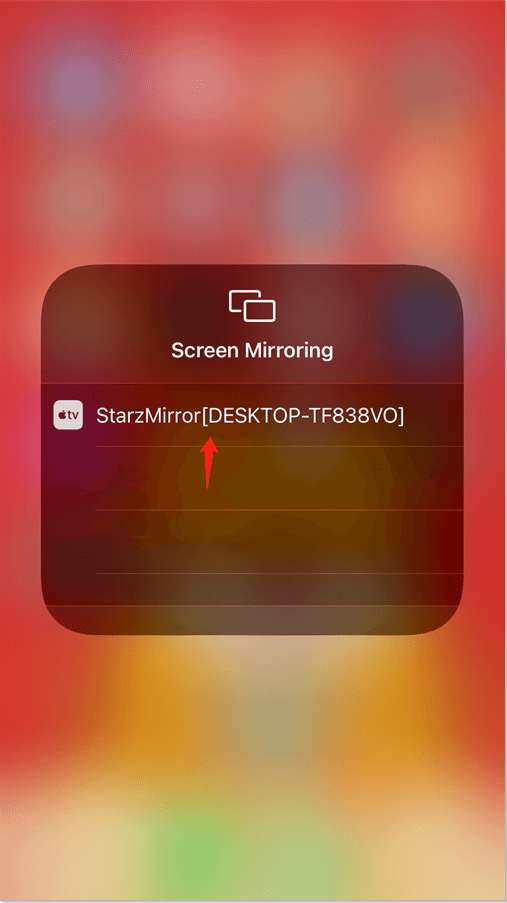 5. Once the mirroring is enabled, you should be able to see your iPhone's screen on your computer. Enjoy!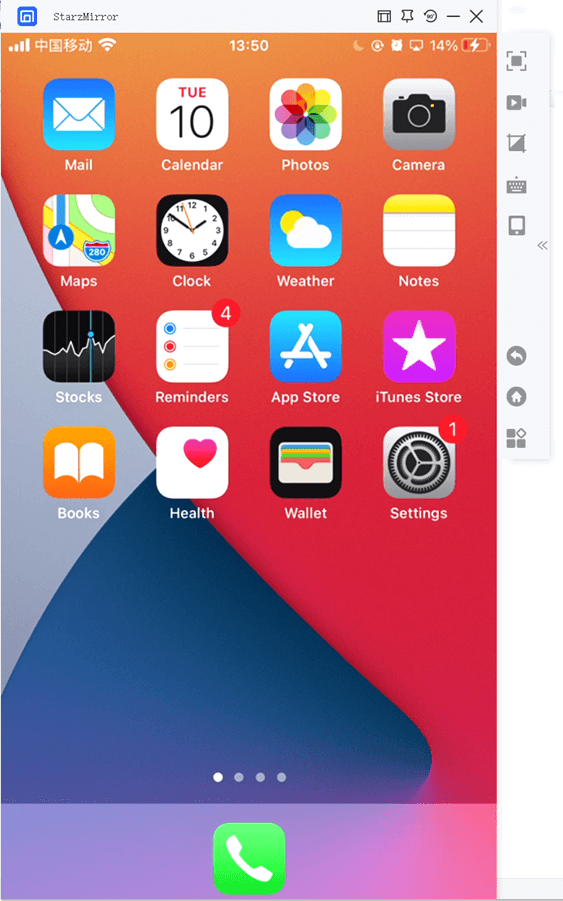 Using Reflector 4.
With the paid application Reflector 4, iPhone's mirroring on PC can be done effortlessly. This application costs around fifteen dollars and supports airplay perfectly. Download the application and use it to experience gaming and multimedia on a bigger screen.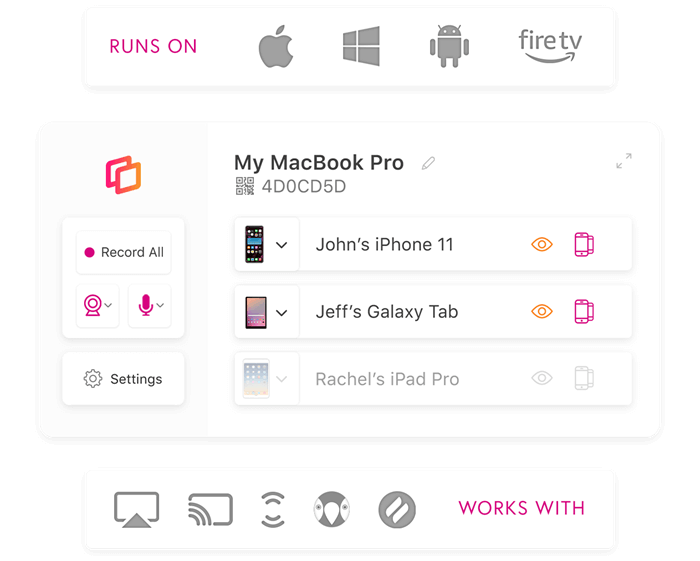 With the mirroring ability, try to increase the display size of your iPhone. Now you can watch your favorite movies on the bigger screen because you get remote access to streaming your desired videos. Do the below things.
1. Download the application form and install it.
2. Read the terms and conditions and accept the EULA.
3. Ensure all the firewalls of your PC are enabled. It protects you from any external risk.
4. Swipe up from the bottom and tap on the airplay icon. From here, enable mirroring.
Using LetsView
Let's View is a free screen monitoring tool that can help you in viewing your small iPhone screen on a big screen. Millions of users are satisfied with the use of this application. With LetsView, you can share the screen on your PC and even record the mobile screen in real-time.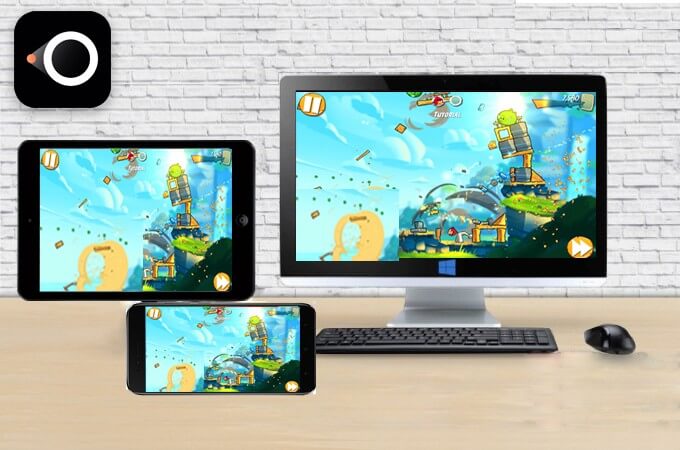 Use Anydesk
Well, how can you not consider Anydesk, the best and easiest of all? Being outdated, it gets overlooked, but it can come in use while mirroring the iPhone on a bigger screen other than Apple TV.
To cast the iPhone screen via this method, you need a strong WI-FI connection to mirror your PC and vice versa. Anydesk is a simple software with easy to use interface. If you are new to technology, you can still operate this tool.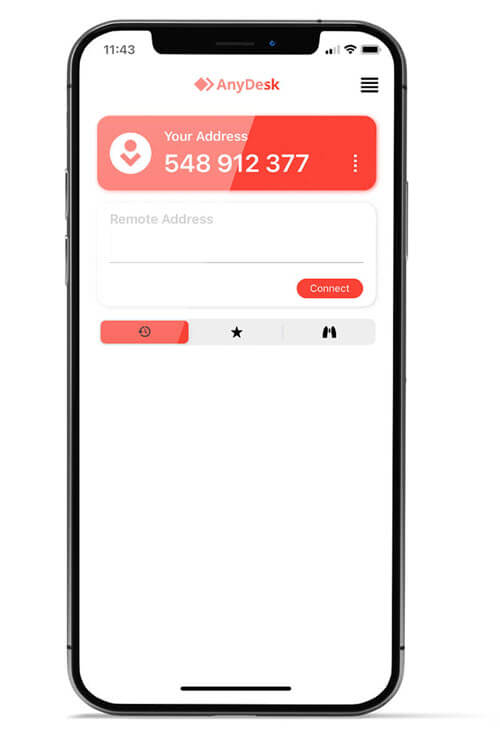 You need to follow the below steps for casting your iPhone screen on a PC.
1. Download the Anydesk application on both PC and phone.
2. Use the same WIFI network on PC and phone.
3. After launching, you will get a code. You need to type this code in the layout.
4. Your phone has now controlled the access.
5. Start mirroring just after clicking on it.
Using an iOS Screen Recorder
iOS recorder is also a feasible option when you have to view your iPhone on your computer. Well, no doubt, by using this application, you can stress-free experience watching movies on your computer screen via your iPhone.
Using this application can save yourself from wasting time on other hacks. You can simply download and launch the application and achieve the goal of casting the mobile screen on a PC. You can follow the below instructions to stream from your iPhone to the bigger screen.
1. After launching the screen, go to the left bar of the tool and from there, go to "more tools' options.
2. From here, you can access different features like "IOS screen recorder". Don't forget to connect your phone and computer to the same internet.
3. Access the control center from your device and stream whatever you want to.
4. Enable the mirroring option, you can record the screen while streaming the content.
5. Simply tap on "start recording".
6. On pressing ESC, the bigger screen will be escape.
Use Mirroring360
Mirroring 360 is Mac and Windows compatible software, used to broadcast your iPhone's screen on PC. You can share screen with maximum people using the software.
After buying the pro version of this application, you can share the screen with nearly 40 people at a time. Without airplay, you cannot share your iPhone's screen. So, tap on the airplay option.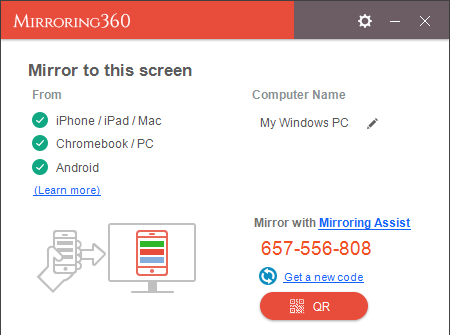 Common Questions About iPhone Screen Mirror
Why am I not able to see the Airplay icon?
It depends on different versions of the iPhone. In iPhone 4S and the later ones, you will find the Airplay option. In any case, you cannot see this option, update your IOS. Remember to have the same connection.
Is it necessary to install the third-party application?
A third-party application is necessary to download only when you need to mirror your screen on a PC having Windows Operating System.
Conclusion
Mirroring the mobile screen is not rocket science if you are aware of the right tools and techniques. You can choose any screen mirroring application mentioned above as this software are known for casting smaller screen on PCs and laptops.
Some applications can even record the screen in real-time. Nevertheless, you have a lot of options to choose from, so choose the one that suits you.