10 years ago if you had told someone that you had the ability to get back files that they'd deleted or lost, they'd be amazed at this skill.
Nowadays, having this ability is much more common because a variety of tools have created the data recovery market. Each of these tools works in various ways, utilizing the structure of storage devices to retrieve data.
Among them is Stellar Data Recovery and it is just one of many. In this Stellar Data Recovery review, we'll be detailing what this program has to offer and whether or not it's the right tool for you.
Full Review of Stellar Data Recovery
Stellar Data Recovery is an all-around data recovery solution that can be installed on any Windows or Mac computer.
Users can download it for free, but for limitless recovery options, they will require a license.
It is suited for recovering data in any situation and it has received praise from tech media outlets including TechRadar, tom's guide, PC World, and even Forbes.
So, what is all the hype around Stellar Data Recovery all about?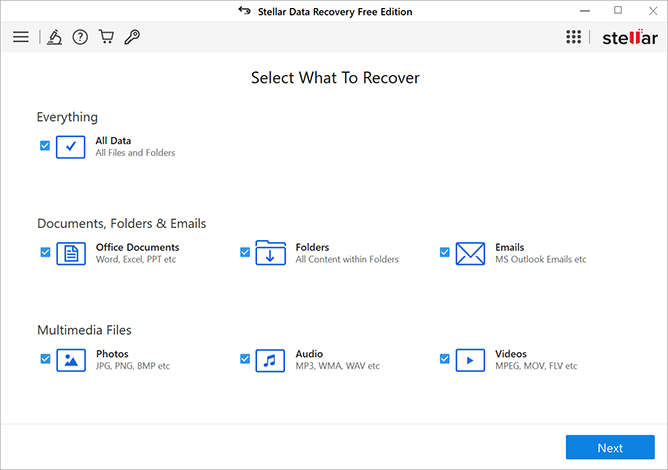 Key Features
To start things off in our Stellar Data Recovery review, we're going to look at some of the key features that it includes.
File Formats
Most importantly, almost any type of data can be recovered. From photos and videos, all the way to documents and game save files, this recovery tool can recover it all.
Recoverable Situations
It doesn't matter if your data was accidentally deleted, corrupted by a virus, or you just simply lost it.
With Stellar Data Recovery, you can scan for the file and recover it regardless of the reason that it's gone.
Storage Devices
Hard drives, Solid State Disk drives, USB flash drives, and even SD cards can all be used with this data recovery tool and have data recovered from them.
Ease of use. Gone are the days when data recovery requires a tech expert.
Stellar Data Recovery uses a quick and user-friendly process so that minimal input is needed from the user, and they don't need to be tech-savvy to use the software.
Selective Recovery
You can either scan an entire hard drive or narrow down the recovery scan so that only a specific folder is scanned for your lost file.
This is only the tip of the iceberg. We could go on and on about how great of a recovery program is this.
Of course, a free version of the software is available alongside the full version which requires a license, but we'll be getting into that in a different section.
Effectiveness
One thing you should know about any data recovery software solution is that it's impossible for it to be 100% effective.
Deleted, corrupted, or lost files are incredibly fragile and there will never be a guarantee that you can recover them. Stellar Data Recovery is no different.
It is reported to have a success rate of over 95%, although there are too many factors to say what the real number is. Nonetheless, from what we've seen, it holds up as an effective program that will recover files in the majority of cases.
Performance
When it comes to performance, Stellar Data Recovery isn't exempt from the same as the other programs out there.
These programs require a lot of processing power to get through the hundreds of thousands of files that are stored on your computer, many of which are just operating system files.
The problem here is that if the software were to focus on using less processing power, the scan would take significantly longer.
While Stellar Data Recovery is running on your computer, you may notice that your CPU usage is 70% or higher. This is unavoidable regardless of which data recovery software you use.
Price
Let's take a look at the different subscription tiers that you can get for Stellar Data Recovery.
Firstly, the free tier is limited to 1GB of data. If you find yourself needing to recover files more often than not, then this isn't going to last you that long. You'll still be able to recover any file in various situations, but 1GB is very limiting.
There are 5 more paid tiers that you can choose from.
Standard – £43.99/year
Professional – £64.99/year
Premium – £72.99/year
Technician – £142/year
Toolkit – £215/year
You might be dissuaded by the high annual prices, but if you consistently use Stellar Data Recovery then the lifetime licenses are more expensive but you won't be paying for them annually.
The main benefit that each tier provides is unlimited data recoveries. In other words, the 1GB limit is lifted if you pay for a license. You can see a complete breakdown of the tiers on the official website.
Customer Reviews
The next thing we're going to focus on in this Stellar Data Recovery review is customer satisfaction. What do other people who bought this software think about it?
Overall, customers have been very satisfied with their purchase, giving it a 4.8/5 star rating on Trustpilot. The main complaint these customers had was the price of the software.
This is understandable, especially considering the highest license tier is over £200 (definitely more expensive than other data recovery solutions!
Pros
Supports a large number of file formats
Compatible with any storage device
Can be used on Windows and Mac
Few features are locked behind a paywall
Cons
Much more expensive compared to the rest of the data recovery tools out there
Users who use the free version can only recover 1GB of data
Stellar Data Recovery Review – Verdict
For the most part, Stellar Data Recovery is an impressive piece of software that even the most inexperienced computer users can gain benefits from. It's suitable for home use as well as business use – there are basic and more complex features that give it a wide spectrum of uses.
But what hinders this tool from becoming one of the top dogs on the market is that it has a scary subscription model. While some people may think that the most expensive license is worth it, most will agree that it is too much.
However, that is the only downside of Stellar Data Recover. We favour this solution but if you want to get a true idea about it, check out the free version and get a hands-on experience before deciding on a license.
Best Alternative – StarzSoft Data Recovery
Now, after reading our Stellar Data Recovery review you might not be convinced that it's the best solution for you.
In that case, take a look at our favourite alternative StarzSoft Data Recovery.
Recovers data from any storage device, not just hard drives
Can recover all of the most common file types as well as rarer file types
All data can be previewed before completing the recovery process
Available on both Windows and Mac computers
Supports the latest Windows 11 versions
Considering that the biggest downfall to Stellar Data Recovery was its price tag, you'll be happy to know that StarzSoft Data Recovery is much cheaper.
An annual license is just $59.95 and for a lifetime license, you'll only have to pay $79.95.
How to Use StarzSoft Data Recovery
Before we wrap things up we're going to show you a quick example of how StarzSoft Data Recovery works. Follow the steps below and you can recover any lost files within minutes.
Step #1 – Download, install, and launch the StarzSoft Data Recovery software.
Step #2 – On the main menu, choose the storage device that you want to scan for recoverable data.
To run a more precise scan, click Select a Folder and choose the folder where your lost file was previously stored in.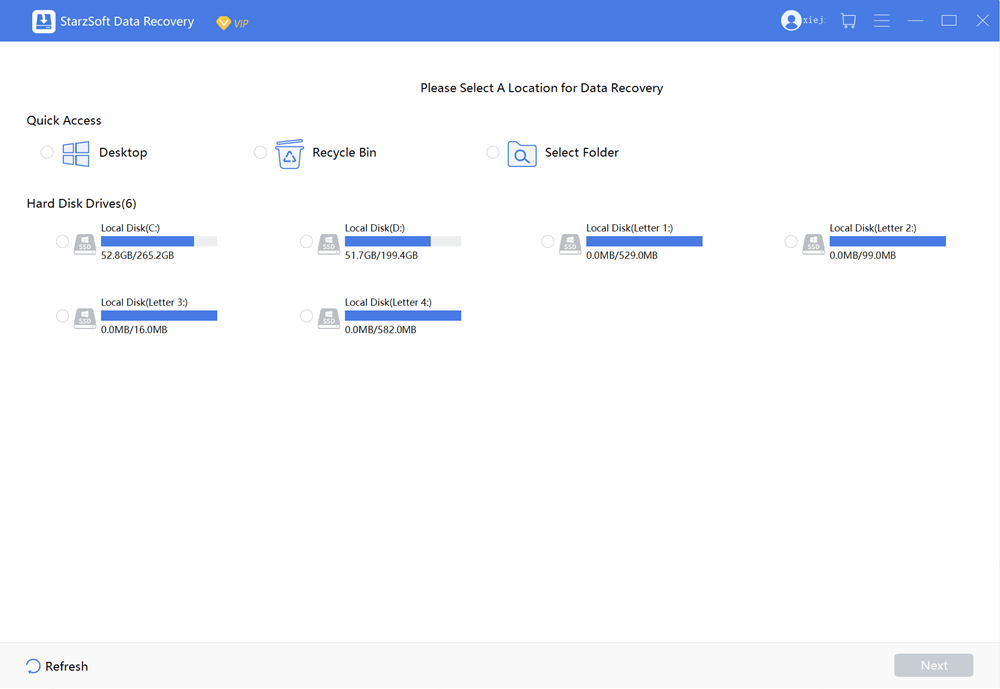 Step #3 – The scan will now begin running. At any time you may pause the scan by clicking Pause, or if you see the file you want to recover appear on the list, you can click Stop to finalise it.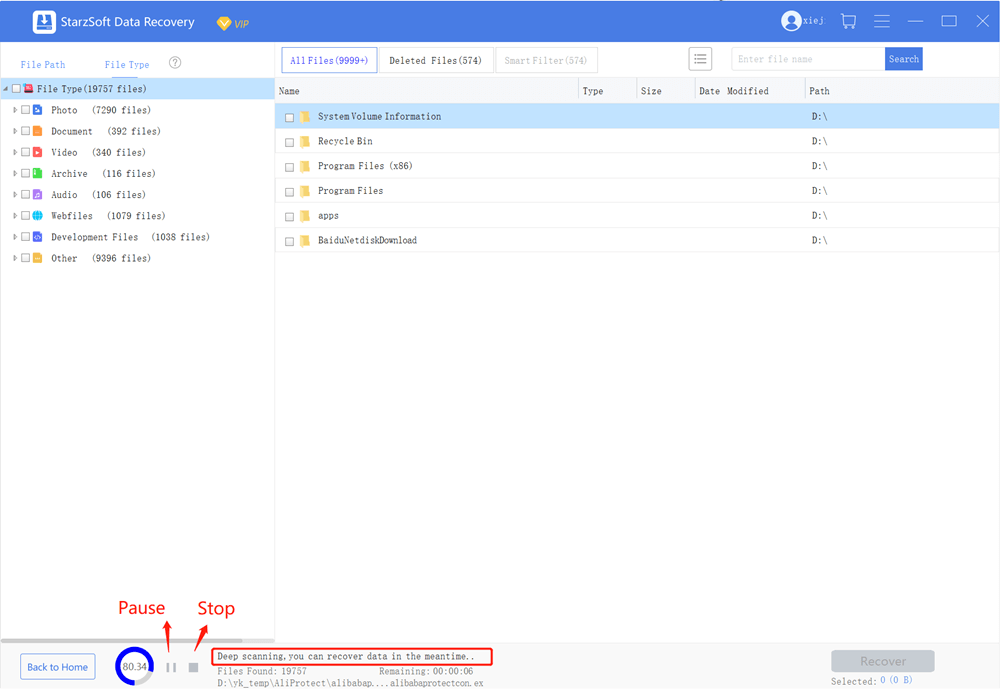 Step #4 – Once the scan is complete, you can browse the folder tree on the left to locate your file. Select any files that you want to recover.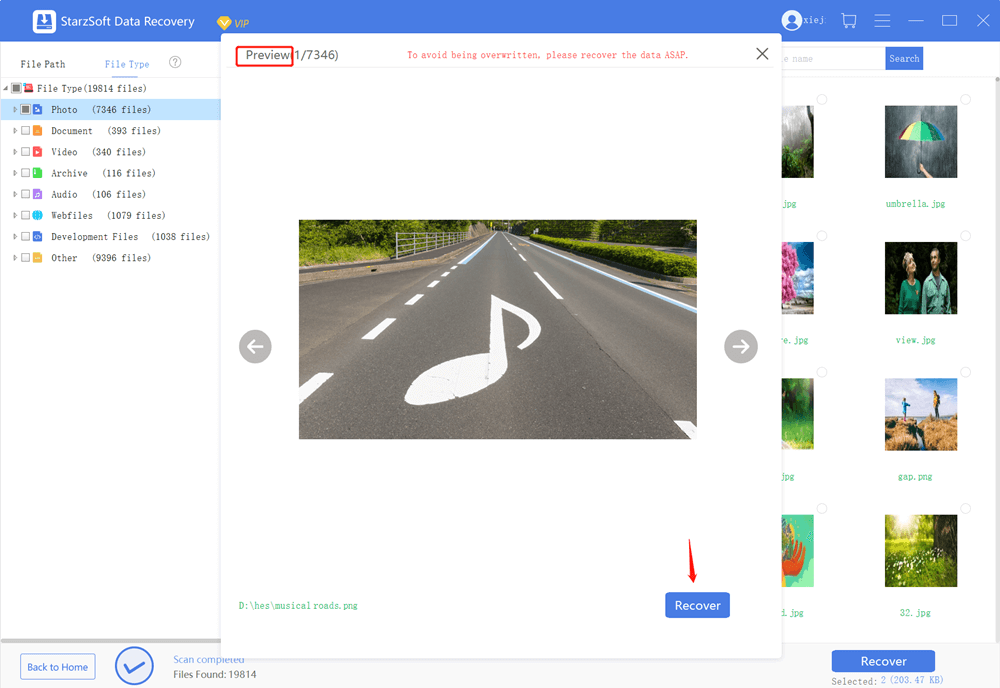 Step #5 – Lastly, click the Recover button and choose the folder you want to restore the files to.
Both of these data recovery programs offer a straightforward user experience but StarzSoft Data Recovery has a much cleaner interface and is cheaper for long-term users.
Conclusion
Regardless of which of these two programs you use to recover your data, you'll have a fantastic experience with a relatively high success rate.
If cost is an important factor for you then StarzSoft Data Recovery would be the ideal choice. It is a lot cheaper and has just as much to offer.
However, if there's one thing to take away from our Stellar Data Recovery Review, it's that both of these tools will get you great results.