Feeling like you have lost a number of your files can be a problem for most people. Knowing this file Savers Data Recovery was built to provide people with a solution for retrieving their data. This company made up of skilled engineers is one of the best ways of bringing back to life those devices you thought were long gone and recovering their data.
FAQs about file savers' data recovery
Q1. what is file savers data recovery
File Savers Data Recovery is a company founded by Brent Jackson. The company is focused on data retrieval and it has since its conception worked with many large clients and corporations on different projects. Brent who was aware of the expertise necessary to retrieve data spent three months in R&D. During that time, he managed to find solutions to stop his company from ever needing to outsource data recovery.
File Savers data recovery now offers several different services which can be key for those who want to recover the data that they may have lost. They pride themselves in saying that they can retrieve data from drives that may have seen some tough situations and even natural disasters like fire and flood. While data recovery is not possible with every single drive, file savers data recovery does have a reputation for using advanced technology to recover as many files as possible for its clients.
Q2. How much does "file savers data recovery" cost
The cost of file savers data recovery varies based on the service you choose to use. There is also a shipping cost that you will need to cover to send your item. From there on the cost will be calculated after the recovery process has been completed. This can lead to a much higher cost as file savers' data recovery tends to charge an additional fee of around $150 for every additional hour spent in searching and looking for data to recover requested by the client.
What's more, while they say that for some of their services they will not charge unless they have been successful in retrieving the necessary data, the reality is that they also have a non-refundable flat fee that they often charge as part of their recovery.
In 2019, the Deleted & Formatted data recovery price was a non-refundable flat rate cost of $500. It is unclear whether the company has put up their prices since then as this is not information they openly provide on their website.
Outside of the type of recovery you choose, the timeline for the recovery could also have a big effect on how much the company will charge. Expedited or rushed orders tend to have a higher cost. However, as the cost is not determined until after the recovery is complete, as a user you might find yourself sending your items in for recovery only to find after the completion of the project that you owe hundreds of dollars. This lack of transparency in the cost of file savers' data recovery can be a problem for many users.
Q3. Do data recovery companies look at your files?
Professional data recovery companies will not look through your files. In part, this is because there are strict legislations in place regarding privacy that these companies need to abide by. Most organizations will also not risk their reputation by looking through one person's file. This is because trust is an important aspect of this business as it requires people to trust these companies with their equipment and devices. As such, information security is always taken seriously and it is not usual for these data recovery companies to look through the files found in the drive.
Q4. How can I recover data from my hard drive for free?
Recovering the data from your hard drive is not always possible for free. In most cases, to recover your data, you will usually find that you will need to use third-party software to retrieve your information. There are two issues with many of this software, the first one being that while they do sometimes offer a free trial, it is unlikely that you will find software that you can use for free to retrieve your documents.
The second thing to consider is that unless the software comes from a legitimate website and company, it can be harmful to use. This is why checking ahead of time the reputability of any software you use can be extremely important.
Know more about file savers and data recovery
File Savers data recovery offers several different services depending on the type of device you are using. Usually, they can recover files from SD cards, CDs and DVDs, External hard drives, and even mobile phones. As part of their many different RAID Data Recovery options they offer:
Physical RAID Drive Failures
Physical RAID Server Failures
Logical RAID Failures
User Error
Some of the key benefits of using File Savers data recovery include having access to 24/7 support and having an active team of experts looking for the best possible solution for you. Have an engineering team on hand that will try several different solutions to find your files. And working with a HIPPA and PCI-compliant company.
However, even with all these benefits the high cost of using file savers data recovery and the lack of guarantee of results can leave many people dissatisfied with the service, or hoping to never use them again.
The better choice: Starzsoft Data Recovery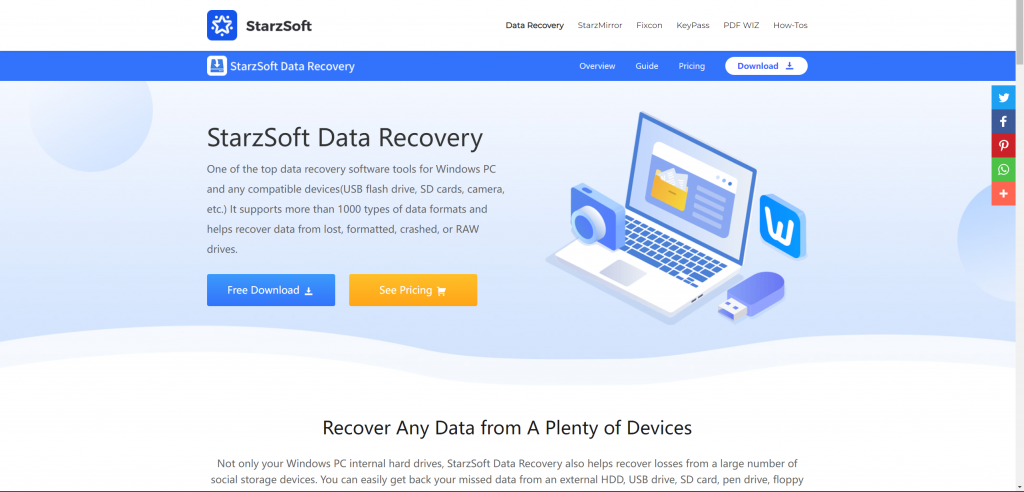 If you don't want to struggle with using File Savers data recovery then there is a much better and easier way of getting back all of your data. That solution is called Starzsoft Data Recovery
What is Starzsoft data recovery?
Starzsoft data recovery is an innovative third-party software that can help you recover over 1000 different file types from different devices. To use this software all, you need to do is sign up with Starzsoft Data Recovery and get the same service from the comfort of your own home while retrieving sensitive data.
How to use it?
Using Starzsoft Data Recovery is easy, all you will need to do is follow the steps below:
Download and install Starzsoft data recovery
Open the program and then select the disk and folder you need to scan. If you want to scan an external device you will need to connect it at this point.
Preview all of the data available for retrieval and select the ones you want to keep
Press the recover button
Why Starzsoft data recovery is better than file savers
Starzsoft data recovery offers you all the same benefits as file savers but from the comfort of your own home. This means that you will not have to risk having strangers going through your files. What's even more important the cost of using Starzsoft data recovery is lower by hundreds of dollars, which means that you will have the same service and security for less money.
Conclusion
File Savers data recovery is a prominent service for those who want to have professional engineers recovering their files. While this service can be useful the emergence of data recovery software like Starzsoft data recovery has made File Savers costly and, in many ways, obsolete. This is why many users now choose this third-party software they can use on their own.