Have you ever wondered why Face ID isn't working with your face mask on? Wearing a face mask has become hugely important for all of us to stay safe and well. However, wearing a face mask can also come with some frustrating complications – and one such issue could be that Face ID with a mask is not working.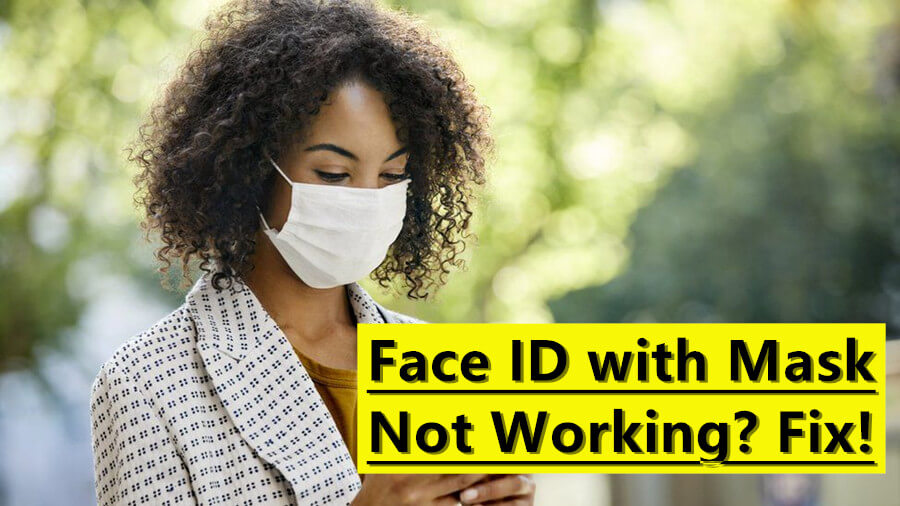 But how can you overcome the "face ID with mask not working" error, and are there any opportunities to overcome faults with Face ID overall? We'll be considering these two questions to help you overcome limitations when wearing a face mask with Face ID – hopefully, this will allow you to continue using your phone safely while also staying safe!
Why is Face ID With Mask Not Working?
Before we go any further, we first need to consider why wearing a face mask with Face ID can lead to difficulties. While the Face ID system is incredibly powerful, it's essential to consider that Face ID isn't magic – it's just a very clever facial recognition system.
However, when a face mask hides part of our faces, it can be much harder for Face ID to recognize you – which can lead to further complications as a result.
In fact, in some cases, the issue could be the result of an error or system fault with your device. These system faults can be much more problematic to resolve and may impact your wider use and operation of your iPhone device.
With this thought in mind, we would strongly recommend that you take steps to ensure that wearing a face mask doesn't hinder your use of your iPhone device. Luckily, there are several steps you can take to repair this issue.
iPhone Models of Face ID With Mask for Unlocking
If you have been wearing a face mask with Face ID, you may have noticed difficulties in getting your phone to recognize your face.
To use Face ID with a mask, it is available only on the iPhone 12‌‌, 12 Mini, 12 Pro, 12 Pro Max, iPhone 13, 13 Mini, 13 Pro, 13 Pro Max, and later running iOS 15.4 or later.
Indeed, the iOS 16 updates implemented new technology for landscape features in Face ID, which may make it more likely for your iPhone to recognize your face even with a mask on.
How to Fix the "Face ID With Mask Not Working" Error
If you're still wearing a face mask with Face ID and updating to iOS 16 hasn't helped, or if you're unable to update your device to iOS 16, don't worry – there are several further options you could consider that might help! These could include the following tips:
1. Ensure "Face ID With Mask" is Enabled
Did you know that iPhone devices can now support Face ID with a face mask? However, to enable this, you'll need to ensure that this option is enabled under settings.
Head to settings and find the Face ID and Passcode option – then, enable Face ID with a mask (towards the bottom of the page).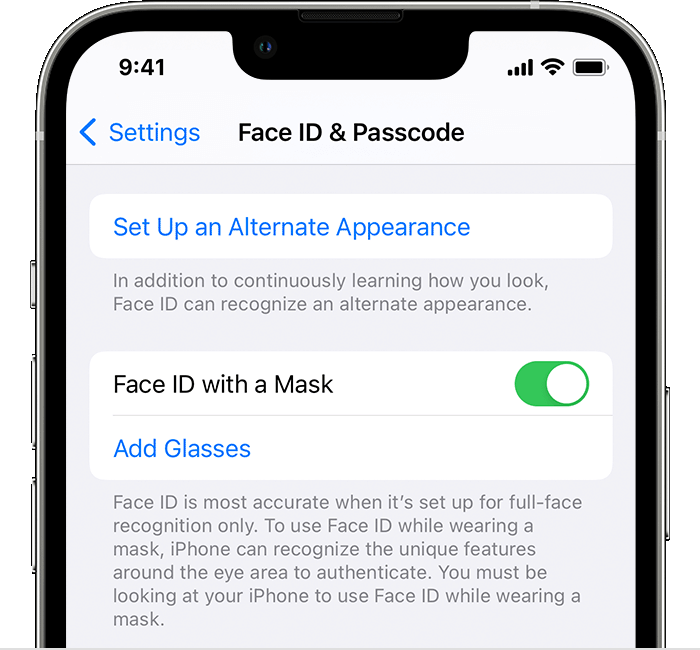 2. Restart Your Phone
Sometimes, the simplest fixes can do the trick. With this thought in mind, we recommend that you restart your iPhone device if you have had difficulties with fixing the Face ID with Mask Not Working error.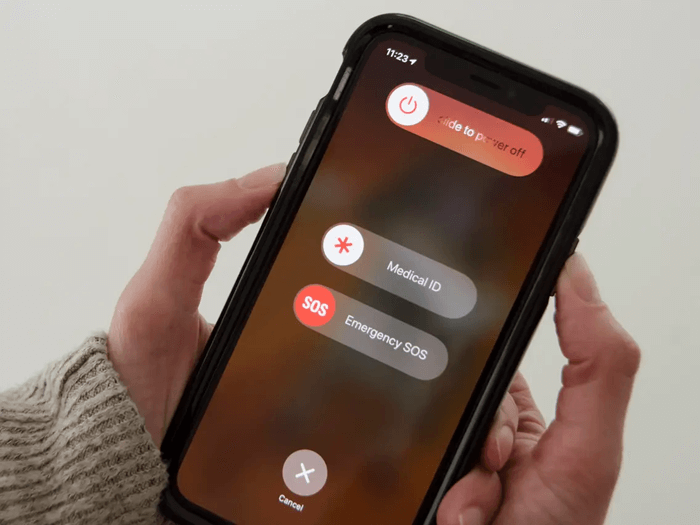 Simply hold down your phone's lock button until you see the "slide to power off" option. Then, once the phone is fully turned off, wait a few moments before turning it back on to see if this may have fixed the issue.
3. Try Different Angles on Your Phone
If you're wearing a face mask, your phone may struggle to recognize you. However, don't give up immediately – try a few different angles to see if this helps your phone work out who you are!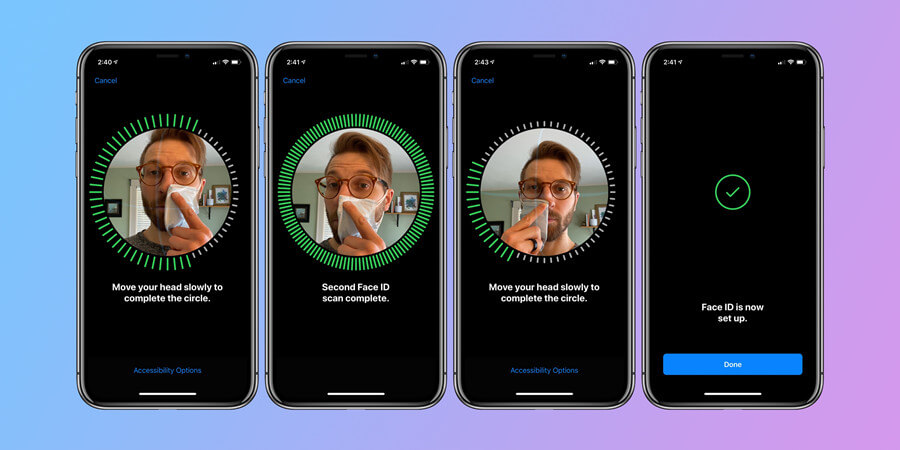 4. Remove Your Face Mask
This might seem like an obvious tip, but if you're somewhere safer – such as in a large, outdoor space with no one else around – then you may be able to remove your face mask momentarily to ensure Face ID can recognize you.
System Problem? Try the iOS System Repair Tool – StarzSoft Fixcon
We all like to hope that our phones are operating safely; however, sometimes, it's not always clear whether the issue might actually be something more significant, such as a fault in the system. With this thought in mind, if you think you may have encountered a system problem with your device, it could be worth trying the iOS system repair tool StarzSoft Fixcon to fix the issue.
StarzSoft Fixcon is a specialist system repair tool that is designed to support many iOS device problems. In fact, Fixcon may be able to support over a whopping 150 system errors or more, which could help you find the most effective solutions for your own system operating needs.
1
Two Repair Mode of StarzSoft Fixcon
Notably, it's important to consider that the StarzSoft Fixcon tool is one of the most versatile iOS repair tools on the market and includes two different repair modes.
1. The first repair mode – Standard Repair – is a gentler repair and is designed primarily to fix more basic issues. However, if you find that Fixcon doesn't work with a basic repair, don't worry; you can step up your game with the Advanced Repair function to try and increase the chances of success.
2. However, the Advanced system repair function will wipe data from your iOS device; therefore, we recommend that you check the other steps in today's guide if you've been having issues with wearing a face mask with Face ID.
The issue is that your iOS device is most likely struggling to recognize your face with the face mask on, which is why wearing a face mask with Face ID can compound the issue.
Therefore, when it is safe to do so, we first recommend removing your face mask to check whether there is actually a system error. If this still doesn't get Face ID working properly, the issue may be with your device's software, and you may want to progress your efforts to check whether you could try a system repair.
2
How to Use StarzSoft Fixcon to Repair System Errors
If you think the issue with your iOS device might be due to a system error, rather than simply being because you're wearing a face mask with Face ID, then it's worth looking at whether StarzSoft Fixcon could help. Fixcon is, fortunately, exceptionally easy to use with the following simple steps:
Step1. Download the StarzSoft Fixcon app onto your computer device and connect your iOS device with a USB cable, as prompted.
Step2. Take a backup of all data on your iOS device before progressing further, just to be safe. Backing up your iOS device's data will allow you to stay safe and secure while repairing your device – after all, it's always best to be safe than sorry!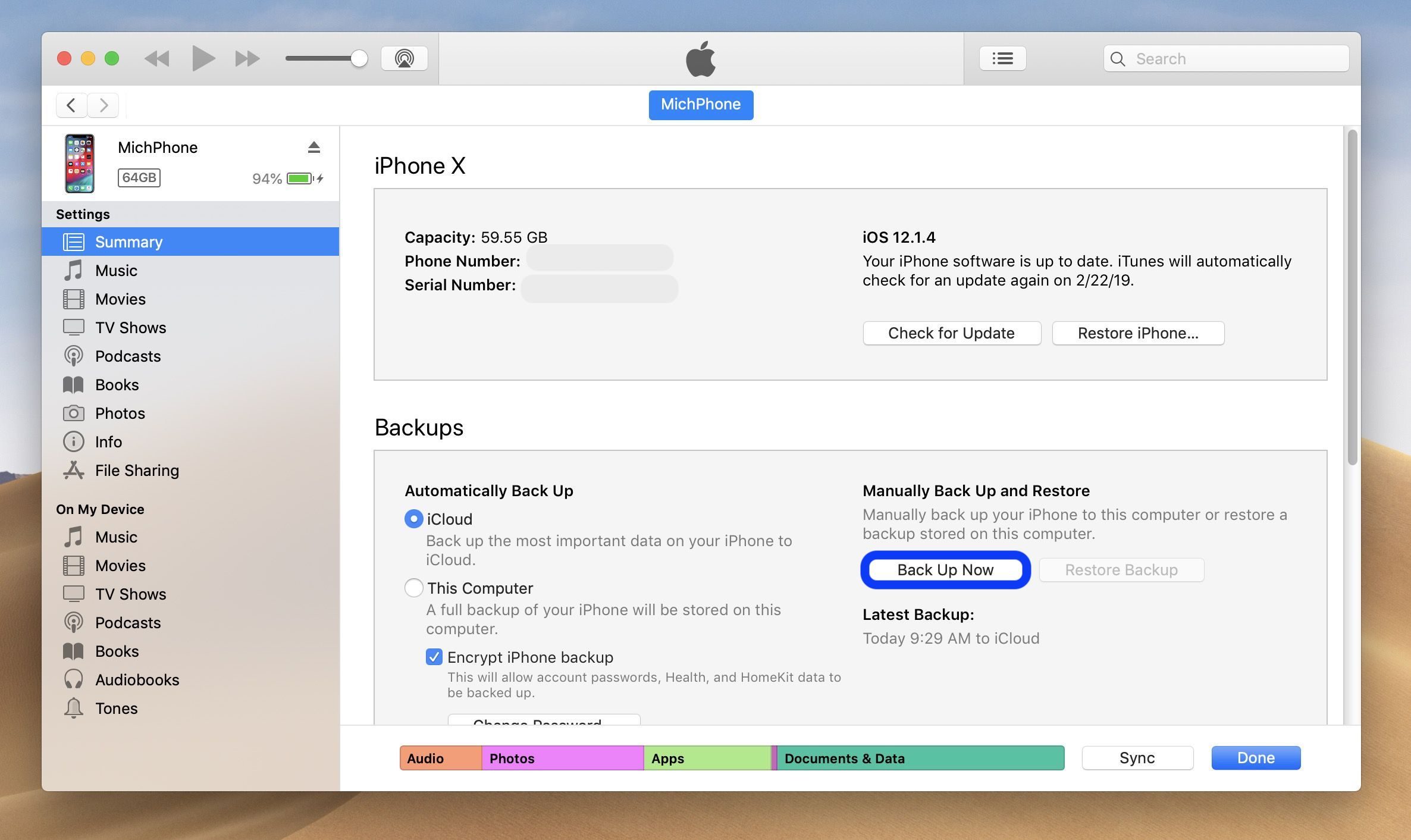 Step3. Launch StarzSoft Fixcon on your PC device and select the most appropriate repair method. We always recommend starting with a Standard Repair, as this will be less invasive for your device. However, if the Standard Repair mode doesn't work, you can repeat these steps with the more invasive and in-depth Advanced Repair mode.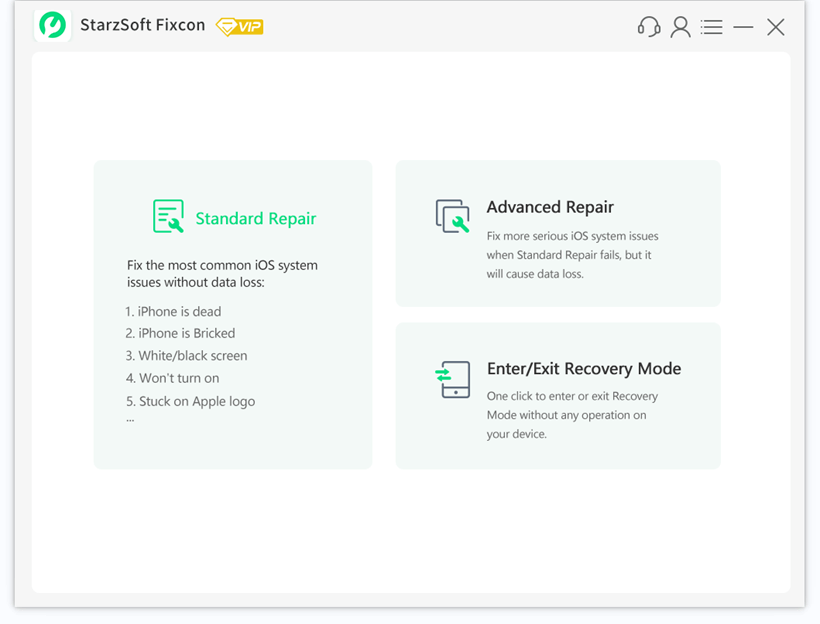 Step4. Install the relevant firmware onto your PC device as prompted by the StarzSoft Fixcon tool, ensuring you save it in an appropriate location on your PC.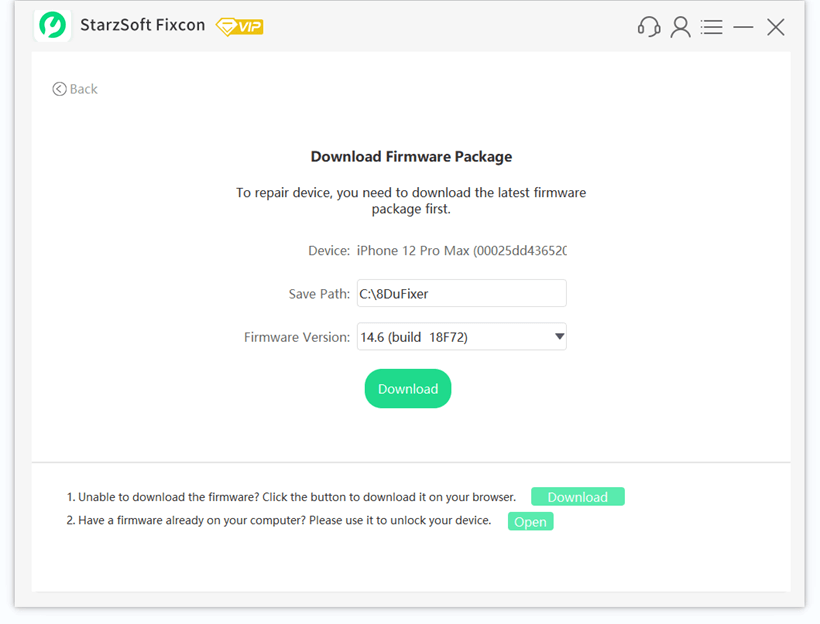 Step5. Finally, follow any further instructions presented on screen, and then sit back and wait while the StarzSoft Fixcon app repairs your iOS device's system.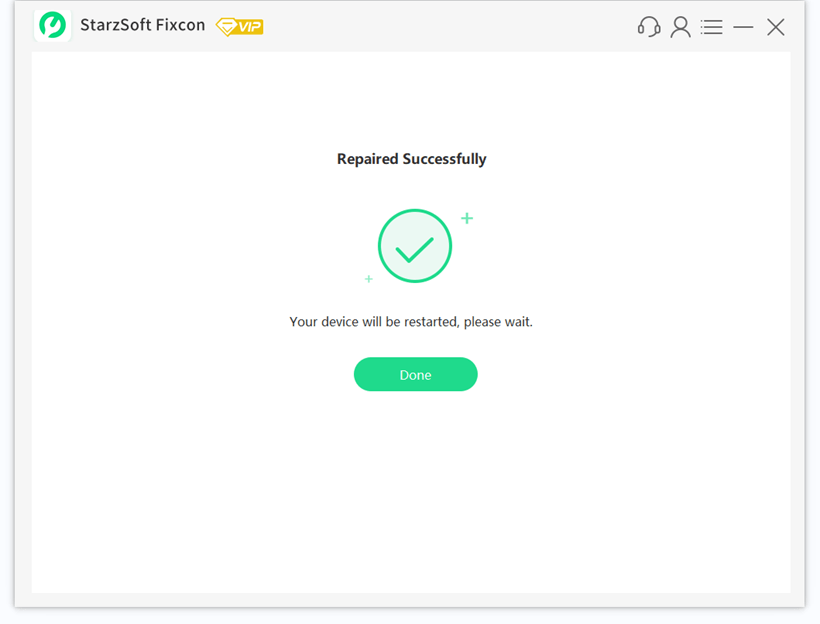 We strongly advise you do not fiddle with your phone during this time. This fact is since disconnecting your iPhone from the USB cable or PC device during this process could potentially stop the repair from working or damage your iPhone's functioning (since its systems will only be partially repaired).
That's all there is to it! As such, it's clear that repairing your iPhone systems with StarzSoft Fixcon can be incredibly straightforward if you find that wearing a face mask with Face ID is a system fault rather than just difficulty recognizing your face.
Why not give it a try for your device, if you think you may have a system fault?
Further Reading: How to Fix the "Face ID not working move iPhone lower" Issue
Conclusion
Undoubtedly, wearing a face mask has become massively important for many of us in this day and age. Whether you're looking to stay safe from conditions such as Covid-19 or just wearing a face mask for general health, it can be incredibly frustrating if you usually rely on Face ID to log into your device.
However, wearing a face mask with Face ID doesn't have to be an impossible goal, and if you can update your device to iOS 16, you should find that the new update allows your phone to better recognize landscape factors such as face masks.
However, if you find that today's tips and suggestions don't work to fix wearing a face mask with Face ID, or if you remove your mask but find that Face ID still isn't working, you may be looking at a system error – in which case, the Fixcon tool might be able to help repair your device.