If you're unable to turn on your Apple Watch, don't worry, we'll tell you how to fix it. Many people nowadays have been facing this issue. You may face this issue due to hardware or software problems.
However, it would help if you didn't do out of the ordinary to make things even worse for you. Instead, read this blog to fix the "Apple Watch won't turn on" issue.
Part 1: How to Fix Apple watch Won't Turn On
1. Force Restart to Solve Apple Watch Wont Turn On
If you're facing the my Apple Watch wont turn on issue, you don't need to panic. Instead, you only need to restart your Apple Watch to test whether this procedure improves things or not.
The majority of the time, restarting your Apple Watch will fix any issue you're currently having. Here's a brief guide to force restart your Apple Watch.
1. Press and hold your Apple Watch crown and the button below the crown for 10 seconds.
2. After holding the buttons for up to 10 seconds, you'll see an Apple logo that indicates your Apple Watch will get restarted.
3. Once your Apple Watch starts again, you need to check the result of restarting it.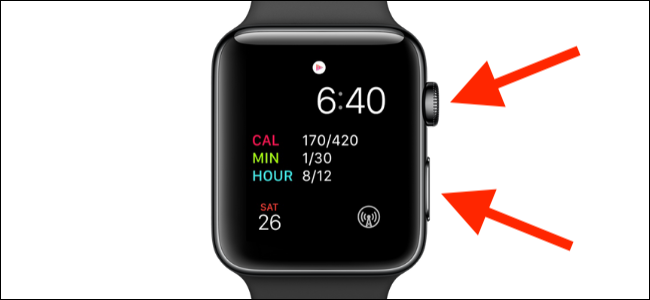 2. Check the Power Reserve Mode
Another thing that can stop you from using the Apple Watch is that you've accidentally enabled the Power Reserved mode. When someone buys a new Apple Watch, he turns on the Power Reserve mode and then thinks why the watch isn't working.
If you've also done the same thing, you need to remember that enabling Power Reserve mode means you're turning off every feature of your Apple Watch except its current time.
To fix this issue, you'll need to press and hold your side button for a few seconds before you see an Apple logo option there. After this, you'll be able to turn off the Power Reserve mode.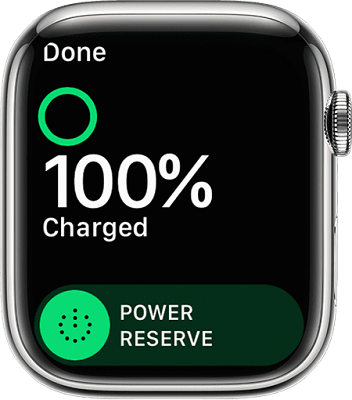 3. Turn Off VoiceOver and Screen Curtain
After implementing a couple of critical solutions, if you're still struggling with "why wont my Apple Watch turn on" then the problem is somewhere else.
Unfortunately, Apple Watch possesses a pretty obscure feature like Screen Curtain. This feature turns off the Apple Watch's screen when you try to run it. In case you've turned on the Screen Curtain mode, you'll only be able to use Apple Watch with the help of VoiceOver.
To get rid of this unwanted situation, you'll need to turn off the Apple Watch's Screen Curtain mode. Follow the guide below to get your job done.
1. Navigate to settings after launching your Apple Watch on iPhone. Later, you'll need to move towards Accessibility and then the VoiceOver section.
2. Now, you'll see an option of Screen Curtain. Please turn it off from there, dragging it to your left side.
Moreover, you should also turn off the VoiceOver because the VoiceOver causes the Screen Curtain to appear. You can turn it off following a few simple steps.
1. Open your watch app settings on iPhone and navigate to General settings.
2. Now, you'll need to navigate to Accessibility> VoiceOver. Turn the toggle off next to the VoiceOver feature.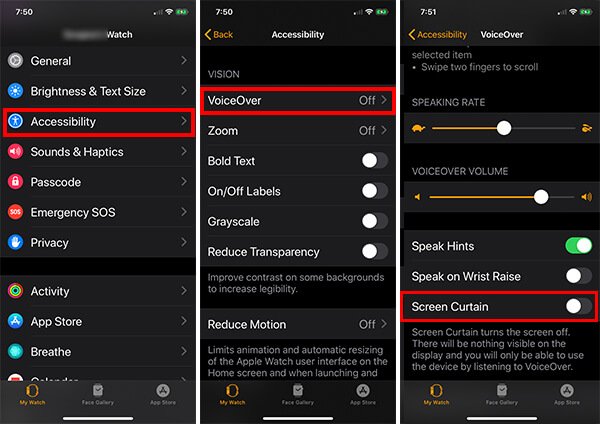 4. Change A Cable or Charger to Check
Sometimes, we don't pay attention to small things that end up hurting us big time. Similarly, before going for an extreme step to fix Apple Watch won't turn on after being dead issue, you need to check the condition of your charging cable.
To check whether the problem lies in charging cable or not, you need to start charging the Apple Watch using multiple wires. If you notice that one particular line doesn't charge your Apple Watch, it is not difficult to assume the root cause of your problem.
You can also try changing the Apple Watch's charger to reassess things. If you still face the same problem despite changing the charging cable or charger, look around for other solutions.
5. Erase Your Apple Watch and Pair It with iPhone Again
If nothing changes the situation, you can try removing the pairing of the Apple Watch to your iPhone. This process can help you solve the fuss you'd be facing. Follow the instructions below to put things in order.
1. Open the Watch app settings on your iPhone and open General settings.
2. Hit the reset button and select Erase All Content and Settings.
3. After erasing the Apple Watch from your iPhone pairing list, you can reconnect it again. If your Apple Watch does not have hardware issues, erasing and then pairing it again with your iPhone will mostly solve the problem. If this thing also doesn't work, you need to try out some other stuff.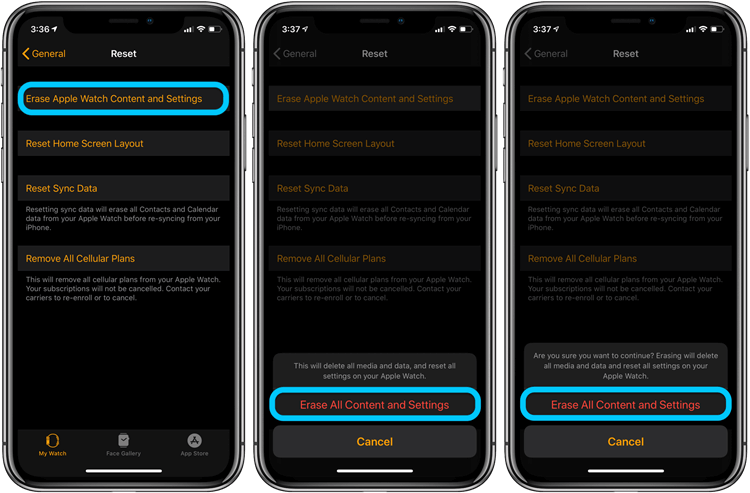 6. Contact Apple Watch Repair Centre to Fix iWatch Wont Charge
If any of the above-explained worked in your favor, there are strong chances of your Apple Watch affecting some hardware issues.
Your battery might need a replacement, or something else needs to be addressed. Whatever the things are, don't do too much with your Apple Watch.
Instead, you need to consult the worthy Apple Watch repair center. After connecting, you need to let them figure out the causes of the issue you've been facing for so long now.
They'd have indeed got some experience and a seasoned technical team to solve the problem no matter how much effort it demands from them.
Part 2: What If Your iPhone/iPad/iPod Touch Won't Turn On
Using StarzSoft Fixcon, you can fix every iOS device problem with minimal effort. Moreover, if you're facing an issue with your Apple Watch, Fixcon is pretty capable of fixing that issue as well. Here's the guide to get your job done.
1. After launching Starzsoft Fixcon, you need to select Standard Repair mode.

2. After connecting the device via a USB cable, you need to download the firmware package.
3. In this phase, you need to hit "Continue" to repair your iPhone. After repairing the iPhone, you can try turning on the Apple Watch to test whether the issue has been resolved or not.
Part 3: FAQs about Apple Watch Won't Turn On
1. Why is my Apple Watch screen black and won't turn on?
After charging your Apple following the instructions, if you're having an issue turning it on, it might be due to Power Reserve mode.
If you've turned on the Power Reserve mode, it prevents your watch from running correctly. To fix this problem, you need to press and hold the side button of your Apple Watch. This process will restart your Apple Watch again, eradicating the problem you were facing previously.
2. How long does a dead Apple Watch take to turn on?
If your Apple Watch is dead and isn't turning on, you don't need to panic. Instead, it would help if you put the Apple Watch in charge.
After putting it in the charger, you need to wait for a couple of hours. During this time, your watch is most likely to restart again once the battery is charged.
3. What happens when your Apple Watch does not turn on?
If your Apple Watch doesn't seem to be working correctly, you can't enjoy its features then. But, you don't need to feel wrong about it. Instead, restart it again or put your Apple Watch in the charger to get things sorted out.
Conclusion
Following the solution we've explained in this blog, you can fix the "Apple Watch not turning on" issue. First of all, you'll need to analyze the problem and then execute the solution, whichever you'd wish you use.
However, if neither of the solutions worked, get the services of StarzSoft Fixcon. It is a monumental third-party tool designed especially for iOS device issues. Using this tool, you can find a way to fix Apple watch-related matters.