Today iPhones have become a very robust and reliable piece of hardware. Boasting advanced features to not only enhance the user experience but also increase the longevity of the device. This includes the water-resistant capabilities of models iPhone 8 and up. This is why you might be surprised to receive a notification saying 'liquid detected in lightning connector'.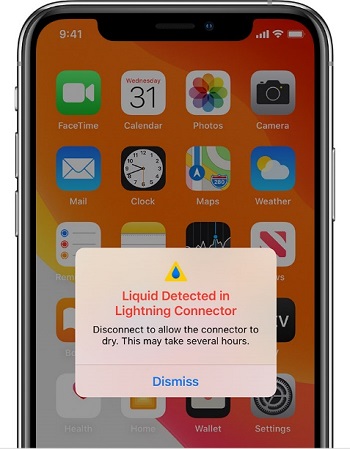 Part 1: Why the Liquid Detected in Lightning Connector Error Appears
Luckily the liquid detected in lightning connector iPhone error is not something you need to be too alarmed about. It is simply a preventive measure installed by the manufacturer which s disconnects the lightning port when water droplets are detected inside of it. It's a fail-safe measure that is designed to prevent your accessories or device port from being corroded due to the water. There is a list of reasons this error may be showing for you:
1. Humid Environment: Moisture can accumulate on the inside of the charging port in humid environments. This can be especially true if you left your phone inside the bathroom during a shower. The humidity can get very high and this can cause water droplets to form inside the charging port.
2. Rain: It's possible that you were out in the rain and some water was able to find its way into the charging port causing the error.
3. Spilt Drinks: A good old-fashioned way to get your iPhone wet is to unfortunately enough spill something on it.
4. Software Issue: A lot of Reddit users have reported that their brand new iPhones that have had no contact with a humid surface or environment also gave them the liquid in lightning port error. This can be caused due to a software bug which can luckily be easily fixed.
Part 2: How to Fix Liquid Has Been Detected in the Lightning Connector When Your Phone Is Wet
If your iPhone came into contact with a wet surface or you spilled something on it. You can take the following measures to return your iPhone to normal working condition.
1. Let the Phone Dry Naturally
The most intuitive way of getting rid of the error is to simply let your iPhone dry. Of course, you won't be able to use your phone for a while but it is the safest and sure way of removing any water droplets from the phone. Simply:
1. Unplug all cables and attachments from your iPhone.
2. Hold it with the lightning port facing down and nudge it lightly a few times to help ease the liquid out.
3. Put your phone in an open ventilated space.
4. Start the phone again after a few hours and check if the error disappeared.
It is important to note that you do not use any direct heat source such as a blow dryer to dry the iPhone since the heat exposure may cause other problems to arise in the device.
2. Use Wireless Charger to Fix iPhone Liquid Detected
If you want to use your iPhone and can not afford to wait for the phone to naturally dry before charging it. As an alternative, you can use cordless chargers. Since, the fail-safe targets the lightning port and not the iPhone's charging capabilities, you will still be able to charge the phone without any risk of the charging port corroding.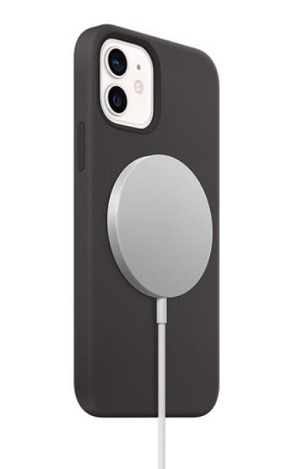 3. Fix iPhone Charging Liquid Detected with Emergency Override
If you do not have a wireless charger and you simply can not go on without your phone, you may perform the emergency override at your own discretion. Again, if your phone did in fact come into contact with a water body, this option is highly unrecommended unless necessary.
1. Dry the outer surface of your device with a cloth.
2. Attach the accessory or charging cable.
3. When the detection alert pops up again, tap the emergency override button.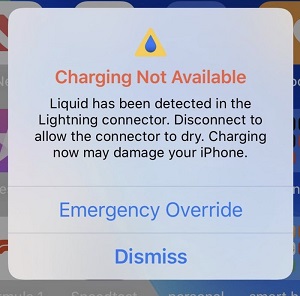 4. Check Liquid Contact Indicator
If you're not sure how extensive the water damage to your iPhone is, Apple has put together a guide to check your device's liquid contact indicator. This indicator turns red when it comes in contact with water. Different models have the indicator at different places. But this can be checked from this chart. An example for iPhone 13 is given below.
Part 3: How to Fix Liquid Detected in Lightning Connector Not Wet When Your Phone is Not Wet
If you have incurred this iPhone liquid detected in lightning connector error when your device has not come into contact with any water body or is completely brand new. You are most probably experiencing a hardware or software bug. In such a case:
1. Check for Debris and Dust
Simply take a flashlight and check if there's anything stuck in the lightning port that might be causing the problem. If there is some dust collected inside you will want to remove it using compressed air. Do not probe the port as it may damage the metal pins inside.
2. Change the Cable
It's quite possible that the cable or accessory you are using is bugged. Try replacing it to see if the error disappears.
3. Emergency Override
If you are sure that the iPhone is completely dry, you may want to use the emergency override as given above. However, if the error persists this will only serve as a temporary solution.
4. Contact Apple Support
You may want to get your iPhone checked to see if there is a problem with the device. Especially, if it's a new iPhone.
Part 4: How to Fix Liquid Detected in Lightning Connector with StarzSoft Fixcon
Of course, before contacting Apple support you may want to run the device across StarzSoft Fixcon. This application is designed to handle all sorts of malfunctions and bugs that an iOS device may come across. If you are at a loss for what to do, this may perhaps be the ultimate cheat code.
If you choose to use StarzSoft, follow these steps:
1. Download StarzSoft on PC and then run it.
2. Connect the device to PC with StarzSoft running, now choose Standard Repair.

3. Download and install Firmware (choose whatever save path you want).
4. Click on the Continue button, then StarzSoft will start repairing your device.
Part 5: FAQs About Liquid Detected in Lightning Connector
1. Will my water-resistant iPhone suffer from liquid damage?
While iPhones have come a long way, it is important to understand that water-resistant does not mean waterproof. The phones are meant to be safe from water exposure only up to a certain degree.
2. What does it mean by liquid detected in lightning connector?
This is a fail-safe designed by apple which causes your lightning port to temporarily shut off when it detects water droplets that may harm the device.
3. How to avoid the liquid detected in lightning connector?
Simply respect the principle that the phones are water-resistant, not waterproof. You should avoid contact with water bodies whenever possible.
Conclusion
Hopefully, you have been able to figure out a solution to fix the liquid detected in the lightning connector issue. Our personal recommendation is to use StarzSoft Fixcon as it encompasses fixes to multiple iOS related issues and can be your one stop shop solution to all problems you may encounter in the future.