Question
"Ever since I updated to IOS 16, when I screen mirror to my Samsung TV it won't put the video on full screen on the whole TV as it used to do with IOS 14. How I'm supposed to fix this issue"?
The iOS 16 update has enabled iPhone users to explore many new features; some users have also faced issues with the update.
The latest issue most iPhone users are currently facing is the "Screen mirroring not working with iOS 16" issue. The issue can occur due to multiple features running simultaneously, but you don't need to panic or do extraordinary things to get this sorted. Read this article, and you'll be able to fix the issue.
Part 1: How to Fix Screen Mirroring Not Working with iOS 16
Fix 1: Check If the Two Devices are Connected to the Same WiFi
If you're facing "screen mirroring not working with IOS 16 issue", you'll need to check the network of both devices. Remember, Airplay will only allow you to share your iPhone screen to a device when using the same WiFi network on both devices.
Otherwise, you won't be able to share the screen. It is why, if you face this issue, check whether both devices have been connected with the same devices or not. If your devices are connected with the same network, but still facing the issue, move to the next solution.
Fix 2: Restart iPhone to Fix iOS 16 Screen Mirror Not Working
If both devices are connected to the same network, but the problem persists, you need to restart both devices.
To restart iPhone, you need to press and hold your iPhone Side and volume button for a few seconds. Leave the button when you see the Power off slider there. It will take 30 to get switched off. Press and hold the iPhone Side button again to turn on your device.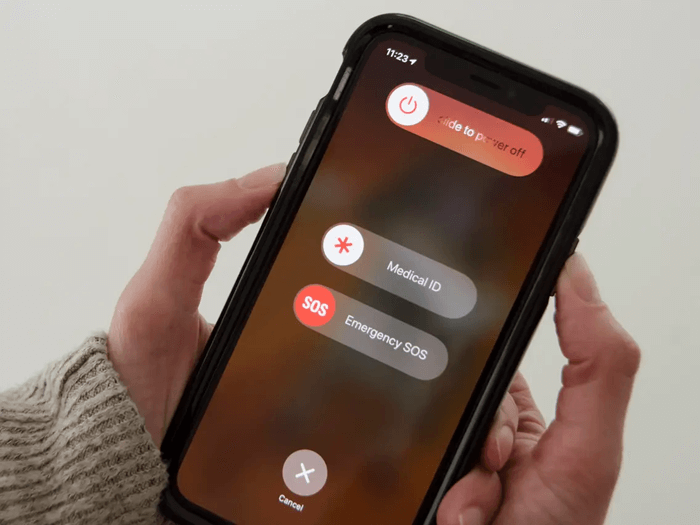 If you're screen mirroring iPhone with Smart TV, you need to turn the Smart TV plug off and then turn it on again.
Fix 3: Restart or Update WiFi Router
If no method worked, you need to check the status of your WiFi network. If you feel the internet connection you've got isn't running properly, you need to restart your WiFi Router.
You can restart it by switching your modem off for about 30 seconds. Later, you need to check the speed of the network now.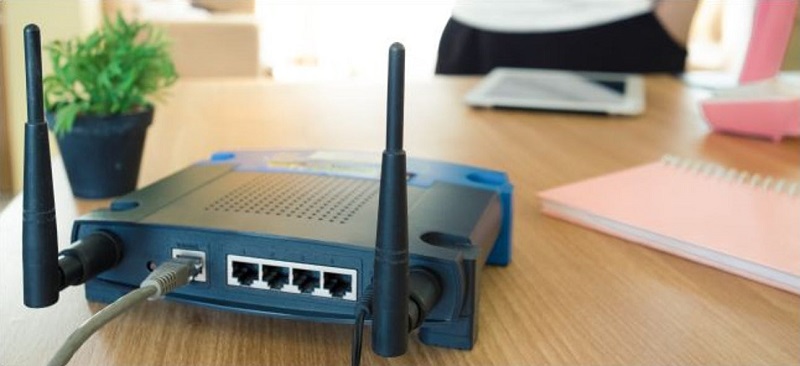 Moreover, you can also update your Router as well using a phone. You can access your Router settings from a mobile device and update its firmware afterward. If this also wasn't helpful, you can look for other methods.
Fix 4: Check If There are Restrictions and Disable It
In the latest update, Apple has introduced the privacy feature that will tell the parents about their children's activities on the iPhone.
If your device has been enabled with that privacy feature, you won't be able to transfer files through Airplay because it gets flagged at that moment. If screen mirroring isn't working on your iPhone, you need to turn off the iPhone Screen Time because the privacy manager monitors every activity you perform on the iPhone. Check the guide below:
1. Click on Settings and navigate to the "Screen Time" option from there.
2. After entering the screen time settings, you'll need to hit the Turn off Screen Time button to turn the screen feature off.
3. Now, you'll need to confirm the operating by hitting the same icon again.
4. Later, you can restart your device and see whether the mirroring is working or not.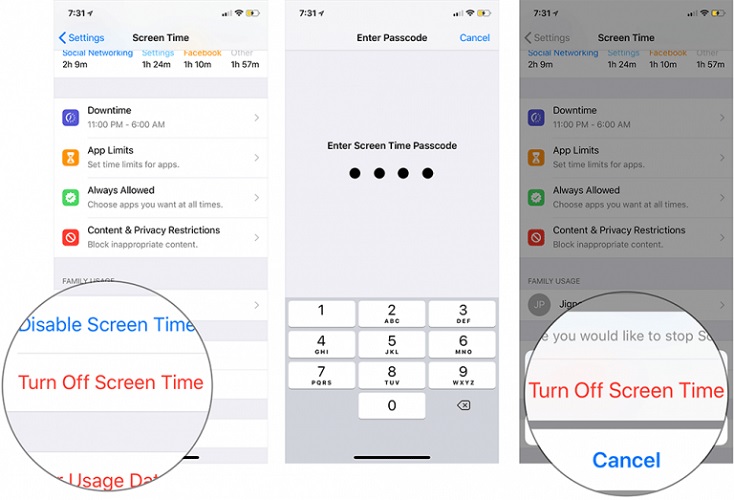 Fix 5: Turn Off and Then Turn on Bluetooth
If you're clueless about the current situation and don't know how to fix the issue, you need to turn off the Bluetooth on both devices.
Sometimes, the connection doesn't give the device much-needed stability that affects your cause. First, you'll need to open iPhone settings and turn off the Bluetooth icon from there. Later, it would help if you turned the toggle on again.
Next, you need to navigate to the device or computer you've chosen as a big screen and navigate to its Bluetooth icon. Please turn off the Bluetooth icon and turn it on afterward. After doing it, check whether the Airplay works or not.
Part 2: Use Starsoft Fixcon to Fix Any iOS System (Including Screen Mirror) Issues
If you're unable to find the appropriate way to fix iPhone mirroring issue, you need to look at the StarzSoft Fixcon.
It is a stunning tool that makes sure you fix any iPhone issues with minimal effort. Apart from providing its customers with a user-friendly interface, it aims to help you get rid of over 200+ iPhone issues with ease.
To fix the "screen mirroring not working with iOS 16" problem, you need to repair your device with Standard Mode. Here's the quick step-by-step guide to serving your purpose:
1. Install Starzsoft Fixcon from the official webpage and launch it. Later, click its "Standard Repair" option from on the left side of your screen.

2. Connect the iOS device to Windows and PC. Later, Fixcon will detect your iPhone.
3. Now, pick a favorable firmware package option and hit Download to put it in your pocket. Remember, you need to be pretty careful selecting a firmware package.

4. After having a great firmware package up in the sleeves, you'll need to press the "Continue" button to repair your iOS or iPad device. It will take a few minutes to get completed.
Part 3: FAQs about Screen Mirror on iOS 16
1. Does iOS 16 have screen mirroring?
The introduction of the iOS 16 update has allowed iPhone users to explore many additional features. Now, iPhone users can use the screen mirroring feature more appropriately.
You can use screen mirror your iPhone using Airplay to enjoy playing the game on the big screen.
2. How do you mirror on iPhone iOS 16?
You can mirror on iPhone iOS 16 following the steps below.
1. Connect the time iPhone device to your Apple TV.
2. Open Control Center.
3. Tap Screen Mirroring and select your smart or Apple TV.
3. Why will screen mirroring not work on my iPhone?
You can't screen mirror your iPhone with Apple TV or Smart TV if you're not using the same WiFi network on both devices. Apart from using the same network, you also need to put both devices near each other to put the things in order.
4. How do I turn off screen mirroring on iOS 16?
To turn off screen mirroring, to need, you'll need to tap screen Mirroring after opening the Control Center. Later, you can tap Stop Mirroring from there. Moreover, you can also press the Menu button from there.
Conclusion
You can fix any issue of Airplay not running properly by reading our guide. We were pretty keen to give the proper insight into methods that can help eliminate the screen mirroring problem you face most often.
Of all the methods you'll see in the article, StarzSoft Fixcon remains at the top. Not only it can save your time with a quick process, but it can also help you fix the issue more appropriately.