The iPhone is a beloved companion of millions of people across the world, serving them reliably whether it's for leisure or work. However, recently some users have started reporting running into an error 1110 notification.
Part 1: What is iPhone Error 1110
The iPhone 1110 error notification pops up when there is a problem with the memory space. Users have generally reported having come across this error while trying to update their phones to iOS 15. This can be attributed to the fact that the iPhone simply does not have enough space to download the update files.
Part 2: How to Fix iPhone Error 1110 (6 Ways)
If you're among the lucky ones that came across the iPhone error 1110, you may still have access to your phone, in which case the solution is simpler. However, if you're among the unluckier ones error 1110 will cause your iPhone to become stuck in an Apple logo loop. Luckily, it is possible to fix the iPhone in either case.
1. Free Up Space to Fix Error 1110 iPhone
If your iPhone did not become stuck in the Apple loop, you should look up to save space. To this end you should take a look at what is taking a lot of space on your phone:
You need go to Settings > Select General > Select iPhone Storage.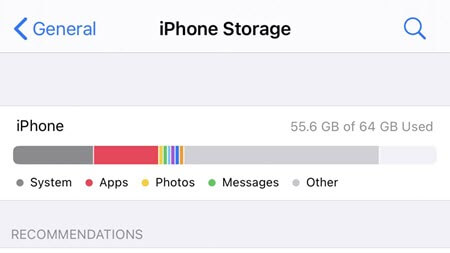 From here you will get an idea of where the space on your phone is being allocated to. If your photos, videos, and text messages are eating a lot of space, go ahead and delete some of them.
2. Remove Unused Apps for iPhone Update Error 1110
You may also find it useful to removed applications that you have not used for long periods of time. Letting them consume memory on your phone is wasteful and this can be a good practice to keep your phone clean altogether. Similar to the previous steps:
1. You can simply go to Settings, then select General. From there, select iPhone Storage.
2. Select applications that you have not used for a long time.
3. At this point, you may either choose to offload apps (which keeps data and removes application) or remove data and application entirely.
3. Try to Clean Some Popular Used Apps Cache
If you're not willing to delete any applications or delete the data you have on your phone, clearing out app cache can help free enough memory for the update to successfully install.
Clear App Cache on Safari
1. Go to Settings and then Safari.
2. Scroll down and select Clear History and Website Data.
3. Select Clear History and Data again.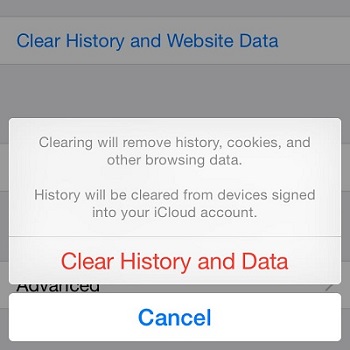 Clear 3rd Party App Cache
While clearing app cache from apps isn't as straightforward as with Safari. To remove their cache you can choose to remove them and reinstall them afterward.
4. Try to Force Restart Your Device
The previous methods were based on the assumption that you have access to your phone. If you are stuck in the Apple loop you will not be able to access the settings to free space. You may try to bypass the loop by force restarting your device. To do so follow the steps for the relevant devices as given:
iPhone 8 or Later:
1. Press the volume up button once and release it immediately.
2. Quickly press the volume down button once and release it immediately.
3. Press and hold the side button until the iPhone restarts automatically.
Follow the same steps if your iPad has the 1110 error (only for iPads without the home button).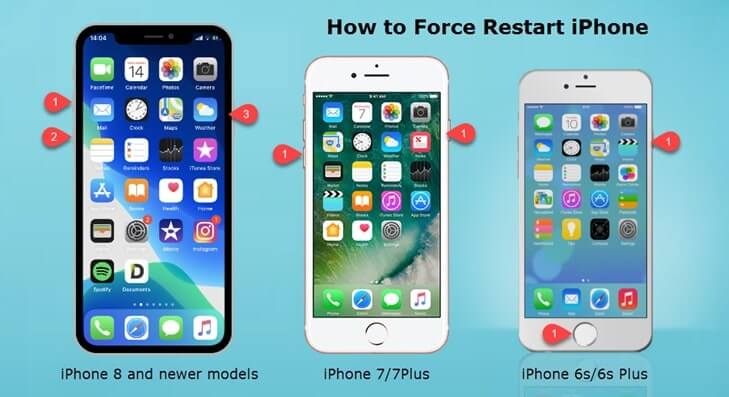 iPhone 7, iPhone 7 Plus, and iPad Touch (7th Generation)
1. Press and hold the side button (or top button for relevant models) and volume down button consecutively.
2. Wait until the device restarts.
3. With force restart, we expect the Apple logo to show up and the phone passing on to the main screen. If this does not work for you, you may want to try another fix.
5. Restore to Factory Settings with iTunes
If force restart did not bypass the Apple logo, your best bet is to simply restore your phone to factory settings to remove error 1110. Of course, this procedure will result in you losing all of your data that has not been uploaded to the iCloud backup. So while this method will get rid of the error, it will also take all your data with it.
Since you can not restore your phone to factory settings while it is stuck on the Apple loop, you will need to download iTunes to your PC, (for macOS Catalina you will have to download Finder instead). Using a PC that has iTunes installed on it, follow these steps:
1. Open iTunes (or Finder on macOS Catalina).
2. Connect your iPhone to the PC using a USB cable.
3. Follow onscreen instructions to see if your device is recognized by iTunes.
4. Find the Restore iPhone button and confirm.
6. The device will start the restoration (do not unplug from the PC).
7. iPhone will start again as a new device.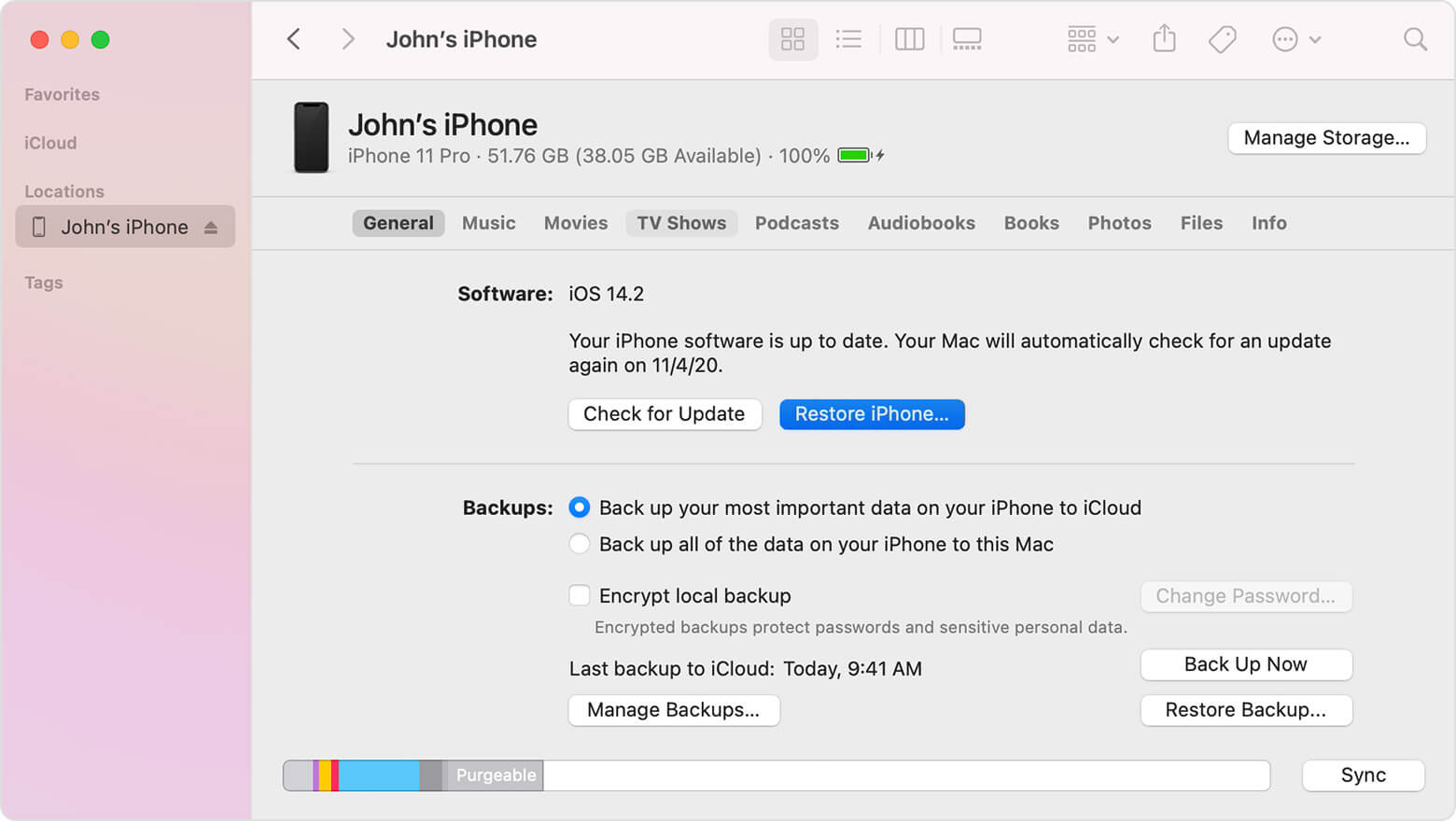 6. Contact Apple Store for Assistance
If none of the options above have helped or you are not comfortable enough to do any of this on your own, you may contact the nearest Apple store to help you with the issue. In such a scenario they will most probably ask you to come in with your phone or deliver it to them. The repairs will, however, cost you service charges that may vary from region to region.
Part 3: How to Fix iPhone Error 1110 Without Losing Data
Unfortunately, there is no native solution on the iPhone that you can use to remove Error 1110 without having to compromise on the data stored on the device. If you are unwilling to have to delete any data, your best bet is to use third-party software that is designed to help with issues like these.
Our personal recommendation is to use StarzSoft Fixcon. It's designed to work with all iOS systems and requires minimal knowledge or effort from the user's end to fix even the most stubborn of errors. Using StarzSoft you can easily fix the 1110 error without having to delete any data.
If you choose to use StarzSoft, follow these steps:
1. Download StarzSoft Fixcon on PC and run it. Connect device to PC with Fixcon running and choose Standard Repair.

2. Download and install Firmware (choose whatever save path you want).
3. Click on Continue and StarzSoft will start repairing your device.
After running StarzSoft you will not have to worry about error 1110 Apple appearing again.
Part 4: FAQ About iPhone Error 1110
1. Why does it keep saying an error occurred when I try to update my iPhone?
If you are coming across an error when trying to update your iPhone, chances are your phone does not have enough space to download the update files. This may even lock your phone into the Apple loop due to lack of memory, a common issue cause by iTunes error 1110.
2. What happens if you don't update your iPhone to iOS 15?
While the main applications such as Safari will keep functioning on your phone, chances are 3rd party apps might stop working in the future. Keeping your iOS updated ensures there will be no compatibility issue with new software that is continuously being rolled out.
3. How do I fix iOS unable to update?
If your iOS is not updating you may try to connect your device to a PC with iTunes running on it and try manually updating from there. If the issue persists you may have come across Apple error 1110 in which case you should read the details given above.
Conclusion
The iPhone error 1110 is definitely a frustrating bug, but it should not discourage you from using your phone liberally. If you do come across such a problem we do recommend keeping reliable repair software such as StarzSoft Fixcon to ensure that you can keep using your phone without having to worry about faults.