Do You Want to Know How to Uninstall iOS 15 Beta?
Beta versions are great for trying out and figuring out how they work. But sometimes, after acquiring them, you might feel that they're not good enough for day-to-day usage. The same implies when you download the iOS 15 beta but realized later that you need to remove it from your iPhone.
So if you're interested in finding out how to remove iOS 15 beta from your iPhone, we'll guide you through this.
Part 1: How to Remove iOS 15 Beta Without a Computer
Many people want to know how to uninstall iOS Beta without a computer. After reviewing the iOS ecosystem and trying many things, we haven't found an appropriate way to remove iOS 15 beta from iPhone with PC.
You'll have to take a computer on board to install the iOS beta. But we'll explain a simple way on how to remove ios 15 beta without computer.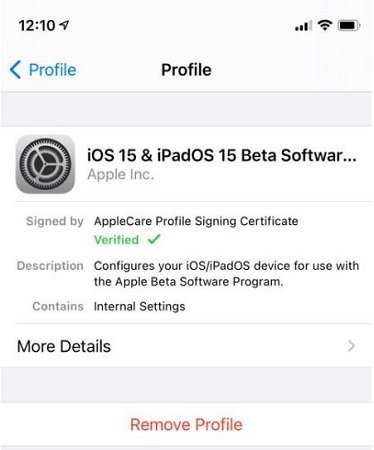 1. At first, you'll need to open Settings, move towards General>Profile&Device Management.
2. Press on iOS 15 Beta Software Profile.
3. Please enter your passcode after tapping Remove Profile and confirm it.
4. Restart your device, the iOS 15 beta version has removed successfully.
Part 2: How to Remove iOS 15 Beta by Restoring Your Device
If you are using an iOS 15 developer beta, you'll need to restore your device. If you possess an archived backup, you can easily set up a device from that backup.
But you need to take care that when you had created Backups using beta software, their compatibility with older versions might not be relevant anymore.
Steps to Remove iOS 15 Beta with iTunes
1. Connect your iPhone to the computer,and enter it to recovery mode according to its model.
2. You'll be provided with the options of restore, update, or cancel. Choose Restore.
3. Now, they'll ask whether you want to restore iPhone or not. Afterward, you need to choose the Restore and Update option.
4. Your screen will show the instructions telling you that the iPhone is about to update to the iOS 14 version. Select Next.

5. After, you'll need to accept all the terms and conditions by the press on Agree button. Now your computer will download software that will take around 15 minutes.
6. After the software is being installed, your device will restart once or twice. The screen on the computer will show the graphics; you have completed restoring your device from the iOS 15 beta version to the old 14 iOS version.
Part 3: How to Uninstall iOS 15 Beta via Updating to the Latest Version
You'd not want iOS 15 Beta installed on your iOS device if it isn't reliable. Apple is trying hard to compensate users by preventing them from these kinds of problems. However, if you want to know how to remove the iOS 15 Beta from iPhone, we'll tell you how to do it.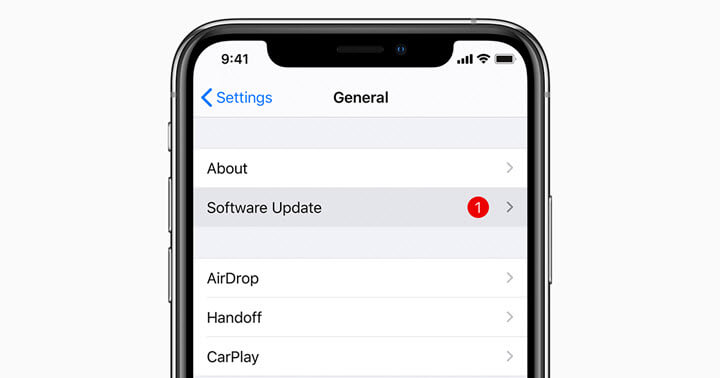 1. You'll need to open Settings and then move towards General>Software Update and look for updates.
2. If a new update is available, you can install it from settings.
Note
Please note that this way only working when there is a new iOS update is now available.
Part 4: How to Delete iOS 15 Beta Without Data Loss Using StarzSoft Fixcon
StarzSoft Fixcon is prolific third-party software that serves iOS users tremendously. Its free version will allow you to explore two features, one-click to Exit Recovery Mode and Enter.
However, for more complex issues like you want to remove iOS 15 beta software from your iPhone, you'll need to acquire Fixcon's premium version.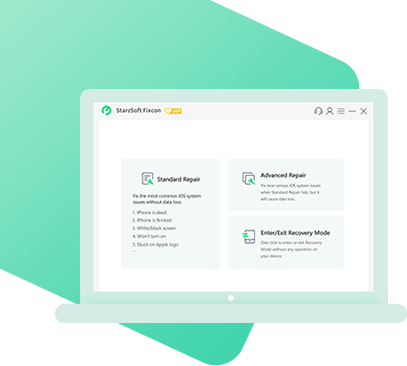 Easily fix iOS 15 beta bugs, glitches, or general problems with your iPhone/iPad
Users don't need to be tech-savvy to use this software
Data is kept intact after using Fixcon and there is no risk of data loss
Suitable for any iPhone/iPad model and works with all recent iOS versions
Available as a free trial version (try before you buy!)
This tool is the perfect option for those who ask how to remove iOS 15 Beta without data loss.
Its process is pretty easy, and you won't find any difficulty operating it. Let's try to know how to uninstall iOS Beta using StarzSoft Fixcon.
Step 1: Download StarzSoft
After downloading StarzSoft on your computer, install it. After doing it, you'll need to select Standard Repair. The benefit of choosing Standard Repair is that you won't lose any data while performing any operation on your iPhone.
Step 2: Connect Your Device
You'll need to connect the iPhone device to your computer via a Micro-USB/USB cable in this phase.
Step 3: Download Firmware Package
After connecting your device, you'll need to download Firmware Package.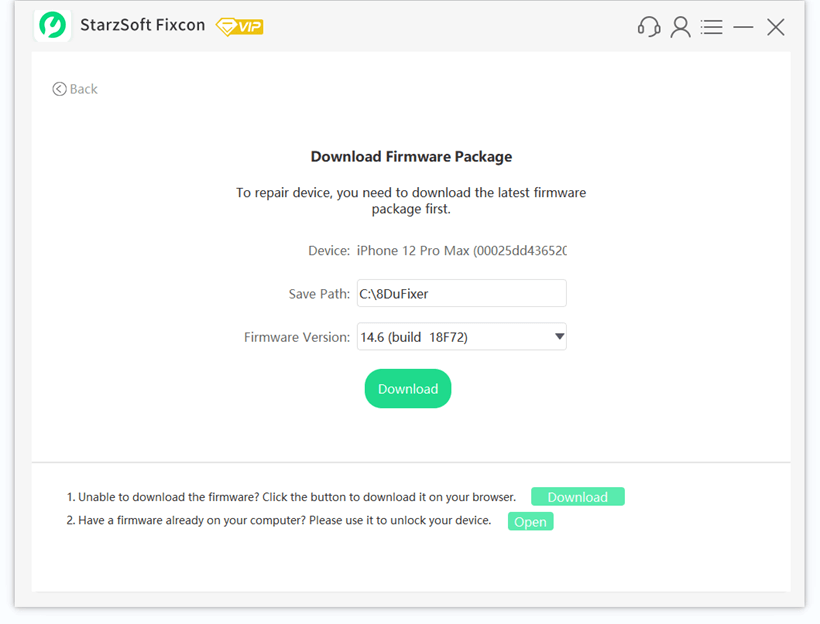 Step 4: Repair Device
Now, you'll need to start the process of repairing your device. The standard repair mode will help you to prevent iPhone's usual problems.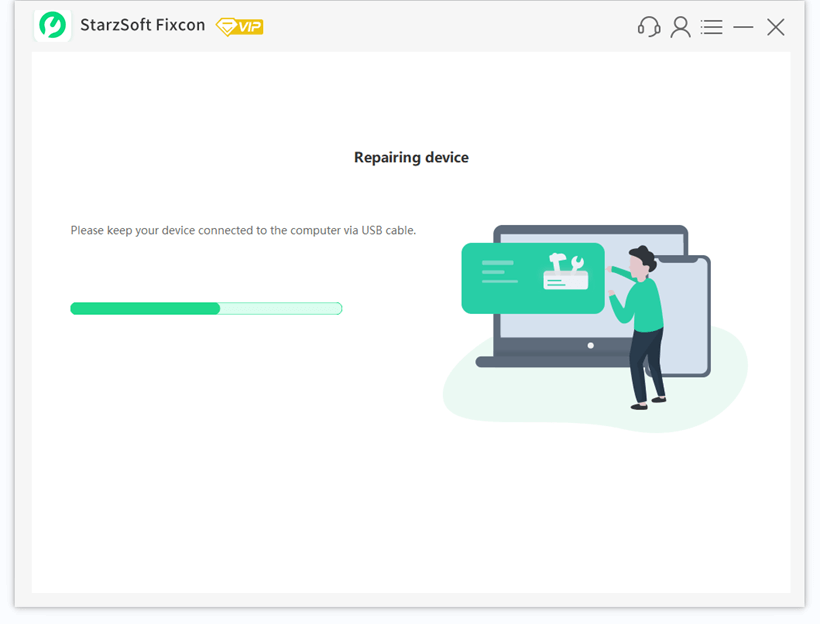 Step 5: Open Settings
Open your iPhone's settings and select the profile of iOS 15 Beta software. Now you can remove iOS 15 Beta Software from its profile by entering a passcode. Since you have repaired your iPhone using StarzSoft Fixcon, you'll not lose any data.
Part 5: FAQs about iOS 15 Beta Version
Q1.Which iPhone can get iOS 15?
Those iPhone models who have received current iOS 14 beta software will receive iOS beta software too. That indicates iPhone models released since the iPhone 6s are eligible to get iOS 15 Beta Software. The iPhone 6s and its later version will acquire iOS 15.
Q2.Where can I download iOS 15?
Downloading iOS 15 software on your iPhone device is not a difficult task by any means. You'll need to open Safari and look for the developer.Com.
After, you'll need to log in to your Apple ID and move towards the download section. Find iOS 15 beta software there and click on the Install button to grab it.
Q3.What's the difference between iOS 15 public beta and developer beta?
The Public beta and developer are probably the same. There's not much difference between them. But the only notable difference between them might be that Development betas offer more updates than Public betas.
Final Words
Uninstalling iOS 15 betas isn't a daunting task. All you need to do is follow some specific guidelines, and you'll be OK with it. Most of the users don't want to lose their data while removing iOS 15 beta software.
That's where the role of StarzSoft Fixcon comes. You can use this tool to great effect if you want your data to remain safe. We recommend this program due to its undeniable qualities.