Nowadays, the iPhone won't turn on is a common issue that people most often face. You try to turn on your iPhone by clicking the Power button, but it doesn't turn on again. And your screen remains black. So what is the Problem Behind This?
You assume so many issues that give you headaches because you love your iPhone and don't want to see it like that. You can't figure out what exact thing causes this issue; we'll tell you about that. In this blog, you'll learn how to fix that issue.
Part 1: Why Won't My iPhone Turn On
It can be horrifying if iPhone won't turn on, especially when you don't know much about it. You may think that there are many things wrong with your device it needs a bit of attention. But many reasons cause your iPhone not to function properly. Here are some key issues:
A Software Glitch
A minor software glitch can prevent the iPhone screen from coming on. Your phone happens to be on, but it is sleeping. In this regard, your device may need a restart, but it isn't clear.
iPhone is Dead
Your phone is dead, and it won't charge because the charging cable isn't working well. In this phase, you need to change your charging cable and try it again.
Hardware
If you couldn't figure out the issue preventing your iPhone from turning on, you need to assume it is a major hardware problem. You need to take some steps and contact iPhone technicians to sort out your problems.
Part 2: How to Fix iPhone Won't Turn On with Common Tips
If you're facing the "iPhone won't turn on" issue, you're not alone in this. Many users complain about this issue. You can assume this problem occurs due to a system glitch, batter down, or corrupted firmware. Whatever the reasons are, we'll tell you the ways to fix this problem.
Fix 1. Change the Battery of Your iPhone
When your iPhone doesn't turn on, the first thing that comes to our mind is whether its battery is fully charged or not. If you're uncertain about it, put your iPhone device on charge. Here's the guide to charging your iPhone.
Step 1: After plugging in the charger, you need to wait for an hour or so. You should see a battery icon on your screen after few minutes.
Step 2: If you see signs of life on your screen, you don't have to worry about it; everything is absolutely fine. All you need to do is waiting for few minutes.
Step 3: If you can't see a charging screen even after one hour, you need to check the charger in the first place.
You need to look for another charger; if it still doesn't solve your problem, navigate to the next solution.
Fix 2. Restart Your iPhone for iPhone X Won't Turn On Issue
If your screens turn freeze or black and you're sure it's not a battery issue, you need to restart your device. Restarting your device won't remove any content or contact from your device.
To restart your iPhone, follow these guidelines.
Step 1: Click on your device Power and Volume button and hold both buttons until you see a slider there. After, push the slider toward the screen that will ensure your device restarts again.
Step 2: If your phone isn't on yet, you need to hold it's on/off button for a few seconds. After this process, your iPhone would probably turn on again.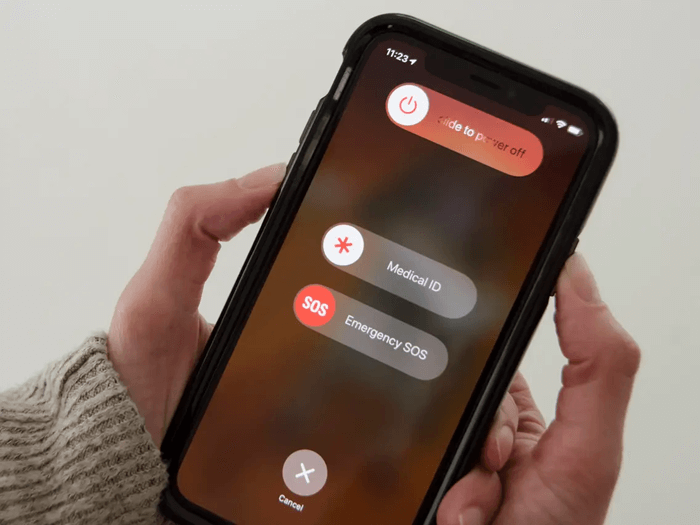 If the problem still exists, move on next step.
Fix 3. Hard Reset Your Device
Despite the above solutions, if you can't solve the iPhone XR won't turn on problem, you need to Hard Reset your iPhone. This process will not remove any storage, but it eliminates some memory of your device.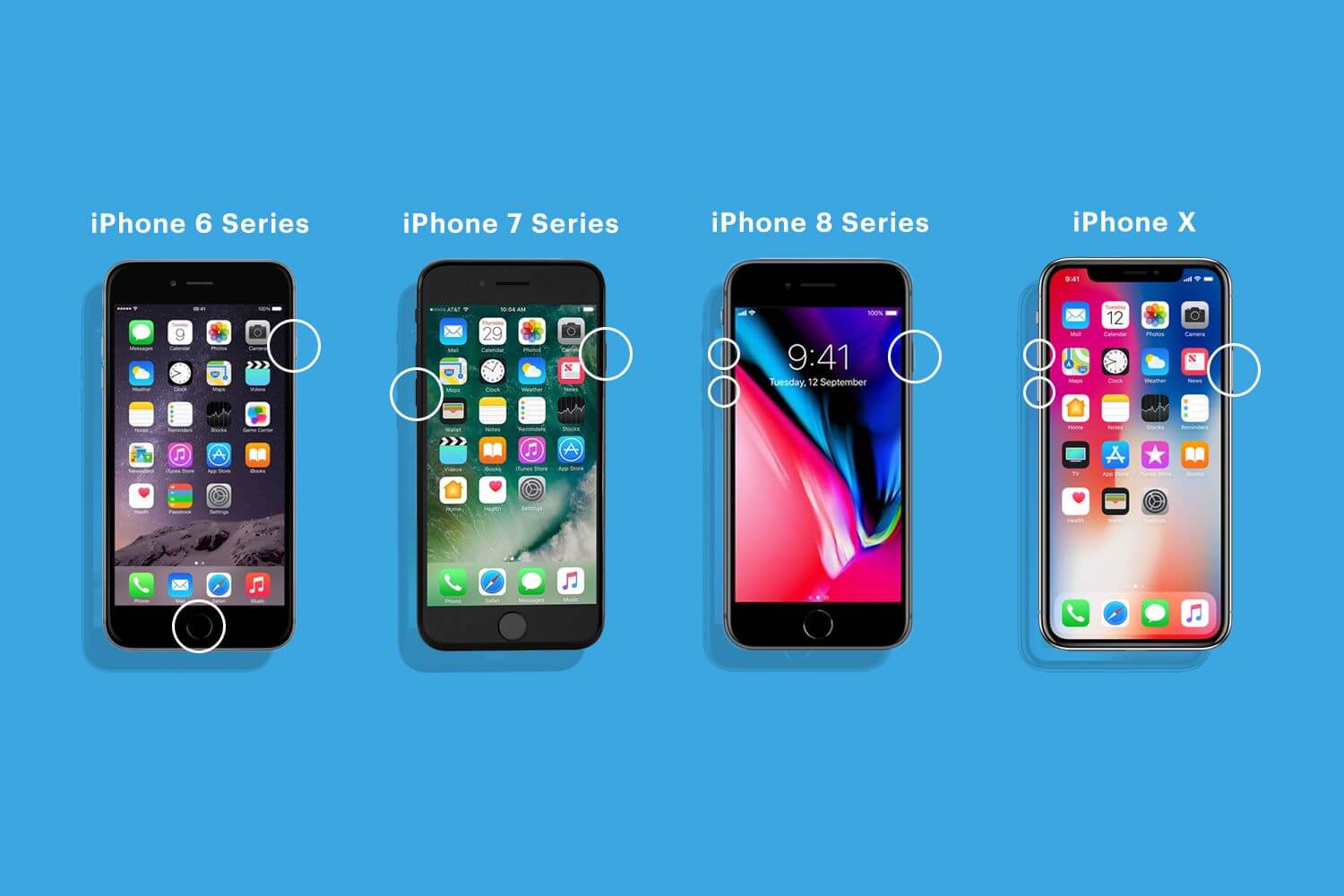 On an iPhone 8, iPhone X, or iPhone Plus
Quickly release the Volume up and Volume down button options after pressing them. After, you need to hit and hold the On and Off button option until an apple logo emerges.
On an iPhone 7 plus and iPhone 7
Hold the Volume Down and On/Off buttons after hitting them for few seconds. It would help if you kept on holding the buttons until a beautiful Apple logo appeared.
On an iPod Touch, iPad, iPhone 6s, or Earlier
Press both the On/off and Home buttons and home them simultaneously for few seconds. Release the buttons after seeing the Apple Logo.
This process might solve your problem, and your device may get cracking again. If you're still not done, navigate to the next solution.
Fix 4. Check Hardware for iPhone 7 Won't Turn On Problem
Even if a hard reset doesn't solve your problem, it might be some hardware problem causing this fuss. That's not good news for you because it's not going to get solved pretty easily.
Here are some possibilities that likely to hit your iPhone:
Water damage
Water has fallen on your iPhone, which causes some key components to fail.
Drop damage
You may have accidentally dropped your phone to earth that might have caused severe damage to your internal component and screen.
Component failure
The failure of your device's component can cause your device to not function.
You should try to solve this problem with iTunes if it helps.
Part 3: How to Fix My iPhone Won't Turn On With iTunes
If you restore your iPhone with tunes, it might solve iPhone 6 won't turn on issue. But the problem is that it might delete all your content and data from the device, including contacts, calendar, and videos. You need to follow these steps to restore your phone using iTunes.
Here's the guide to perform this task.
Step 1: First of all, you need to make sure you're using the latest version of iTunes.
Step 2: In this phase, you need to connect the iOS device to the Desktop using a USB.
Step 3: After connecting your device, you need to select it when it appears.
Step 4: Now, you need to hit the Restore iPhone button option after finding it.
Step 5: After you decide to restore your device to factory settings, you need to confirm that. Now, iTunes will download firmware on your device.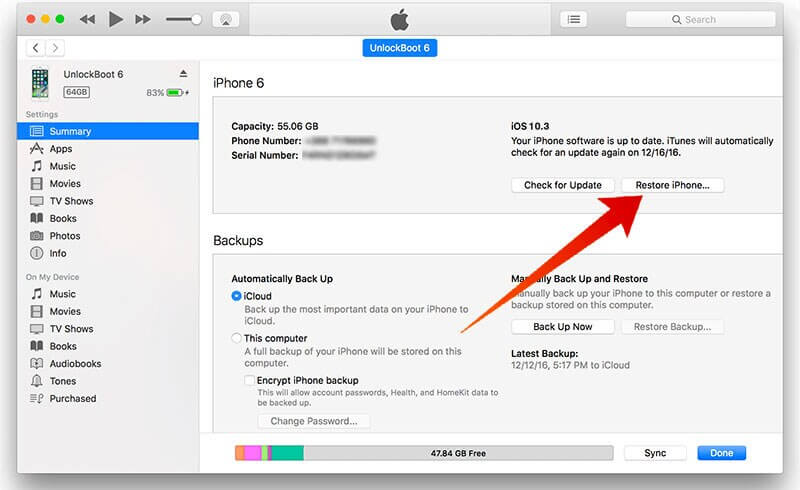 Now, iTunes will restore iPhone. After your device is restored, it restarts again. Now, you need to know whether your problem is fixed or not.
Part 4: How to Fix iPhone 13/12/11/X Won't Turn On Using Starzsoft Fixcon
If your iPhone is dead and you can't turn on your device after trying so many things, StarzSoft Fixcon can solve your problem with minimal effort. It is a third-party tool that serves your purpose better than expected.
Here's the guide to repair your device to solve the "iPhone won't turn on the issue".
Step 1: Press "Standard Repair" after launching Starzsoft Fixcon.
Step 2: After connecting your device to a PC, you need to download a firmware package from the available option.

Step 3: Now, you need to press 'Continue 'to repair your device. After it has repaired your device, you need to check the status of your iPhone.
If Safari tabs are working correctly, it is good. But if the Tabs are not responding well, you'll need to look for some other solution.
Final Words
At times, changing your charging cable or restarting your device can solve the "iPhone won't turn on" issue. But if these things don't solve the problem, you need to look for other ideas.
You can restore your iPhone with iTunes to check whether it helps or not. If everything doesn't work for you, go and grab the services of StarzSoft Fixcon. It is a third-party tool that can solve all your iPhone problems in a flash.