Some iPhone users won't be bothered with the water damage issue because the new iPhone models are waterproof, while others might be in big trouble because of the presence of water in their phone, as it could damage the phone parts and cause a major malfunction. It is important to note that an iPhone being waterproof doesn't mean water can't get into it and get damaged.
So, how to get water out of iPhone? This article will provide tips to fix these issues and more. To get started, let's understand the concept of water resistance in iPhones.
Part 1: What iPhones are Waterproof?
Yes, some iPhone models are water-resistant, they also are dust and splash resistant. But it's important to remember that these features are not permanent, with time the potency or active message of these features wanes.
According to the International Electrotechnical Commission (IEC), These devices are IP68 and can resist submersion at a maximum depth of 1.5m for 30minutes.
Are you wondering if your iPhone model has water resistance? Here is a list of water-resistant iPhone models and their degree of water resistance:
Maximum depth of 6metres for 30 minutes:
iPhone 13
iPhone 13 mini
iPhone 13 Pro
iPhone 13 Pro Max
iPhone 12
iPhone 12 mini
iPhone 12 Pro
iPhone 12 Pro Max
Maximum depth of 4metres for 30 minutes:
iPhone 11 Pro
iPhone 11 Pro Max
Maximum depth of 2metres for 30 minutes:
iPhone 11
iPhone XS
iPhone XS Max
Maximum depth of 1metre for 30 minutes:
iPhone SE
iPhone XR
iPhone X
iPhone 8
iPhone 8 Plus
iPhone 7
iPhone 7 Plus
If your iPhone model falls under any of these categories, good for you. But as with every advantage, there is an accompanying disadvantage, so what are the Cons of water resistance in iPhones?
What are the Cons of iPhone Water Resistance?
1. iPhone models later than 7 don't have water resistance. Well, the thought of a water-resistant phone sounds pretty cool. Unfortunately, for iPhone 6 users and less, this feature is not available to them.
2. Water-resistance does not mean water cannot damage your iPhone. If you drop your iPhone in water above the depth and time it can withstand, you are going to ruin it. So, do not think water resistance in your iPhone translates to a strong affinity for water. Keep your phone's water-free!
3. Cost of purchase: This is probably the big one. Most iPhones with water-resistant abilities are expensive and they are luxuries to people who can't afford them, unlike the regular phones that don't possess water resistance.
We have seen the cons of water-resistant iPhones, now we'll discuss a few ways on how to get water out of your iPhone if you dropped it in water. We'll kick off with the suggestions from the manufacturers of the iPhone, Apple.
Part 2: How to Get Water Out of Your iPhone With Apple Suggested Way
The best place to learn about the care and use of a product is from the manufacturer, so if you dropped iPhone 11 in water or any other iPhone model in water, these steps on what to do, from Apple would help.
1. If your iPhone gets wet by a liquid that is not water, the first thing to do is wash that focus point with running tap water.
2. Then gently wipe your phone with a lens cloth or any other soft lint-free cloth. Note that, if the liquid that spilt on your iPhone is water, then this is what you should do.
3. After rinsing and wiping, to dry your iPhone gently tap it against your palm with the lightning connector turned downwards to aid excess water removal. To hasten the drying process, you can place your iPhone in front of a fan or dry cool air source.
4. Once you are sure your iPhone is dry then you can open the sim tray.
Note
It's damaging to your iPhone if you use an external heat source or insert any object in the lightning connector in an attempt to dry it.
The next recommendation would be for those who might not want to turn off their iPhone dropped in water.
Part 2: How to Get Water Out of Your iPhone Without Turning It Off
So, you've tried the first recommendation, removed the bulk of the water, how about droplets you can't reach? To get water droplets out of your iPhone without turning it off, there are 3 ways to go about it:
1. How to Take Water out of iPhone Using An App
In this method, you would manually use an app to play a sound with a low frequency that can fluster the water droplets trapped inside the iPhone and cause them to drip out. To achieve this follow these steps:
1. Download the Sonic app from the App store.
2. After this, place your iPhone on a flat surface, then open the app. Set a frequency, preferably a frequency of 100-200Hz then tap the 'Play' button and watch what happens.
3. Once you've done this, you'd notice water droplets coming out of the iPhone speaker grills, run the app for a few more seconds.
4. After that, play an audio or video to test the normality of your speaker sound. The downside of this method is that it's not strong enough to expel all the water contained in the iPhone.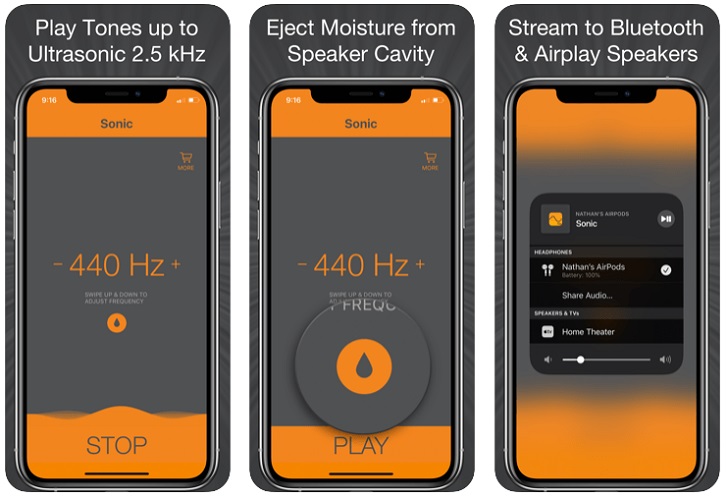 2. How to Get Water Out of iPhone Speaker with A Shortcut
This option works if you already have Siri Shortcuts installed, all you have to do is download shortcut Water Eject and as the name says, it'll help eject the water present in your phone. The Water Eject app works just like the Sonic app to use noise to get water out of phone.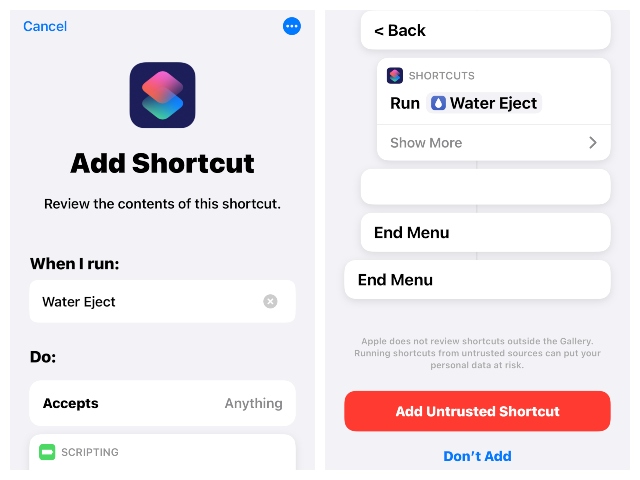 All you have to do is install the Shortcut app if you don't have it, then download the Water Eject app, once you have downloaded it completely run the Eject app from the Siri Shortcut.
The app would play a low sound frequency that you might not hear, but you'd notice your speaker grills spitting water. Once this process is done, run an audio or video file to test for normalcy as in the Sonic app.
3. How to Get Water Out of An iPhone with Online website
The website recommended for this is fixmyspeakers.com. It is very easy and straightforward, removing water out of speakers is what the site does.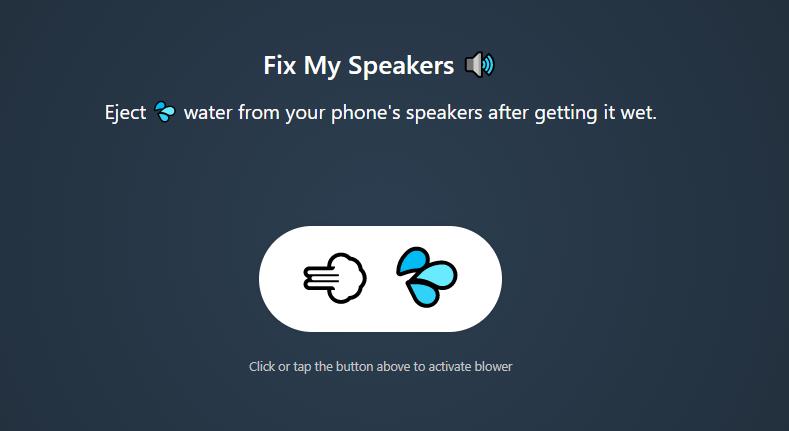 To use it, all you have to do is tap the only big button on the webpage, this would initiate a sound that begins the removing process and when you have expelled the water tap the same button to stop the sound.
Technology has done well in creating avenues for us to fix water damaged iPhones, but there has always been a conventional "go-to" method to dry an iPhone that has been dropped in water, the rice method. Is this a safe method? Let's find out
Part 3: Is It a Good Way to Use Rice to Get Water Out of An iPhone?
The short answer to this is, yes. This is great for all the rice users when their iPhone drops inside water but is it safe?
Well, there are a few hitches to this rice story, and one of them is that rice would absorb the water or any other liquid but it will keep minerals stuck to the interior of your phone and cause corrosion which might lead to serious damage beyond repair.
Another con is that rice grains can get stuck in the open ports of your phone and still cause damage. So, when using rice as a "drying agent" you have to be very careful.
It can be frightening when your iPhone drops in water, your heart skips "10 beats" and you frantically search for a means to fix it and ensure it isn't damaged. While searching for relief, there are some things you must not do to prevent water damage, let's see some of them.
Part 4: What You Should Avoid to Protect iPhone from Water Damage
To save yourself from the emotional torture that comes with fixing a water damaged iPhone, here are a few things you have to avoid.
Avoid bathing or swimming with your iPhone. It is water-resistant, yes, but not a superhero.
Do not expose your iPhone to pressurised water or high-speed water flow like showers, jet ski or waterboards.
Do not expose your iPhone to solvents, acids, lotions, oils etc.
Don't be creepy, don't submerge your iPhone in water intentionally.
When you visit the Sauna or use such places do not use your phone.
Avoid dismantling your iPhone components, liquids can easily sip into your iPhone if you don't assemble it properly.
These are a few things you should steer clear of if you want to protect your iPhone from water damage. Now, let's talk about the final recommendation to fix your iPhone if it drops into the water.
Part 5: How to Fix a Damaged iPhone That Won't Turn On
When it comes to iPhones the keyword is care. You want to be careful with them and fix them properly else you would damage them irreparably. One of such software that would take care of your iPhone is the StarzSoft Fixcon iOS system repair tool.
StarzSoft Fixcon is an easy to use iOS software that can help you fix a damaged iPhone that won't come on. With Fixcon your water damaged iPhone is not just fixed but your data is kept safe as well.
The Fixcon software has 3 repair modes:
1. Standard repair: This is to fix common issues that your Apple devices can develop and ensure your data is safe.
2. Advanced repair: As the name says, it's a step higher than the standard repair and it's used for more serious issues. If your device is "dying", this is your repair mode. It fixes serious issues and restores factory settings, unfortunately, this would result in Data loss.
3. Enter/Exit Recovery mode: This works for cases where home buttons or other key buttons are damaged. It's a simple one-click mode that helps you enter or exit recovery mode.
Now, to use the Fixcon software to fix your iPhone that won't come on, follow these steps:
Step 1: Download StarzSoft Fixcon and launch the software on your computer. On the Home interface, select the mode of repair. The standard repair is recommended first.

Step 2: Using a Micro-USB or USB cable, connect your iPhone that won't come on to the computer. Make sure the cable connection is stable. The software is built to automatically recognise your device and proceed to the next step.
Step 3: The next step would be to download firmware packages, select your preferred package and wait for the download to complete.

Step 4: Once the download is complete, the next step is to launch repair mode by clicking "Continue".
The process is easy, right? Well, that's about it, fix your iPhone that dropped into the water in a short time without data loss.
Recall that the Advanced mode is also used for serious issues, so if the Standard mode doesn't fix your iPhone, not a problem, try the Advanced mode, just make sure you back up your data because this mode causes loss of data.
Conclusion
Finally, our phones are our companions and staying without a phone because it dropped into the water can be distressing. So, to avoid all that drama, keep your iPhone away from liquids and steam, high-velocity water and any solvent at all. If it already dropped, then try out the recommendations, especially StarzSoft Fixcon as it guarantees a careful solution to your phone issues without data loss.