When you put your iPhone into the charger and go away, you'll return to it expecting the battery level to have increased, but instead you'll discover that it has remained the same or even decreased slightly, as one user complained:
You may have never encountered a problem of this nature before and have no idea how to resolve it. We are prepared to assist.
Actually, if the battery level on your iPhone doesn't change while it's charging, there may be software flaws on your device, which necessitates prompt resolution. If your iPhone is charging but the battery percentage is not increasing, the reasons why and the top fixes are discussed below.
Why is My iPhone Charging But Battery Percentage Not Increasing
Before resetting your phone, find out why. Why the phone is charging but not growing battery percentage.
1. Bad Battery
A poor phone battery can resist charging. Long-term use usually weakens batteries. The battery loses a percentage of its charging capacity with each cycle.
2. Faulty Motherboard
Your phone's motherboard connects all its parts. It's a complicated board that controls device functions. If your phone shows a static percentage when charging, it has a bad motherboard.
3. Cable Damage
Phone charging wires today are unreliable. Try another phone charging cord. Looking beyond your charging cable may solve your battery percentage issue. Use can loosen your device's charger.
4. Software Errors
Software is another cause. Hardware doesn't always cause battery percentage decrease. Software bugs can stall battery percentage.
5. Charging port defects
The narrow charging port is vulnerable to external current. Current sensitivity decreases with port junction grip. The charging port takes current from the cable but does not charge the battery.
How to Fix Hardware Issues that Stop Battery Percentage from Increasing
Way 1: Check and Change the Charger and Cable
It's possible that the cable or charger that came with your iPhone is to blame for the issue that prevents your iPhone from growing its charge. It is possible that your phone will not be able to be charged if either the charging cable or the charger itself has been damaged. You need to get another Lightning cable and charger and use it with your iPhone. You can either look for one or buy one.
If the replacement cable and charger are able to charge your iPhone successfully, then you can deduce that the problem was caused by the charging cable itself. You can keep using the new cable, and the iPhone should charge normally even if you do so.
Way 2: Replace the Battery
If your iPhone says it's charging but doesn't really add any power, a worn out or faulty battery could be at blame. The status of your iPhone's battery may be viewed in the settings menu. The battery may need to be replaced if it is very old or not in good condition.
To determine whether your iPhone battery is in good shape, follow these steps:
1. Simply go to Battery under Settings.
2. The Battery Health button must be pressed.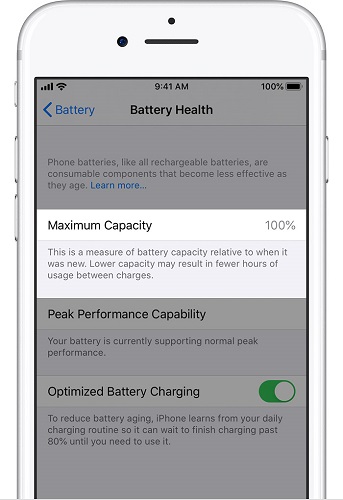 Learn how much power is left in your iPhone's battery and how healthy it is in general here. A percentage of your battery's original capacity is displayed in the Maximum Capacity. Having a battery that's near to full capacity is ideal.
If your battery's maximum capacity is dangerously low, you should probably replace the battery or get a new phone.
How to Fix Software Issues that Stop Battery Percentage from Increasing
Fix 1: Remove Any Background-running Applications
Your iPhone's charging rate may be slowed down if you have a lot of background apps open. Due to this, even while the iPhone is charging, the battery percentage may not be rising. On your iPhone, follow these steps to close background apps:
1. Press the Home button twice (or swipe up from bottom of the screen for iPhone X and later.)
2. To discover any background apps you want to close, swipe right or left.
3. To exit an app, swipe it upward.
4. Plug your phone in and check to see if it is charging after you have terminated all background apps.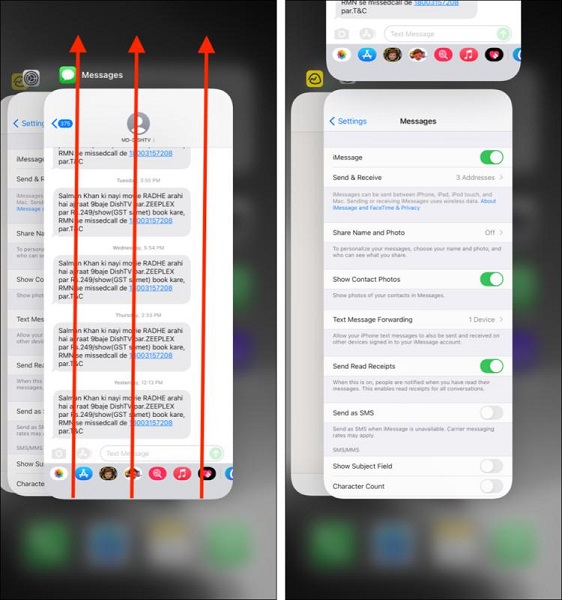 Fix 2: iPhone Hard Reset
If your iPhone shows charging but the battery percentage is not rising, you might need to force the device to restart. You can fix any software or operating system problems keeping your iPhone from working by performing a hard reboot.
To hard reset your iPhone (for iPhone 8 and later), adhere to these steps:
1. Release the Volume Up button after pressing it.
2. Release the Volume Down button after pressing it.
3. Hold down the Power button until the Apple logo appears on the display. Release your grip on the power button once the Apple logo appears.
For iPhones 6s and older, as well as the iPhone 7, follow this:
Press and hold the Power button, the Volume Down button, and the Home button simultaneously until the Apple logo appears.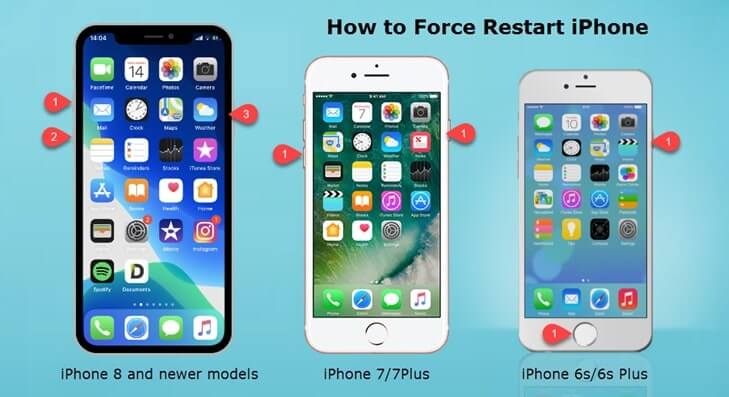 Fix 3: Reset All Settings
It's possible that a setting on your iPhone that you weren't aware of or didn't check is to blame for the problem where your iPhone indicates charging but isn't actually charging. To fix this, try resetting every setting on your iPhone, which will restore it to its factory defaults.
As a result, your phone's charging settings will no longer be able to prevent your iPhone from charging. By following these instructions, you can reset all of the settings on your iPhone:
1. Choose General under Settings. Select Reset iPhone or Transfer.
2. To reset all settings, select Reset. your password here. To confirm, click Reset All Settings.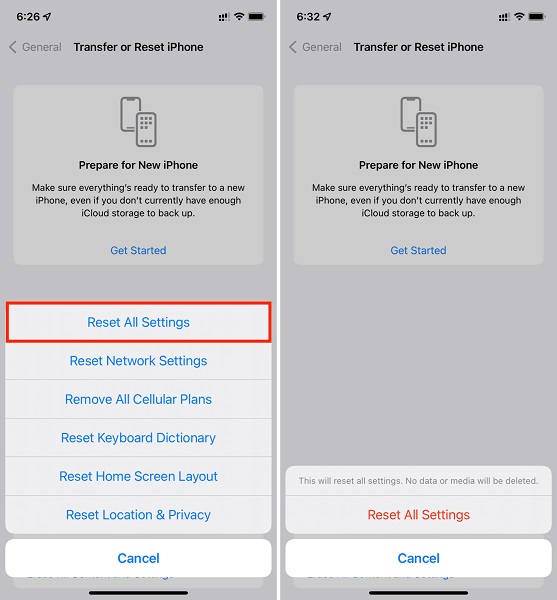 Fix 4: Go for iPhone DFU Restore
DFU is a firmware upgrade for a device. It is the most thorough reset an iPhone can receive. A DFU restore can assist in resolving any firmware issues that are preventing your iPhone from charging but the battery % from rising.
To successfully perform a DFU restore on your iPhone, follow these steps:
1. Launch iTunes after connecting your iPhone to your computer.
2. Release the Volume Up button after pressing it on an iPhone 8 or later. Release the Volume Down button after pressing it. Hold down the Power button while waiting for the screen to go black.
3. Keep pressing the Volume Down and Power buttons after the screen goes dark. Hold the Volume Down button for 5 seconds while holding the Power button for 5 seconds.
For iPhone 6/7
1. Hold the Power button down while simultaneously pressing and holding the Volume Down or Home buttons for 10 seconds. Release the Power button, but keep holding the other button for at least another 5 seconds.
2. Select the Restore iPhone option after clicking OK on the notice displayed on the iTunes screen.
Fix 5: Install the Latest Version of iOS 16 on Your iPhone
Maintaining the most recent software version on your phone should always be a priority. You should always use the most recent version of iOS on your iPhone because doing so gets rid of any small software problems or malfunctions. It is essential that you update the operating system on your iPhone to version 16 of iOS. To update:
1. To update the software, navigate to Settings > General > Software Update.
2. Your iPhone will now begin searching for new updates and scanning for them.
3. In the event that the iPhone finds any new updates, select Download and Install from the menu.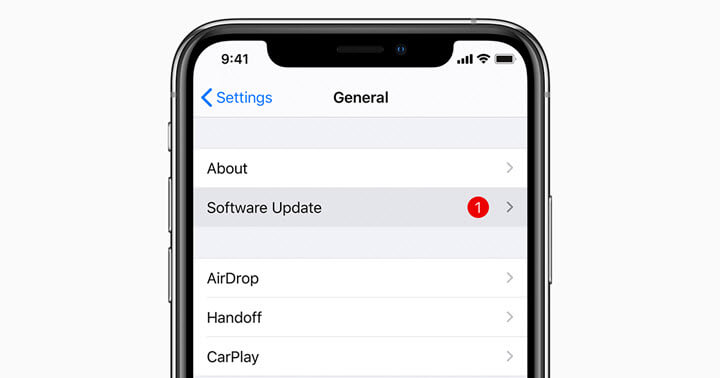 Fix 6: Enter into Low Power Mode
By putting your iPhone into Low-Power Mode, you may help to ensure that it will charge as quickly and effectively as possible. This setting will limit the amount of power that is consumed by operations such as app refreshes in the background, hence lowering the amount of power that the phone requires. To go into a mode that uses less power.
1. To enable or disable Low Power Mode, navigate to the Settings menu and look for the Battery option there.
2. From the Control Center, you may also activate and deactivate the Low Power Mode.
3. You can add Low Power Mode to Control Center by going to Settings, then Control Center, then moving to the Customize Controls section, and finally selecting Low Power Mode.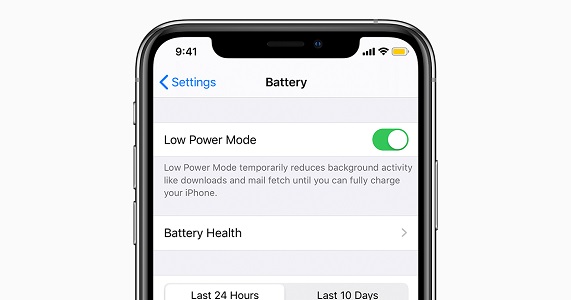 How to Fix iPhone is Charging But Not Increasing with the Easiest Solution? [100% Success Rate]
Try this helpful alternative if you've exhausted all other options and your iPhone is still charging but not using more power.
In most cases, system issues on your iPhone are to blame if your iPhone is charging but the battery percentage is not increasing . Use of a third-party app that can fix your iPhone's operating system is now the only way to fix your iPhone.
That's StarzSoft Fixcon, a reliable and speedy third-party tool designed to assist in efficiently resolving any iOS (iPhone, iPad, and tvOS) software issues without causing any data loss.
1. You will need to launch and start StarzSoft Fixcon on your computer and then move to the home menu, where you will see a number of different restoration options already available.
2. Choose "Standard Repair" from the list of available options in main menu, then connect your iPhone to a computer if you're having trouble charging it yet seeing no change in battery percentage.

3. Fixcon is able to determine the specific edition or model of an iPhone or other iOS device so that it can perform its functions appropriately. Select the option that best fits your needs, then click the "Download" button.

4. You will see a screen similar to the one shown below when you have successfully downloaded the firmware package. Simply clicking "Continue" will start the process of fixing the system.
Keep waiting for a few minutes until the repair and battery not charging issue gets solved.
FAQs
Why is my phone charging but only reaching 1%?
Not correctly plugged in cable or plug can be major issues. Defective cable defective phone battery faulty hardware or software in phones are less common causes. The problem can be either with software or hardware.
Why does the percentage of my iPhone's charge not increase?
If the battery level on your phone isn't rising, there can be software flaws. You can try restarting it or performing a hard reset to remedy this. Simply hold down the power button until it turns off to restart your device. Holding down the same power button will then turn it back on.
Can dust harm the iPhone's charging port and prevent it from charging?
The charging port on your phone can potentially accumulate debris like dust and dirt. Too much garbage in your phone's charging port over time may prevent it from charging properly or even from functioning at all.
Conclusion
It's annoying when you put your phone on charge just to find that the percentage of battery life hasn't changed at all. There are a variety of hardware and software malfunctions that could be causing this problem. Try using the greatest iPhone repair app, StarzSoft Fixcon iOS System Repair, to get it fixed quickly and reliably.
If your iPhone is still showing charging but the battery percentage isn't growing after trying all of these solutions, you may need to take it to an Apple Store and speak with a representative.