The situation became even more dire just as you were contemplating using the iPhone's restore mode to either upgrade or restore your handset. You're scratching your head because your iPhone is stuck on the restore screen, and you have no idea what may have gone wrong. Now, rather than freaking out about it, we are going to get to work restoring things to their usual state, and that is where we are going to be today.
We'll walk you through the process of figuring out why your iPhone is stuck on the restore screen and then show you the most effective ways to get it working normally again. Let's explore.
Why is My iPhone Stuck on the Restore Screen?
The stuck iPhone causes many complications. Some causes that are real culprits include:
Some users say their iPhone 7 is stuck after resetting all settings. Users say their phones won't power on and are stuck on the Apple logo.
At first, handsets lag and the screen gets frozen while closing the apps forcibly.
Most people say their iPhone got stuck during reset. This indicates that the process failed, which is not good for an iPhone.
Sometimes iPhones won't turn off due to excessive temperature that affects software performance. If your iPhone won't switch off and is stuck on the restore screen, it may overheat.
Problems with the iOS update.
A failed attempt to escape incarceration.
Restoring iPhone data through iTunes.
Transferring data from your PC to your iPhone 12/11.
Problems with the hardware.
Some unknown causes that are difficult to point out.
Top Solutions to Fix iPhone Stuck on Restore Screen
Solution 1: Restart When iPhone Stuck on Restore Screen
Rebooting the device is one of the simplest and quickest fixes for this problem. There are various methods to restart different iPhone models.
1. You must repeatedly long-click the home and sleep buttons on an iPhone 6s or previous model for the phone to restart.
2. Long pressing the volume down and side buttons will cause the iPhone 7 and iPhone 7 Plus to restart.
3. You must press the volume up and down buttons if you have an iPhone 8/8 Plus, iPhone X, or the newest iPhone Xs, Xs Max, or Xr.
4. Long press the side button again to restart the device.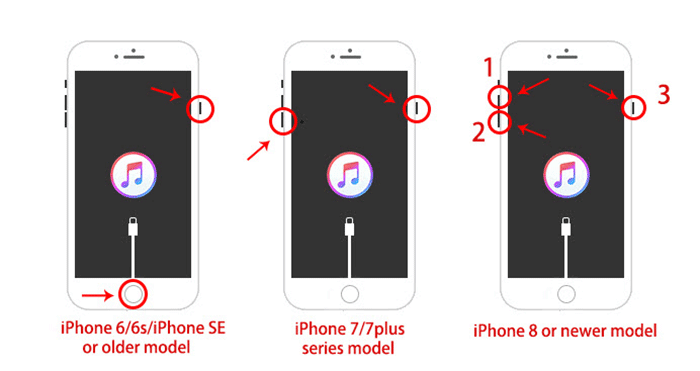 Solution 2: Reinstall iOS with iTunes
If none of the solutions work for you till now, the only option left is to reset your iPhone and repeat the process all over again. This can be accomplished by using iTunes to do a restore on the device. When you do this, all of your data and settings will be removed, and the iPhone will function just as it did when it was first purchased, without any problems. The steps that you need to do are outlined here:
1. Start the most recent version of iTunes on your computer, and then connect your iPhone to it.
2. To restore your iPhone, select it in iTunes, then select "Restore iPhone" from the menu that appears.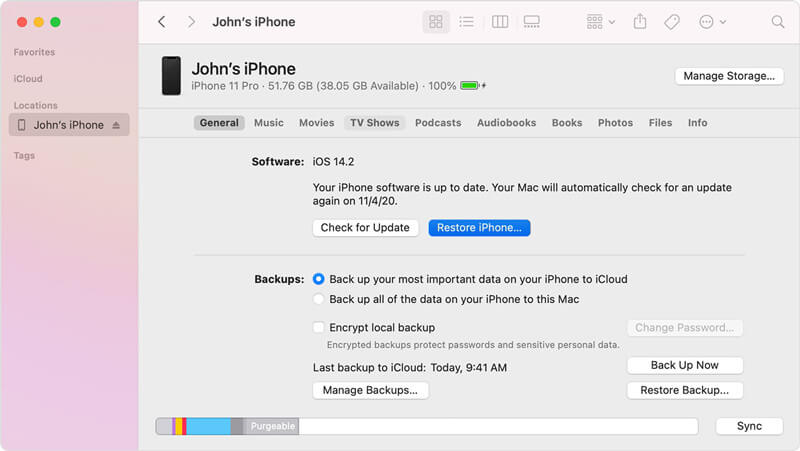 Solution 3: Fix iOS with StarzSoft Fixcon
In the event that the techniques outlined above were unable to fix difficulties related to an iPhone being stuck after it had been reset, or in the event that you do not wish to restore your iPhone in order to prevent any loss of data. If this is the case, you need to try StarzSoft Fixcon.
By repairing the operating system, this programme will assist you in resolving any problems you may be experiencing with iOS that has become stuck. In addition, after the system repair is complete, all of your data will remain intact.
1. Download the application first, then navigate to the settings menu and choose the Standard Mode as it corresponds most closely to your requirements.

2. To download the firmware, make sure to follow the on-screen instructions that are supplied by the software.

3. Choose the Continue option to move forward with the process of making repairs to your iOS operating system.
Solution 4: Contact Apple Support for Help
Find out what steps to take if you get an error message when you try to restore or update your system.
Contact Apple Support if you don't see a restore error but still see the Restore screen, or if you can't force a restart because one of your buttons is broken or stuck. Both of these situations prevent you from being able to force a restart.
Here's how to talk to Apple's Customer Service Team Via Chat.
1. Visit the website getsupport.apple.com to speak with a member of Apple's customer support team.
2. The next step is to select the Apple product or service that you need assistance with as well as the specific problem that you are having.
3. Finally, choose Chat and sign in using your Apple ID or enter the serial number of the product you're talking about.
How to Restore An iPhone without Using iTunes
1. Erase All Content and Settings (Data Loss)
If you have an iPhone that remains unresponsive after a restoration and you have tried everything to fix it, you should try the solutions that are presented here first. If you want to solve the issue without using iTunes, you can consider erasing all content.
1. Simply tap the Get Started button, and then follow the instructions that appear on the screen.
2. When you are finished, navigate back to Settings, select General, and then select Transfer or Reset iPhone from the menu that appears. After that, select the Erase All Content and Settings option from the menu.
3. Erase all of the information stored on your iPhone: Tap the button labeled Delete/Erase All Content and Settings.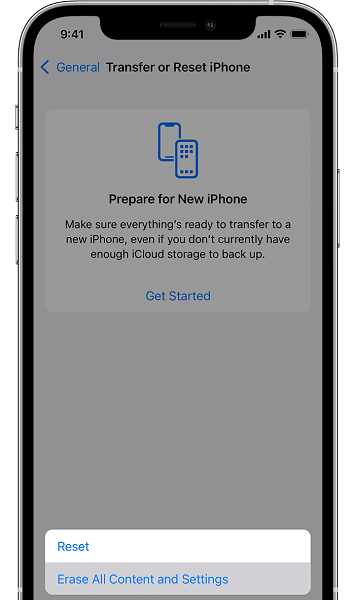 2. Use iCloud to Erase iPhone
You can wipe a device by going to iCloud.com's Find Devices section, clicking the All Devices button, and then selecting the device you wish to delete.
1. If you do not see All Devices, then you have already chosen a device and it has been hidden from view.
2. To see the list of devices, open the Find Devices toolbar's center button by clicking on the name of the currently selected device, and then choose a different device from the list.
3. To delete this [device], click the Erase button.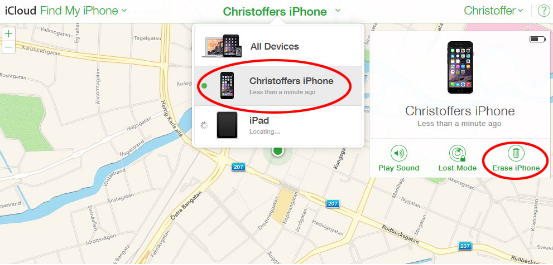 How to Avoid the iPhone Restore Screen Stuck Issue
If you want to avoid having your iPhone get stuck on the restore screen again while updating or restoring iOS, you must:
1. Ensure that your device has enough power at all times.
2. Make sure your iPhone has at least 3 GB of storage.
3. Check your connection to the internet. Make sure your device's internet connection is steady so that the iOS 16 packages may be downloaded and installed without issue.
4. Make careful you routinely backup the info on your iPhone.
5. In order to connect your iPhone to the PC, use the original USB cord.
6. Clean the ports on your computer and iPhone frequently to remove any dirt, dust, or debris.
7. In the event that a restoration problem occurs, avoid plugging the USB cord into your keyboard.
8. If the restoration fails, try a USB port on a separate computer.
FAQs
Is an Apple logo a boot loop?
If your iPhone won't get past the Apple logo, it's presumably in a boot loop, not Recovery mode.
Is an iPhone internal component damaged?
After restoring firmware and software, your iPhone is stuck in Recovery mode due to hardware issues. For a physical repair, contact Apple support.
Conclusion
Being cut off from the rest of the world when your iPhone is frozen on the Restore screen is a frustrating experience. You might be able to solve the problem by applying the techniques described above. You should opt with StarzSoft Fixcon iOS System Repair if you want a solution that is both faster and more effective. To defrost your iPhone will simply take half an hour of your time. Consider the amount of time and money that will be saved.