Almost every iPhone user faces a battery issue. The majority of the iPhone users ask about the iPhone 13 battery percentage stuck issue.
You'll face this issue when your battery drops down pretty quickly. It seems a Bug issue, and a new update can solve this fuss. But until a new update comes, you can follow our discussion to get rid of the problem.
Part 1: How to Fix iPhone 13 Battery Percentage Stuck (9 Quick Ways)
To fix the iPhone battery problems, you need to look at the methods below.
(1) Turn Battery Percentage Off and On
A thing that might help you get rid of the issue is turning off your percentage option on your iPhone. It seems like a strange solution, but it can work for you. Follow the steps below.
1. Navigate to battery settings after opening the settings.
2. After finding the battery percentage option, you need to enable it. After a few moments, you need to turn the battery percentage option again.
3. Restart your phone and check the iPhone. Hopefully, this process will solve your issue. You could reach out to the next solution if it didn't help your cause.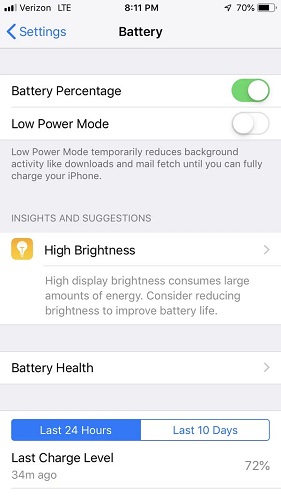 (2) Turn Date and Time Set Automatically off and On
To fix the battery percentage struck issue, the first thing you need to do is set the Data and Time to Auto Update. It is a trick that can come in handy sometimes. Here's the guide to do it.
1. After restarting the iPhone, you need to open the General settings option.
2. Now, you need to hit the Date and Time icon. Enable the "Automatically" update option of Date and Time from there.
3. After doing it, you need to see the battery issue is solved or not. You can move to the next fix if this trick doesn't work.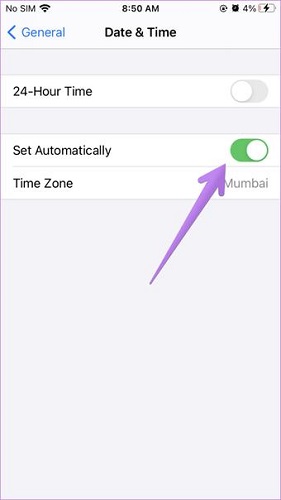 (3) Check Battery Health for iPhone Battery Percentage Stuck Issue
Even though this might be highly unlikely, the battery percentage can be the factor behind the iPhone battery percentage stuck issue.
If the battery capacity falls to 80%, you may replace your battery. You can check the total capacity of your battery from Battery Health settings.
For this, you need to open battery settings and then select Battery Health. From there, you can check your battery capacity. If changing the battery also doesn't work for you, search for another solution.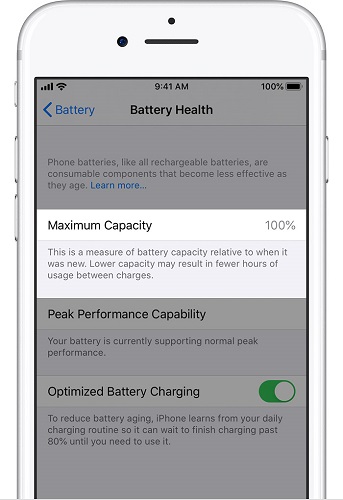 (4) Calibrate iPhone Battery to Solve Percentage Stuck iPhone 13/12/11/X/6
You can also calibrate your iOS device battery to see how this thing works. Here's the guide to serve your purpose.
1. Deplete your device's battery until iPhone shuts down. You can also increase screen brightness and enable the flashlight that speed up the process.
2. Don't try to charge your battery straightaway. Instead, you can let your battery drain out completely for a couple of hours.
3. After 2 hours, you need to use a genuine charger to charge your battery. Now, plug in your iPhone to charge it.
4. When your battery starts charging, turn on your mobile's Airplane mode with Bluetooth and Wi-Fi turned off. Allow your device to charge for at least 3 hours afterward.
When the battery reaches 100%, try restarting the device. After restarting the device, remove the charging cable and check the issue is solved or not.
(5) Restart iPhone to Fix iPhone 13 Battery Percentage Stuck
You'll be happy after hearing that many iOS device problems get solved by restarting your device. Sometimes, many running applications in your iPhone make the device run slowly, consequently affecting the features of your device. Here are the steps to restart your device.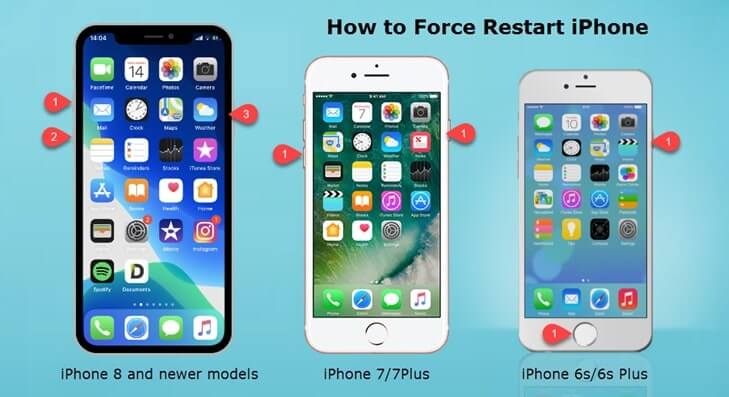 For iPhone 8 or later
Press and release Volume up and down. Now, you need to press and hold the side button until the Apple logo appears there. After, you can release the buttons and let the iPhone restart.
For iPhone 7 and 7 plus
Press and hold the Volume down and Wake/Sleep button together. Release the button once you see an Apple logo there.
For iPhone 6 or earlier
Click and hold down the Home and Wake/Sleep button together. Later, release the button when the Apple logo comes.
(6) Enter and Exit Recovery Mode to Try Again
If you find everything useless, try to enter the recovery mode in your iPhone exit it afterward. Performing this task may turn out to be handy for you.
If you're using the iPhone 8 and later version, you can follow the guide below to enter and exit Recovery Mode.
Entering the Recovery Mode
1. In first, you need to connect your iPhone to the computer.
2. Press the Volume Down and Volume Up buttons.
3. Click and hold your iPhone's side button until the "Connect to Computer" logo comes. It would help if you kept holding the button until the Apple logo option appeared.
Quitting the Recovery Mode
To quit the recovery mode you've enabled earlier, and you only need to restart your device. After performing all these tasks, you need to check your device and see whether this method worked or not.
(7) Reset iPhone to Fix iPhone 6 Battery Stuck at 100
If you find it tough to solve the problem, you can take the extreme step of resetting your iPhone. Even though this step will remove all your data, it can solve the issue you're currently going through with your iPhone.
To reset your iPhone, you need to follow the guidelines below.
1. After opening the iPhone settings, you need to go to General settings.
2. Now, you need to hit the "Reset" setting option and press the Erase All content and settings option.
3. Later, it would help if you pressed Erase iPhone for resetting your iPhone.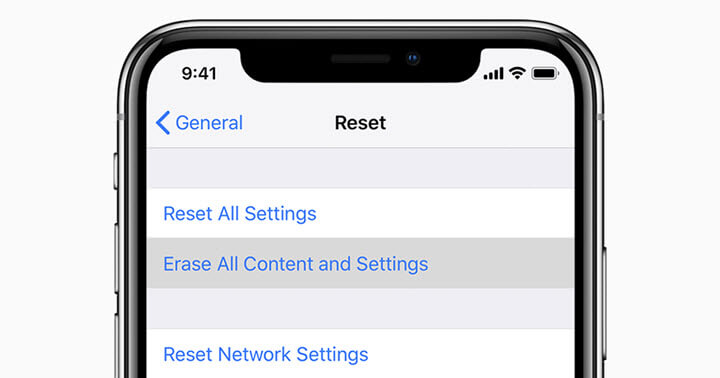 (8) Fix iPhone Battery Percentage Wrong via Replacing the Battery
If you use your iPhone excessively, it might damage your better. iPhone's battery happens to be a bit sensitive and can at times cause trouble when you try to charge your iPhone.
If this scenario occurs, you need to examine the situation wisely and look for appropriate solutions. One thing you can do is to change the battery and buy a new one. Most of the time, changing the battery solves the "iPhone battery percentage stuck" problem.
(9) Ask for Apple Help
After looking at every solution, you need to think about what to do if you can't find the correct answer. Seeking to contact Apple Support isn't a bad idea at all.
Sometimes, no one can solve your iPhone problems due to some technical difficulties. In this scenario, Apple Support can help you get out of this issue. Tell them the whole scenario and expect them to fix your problem.
Part 2: The Best Way to Solve iPhone Battery Percentage Stuck – Starzsoft Fixcon
To fix the battery issues, you can also take the services of a third party like StarzSoft Fixcon . It is prestigious software that can help your cause. You can repair your device using Fixcon Starzsoft without losing any data.
Here's the guide to do it.
1. Launch the application, select the Standard Mode option from there. Next, you need to connect the iPhone device to the computer.
2. Download the Firmware Package, and then press the Continue button and start repairing your device.
Conclusion
Solving the iPhone battery percentage issue can, at times, become difficult for you. However, if you've read this article, you can fix your problem by applying any options mentioned above.
One particular solution that possesses the highest success rate is using the StarzSoft Fixcon for repairing your iPhone. It offers simple and easy services to get your job done. Importantly, it also doesn't erase your data.