While the iPhone might be considered as the gold standard in smartphones, it still is possible to run into errors and issues from time to time.
Imagine having to contend with an unresponding phone in the middle of the work day, and not being able to call anyone or do anything productive in the meantime.
But what's great about iPhones is that these problems are usually easy to fix. You could usually fix them by yourself or use an easily downloadable app or software to diagnose and repair the issue.
The Infamous "support.apple.com/iphone/restore"
If Microsoft Windows has a "blue screen of death" (BSOD), then the iPhone has something similar.
Just like the BSOD, iPhone users can sometimes get stuck in a black screen that has the text of "support.apple.com/iphone/restore" at the top with a laptop or an iTunes logo below it. Most people refer to this as the iPhone Restore screen or iPhone Recovery Mode.
There are a number of reasons why your iPhone could get stuck in this screen. Its version of iOS might be outdated or might be restored improperly from a backup, there might be issues with apps like iTunes, or there may even be something wrong with your phone's hardware itself.
How to Fix iPhone Stuck at "support.apple.com/iphone/restore"
Use StarzSoft Fixcon
As we've mentioned above, running into issues like getting stuck in the Restore screen doesn't usually warrant a trip to the nearest Apple Service Center. You can have it fixed by yourself; and probably the best way to do it is to use the StarzSoft software to diagnose and solve the problem.
StarzSoft Fixcon is a tool that is able to fix iOS/iPadOS/tvOS issues instantly. It can diagnose almost 150+ system problems and scenarios for Apple mobile devices, and bring these devices back to normal without risking data loss in the process.
Here are the steps on how to start using StarzSoft:
Step 1. Head on over to StarzSoft's Fixcon's official page. Click on the big orange download button where it says "Free Download".
Step 2. Once the .exe file has been downloaded to your computer, run it, and follow the instructions that it gives you on how to install it.
Step 3. Run the program. When StarzSoft Fixcon starts, it will ask you what modes you want to run on your device (the software provides you with 3 types of repair modes).
First there is Standard Repair- this mode allows you to fix common iOS issues instantly and does not cause data loss.
Then there's Advanced Repair- used for more complicated and more serious system issues or in cases wherein Standard Repair fails to fix the problem (note: unlike Standard Repair, you do run the risk of experiencing data loss when you fix your phone with Advanced Repair).
Lastly, there's Enter/Exit Recovery Mode which does exactly what it says on the tin- it makes your iPhone go instantly into Recovery Mode or out of it.
Step 4. If your phone is having the "stuck in restore" screen issue, then Standard Repair would be sufficient to fix it. Click on Standard Repair to get started.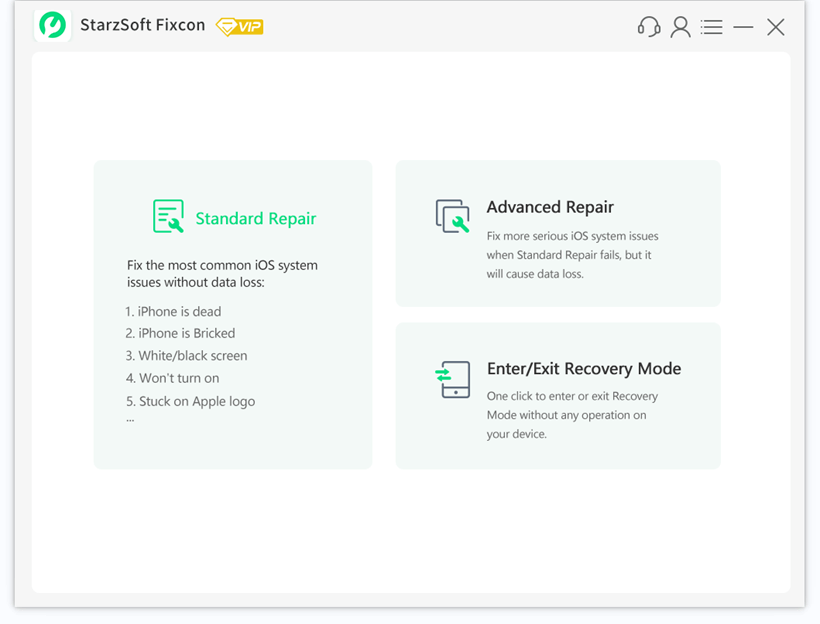 Step 5. You will be prompted to download a firmware package especially if you're running the program for the first time. Follow the instructions on how to install this firmware package on your phone.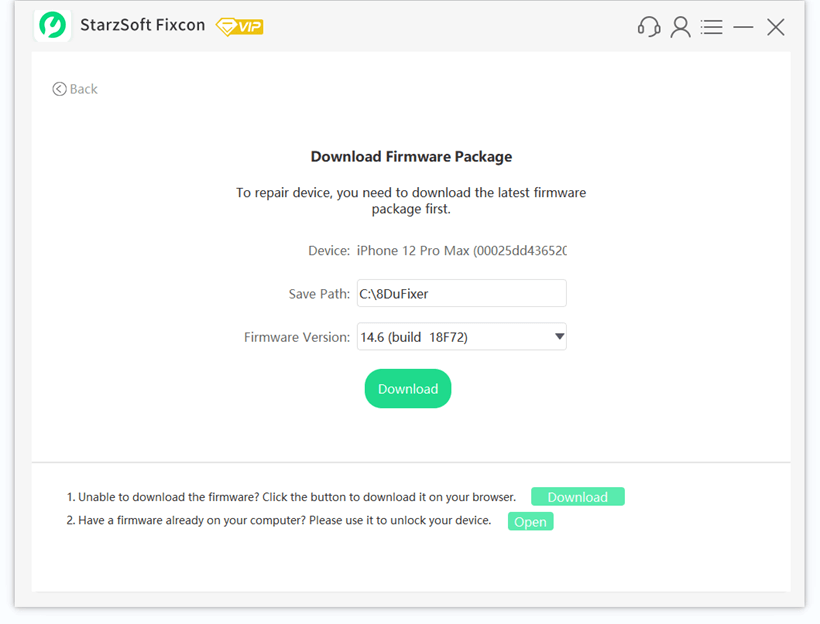 Step 6. Starzsoft Fixcon will install the firmware package for you once it has been downloaded. It will now try to figure out the cause of your iPhone's issue and then fix it.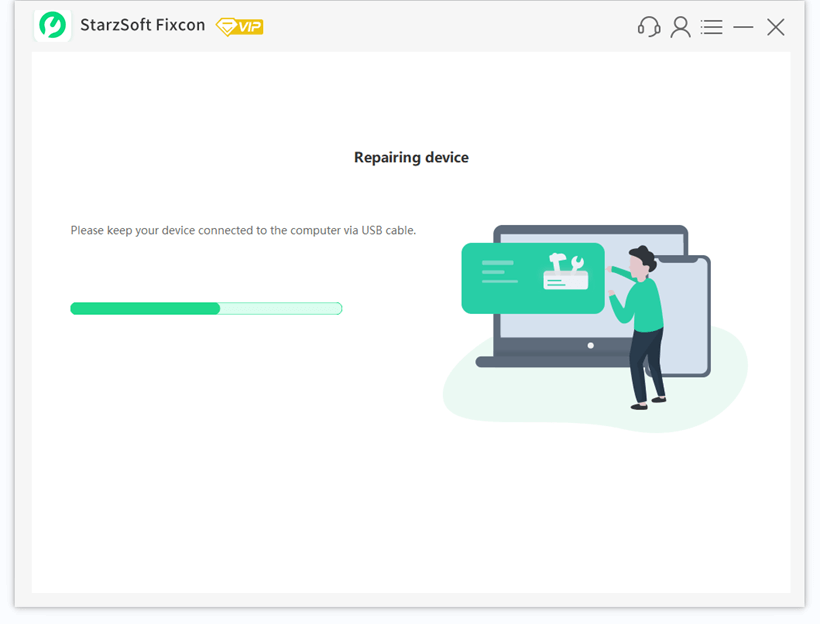 Always remember to keep your phone connected to your computer with a USB cable throughout the entire operation. Disconnecting it will mean that you would have to start all over again from the very start.
Though Starzsoft Fixcon is a paid program (you can pay for a monthly, yearly, or a lifetime license to it), it provides a generous one-week money back guarantee period so you can try it out. This is enough time to know whether the software is working for you.
Force Restart
Here's another easy method that some iPhone users swear by. Simply just force restart (or what is also called a hard reset) your iPhone. You could do this by powering the device off and then turning it on again.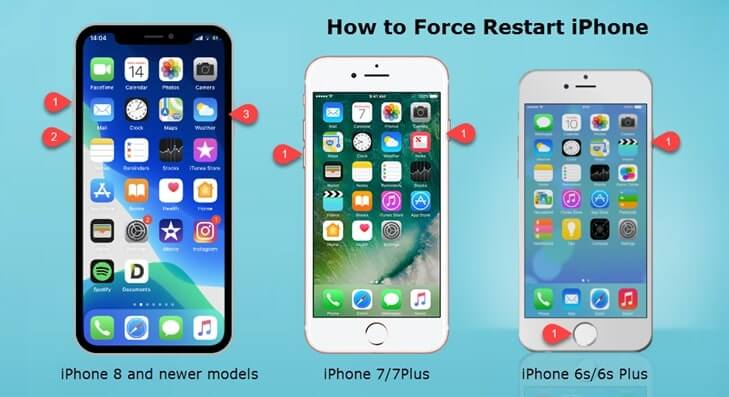 In most cases, your iPhone would be able to find what misbehaving software is causing the issue and then it would be able to sort it out immediately. This usually would bring the system working again.
Reinstall iOS
Another method you can try to get out of the Restore screen is by reinstalling iOS on your phone. You would need either a Mac or a Windows computer to do this.
Step 1. Connect your iPhone to your computer with a USB cable. If you're on a Mac, this can be done instantly (just make sure that your MacOS is updated), but if you're on Windows you'd need to download iTunes.
Step 2. On your computer, there will be a message that would pop up saying that there is a problem with your iPhone that requires it to be updated or restored.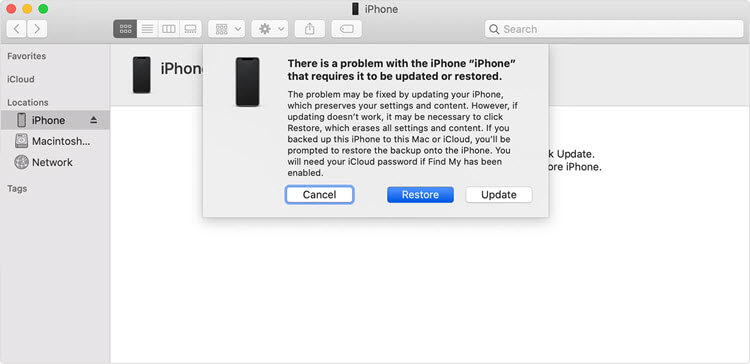 Step 3. From the two options that it gives you (Update and Restore), click on Update. This would install iOS on your iPhone without data loss.
Check Hardware
Lastly, the stuck screen may be caused by hardware problems on your iPhone itself. Do a close visual inspection of your phone. Are there any indicators that it might have been dropped or damaged in any way?
The motherboard is a particularly sensitive part on your phone and if it's damaged it might be causing the Restore screen issue.
If you suspect that you phone might have hardware problems (with the stuck Restore screen only being a symptom of the problem), then you'd need to take it to an Apple Genius Bar to have it checked out.
The service center would be able to fix the device for free especially if it's still under warranty or you have an AppleCare+ plan on your device.