Did you ever face iPhone stuck on install now?
It's pretty standard nowadays; it gets stuck when a user tries to install a new update to his iPhone 13/12. The majority of the users don't know how to fix it, and they are disappointed.
However, there can number of reasons behind this problem, but still, you can get rid of this. And we'll tell you how to protect you from new iPhone stuck on install now. Let's start it.
Part 1: How to Fix The New iPhone Stuck on Install Now
Do you want to fix the problem of the software update stuck on install now? You can do few things to get rid of this problem. Here are some things you should look to do.
Solution 1: Use iTunes to Backup and Restore
The first solution is to use iTunes to backup and restore your data. You'll need these simple steps to get your job done.
1.After installing the iTunes app, you'll need to connect your iPhone with a PC using a USB cable.
2.Now, you'll need to launch iTunes on your PC. Click on the Device button from the top left side of your button.
3.In this phase, all you need to do is hit the Summary option. And then, click on the Restore button and follow the information that has been shared with you on the screen.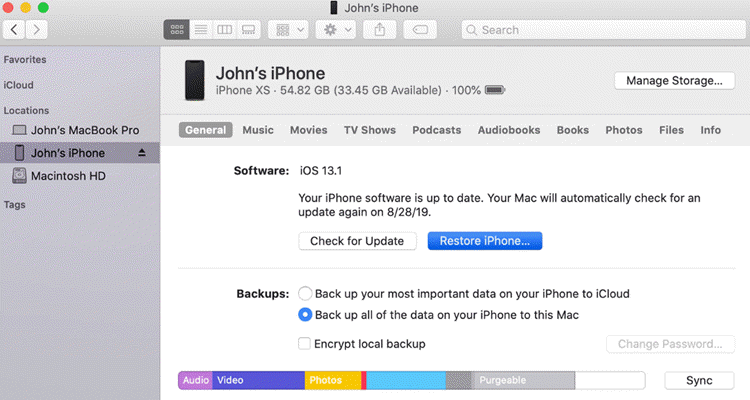 In this way, you can fix iPhone stuck on install now problem. Initially, this process will erase all your data, but you'll get back all your data through its backup.
Solution 2: Force Restart iPhone to Fix iPhone 12/13 Stuck on Install Now

The second solution to get rid of the iPhone software update stuck on install now issues is to restart your iPhone. Every iPhone model possesses a different way to be restarted.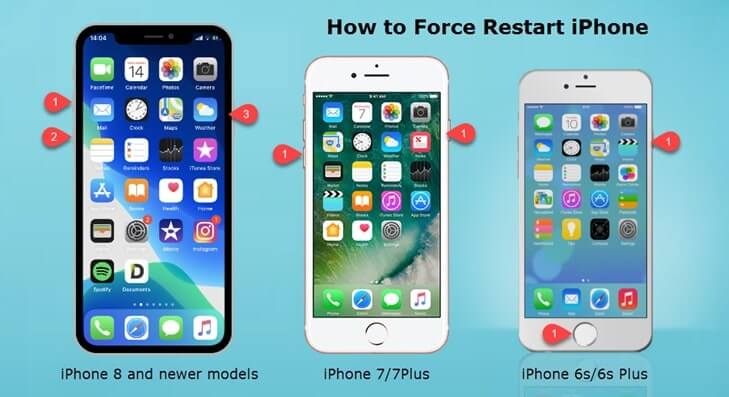 For iPhone 8/X/11/12
1.Hit the "Volume Up" button option first, and click on the Volume Down option quickly as possible.
2.Now, you'll need to click and hold iPhone's Side button until your screen goes off and the Apple logo appears.
For iPhone 7/7
1.To restore this model, you'll need to click and hold the iPhone's Sleep/Wake button. The button will be on the right side of your device.
2.While holding the Sleep/Wake button, click on the Volume Down button. After, you'll need to release both buttons when you see the Apple logo on the screen.
For iPhone 6s
1.Hit and hold the iPhone 6s "Home" button and its Power button options simultaneously.
2.When you see apply logo appears, release both the buttons.
Solution 3: Use Starzsoft Fixcon: One-stop Fix for iOS Issues
If your iPhone update stuck on install now even after you apply both the above solutions, StarzSoft Fixcon can help you out in this case. It's fantastic third-party software that solves all your iPhone-related problems with minimal effort.
Features or StarzSoft Fixcon
By supporting all the latest versions of iOS devices, including iOS 15, iPadOS/TvOS, this tool is winning the hearts of many iPhone users.
You can Enter or Exit-Entry mode with one click.
You'll not lose any data using the tool because it provides backup data.
Despite having professional features, its interface is a simple one.
It's quicker than you think, meaning you won't need to wait for a while.
How to Repair iOS 14 Stuck on Install Now Using StarzSoft Fixcon
1.After opening Starzsoft Fixcon, you'll need to press "Standard Repair" on the left side of your screen.

2.Now, you'll need to connect iPhone to the PC through a Micro-USB or USB cable. The tool will detect your iPhone and proceed further.
3.If it doesn't detect your device, hit the "Next" button and follow instructions to put your iPhone device into Recovery Mode.
4.Fixcon will recognize your iPhone's model and tell you about the available firmware package. After selecting a preferred one, click " Download". The process will take some time to complete.

5.After you've downloaded firmware, press the "Continue" button to start the repair process. After some time, when the repair process is completed, it will make your device restart again.
Luckily, you'll not lose any data.
Part 2: Some Common Tips May Help to Solve iPhone Install Now Spinning
Here are some valuable tips that can help protect your device from software updates stuck on the install now problem.
Tip 1: Check Your Network and Ensure a Quick Wireless Speed
If your iOS update gets stuck while installing, you'll need to assess your network connection. And you might also need to connect your device to solid Wi-Fi. The installation process depends upon your internet connection.
Tip 2: Clean Up Some Space to Fix New iPhone 11 Stuck on Install Now
If your iPhone device doesn't have enough space, that might be the reason behind your update being struck. That's why you need to clear some space to check whether the update process solves it or not.
For iOS 10, open Settings>General and then Storage and iCloud Storage>Manage Storage.
For iOS 11/12/13 and later iPhone devices, open Settings>General>iPhone Storage.
Tip 3: Download the Update Again
When you see your iPhone 11 stuck on install now, you can download it again for a better experience. Here are simple steps to download and redownload your update.
1.To delete your previous update, you'll need to push yourself towards Settings>General>iOS storage.
2.Click on "Delete Update" after finding the iOS update.
3.After deleting your update, you'll need to download it again. For this purpose, you need to open "General settings" and then Software Update. Now, you can download the update from here.
Tip 4: Make Sure Your Battery is More Than 50%
If your new iPhone install now stuck, you need to check the device battery percentage. You should maintain a minimum of 50 percent or battery all the time.
The low percentage of battery might be the reason that forces your device not to install new updates properly.
Part 3: FAQs about New iPhone Stuck on Install Now
1.Why is my new iPhone stuck on install now?
If your iPhone doesn't install the update and gets stuck on install, there can be many reasons behind it.
First, your device may run out of storage; it is why you need to look at the storage. Second, you might not be using a solid internet connection, causing your iPhone to misbehave.
And third, it might be due to low battery low percentage of less than 50. You need to take care of all these facts to get rid of the update installation problem.
2.Can you stop an iPhone update in progress?
Apple doesn't provide you with the option to stop an iPhone update in progress, but still, you can do it. During the iPhone update, you can apply airplane mode to your device.
Switching to the Aero-plane will disconnect your internet connection, and consequently, your update will stop immediately.
Final Words
If you're using an iPhone, you'd have encountered a situation when your software update is stuck on install now. Well, it's indeed disappointing, but after finding its causes, you can take precautions to get rid of this issue.
You can take help from the guidelines mentioned above to serve your purpose. If you couldn't help yourself after trying every option, you can take StarzSoft Fixcon on board. Using this majestic tool, you can repair your device. And that process will solve your issue.