iOS systems are technically pretty robust, and they don't often run into problems; however, that doesn't make them completely bulletproof.
Meaning, there will be a few unfortunate days when your iOS system will run into trouble, and you will have to repair it.
Indeed, you have iTunes to fix most of the common glitches, such as iOS firmware, restore, and backup, but when the issue can't be dealt with iTunes, then you need to look for an iOS system recovery tool that will help you overcome the iOS system issues efficiently.
Moreover, iTunes is now stuffed with tons of features, making it extremely challenging for newbies to find out ways to repair their iOS devices.
So, if you are looking for an iOS system recovery tool that will fix your iOS system, read this TunesKit iOS system recovery review and find out if it works.
TunesKit iOS System Recovery Review
1
What is TunesKit iOS System Recovery?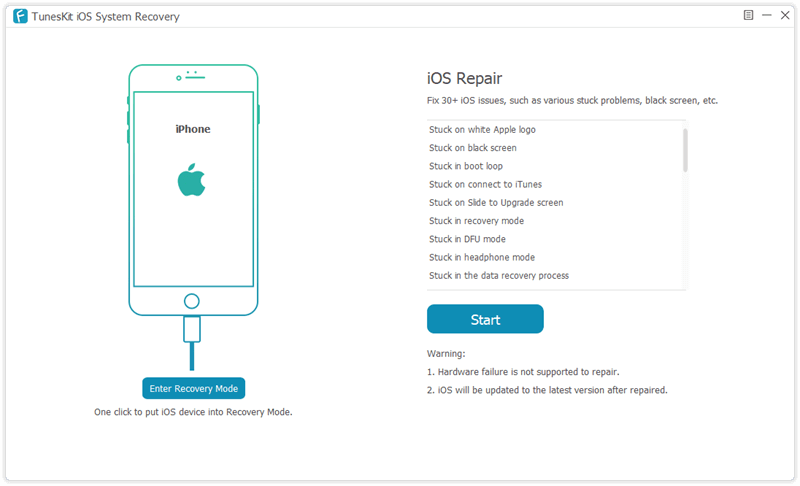 TunesKit iOS System Recovery is an iOS system recovery tool available for both Windows and Mac users. It can solve 30+ iOS problems.
By using TunesKit iOS System Recovery, you can get your device back to its normal state without losing any data. Moreover, you can use this software on Apple TVs, iPods, iPads, and iPhones.
TunesKit iOS System Recovery takes data security seriously, which is why it repairs the device without leaking any data and changing anything in the device.
2
The System Requirement
Operating Systems: Windows 10, 8.1, 8, 7. Mac OS X 10.8-10.15 and 11 (BigSur)
Processor Requirement: 1GHz or more.
RAM: 512 MB and more.
Free Hard Disk Space: 200 MB +
Supported iOS: iOS 7 to 14
Supported iOS devices: Multiple iPhones, iPads, iPod Touch, and Apple TV.
3
Features
As mentioned earlier, TunesKit iOS System Recovery can resolve multiple iOS-related issues.
Now to fix the problems, you have two primary features. One is the Standard Mode, and the second is the Advanced Mode.
Standard Mode
Standard Mode can help you overcome multiple iOS issues. It will download the latest firmware package and restore your iOS device, making it look and work like a brand-new one.
That's essentially what the standard mode of TunesKit iOS System Recovery is.
When the firmware package gets downloaded, you will not worry about TunesKit iOS System Recovery editing, adding, or deleting anything from the device.
The Standard Mode will be sufficient for most iOS problems, but when some system issues are hard to resolve, you have the Advanced mode.
Advanced Mode
Using Advanced Mode of TunesKit iOS System Recovery will be very rare because the Standard Mode is good enough to deal with multiple issues.
So, what the Advanced Mode will do is do a fresh installation of the iOS. You should try this step only if your iOS device wasn't repaired through the Standard Mode.
Also, it is recommended to use the Advanced Mode if you have created a backup for your data because the Advanced Mode will wipe off all the data from your iOS device.
4
Performance
Performance-wise, TunesKit iOS System Recovery won't disappoint you. It is easy to use and offers you a user-friendly interface. All you will have to do is download TunesKit iOS System Recovery according to your computer's OS and start using it.
The tool clearly shows you all the steps so that you don't face any hassle while fixing your iOS device.
This well-design iOS system repairing tool works effortlessly, and you don't need to have the technical knowledge to start using it.
5
Pricing & Plans
TunesKit iOS System Recovery is affordable and is available for both Windows users and Mac users. The price for both will be the same. Here's the detailed price structure:
One year license: $39.95
One month license: $29.95
Lifetime license: $49.95
Best Alternative to Tuneskit iOS System Recovery
StarzSoft Fixcon is considered one of the best iOS system recovery/repair in the industry. Its performance is more powerful than Tuneskit:
| | | | | | |
| --- | --- | --- | --- | --- | --- |
| | Covered Issues | Price | Success Rate | Time to Fix | Repair without Data Loss |
| StarzSoft Fixcon | 150 + | $25.95 | 100% | Within 3 minutes | Yes |
| Tuneskit | 30+ | $29.95 | 83% | Over 15 minutes | Yes |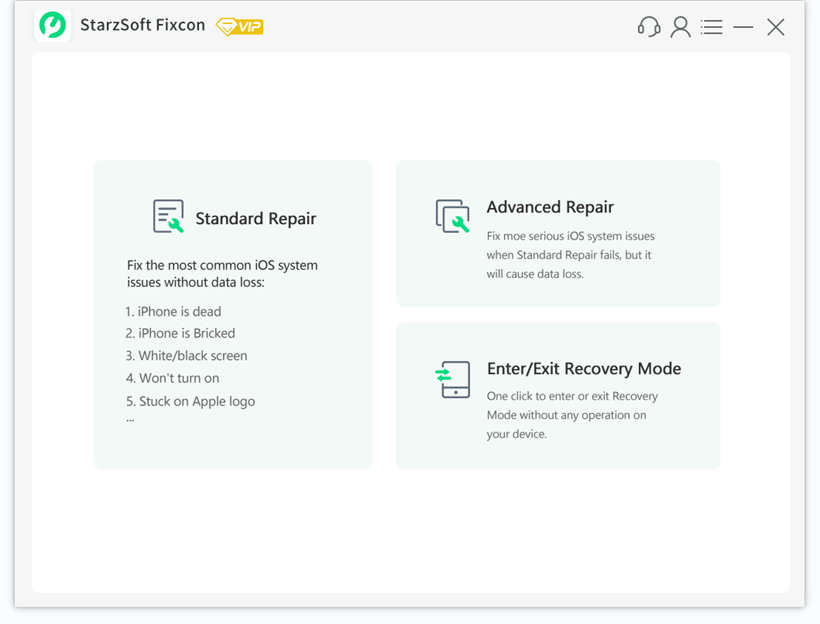 What Else You Get with StarzSoft Fixcon?
Safe and Clean
The most significant advantage of using StarzSoft Fixcon is 100% clean and safe to use. While using it, you will not face any issues.
Moreover, StarzSoft Fixcon will not affect your personal data. Whatever you have stored in your PC it will remain as it is.
Bespoke Customer Support
StarzSoft Fixcon is available for you 24×7. No matter why you want to contact them, you can do so without hesitation. Moreover, their customer support team is proactive and always solves their customers' problems. You can contact the support team through calls and emails.
Lifetime Upgrade
After you purchase StarzSoft Fixcon, you will become eligible for a lifetime upgrade. So, no matter which iOS your system works on, Fixcon will work on it without any hassle.
This offer is provided to you so that StarzSoft Fixcon keeps working seamlessly.
Money-Back Guarantee
There are hardly any OS system recovery tools that will provide you with a money-back guarantee offer. However, once you purchase the license, you will get 60 days money-back guarantee offer.
This means that if you are not satisfied with the iOS system recovery tool, you can ask for a refund. 60 days is good enough time to test StarzSoft Fixcon.
Conclusion
TunesKit iOS System Recovery is a robust OS system recovery tool and works seamlessly. This tool allows you to fix multiple OS system problems.
If you want to find a better alternative, then StarzSoft Fixcon will be your best choice!