Why can't I sync my iPhone to iTunes? You'll find many people asking this question. Luckily, there are some valuable solutions available to solve this problem. However, you need to be careful while applying the methods to your iPhone because it can also damage your iPhone.
Today, we'll teach you some of the best solutions to solve syncing problems of the iPhone with iTunes. Let's begin it.
Part 1: Why Can't I Sync My iPhone to iTunes
There can be many reasons why your iPhone won't sync with iTunes. Let's talk about them one by one.
1.Older iTunes Version:
Sometimes iPhone doesn't sync with your iTunes due to the older version of iTunes installed on your computer. A new generation iPhone won't bear an older version of iTunes.
2.Network Connection Problem:
If you want to connect your iPhone to iTunes, you need to acquire a healthy internet connection to start with. If you don't possess a strong internet connection, it will cause your iPhone not to sync with iTunes.
3.Apple Music Issue:
If the apple music feature is running in the background, it might cause a problem for you. Your iPhone won't sync to iTunes if it possesses a conflict with Apple Music App.
Part 2: How to Fix iPhone Won't Sync with iTunes
You'd have faced iPhone volume buttons stuck situations. But you don't need to feel uncomfortable. We have come with some of the best methods to resolve this issue.
(1) User Verified Helpful Ways
If you're facing sync issues with your iTunes, you need to follow these steps to check whether the problem is solved or not.
1. To solve the issue, you need to open iTunes and navigate to Preferences. After, you need to open the devices option and hit on the Reset Sync History option.
2. After resetting Sync History, you can try syncing iPhone with iTunes once more. If this method doesn't work, you can sign out from iTunes and try it again.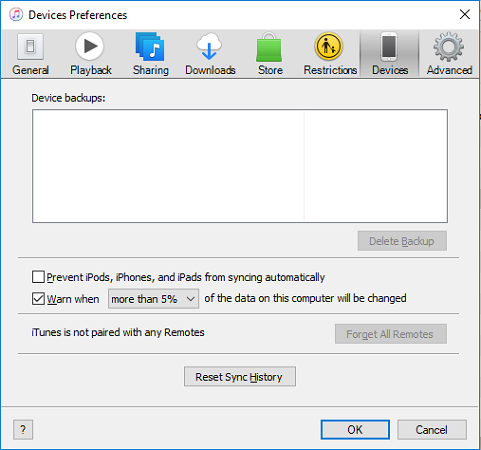 (2) The One-stop Solution for iPhone Not Syncing with the iTunes Issue
StarzSoft Fixcon is a reliable third-party program that can help you sync iPhone problems with iTunes. For this purpose, you only need to repair the device. Here are the steps of repairing your device using Starzsoft Fixcon:
1. After installing and opening Starzsoft Fixcon, select "Standard Repair".

2. In this step, you need to connect the iOS device with a PC through a USB. Fixcon is a good enough tool to detect your device automatically.
3. If it doesn't detect iPhone, you need to follow some on-screen instructions to put the iPhone device into DFU/Recovery Mode.

4. After Fixcon recognizes your iPhone's model type, you'll see available firmware packages there. You can select the firmware package you like the most.
5. After downloading the firmware package, press on the "Continue" option to start the system repairing process. It will take some time to complete. After repairing your device, you need to check whether the problem is solved or not.
Part 3: How to Fix iPhone Not Syncing with iTunes via Common Tips
Let's creep into some tips that would help you to get rid of the iPhone sync problem.
(1) Update the iTunes version
Using an older iTunes version might be the reason behind iPhone not syncing issue. Older iTunes doesn't work with the new generation iPhone.
It is why you need to install the latest iTunes version to get rid of the problem. You can install it by following some steps below.
1. First of all, open iTunes and press "Check for Updates". You can find it under the Help option in Windows. It will help you know about the availability of the new iTunes version.
2. You need to follow on-screen instructions to get your job done.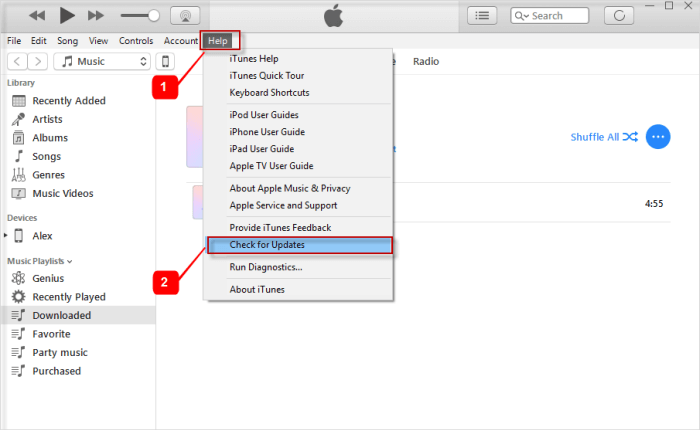 (2) Reauthorize iTunes to Solve iPhone Won't Sync

It would help if you authorized your PC to access iTunes before making purchases. A security concern might cause sync to interrupt.
You can authorize your desktop with iTunes by going into the Stores Tab. After, you need to hit "Authorize this computer". You can complete the operation by selecting the Authorize button.

(3) Restart the Computer
If your iPhone doesn't sync with iTunes, you need to restart the computer. Restarting a device at times can solve many issues for you.
(4) Check the Connection and USB Port
If your USB port or connecting port isn't working correctly, this factor can cause iPhone not to sync with the iTunes issue.
You can solve this issue by checking whether iPhone's connection port is working or not. And you need to connect your iPhone to the computer via a USB port to get rid of the issue.
(5) Change the Syncing Method
Syncing iPhone with iTunes via a USB cable is possible. You turn on your Wi-Fi sync option if your USB method isn't working correctly. Moreover, if your Wi-Fi syncing isn't working, you can also repeat the same process.
You only need to open the Options tab and turn on or turn off your iPhone's syncing feature over Wi-Fi.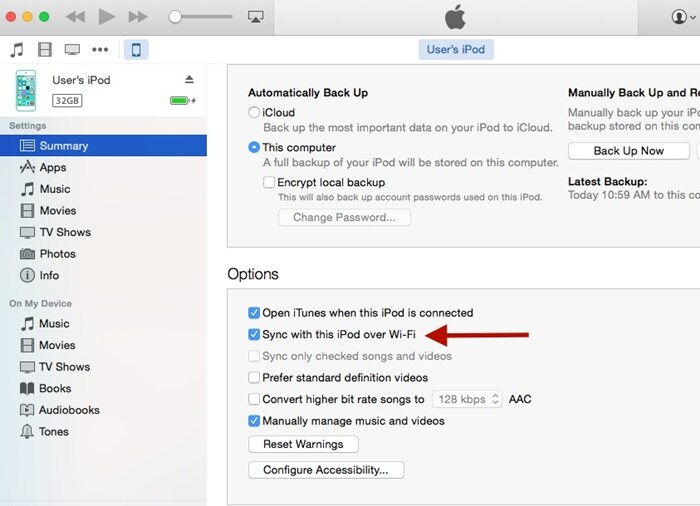 (6) Update Drivers for iPhone Won't Sync to iTunes Issue

To sync your iPhone with iTunes on a PC, you'll need to update iPhone's drivers.
1. Right-click iPhone device after going into the Device Manager
2. Now, you can update the drivers of the iPhone. You need to follow on-screen instructions to get your job done.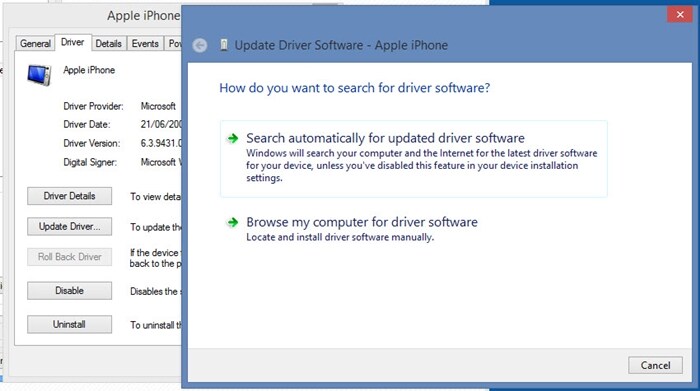 (7) Reset Your Device
Resetting a device can erase all your data, but it can fix iPhone not syncing with iTunes problems.
1. After opening the settings, you'll need to navigate to General>Reset. After, you need to hit Erase All settings and content.
2. You only need to click on Agree button to factory reset your iPhone.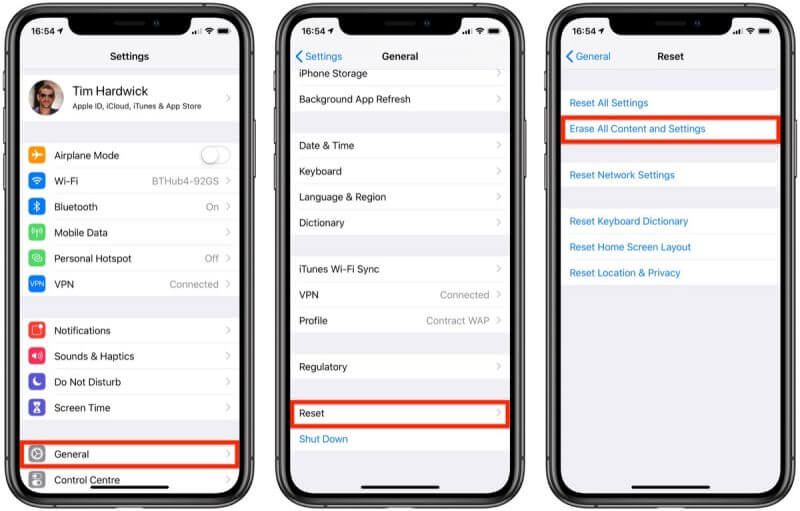 (8) Turn off your Apple Music Features
Sometimes, iPhone won't sync due to some issues with the Music Application. It's why you need to turn off this feature to avoid the scare. You can turn it off by following these steps:
1. You need to open your settings and then turn off the Apple Music feature from there.
2. After going into the iTunes General Preferences, you need to uncheck the Show Apple Music option.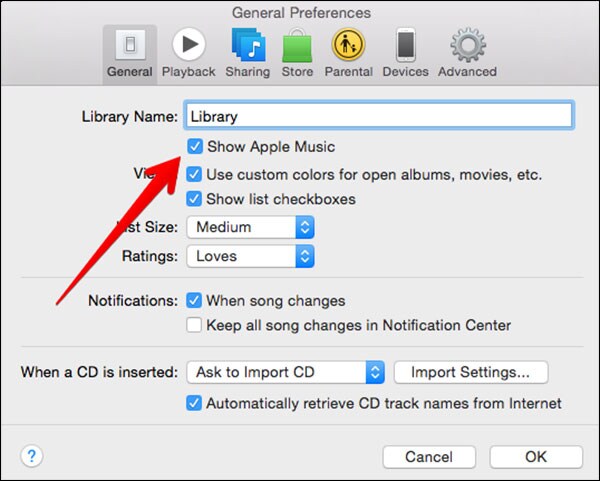 (9) Reboot Your iPhone to Fix Can't Sync iPhone to iTunes

If you see a problem with your iPhone that denying iPhone syncing, you can restart it again. After disconnecting from the computer, you need to click and hold sleep/Wake to reboot your device.
(10) Hard Reset Your Device
If rebooting your device doesn't help your cause, you'll need to Hard Reset your device. It can help you to get rid of the problem you're facing.
For iPhone 6s or older:
Long press your power and home button for at least 10 seconds.
For iPhone 7 and later:
Press the Volume Down and Power button at the same until the Apple Logo appears.
Conclusion
After following the above suggestions, you'll be able to fix your iPhone not syncing issue. Despite these solutions, if the problems don't resolve for you, try a third-party tool.
In this regard, StarzSoft Fixconcan be a befitting option for you. You only need to repair your device to get rid of the problem.