Have you disabled access to your camera on Facebook and in the settings for your iPhone? Now that you tried to navigate around Facebook and listen to music simultaneously, you were unsuccessful. Why does my Apple Music stop when I open Facebook? is something you should definitely know if, while watching a video, the music pauses and then resumes once the video is over.
Part 1: Why Does My Apple Music Stop When I Open Facebook
Here are the reasons that may cause Apple music stops playing when I open Facebook issue.
Both are Data Heavy Apps
Because Facebook and Apple Music both use a lot of data and strain your phone's processing, Apple Music may pause when you browse Facebook. You're more likely to have a crash if you're also using other apps.
Sound setting issues
Once you launch the FB app, you might also hear some level changes, which is often brought on by the need for the microphone and sound control.
Video autoplay feature of Facebook turned on
Facebook has a tonne of videos that will appear in your feed. Even while some of them can be entertaining and engaging, you might not want them to interfere with your preferred Apple song. There is a technique to stop Facebook from playing videos on autopilot. Adopt it.
Part 2: How to Fix Apple Music Stops When I Open Facebook
1. Turn Off Facebook Access to Camera
Most commonly when people turn off Facebook access to the camera, they get rid of the issue and no longer ask why Apple music stops playing when I open Facebook.
1. Open Settings on your iPhone or iPad.
2. Select Privacy and Access to Photos and the camera.
3. Go to Facebook and select "Never."
4. Go to Facebook Settings after opening the app. Select Photos. If authorization has been granted, Turn Off will appear.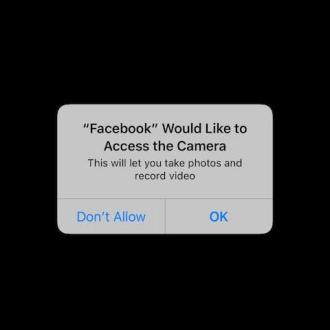 2. Turn Off in App Sound in FB Settings
Although the video on Facebook would likely be intriguing, you might prefer to hear the music uninterrupted.
So you may listen to Apple Music while watching any Facebook videos. Check the straightforward solution.
1. Click "Facebook settings" as soon as Facebook is open. The three dots at the bottom are it.
2. Next, select "Account settings."
3. Then click "Sounds."
4. Simply select "In-App sound" from the menu.
5. Turn the toggle so that it is off to indicate that all necessary adjustments have been made. Now try using Facebook and Apple Music at the same time.
3. Enable Never Autoplay Videos on Facebook
If you are using a Facebook application on your iOS device and cannot play Apple music while browsing Facebook, here is what you should do to turn off the auto play videos.
1. On your screen's bottom, select the menu button.
2. Tap "Settings & Privacy" and then "Settings" when you get there.
3. Tap "Videos and Photos" after finding "Media and Contacts" by scrolling down.
4. Finally, you can disable the option after finding "Autoplay."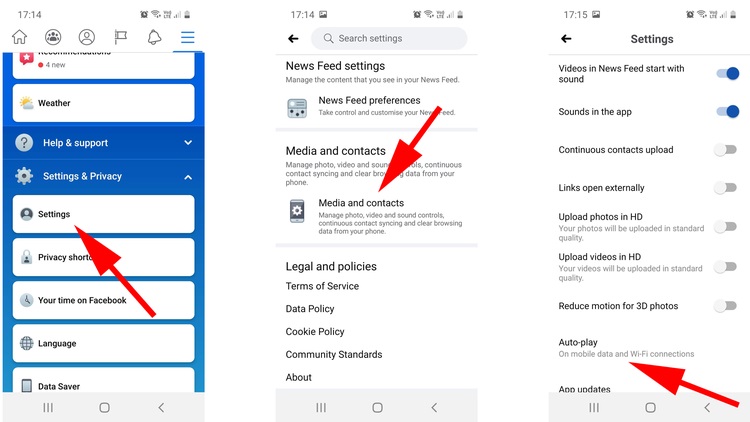 4. Update or Reinstall Facebook
If the issue persists, you might have to install Facebook again. This is a problem with the FB app rather than AM.
1. Simply go to Apps in Settings and Uninstall Facebook.
2. Download it again from the Apple App Store.
You should reload Facebook if this issue doesn't go away by:
1. Deleting Facebook from your phone.
2. Downloading Facebook once more.
Play AM when launching the app once more to verify if the issue has been resolved. You should attempt a few other troubleshooting techniques if you continue to experience volume changes or complete disruptions.
However, a lot of folks find that using this strategy fixes their problem.
Part 3: Fix Apple Music Stops Playing When I Open Facebook with Two Common iOS Tips
1. Restart iPhone If Apple Music Stops When I Open Facebook
Even though many faults in apps may be fixed by reinstalling them, occasionally the phone as a whole may require a reboot. Restarting your phone could resolve the issue as a first line of defence.
1. Hold down the top button while pressing it until the power-off slider displays.
2. Drag the slide to power off your iPhone, wait for a few seconds, then power it on again.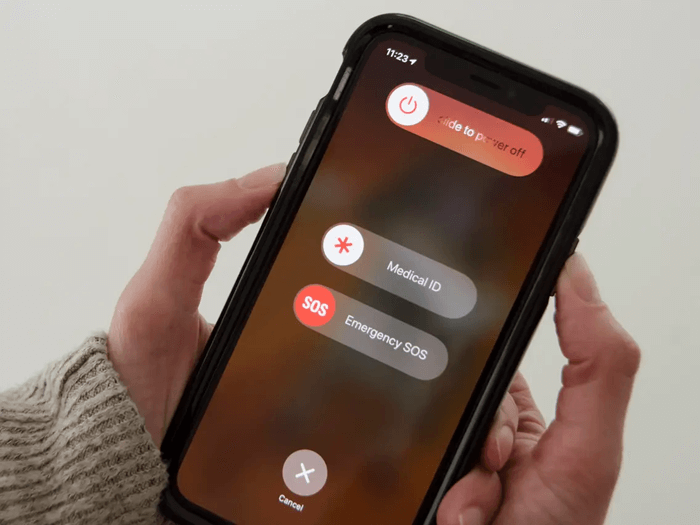 Force-restart your device if it has frozen or is not responding. Press and hold the top button until you see the Apple logo to turn your iPhone back on.
2. Close All Background Apps
Sometimes the system drag is the only cause of the problem. Here is one practical move you could take if you notice your Apple Music volume dropping or halting altogether:
1. Hold down the home button until each of your tabs or programmes appears on its own.
2. To close or remove from the background any unwanted applications, including Facebook, swipe up on them.
3. Try playing Apple Music now, and then restart Facebook.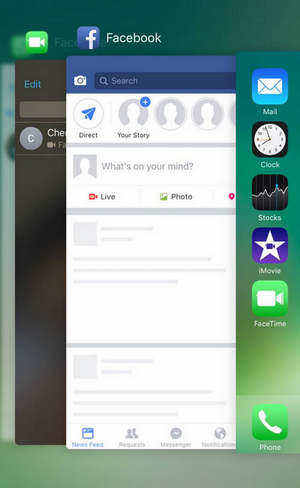 With this, the issue should be resolved and you won't have to worry about overlapping sounds while listening to Apple Music.
Part 4: How to fix iPhone Music Stops When Opening Facebook If There are iOS System Issues
It's important to keep in mind that some ways used to solve the aforementioned issue of "Apple Music going off when using Facebook" can cause disruption and distortion that could impair other crucial phone functions as well. Factory resets and iTunes restorations, for instance, can result in data loss as well. Therefore, if you want a solution that doesn't cause data loss and you don't know what the underlying cause of the issue is, try StarzSoft Fixcon.
It is a fantastic tool that could resolve a number of iOS device issues. Be aware that in order to resolve the "Apple Music turning off when using Facebook" problem, you must use its Standard Mode.
1. When the software is first launched, skip all other options and immediately select Standard Mode.

2. Then connect your iPhone's USB cord to start the recovery procedure.
3. When you use an iPhone or other iOS device, Fixcon automatically verifies the model and other crucial details and install the necessary firmware files. Keep your attention on what needs to be done, choose the option you want, and then click "Download."
4. There will be a green box with a Continue button. Make the decision to begin the system repair as soon as you can.
At this point, all that remains is to allow for the repair procedure to be finished. Following that, the iPhone "Apple Music turning off when using Facebook" issue will be resolved.
Conclusion
After going through all the possible solutions, you will no longer need to worry about "why my Apple Music stops when I open facebook". If you want instant and the most effective solution you simply have to go to the StarzSoft Fixcon and use the standard mode. It will automatically solve all of your iOS problems including the problem of Apple music turning off while browsing Facebook.