If an iPhone is unlocked, it means that it does not belong to a specific carrier. An iPhone bought directly from the Apple store will usually be unlocked. However, if you have a second-hand device then it can be locked to a certain carrier. The store will inform you or it will be stated on the label whether it is locked or unlocked.
An unlocked iPhone will allow you to use any carrier you wish. Meaning you do not need to switch network providers. You can unlock your phone through a local independent phone shop.
If you are unfamiliar with iPhones, then I have listed the ways for you to check if your iPhone is unlocked.
How to Check If iPhone Is Unlocked?
1
On iOS 14 and above
If you have installed the latest line of updates on your iPhone, then you are in luck because it is easy finding this information.
1. On your device go onto the settings app.
2. Go to General and then to About.
3. Scroll down and there should be "Network Provider Lock".
4. If it says, "No SIM restrictions", then your device is unlocked.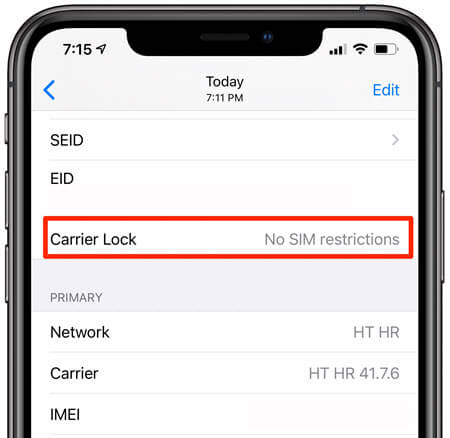 If this information did not appear for you then you are on IOS 13 or earlier. We recommend you head over to the update option in settings to check if you can update your device.
If you do not have a pending update, we have methods of finding out whether it is unlocked for you.
2
Using a SIM Card
You will need another SIM card from different network providers for this method. To tell if your iPhone is unlocked:
1. Make a phone call using the SIM card currently in your iPhone and be sure that it connects before ending the call.
2. Turn the iPhone off by holding down the sleep/wake button and sliding the power off option.
3. You might have received a small SIM card ejector tool with your iPhone but if not, that is fine you can use a paper clip or a pin to take the SIM out of the phone. See the Picture Below for Reference.
4. Put the new SIM card into your device.
5. Press and hold the sleep/wake button to turn your device on.
6. Make another call and if this call does not connect then your iPhone is locked. If it does connect your device is unlocked.
3
Contacting Your Carrier
This can take a take while depending on how long your network provider takes to get back to you. They will ask you to provide your IMEI over the phone and it is completely free. You could alternatively visit independent IMEI checking services, but this will always cost you the service.
4
Using an Online IMEI Checker
An IMEI (International Mobile Equipment Identity) is a number that is unique to your device. It helps network providers pinpoint the device it is assigned to. In this case, it can help you find out whether your device is unlocked.
IMEI checker is exactly what it sounds like, it will identify your phone using your IMEI and then give you information related to your device. Go to WipeLock IMEI checker to check your device status.
I have listed the steps to find your IMEI number, and what you are looking for exactly on the checker below.
1. Go to your Settings>General>About.
2. Scroll down till you find the IMEI number.
3. Go to the site listed above and enter your IMEI.
4. If you scroll down there should be "Simlock Status", and beside it will either say "Unlocked" or "Locked".
This site is popular and widely used. There is a lot of good reviews for the site as well.
5
Checking through Settings
Your iPhone will still have an option in the settings menu that hints at whether your iPhone is locked or unlocked. Until IOS 14 there was not an option like this. I have listed the steps below.
1. Open the Settings app.
2. There should a "Mobile Data" option, click on it.
3. Click on "Mobile Data Options"
4. If there is an option for "Mobile Data Network" your iPhone is most likely unlocked.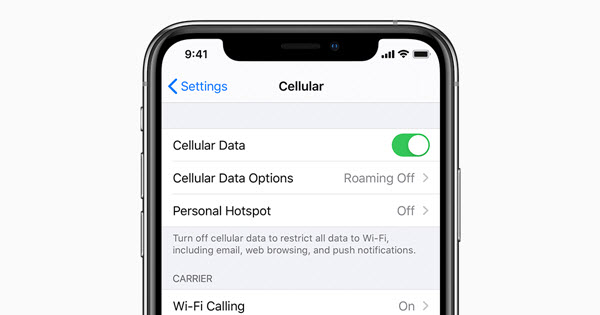 This does not 100% confirm it and it is worth trying some of the methods above just to be sure.
6
Where Did You Buy the iPhone?
Like I said before if you bought your iPhone directly from the Apple store then it will be unlocked as they are not providers of a mobile network. If you bought it from a carrier on a plan, then it will most likely be locked.
If you bought the device from a third party or second hand from somewhere like Amazon or eBay then you can check the receipt as it should say something like "iPhone 11 (mint, unlocked)".
What to Do If Your iPhone is Locked?
If your iPhone turned out to be locked there are a few ways of fixing that issue. You could visit an independent local shop that will charge you for the fix or you could try to fix it yourself however that requires a lot of understanding of the inner workings of your device. We do not recommend these methods as you could also void your warranty in the process.
The carrier can unlock it and Verizon even unlock your phone after a 60-day lock period.
If want to get your iPhone unlocked quickly, then try ExpressUnlocks, which will unlock your phone within 24 hours.
Conclusion
The steps to finding out whether your iPhone is unlocked are a fairly simple process. You should follow a few of these steps just to be sure (unless you are on IOS 14). When going about unlocking your iPhone we recommend not trusting local independent stores and instead of going to the carrier directly.
Hopefully, this article has helped you and we have several other articles available to help you with issues relating to your apple device.