When a particular person loses his iPhone, it creates chaos, considering that a mobile carries pretty important information. You may want to know does find my iPhone work when phone is dead? Luckily, Apple has come a long way in ensuring the safety of its users.
After losing your iPhone, if your iPhone's dead or cellular data is turned off, you can still find your device. iPhone's new Bluetooth location feature helps you locate everything on your device, even if it is turned off.
In this article, our motive will be to provide you with vital information about locating an iOS device when it is lost.
Part 1: Does Find My iPhone Work When Phone is Dead
Yes, you can locate your iPhone when you lose it. Although you can't trace real-time location, it can give you enough clues that might end up helping you to find your device. Bluetooth can help you locate your iPhone Even if your battery is dead and network data is disabled.
Part 2: How to Find A Dead iPhone
If you want to find a lost iPhone, you need to keep a close eye on the following methods.
Remember, if you suspect your iOS device has been stolen, you need to contact local authorities because losing a phone in a particular place or an iPhone being stolen are two different things altogether.
If you think you've lost your iOS device and the iPhone dead, you can read this article.
Way 1: How to Find An iPhone That is Dead Using Another iOS Device
In this section, you'll learn about how to find your lost iPhone with the help of an iPad. It will help you locate your device, meaning you'll come to know the last place of your iPhone before it gets dead.
Step 1: Launch the Find My app on your iPad.
Step 2: Hit the Device tab.

Step 3: You'll see a map with a list of My Find-enabled devices.
Step 4: Now, you need to choose your iPhone device from the list.
Step 5: The map will show you clearly if your device is turned off.
Step 6: Your iPhone device will appear with a colorful Home screen if it doesn't turn off.
Step 7: Click on "Directions" to get walking or driving directions to iPhone's general location.

Step 8: If your iPhone is not dead but offline, you can click on "Play Sound" to assist you in locating the iOS device when you or your friend comes closer to your device.
Step 9: You need to press "Notify When Found" if your iOS device is dead. This process will send location updates and notifications to the iPad when iPhone turns on again.
Way 2: Use the Help a Friend Feature to Find My Dead iPhone
Your friends can help you find lost iOS devices by offering you the opportunity to log into your Apple ID on their iPhone.
Remember, you don't need to log out your friend's Apple ID from settings to log in to your ID. You can use the "Me tab" in your friend's Find My app option to log in remotely. Here's the guide of how to find dead iPhone use your friend's device.
Step 1: Launch "Find My app".
Step 2: Choose the Me tab.
Step 3: Press Help A Friend.

Step 4: Now, you'll need to log into your iCloud ID. You can press Use Different Apple ID if you're asked to log into your iCloud ID using Face ID or Touch.
Step 5: After, you need to give your iCloud password and ID. When it asks you to save the password, hit Not Now.

Step 6: Click on the list of iPhone devices to find your lost device.
Step 7: Now, you'll see a circle around the particular area where your device is located. You can see some buttons below your map.
Step 8: Play Sound can be an ideal helper to inform you if you get closer to your device.
Step 9: If you want to keep your data secure, you can apply Lost Mode.
Step 10: You can use the map if you think your iPhone is nearby.
Step 11: You need to click on your name on the Find My app screen when you're done with it.
Step 12: Sign out your ID from your friend's iPhone by selecting the "Sign Out" option.
Way 3: How to Find iPhone When Dead with icloud.com
You can locate your lost iPhone by using iCloud.com using your Mac or PC. Here are the simple steps to get it done.
Step 1: Navigate to iCloud.com after opening a browser, or you can also launch Find My App on your PC.
Step 2: Now, you only need to sign in with your Apple Password and ID using iCloud.com.
Step 3: Hit the Find iPhone option.

Step 4: Select your missing iPhone after choosing "All Devices".
Step 5: Go and Watch it; the map will show you the location of your iPhone.
Way 4: Use Google Map When You Haven't Enabled Find My iPhone
If you didn't enable "Find My iPhone", the above methods wouldn't help your cause. But if you've allowed your location history for Google, it can help you find your iPhone. Google maps will help you locate your device with ease.
Even if you're not sure about whether you've enabled your location history or not, you can follow these instructions to know how to find a dead iPhone without Find My iPhone.
Step 1: Open https://www.google.com/maps/timeline.
Step 2: Log into your Google account.
Step 3: You need to select a date when you lost your iPhone.
Step 4: Find your iPhone after checking the last location.
Part 3: How to Avoid Dead iPhone Privacy Leak
Will Find My iPhone work if phone is dead? The answer is yes. To avoid privacy leaks when you lose your iPhone, you need to close an eye on the following methods.
Way 1: Use Lost Mode
First of all, you need to enable your Lost Mode to keep your data secure. Enabling it will ensure no one uses your data. To enable it, you can follow these steps
Step 1: Launch Find App on your device.
Step 2: Select Lost device mode.
Step 3: After selecting Lost Device Mode, you can activate it.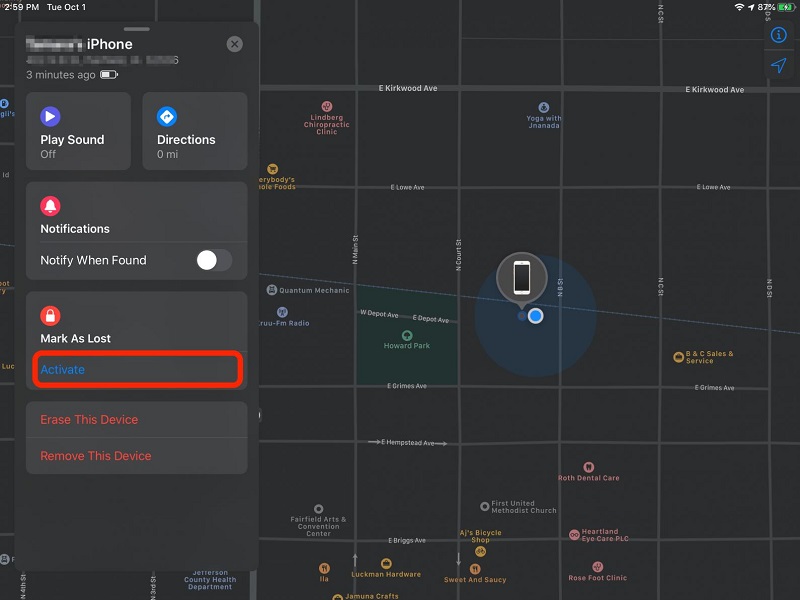 Way 2: Always Enable Send Last Location
Enabling 'Send the Last location' also protects you from losing your data or compromising your important data.
It is the feature of Apple to 'Find My iPad' and 'Find My iPhone' on iOS devices. This feature allows iPhone to choose a "Send Last Location" that will tell you the device's last location when your battery drains out.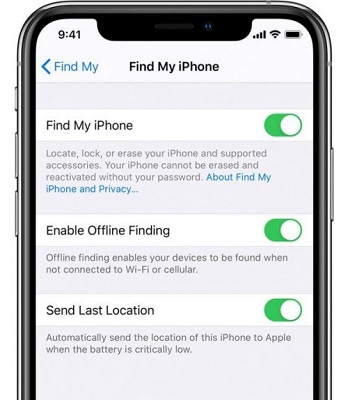 Part 4: Extra Tips: How to Fix If Find My iPhone Not Working
If Find My iPhone isn't working, you need to acquire the services of StarzSoft Fixcon. With massive features and a simple interface, Fixcon is fully capable of solving any problem.
Step 1: Press "Standard Repair Option" after installing Starzsoft Fixcon.
Step 2: Connect your device to the Desktop through USB.
Step 3: You'll find many Firmware packages there, and you only need to select an appropriate option and click the Download icon.

Step 4: After doing all the necessary things, you can click "Continue" and start repairing your device. Once the device is restored, Find My iPhone will begin working.
Conclusion
Apple makes it easier to find your lost iPhone with the help of a new Bluetooth feature. By following some instructions, you'll be able to access your lost iPhone.
"Find My iPhone" is a feature of Apple that makes it possible to find my dead iPhone. But what if "Find My iPhone" stop working?
No worries! StarzSoft Fixcon has all basics covered in solving this problem also.