Ever since Google released Google Suite. the Google equivalent of Microsoft Office. they've gotten a lot of popularity and are competing with Microsoft's Office package. Both are fantastic but considering that G Suite is free and completely online, it has advantages over Office. One question that floats around is how to convert Google Doc to PDF, and we can help you with this.
5 Ways to Convert Google Doc to PDF
Google Docs gives you the option to save documents in PDF format but on occasion, if someone sends you a Google Doc or if you don't have a Google account, converting to PDF can help.
#1 Using the Best Free Google Docs to PDF Converter – PDF WIZ
First on the list is StarzSoft PDF WIZ, and this is the best freeware for handling PDFs in a range of different ways. Among the key features of PDF WIZ are: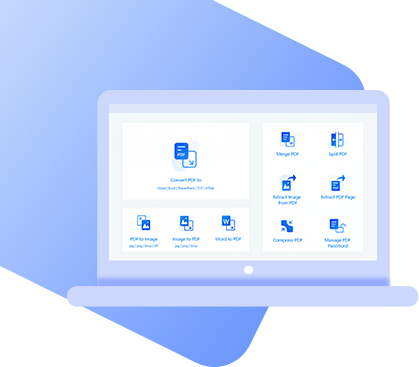 Convert all Google document pages or selectively convert pages to PDF without hassles
Capable of converting Google documents in bulk and very quickly
Supports converting both DOC and DOCX Word document formats
Totally FREE to use and doesn't require user registration
Also includes tools to convert PDF to Word, images to PDF, PDF to text, and more
With PDF WIZ, users can quickly access a number of tools for managing their PDF files, including converting files to and from PDF format. If you're curious about converting a Google Doc then the steps below will help.
Download and install PDF WIZ onto the computer.
Step 1. Launch the program and on the main menu select "Word to PDF".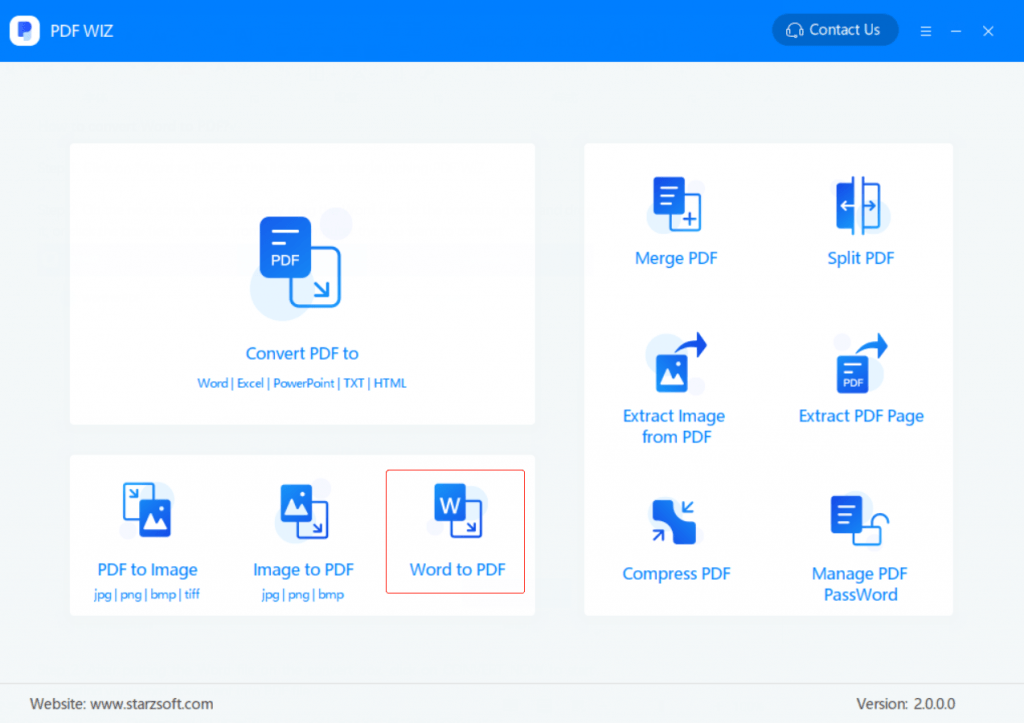 Step 2. Click the "Add File" button to select the Google Doc files, or drag them on to PDF WIZ.
1. At this stage, you can add multiple Google Doc files to be converted.
2. To only convert specific pages, below "Sel Page" click on "All" and enter a page range.
3. Once you've got all of the Google Docs ready on the program, choose the directory to save their PDF versions after converting.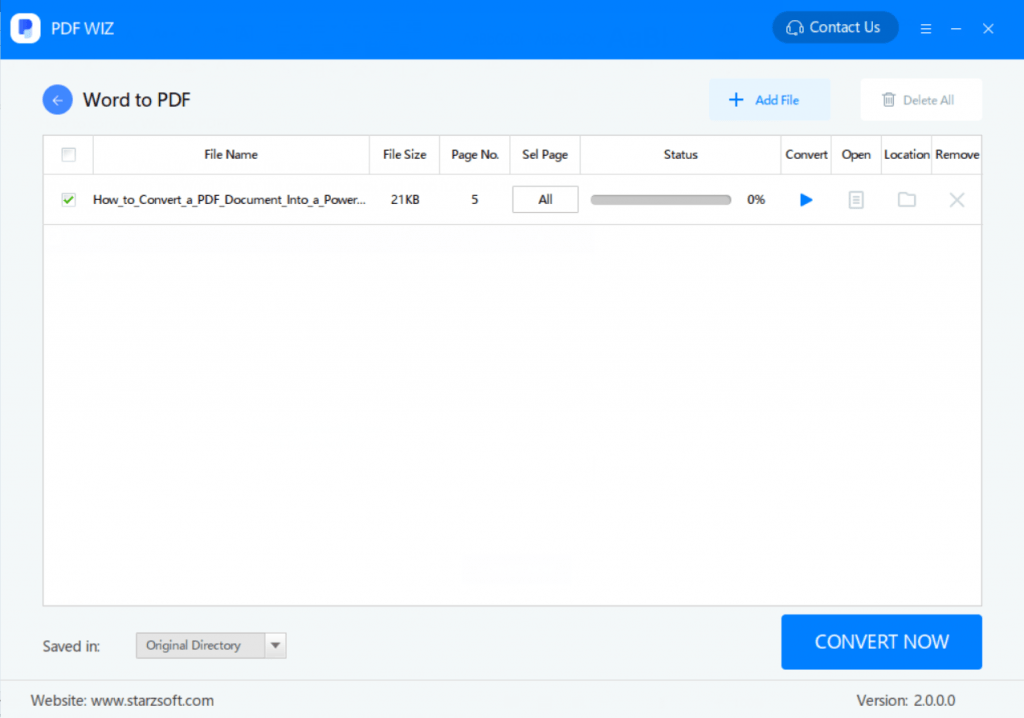 Step 3. Finish this process by clicking on the "Convert Now" button. The progress of each file's conversion can be seen under the "Status" header.
And just like that, this Google Docs to PDF converter processes your files and produces high-quality PDFs. So, whether you have to work offline or can't save documents in PDF format, PDF WIZ allows you to convert any Word or Google Docs files.
#2 Convert with Google Document
Depending on the circumstances, you might find it more convenient to convert Google Doc to PDF directly from the Google Docs website. Just like Microsoft Word, there's the option to download a document in PDF format.
Step 1. Go to the Google Docs website and sign in with your Google account.
Step 2. Either upload the file you want to convert, open it from the site, or create a new doc.
Step 3. Once the file is available on your Google account, open it in the Docs app.
Step 4. Now that Google Docs is displaying the document, click "File" and go to "Download as > PDF".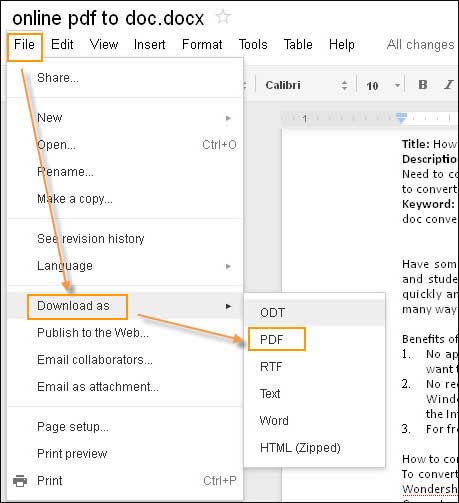 Step 5. If you are prompted by a popup asking you to adjust the PDF download settings, do so and then click on "OK".
If a user is already editing files on Google Docs then converting them directly from the website is easier. That being said, in some situations users won't have access to the internet or Google Docs, so a better solution would be software like PDF WIZ.
#3 Turn Google Document to PDF via Email
Following on from the previous method, that isn't the only way to use the website as a Google Docs to PDF converter. Another feature that achieves this is the emailing feature that we can get to from opening a Google Doc and which uses your Google email address.
Step 1. Sign into Google and go to the Google Docs section.
Step 2. Open the file. You may first have to upload the document and if needed, do this now.
Step 3. Using the menu bar above the document, click "File" and select "Email as attachment".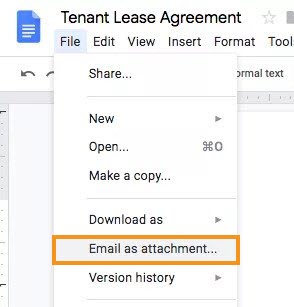 Step 4. An emailing menu will now be displayed. Below "Attach as", click the drop-down menu and choose the "PDF" format.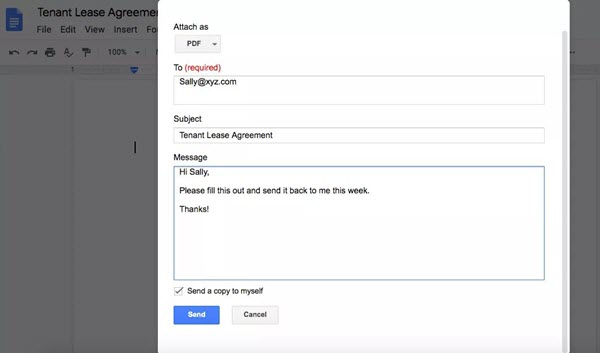 Step 5. Enter an appropriate email address to send the PDF to (this can be yourself), a subject, and optionally a message. If you're sending it to someone else, then you can also check the "Send a copy to myself" box.
Step 6. Click "Send" and the PDF version of your doc will be sent.
Again this is quick and easy if you have the document on Google Docs, but it isn't always a suitable solution.
#4 Convert Google Doc to PDF Online Tool
Are you looking for an online tool to quickly get the job done? One tool that effectively converts Google Drive files to PDF is Smallpdf, and it's not difficult at all.
Step 1. Open a browser and go to Smallpdf.com.
Step 2. On the right of the upload box, click "From Google Drive".

Step 3. Sign in to Google and allow access for the converter.
Step 4. Select the Google Doc that you want to convert.
Step 5. After you select a file, Smallpdf will convert it and save it directly to Google Drive.
Step 6. As well as a direct save to your Drive storage, you can download the PDF by pressing the "Download" button.
Considering this site converts Google Doc to PDF and also saves the PDF back on Drive, it's an appealing method. Be aware, though, of the privacy risks of an online tool.
#5 Want to Convert Google Doc to PDF on iPhone/iPad?
So far, the solutions we've given you are on a computer, but it isn't always possible to access one. Don't worry though. converting from an iPhone is an option.
Step 1. Launch Google Docs app and tap the file you want to convert.
Step 2. At the top-right of the screen, tap the "…" icon.
Step 3. Tap "Share & export > Send a copy", and select PDF format.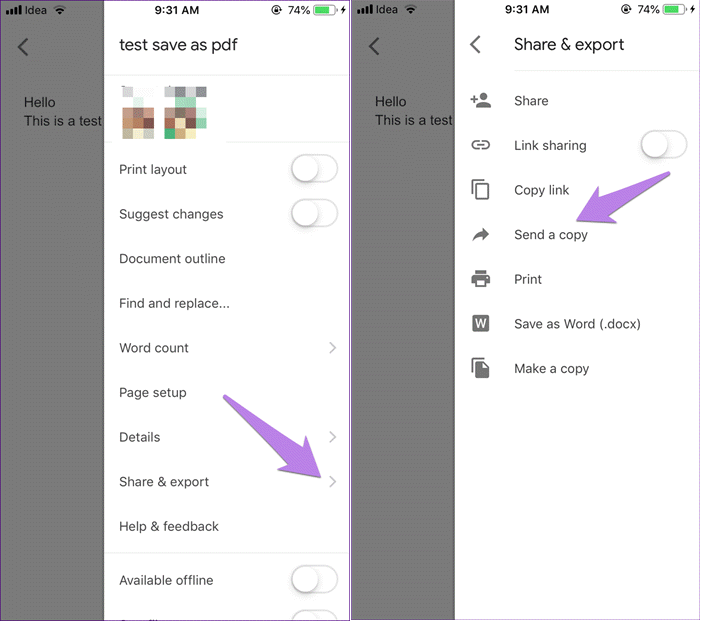 Step 4. Tap on "OK" and use one of the sharing options. "Save to Files" is usually the best to choose here.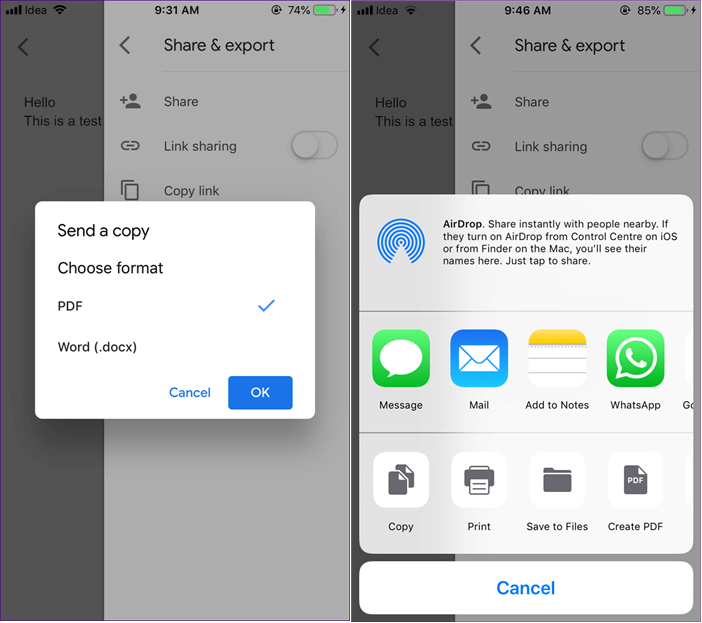 To convert Google Doc to PDF from your iPhone, all you need is the official application. After downloading that it's fairly straightforward from there.
Conclusion
Turning Microsoft Word or Google Docs files into PDF is a great way of distributing reports, extensive research, and simply making them more accessible. Out of the methods above, we highly recommend StarzSoft PDF WIZ. Not only is it a Google Docs to PDF converter, but it'll also assist you with PDFs in various other ways.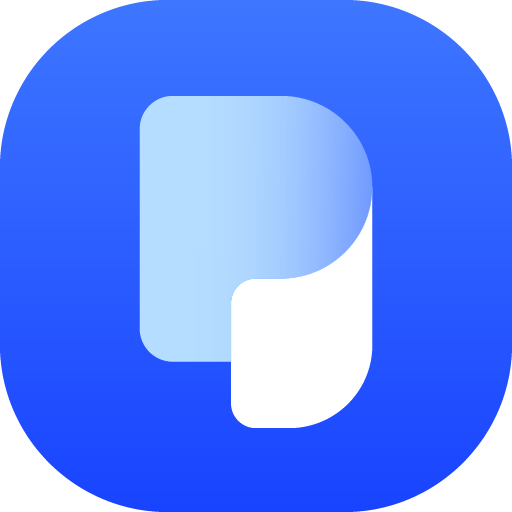 PDF WIZ
Your All-in-one PDF Converter