Introduction
Even though several newer file formats have been developed, PDF files are still widely used for exchanging documents, presentations, images, and spreadsheets throughout the globe. As a result, the HEIC photo format from Apple is just one of several that has to be converted to PDF format.
While there are a number of programs and methods for making the HEIC-to-PDF conversion on a Windows or Mac computer, there is one reliable method that works every time.
What Is A HEIC File?
HEIC stands for High-Efficiency Image File and is Apple's customized implementation of the HEIF standard. This new file format was developed with the goal of improving image storage by reducing file sizes without sacrificing quality.
Method 1: Convert HEIC to JPG Using Preview
The first method is to convert the HEIC to JPG first and then we will convert it to PDF using the PDF Wiz tool.
Because Apple developed the HEIC picture format, it is compatible with a wide range of digital devices. As a result, HEIC photos may be converted into JPG files with relative ease.
Preview, which has a conversion tool that is capable of assisting you with this effort, seems to be the most appropriate application to use.
Step1 Start up Preview and load the HEIC there.
Step2 Go to File > Export from the main menu.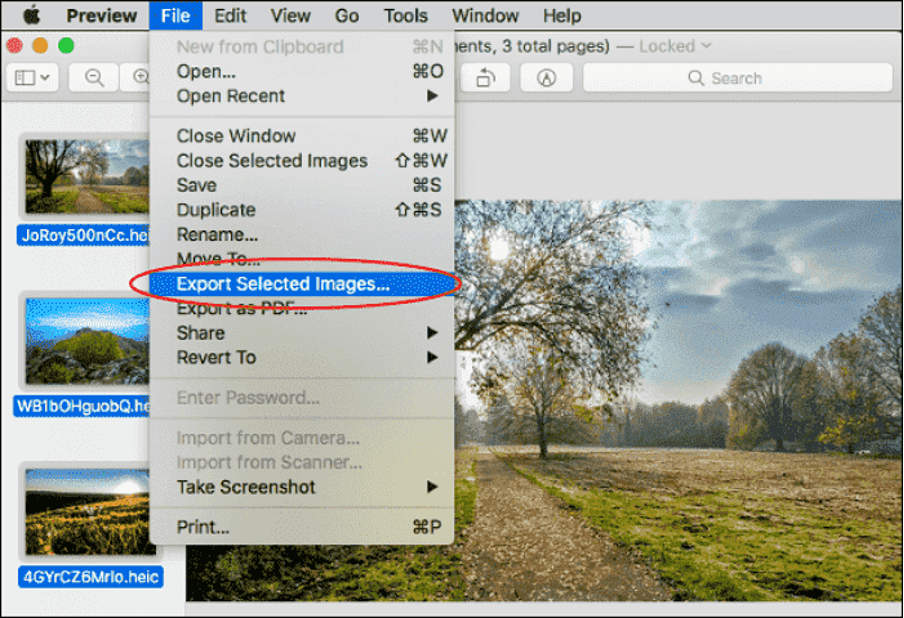 Step3 Select JPG Format from the available options.
Step4 You may now give your new JPG photo a name and select a location to save it.
Step5 Click Save, and you're done.
Method 2: Convert HEIC to PDF Using PDF Wiz
PDF WIZ is a PDF editor that enables you to edit PDF documents. It is also a converter that enables you to convert various file formats to PDF, including Word, images, EPUB, XPS, and so on.
Additionally, it enables you to convert PDF documents from one format to another. Therefore, it is possible to edit PDF files and make modifications to the document.
Alternatively, you can convert the documents you already have into PDF format before uploading them.
PDF WIZ is a PDF editor, but it also comes with a whole bunch of helpful capabilities that aren't found in other PDF editors. These features include the ability to compress PDF files, combine them, encrypt them with a password or delete the current one, and divide PDF files.
Since we have already converted HEIC to JPG, now we will convert JPG to the PDF using PDF Wiz.
Step1 Get PDF WIZ on your computer by downloading and installing it. Start up PDF WIZ and then select the Image to PDF icon from the menu to proceed.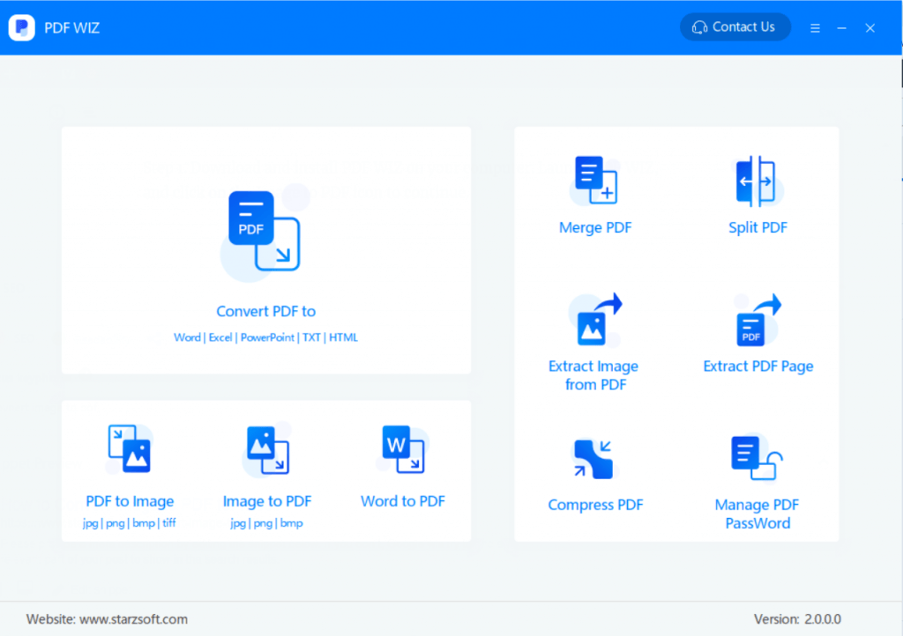 Step2 On the screen that follows, locate the box in the screen's middle and use the mouse to drag and drop the photos you wish to convert to PDF into it. After that, you may rearrange their order by clicking on the arrows, pick the location where you want to store them, and decide how you want to convert them by selecting the choices that are below the boxes. When you are ready, choose the photographs that you want to convert to PDF format, and then click the CONVERT NOW option.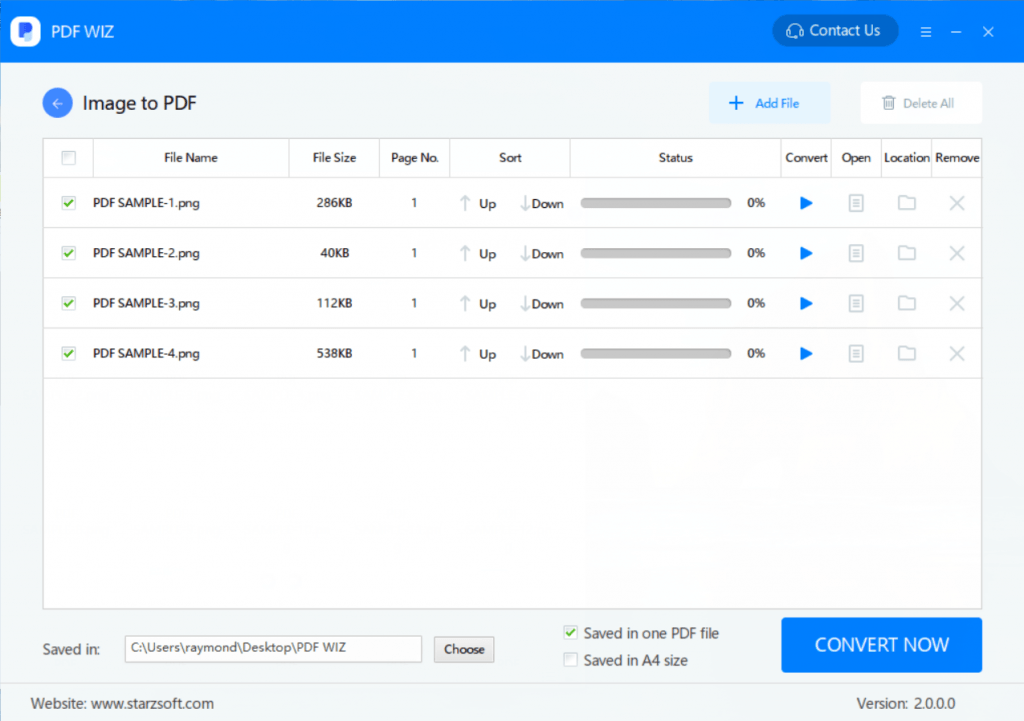 Step3 The conversion is finished when the percentage indicator in the status bar reaches 100 percent. After that, you can use the buttons that are located underneath Open and Location to either open the file immediately or navigate to the folder where the converted files have been saved.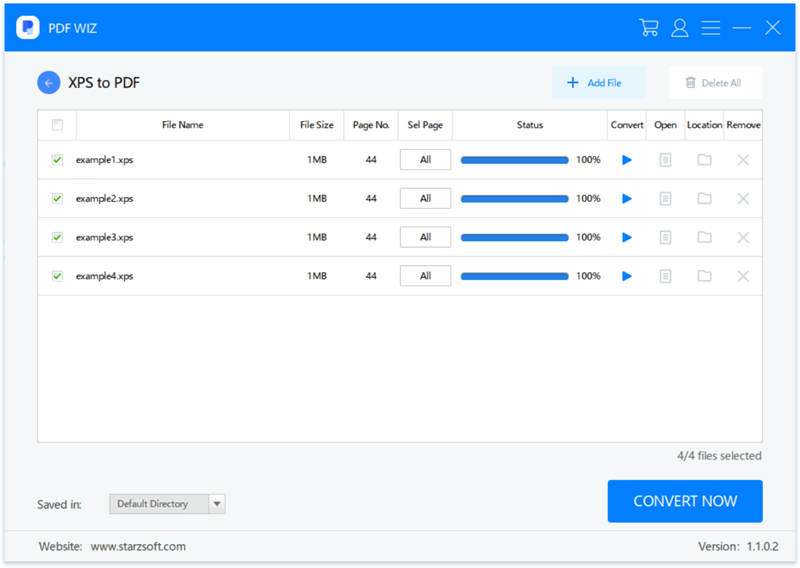 Additional Features of PDF Wiz
Now, let's go even further into detail about the features. You will be able to gain a deep comprehension of the capabilities that PDF WIZ offers as a result of this.
It is recommended that you have a look at them prior to putting the program through its paces so that you can determine whether or not it will meet your requirements.
PDF WIZ Convert PDF Files to Word
You are able to convert PDF files to a variety of forms with PDF WIZ. Some of these formats include Text, Word, Excel, Powerpoint, Image, HTML, EPUB, and XPS. Simply dragging and dropping the PDF files into the conversion window and clicking a button is all that is required to convert the files.
The procedure may be completed in a very short amount of time, and regardless of the size of your PDF files, the program will perform its duties adequately.
The converted documents maintain their original quality, and the text contained inside them is unaffected by the conversion. A fantastic method for converting PDF files that keeps the original text intact.
Transform Files to PDF
Documents in a variety of formats, including Word, Image, EPUB, XPS, and others may be converted to PDF with the use of the program. For instance, if you need to send a curriculum vitae to someone and it is in Word format, you might want to create the file using the program so that it is in PDF format, as this is the format that is often used these days.
There is no limit to the possible applications. The program does the task well and does not cause any delays in the process regardless of the number of files that it is attempting to deal with simultaneously.
Edit PDF
PDF WIZ is capable of a great deal more for you in terms of assisting you with PDF files than simply converting PDF files.
Compressing large PDF files into smaller ones to fit your attachment size, merging multiple PDF files into one large file, managing passwords on your existing PDF files or protecting them with new passwords, splitting large PDF files into smaller ones for easy usage, and extracting images from PDF files are all things that can be accomplished with this program.
If you work with PDF files on a regular basis, the capabilities may prove to be quite helpful for you. It is the best way to ​​convert HEIC to PDF free.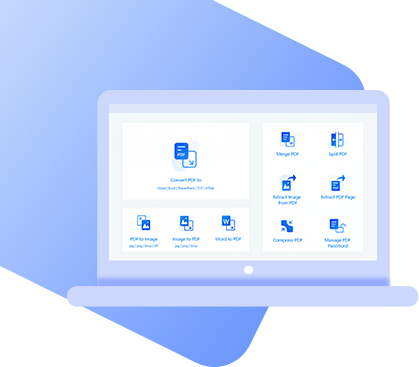 An all-in-on PDF toolkit that boosts productivity.
Converts to and from PDF and edit PDF as you want.
No file size limit. No privacy risks.

Free Trial
100% Clean & Safe
Method 3: Use An Online HEIC to PDF Converter
The conversion from HEIC to PDF via the online approach, of course, needs an active Internet connection.
Go to the URL supplied by the conversion service using any browser that is supported, upload the file you want to be converted, select the output format you want, let the file be converted, and then download it to your Mac.
Step1 Zamzar is one of the online converters that convert HEIC files to PDF with the highest level of accuracy. Visit the URL specified for converting HEIC files into PDF format.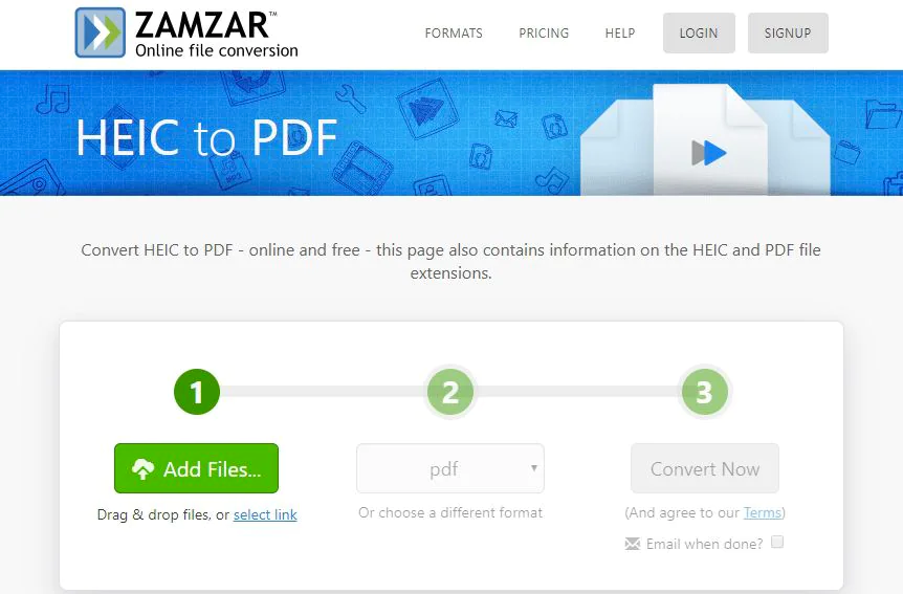 Step2 You can convert from an image URL by clicking the "Add Files" button, dragging and dropping your HEIC files, or using the "select link" option.
Step3 Make sure that PDF is selected as the output format.
Step4 Before you start the conversion, make sure you click the "Convert Now" button in the checkbox and provide your email address.
The benefit of this method is that it allows you to convert many files up to a specified limit. On the other hand, given that this is an online tool, any disruption to your Internet connection will cause the procedure to be terminated, and you will need to begin it from the beginning once more.
It is for this reason that it is recommended that you use an application that can be installed, such as PDF Wiz so that you do not have to complain about long waits or security concerns when uploading or downloading the processed files.
Especially, you will not have to worry about having to wait for the files to be processed.
Converting HEIC to PDF – FAQs
How do I turn an HEIC into a PDF?
Step1 Launch the Photos app on your iPhone right now. The next step is to locate the image you wish to convert.
Step2 To print, select the option from the Share menu. Then, using two fingers, squeeze and expand the image preview that's now being displayed.
Step3 To save the file to your files, hit the Share button once again.
Step4 Select a location on your device to save the PDF file.
Can I open HEIC in Adobe?
Adobe Photoshop for Windows and Adobe Photoshop for Mac both allow you to open and edit HEIC photos on your computer.
Conclusion
On this page, we have provided you with information about three excellent HEIC to PDF converters that may assist you in converting your HEIC files to PDF format. You will do this activity quickly and easily by using the websites and tools that are described in this article.
If you regularly have to deal with converting files to PDF format, it is strongly recommended that you make use of the PDF Wzi.
You will find that this new software program can assist you with the majority of the tasks that are associated with PDF documents by providing you with sophisticated editing and conversion options.