Taking a PDF file and transforming it into an image can be useful for many reasons. Obtaining a screenshot of a single page eliminates the need to search through the PDF every time you want to see it, and it could also be a precautionary way of preventing other people from editing a PDFs contents. On that note, what is the best PDF to image converter to use?
Top 3 PDF to Image Converters
1. Best Free PDF to Image Converter – PDF WIZ
Kicking off this list is StarzSoft PDF WIZ, a PDF converter that doesn't limit users' ability to manage their PDF files. You can convert them to images, Word documents, Excel spreadsheets, PowerPoint presentations, and even HTML.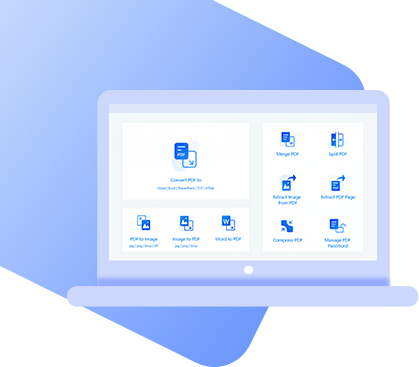 Convert PDF to image in bulk without any hassles
Converts PDF to different image formats (JPG, PNG, BMP, TIFF, GIF)
File conversions are fast and effortless
Allows users to convert specific PDF pages
Converts PDF to image without affecting the quality of image
Free to use with no paid features
StarzSoft PDF WIZ has been trusted by lots of famous sites, such as MakeTechEasier, TechPrevue, etc.
The simple point of PDF WIZ being free means that there's no reason not to try it as a PDF to photo converter. When using this software to convert PDFs, the process is as easy as could be.
Step 1. Run PDF WIZ on your computer. The main menu will show you everything the program is capable of. For this method, click "PDF to Image".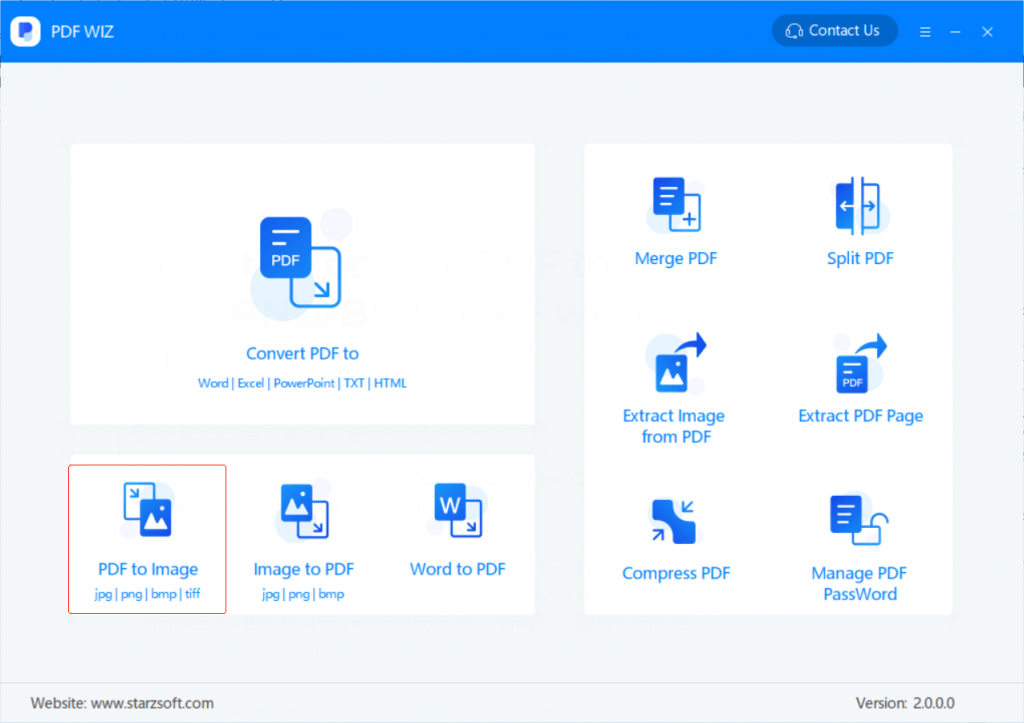 Step 2. Next, use the "Add File" button at the top-right to select the relevant PDF files, or simply drag and drop them onto the PDF WIZ window.
1. After adding the files, choose the image format and a save location at the bottom of the window.
2. To only convert certain PDF pages, click "ALL" in the "Sel Page" header. This will allow you to set a page range.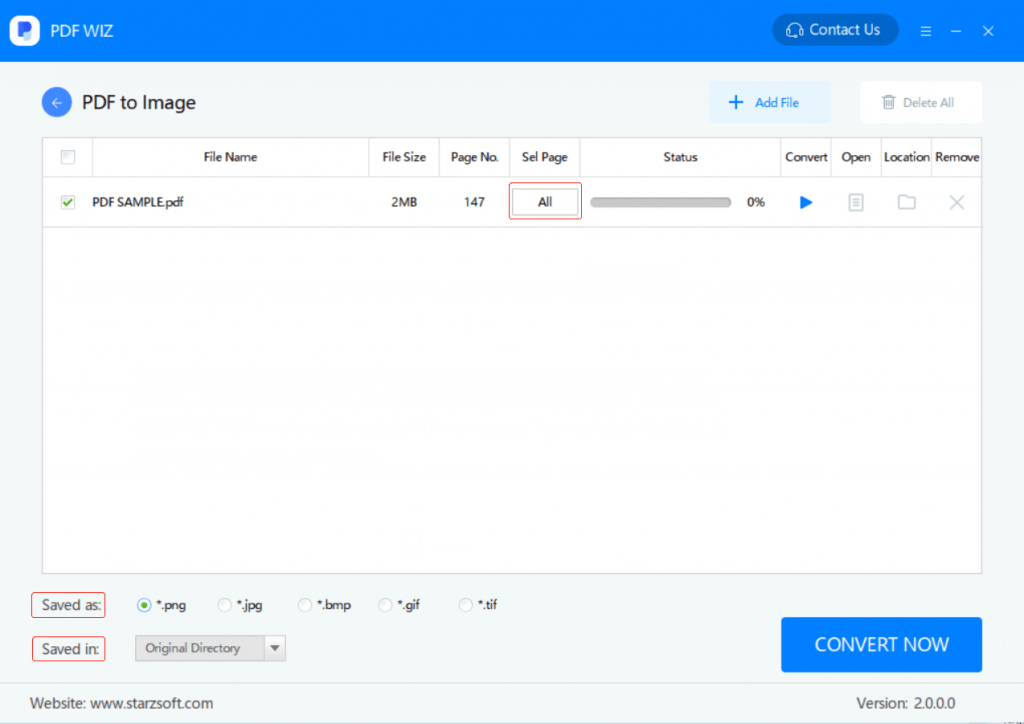 Step 3. Finish the process by clicking "Convert Now" and within seconds, your PDF will be converted to an image.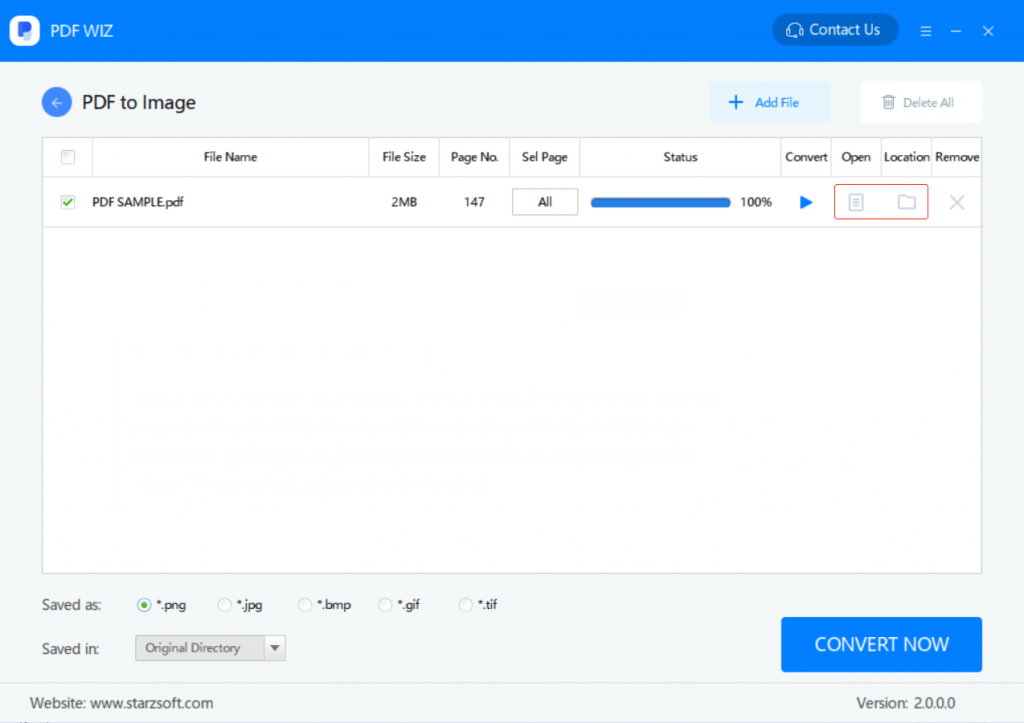 A great benefit of using PDF WIZ is that you get a lot of control of the process. This includes choosing an image format, bulk converting, and specifying a page range to convert. Overall, there's no doubt that PDF WIZ is the best PDF converter.
2. Online PDF to Image Converter – FreeConvert
Online converters are often the first choice for any type of file conversion. MP4 to MP3 is the most well-known type of online conversion (specifically for YouTube), but there are a number of PDF to photo converters too.
FreeConvert is one of those converters. It's free to use and you can access it on any computer, anywhere you go. Keep in mind that there are a lot of other online tools like this one, but FreeConvert is among the best online converters.
Step 1. Open a web browser and go to PDF to JPG.
Step 2. Click "Choose PDF Files" or drag the PDF onto the page to upload it.
Step 3. Click on "Convert to JPG".
Step 4. After conversion, click on "Download".
That's all there is to it. Using an online converter is understandably the most appealing option. quick access, no installation, and generally always free. But this preference changes when we consider the cons.
Cons
1. Sites store the files that you upload temporarily, putting data at risk
2. There is usually a reduction in the file quality
3. Online converters have upload limits
4. Downloading from converters could result in downloading a virus
5. Online converters have fewer features than software
3. Aiseesoft PDF to Image Converter
Aiseesoft develops a lot of great software, including the PDF Converter Ultimate. By downloading and using this PDF to photo converter, you can convert PDFs to various photo formats, Word and text files, and a lot of other file types. Key features you'll also get to try include:
● Uses OCR technology to detect a PDFs language
● Converts PDF to JPG, PNG, TIFF, and other file types
● Efficiently converts PDFs quickly and with minimal quality loss
● Edit a PDF before it has been output
● Offers the option to convert specific pages of a PDF
● Queue multiple conversions and preview the output file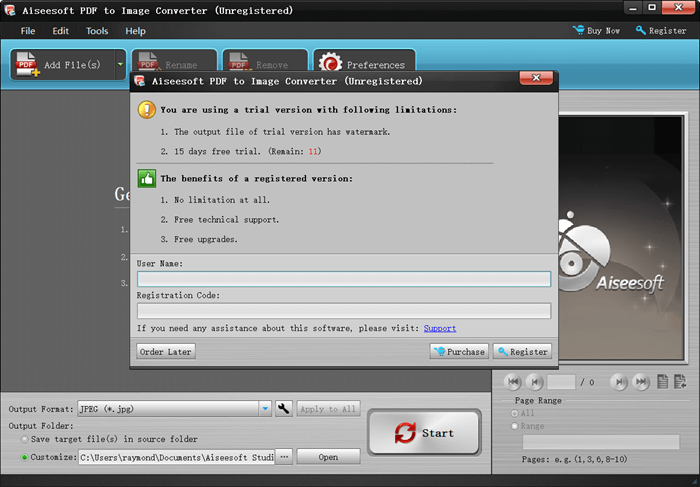 Does that sound like the converter you want to use? The free trial that's available will set you up with the basics but it's also very limiting. Only a handful of the features can be used in the free trial and the converter imprints a watermark too. That being said, the features above are a good indication of what a license holder can do with Aiseesoft PDF Convert Ultimate.
Cons
1. Using the trial version will add a watermark to images
2. Full feature access requires an expensive license
How to Choose a PDF to Image Converter?
Now that you've had the chance to read about some converting solutions out there, it's time to decide which PDF to photo converter is best for you. To assist you in making this decision, these are the details we suggest focusing your attention on.
Performance. Consider how fast files are processed by the converter, if it's easy to use for beginners, how many image formats it supports, and if converting in bulk is an option.
Safety/Privacy. With downloadable software, it's unlikely that privacy breaches will become a problem unless your computer is infected with a virus. Online tools are significantly more likely to have privacy leaks which make your sensitive data vulnerable to hackers.
Price. Whether or not you have to pay to use the converter is important simply because not everyone can afford to buy a license.
By focusing on each of these things you are able to make an educated decision and find a PDF converter that works for you and suits your needs.
Conclusion
Hopefully, the idea of choosing a PDF to image converter is now less daunting to you and with the help of our advice above, you can pick the best solution. Our recommendation is to use StarzSoft PDF WIZ, based on several factors. it's free, has a lot of great features, and extends to more than just a converter.