Trying to find a PDF editor that includes a nice selection of tools can be a difficult task. There are usually reasons to not use the solutions we find – it's too expensive, the features you need aren't included, or it's not available for Windows/Mac. For office workers who desperately need an editing tool, this is irritating.
PDFescape is one option and it's considered by many as a top PDF toolkit. However, in this PDFescape review, we're going to dive into both the positive and negative traits that this editor has and find out if it's worth your time to use it.
Part 1. PDFescape In-Depth Review
1
What is PDFescape?
PDFescape is a combination of an online PDF toolkit and a desktop application. Both of these platforms are packed with tools such as a PDF editor/viewer, PDF password protection, PDF annotating, PDF converting, PDF form creation, and a lot more.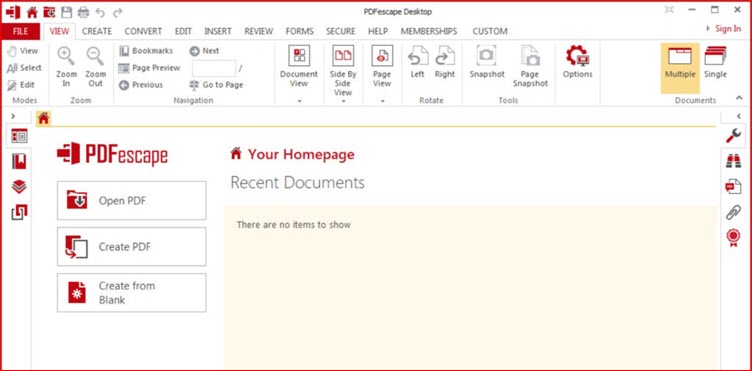 Using a free account is possible, although this limits users to only certain features of the online platform. In comparison, a paid account will get users access to the desktop application and a lot of other features (such as compression, electronic signatures, and redactions).
2
Pros and Cons of PDFescape
+ POSITIVES
Free accounts can be used to access some of the online PDF toolkit's features
Available as both an online platform and desktop application
Past PDF files are stored (for a short amount of time, differs per plan)
Over 300 file formats can be converted to PDF
– NEGATIVES
The full version of PDFescape requires a monthly subscription
PDFescape's free platform has ads on the interface
More expensive than other tools that do the same job as PDFescape
3
Is it Safe?
Yes – after running some variation of tests, we can safely say that PDFescape is a safe solution.
Files that are uploaded and processed with PDFescape are transferred through a secure network. The resulting files are also free of any viruses or malware.
Furthermore, the desktop application is clean too. The program itself does not get flagged by antivirus software, neither do the files that the software produces.
4
Pricing
Depending on what features you require access to, there are 3 subscriptions you can choose from to access PDFescape.
1. PDF Free. Basic access to the online PDF editor.
2. PDF Premium. $5.99/month, access to the online and desktop software.
3. PDF Ultimate. $8.99/month, access to the online and desktop software, and can publish PDF forms.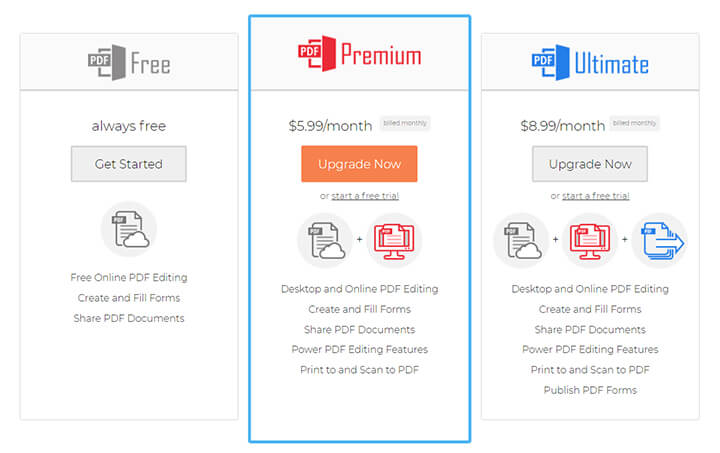 The obvious factor to consider is that PDFescape uses a monthly subscription system. So, instead of a one-off payment, you'll be paying a fee every month to use this PDF platform. This is something to keep in mind when deciding on a PDF toolkit to use.
5
Performance
When looking at the performance in our PDFescape review, we had to consider the online and desktop versions of the toolkit.
The online platform is very straightforward and easy to access from any computer, eliminating the inconvenience of having to install the program on every computer you want to use it on. One problem is that since files need to be transferred, there is a limit on the file size that you can upload.
The desktop application is pretty simple too, and understanding the different features isn't a hassle either. Something that makes the desktop version easier to use is that it has a similar design to Microsoft Office programs, which most people are familiar with.
Part 2. Top 2 PDFescape Alternatives
In the second part of our PDFescape review, we'll shift our focus onto the best alternatives to try instead. Our team have selected the 2 toolkits which we believe are superior to PDFescape.
1
PDF WIZ
Whenever it comes down to PDF toolkits, PDF WIZ is a name that props up time and time again. This is because of how many tools are included, how easy it is to use, how effective it is in processing PDFs, and many other reasons. Key features of PDF WIZ are: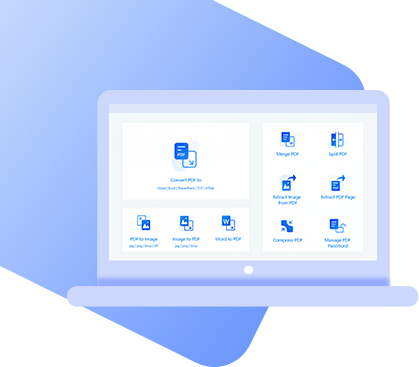 Protect important PDF files with password protection (or remove passwords)
Convert PDF to Word, Image, HTML, and several other formats
Combine multiple PDFs or separate a single PDF into multiple files
Extract individual images and pages from a PDF document (without the original)
Minimise a PDF document's file size with Compress PDF
And on top of all that, PDF WIZ is completely free. There isn't a paywall, all of the features are available to everyone for free, and there isn't a paid version.
To give you some insight into how PDF WIZ works, here's a quick breakdown of how to convert a PDF to Microsoft Word file:
Step 1. Launch PDF WIZ on your computer. Once the program loads, click the "PDF to Word" feature.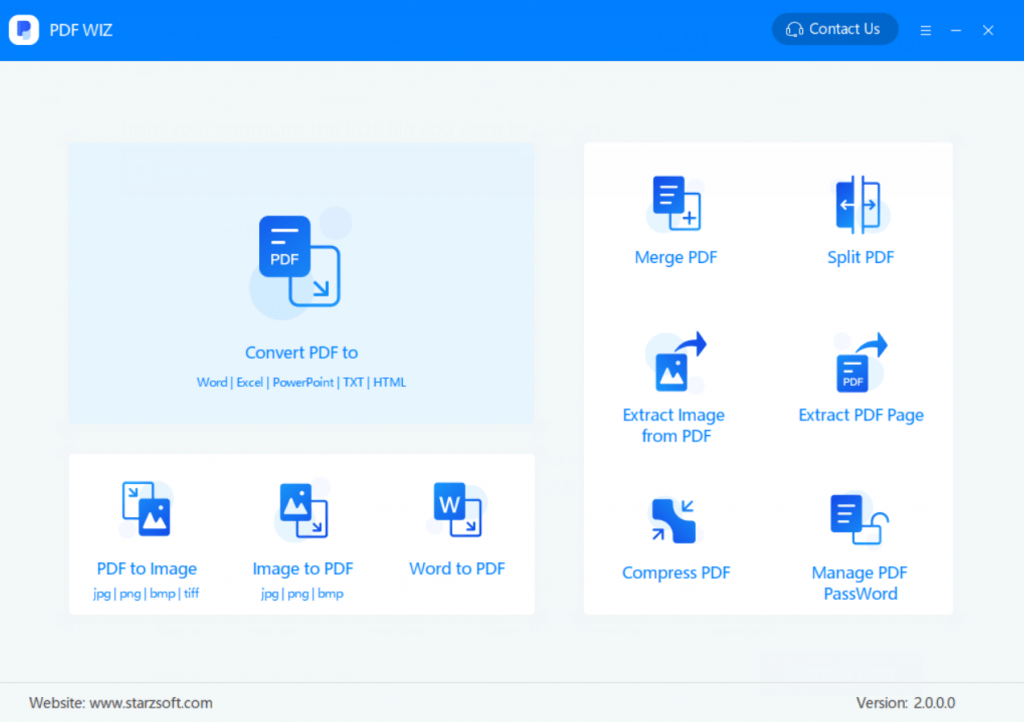 Step 2. Click the "Add File" button and select the Word document to have converted. You can also drag and drop the file onto the window.
1. If you only want to convert a section of the Word document to PDF, click "All" and set a page range.
2. Choose the destination folder for saving the new PDF by clicking "Original Directory" at the bottom-left of the window.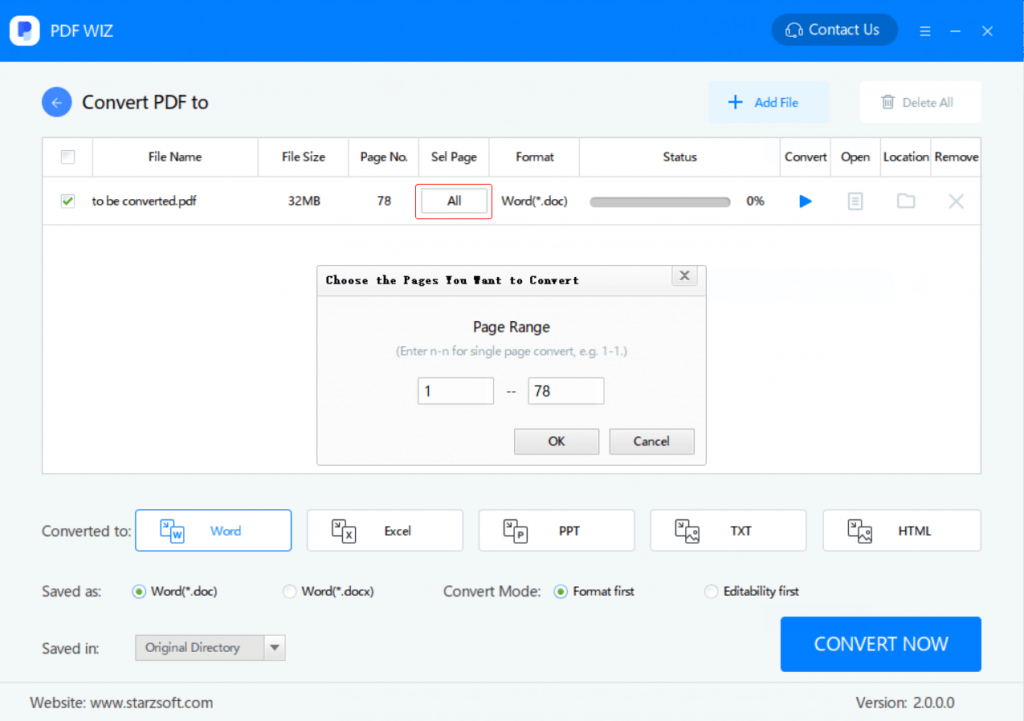 Step 3. Finally, click "Convert Now" and when the conversion is complete, you'll have a new PDF version.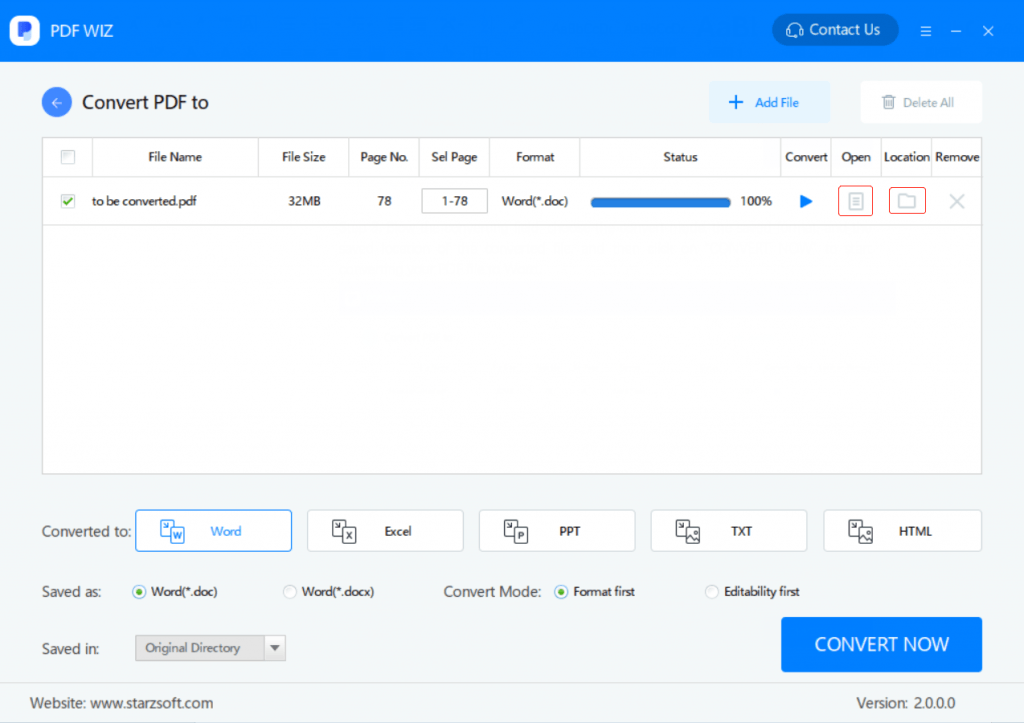 This whole process takes less than a few minutes and isn't difficult to follow. Remember that these steps are similar for the other features that PDF WIZ provides too.
2
Adobe Acrobat
Adobe Acrobat is another worthy software for managing PDF files, and it has a good amount of features to offer too. Now, there is a free trial available with little limitation on the program's abilities. However, to get long-term unlimited access, you'll require a subscription of roughly $20/month.
Even though you'll need a subscription to access this software's arsenal of PDF tools, here are the key features it provides users with:
PDF documents can be created from scratch or edited
Word, Images, and HTML files can be converted to PDF files
PDF pages can be easily removed, rotated, or moved
PDFs can be shared and signed via an eSignature
PDF password protection and encryption can both be added
Cons
Known to have performance problems on less powerful computers
The default interface can be confusing and most users have to spend time rearranging it
Adobe Acrobat is not compatible with ePub documents
Crashing or infrequent freezing is a known problem for many users
Conclusion
Now that we've highlighted the glaring problems with PDFescape, and presented some reliable and very useful alternatives, you can make up your mind about which software to use. Our preference, and recommendation, is to use PDF WIZ instead.
With this free toolkit, you're given access to so many other tools that PDFescape doesn't provide and aren't charged a penny. At the very least you should download it and try a few of the features – you'll be blown away by how well it works!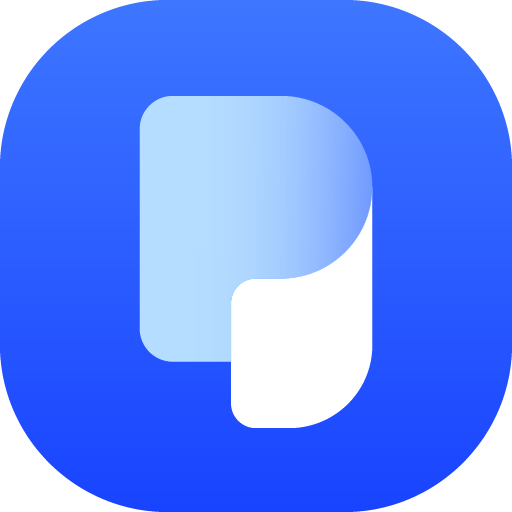 PDF WIZ
Your All-in-one PDF Management Tool