We've all felt our phones are small or too close and that it's unhealthy for our eyes when using them for extended periods.
Well, that's why we need mirroring apps. And today, we'll be reviewing Wondershare's MirrorGo software.
It's one of the best mirroring tools available for both Android and iOS that allows you to mirror your phone's screen and control it from your PC.
Isn't that great? Read on to find out why it might be what you need.
What's MirrorGo
MirrorGo is a screen mirroring software from Wondershare that not only allows you to mirror your phone screen onto your PC but also to control and transfer files between the two devices.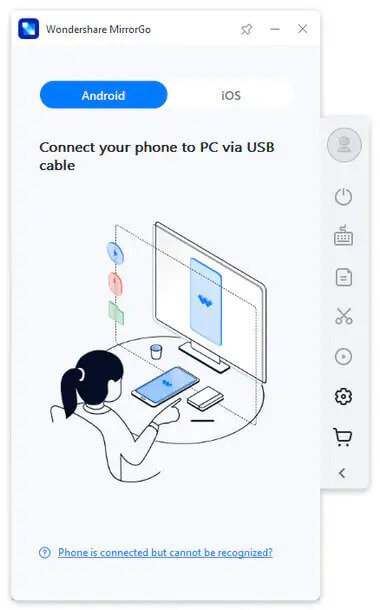 Is MirrorGo free?
No. MirrorGo is not free, and its pricing is as follows.
Monthly: $19.95 /monthly auto-renewable fee for unlimited mobile devices or 5PCs.
Yearly: $3.33 /month fee billed yearly at $39.95 for unlimited mobile devices or 5PCs.
Quarterly: $9.98 /month fee billed quarterly at $29.95 for unlimited mobile devices or 5PCs.
MirrorGo Pros and Cons
Pros
The app is convenient, fast, and easy to use when mirroring your phone's display to a bigger screen.
It's compatible with a wide range of both old and new Android and iOS devices.
Allows you to control and manage your phone from the linked PC's display.
You can record your phone's screen and save the recording on your PC.
It's easy to install and set up.
It has an excellent feature that allows you to take screenshots easily.
Cons
MirrorGo relies on WiFiWiFi and a USB cable; a slow connection creates a lot of lag and latency within the system.
It's a bit costly given that there are other cheaper but less-sophisticated alternatives on the internet.
MirrorGo has excellent features that allow you to play phone games with your PC controls, transfer files between devices, record your phone screen, etc.
But it isn't the only screen mirroring software available.
Here we'll be looking at its alternatives and why they may better suit you.
Best Alternative – StarzMirror
StarzMirror is the best alternative to MirrorGo but still falls short as it doesn't avail the same level of control as the latter on iOS devices.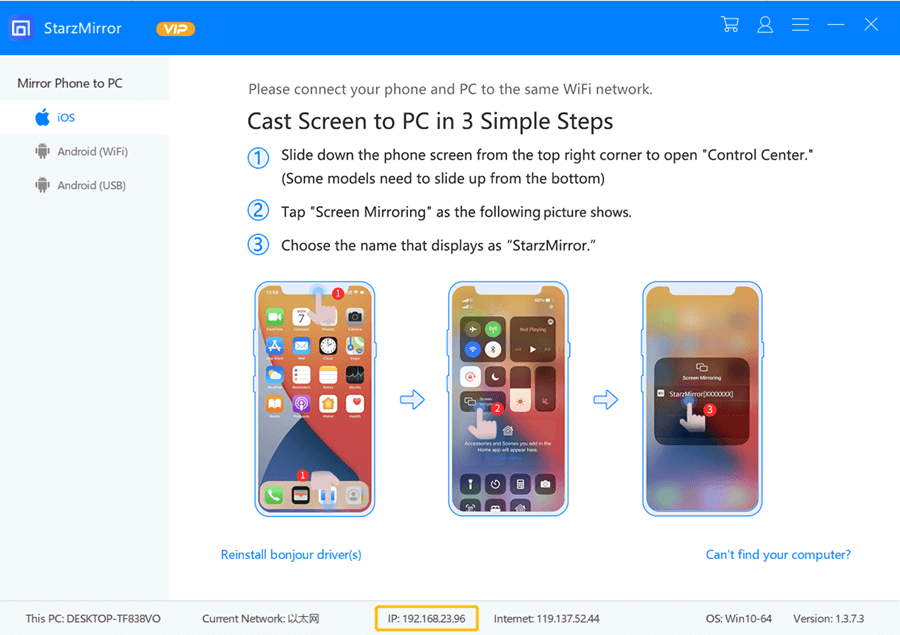 It's fast, reliable, and allows mirroring between linked devices via WiFi and USB. You can then control your device without needing an emulator while mirrored onto a bigger screen.
Here are its pros and cons:
Pros
You can easily mirror Android/ iOS screens to your PC
You can use a free but limited version before deciding to buy.
It is compatible with a wide range of iOS and Android devices.
It has a data transfer feature that allows a smooth data transfer between linked devices.
You can control your Android device from a connected PC.
Cons
Due to iOS restrictions, you can't control iPhones similar to Android devices.
It doesn't support Mac computer
StarzMirror has excellent features that will transform your screen-sharing experience beyond imagination.
Here are some of its features.
Mirror Phone Screen to PC
StarzMirror enables you to mirror your iOS/Android phone screen to the PC via WiFi and USB data cable. Therefore, you'll be able to read and watch your phone's display screen from your PC in real-time.
Control Your Phone on the PC
No mirroring software enables you to control your Android devices when operating on a PC screen than StarzMirror.
It allows you to access and use phone applications, Whatsapp messages, play games, watch videos, and reply to SMS with just a computer mouse.
Map Keyboard to Your Android
If you like playing your Android games on a bigger screen but struggle to coordinate between the various controls on your screen, you should try StarzMirror.
The software allows you to edit and customize keyboard keys for greater convenience while playing.
Additionally, you can use the "Game Keyboard" feature to control any Android mobile application from your phone screen.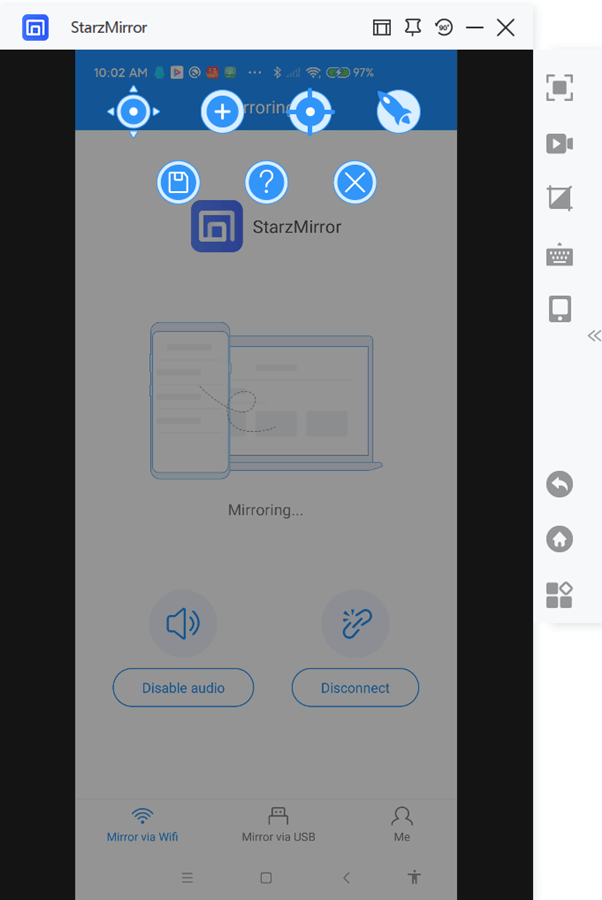 Share the Clipboard between the PC and Devices
StarzMirror utilizes the clipboard feature to allow sharing of screenshots and data between linked devices. All you got to do is copy (CTRL C) and paste (CTRL V), and you'll have transferred your files from one device to the other.
For example, you can save screenshots to the clipboard, then copy and paste them.
Transfer Files Between Android and PC
StarzMirror allows transferring files between linked devices by dragging. You can share videos, photos, and documents such as Excel, PDF, Word files, etc., between your phone and PC.
Record Phone Screen and Take Screenshots
With StarzMirror, you can record your Android device's screen and save the recorded videos to your PC. It is a great feature, especially when your phone is low on storage.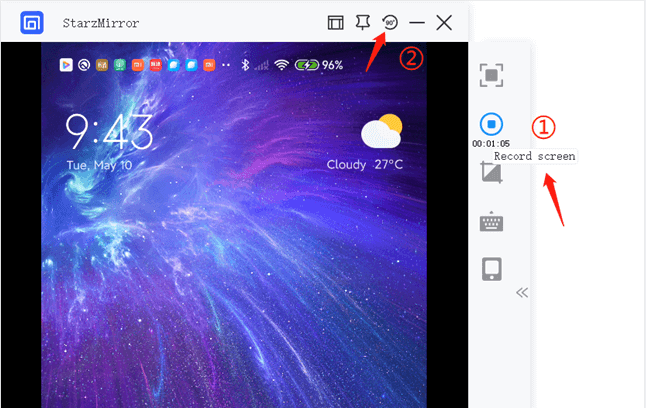 You don't need to spend time and resources looking for data-sharing software if you have StarzMirror.
How to use StarzMirror with iPhone and Android
iPhone
1. First, download the software and follow the steps below.
2. Confirm to see whether your iPhone's screen mirrors onto the PC.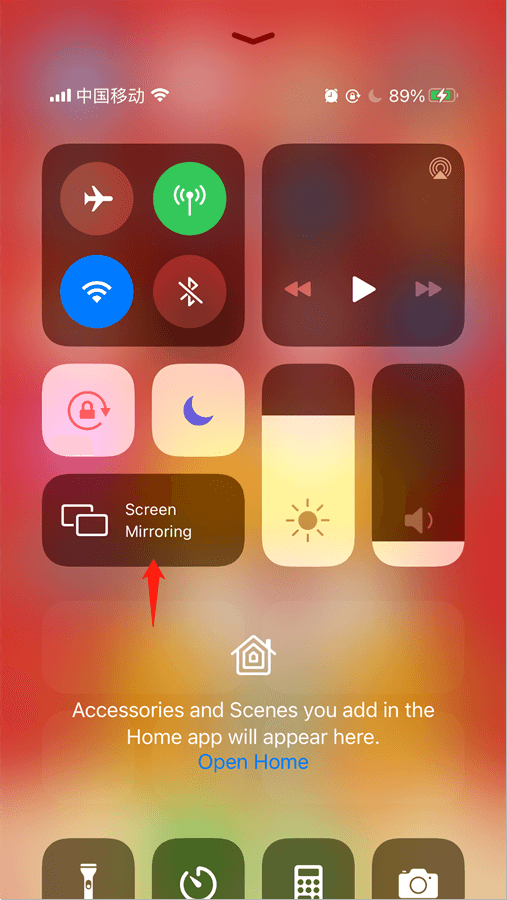 3. Select the device that start with "StarzMirror."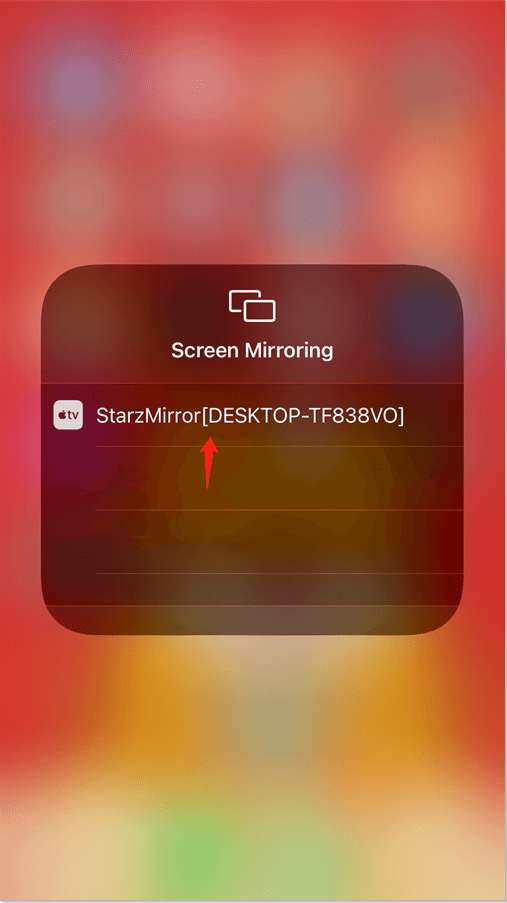 Enjoy!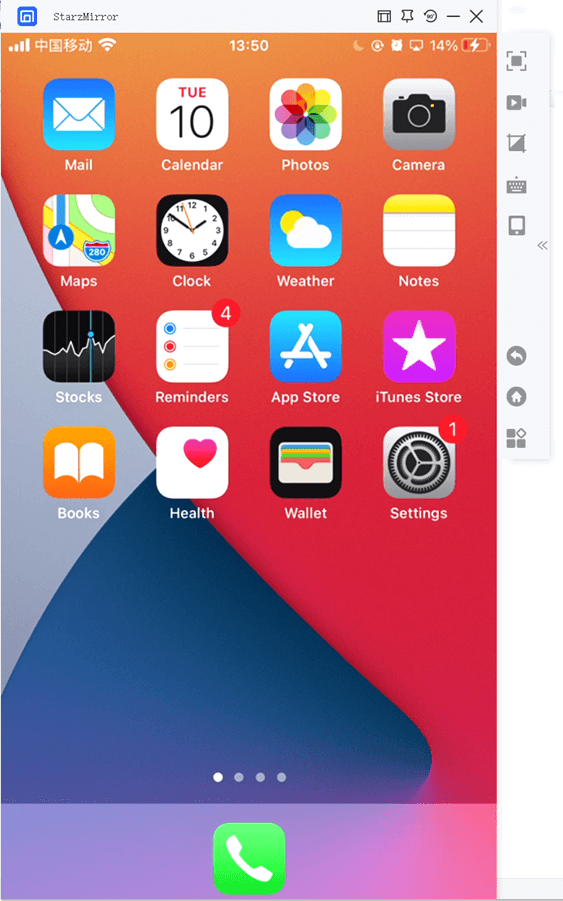 Android
1. Install StarzMirror on your PC.
2. Connect your device to a PC via USB and select the "Transfer files" option in the "Use USB to" option from your Android device.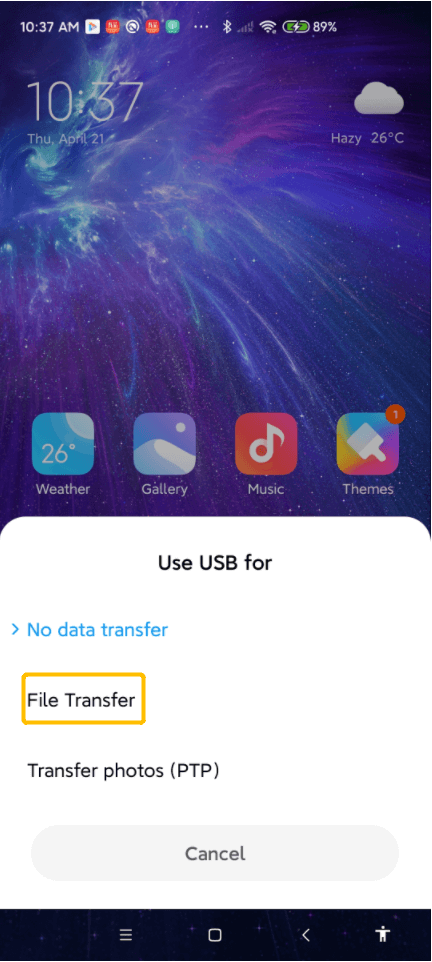 3. You'll then go to the Developer Options from your Android Settings and enable USB Debugging.
4. You can then control your phone after mirroring its screen.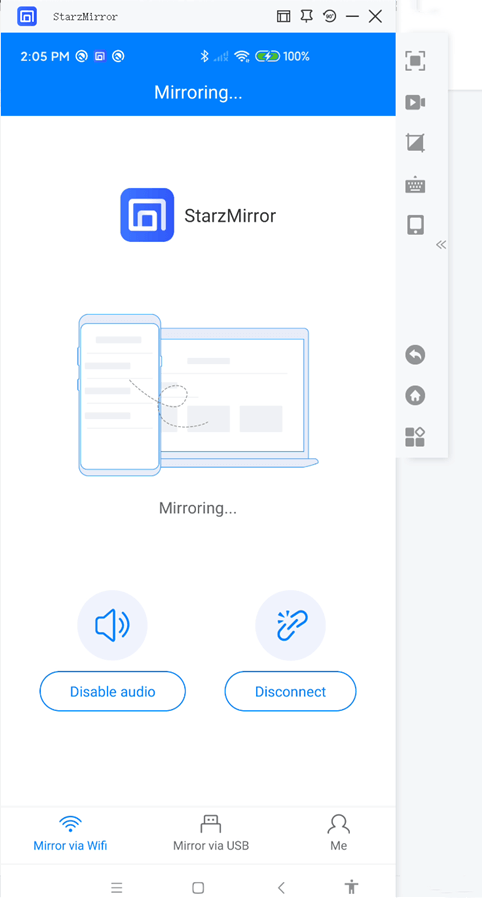 AirServer
The AirServer is an advanced screen-sharing technology that combines AirPlay, Miracast, and Google cast to transform your PC, big screen, or projector into a universal mirroring receiver.
And, it just doesn't mirror your phone to a PC; it can wirelessly mirror your PC, Mac, iPhone, iPad, Chromebook, Android, and Nexus devices' screens to even bigger screens.
However, AirServer doesn't have other fancy features that can attract more mirroring enthusiasts to the technology.
Pros
It allows for smooth streaming of videos and music.
It offers display customization options such as screen brightness and contrast.
It will enable you to change hue, contrast, and add voiceover to your recordings.
Offers AirServer Connect application to allow for device discovery across subnets.
Cons
It doesn't have an option to show or hide connected devices. As a result, it will automatically display all connected devices.
AirServer doesn't support Digital Rights Management (DRM) protected content. Therefore, it may not support some streaming apps like Disney+, HBO, Apple TV+, Hulu, and Netflix.
Final Remarks
MirrorGo is an excellent software for mirroring phone screens to PCs or bigger screens. And, as we've seen, it has some shortcomings that may ruin your experience while using it.
But generally, be careful when sharing your screen with your colleagues, especially during presentations.
Ensure to turn off notifications, clean your phone, and that you customize your phone in a way that makes it easier for you to share its screen.