There's a lot to love about Netflix and its massive collection of films, TV series, documentary content, and the like. However, if you want to get the most from Netflix, it's well worth considering the different options available to you for streaming your favorite content.
And with this in mind today, we're considering some of the key things you need to know about streaming content with the Netflix app on PC; hopefully, this might help you get the most from your own streaming needs, too. And remember – there's no single solution that's ideal for everyone, so if you're unsure about the most suitable solution for your own needs, feel free to contact our experts and we'll do our best to help you find the ideal option.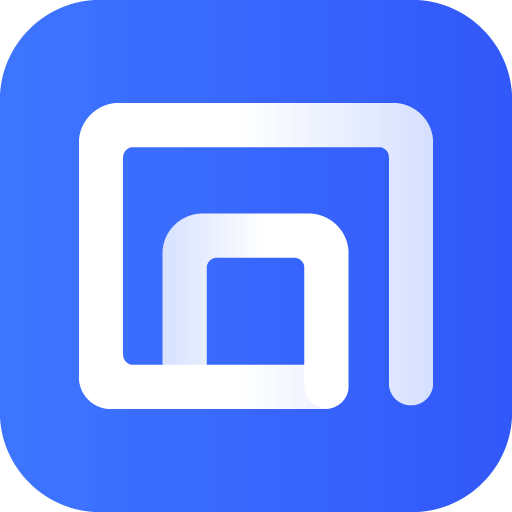 StarzMirror
Your Best iOS/Android Screen Mirror Software
Why Should I Use a Video Sharing and Screen Mirroring App to Play Netflix on my PC?
Before we go any further, we should start by clarifying an important point: screen mirroring may be a more suitable way of sharing your Netflix content than downloading the Netflix app directly onto your PC. There are several different reasons for this.
Of course, the benefits of watching content on your PC rather than your mobile device are pretty easy to understand.
Simply put, thanks to the bigger screen, using the Netflix app on your PC device rather than on mobile can help you make the most of your favorite content and shows.
Don't miss those little details the producers sneakily hid in the background that may be hard to see on a small phone screen; mirroring your phone screen onto a PC may be more effective.
It's also worth considering that if you're planning a night with your friends, mirroring your Netflix app from your phone to your PC may offer further benefits.
Indeed, this simple change will allow you to make the most of your films and content by streaming onto a larger screen, so everyone can get a clear view (rather than leaving some of your group missing out because they can't clearly see the phone screen).
How Screen Mirroring is Ideal for Sharing Your Netflix Screen
In any case, there are a few options you could consider here. Of course, you could download the Netflix app directly onto your PC, but this may come with complications.
Your PC may not be compatible with the Netflix app, for example, or you may have experienced complications. Or what if you're trying to watch your favorite Netflix content at someone else's house, and you don't want to have to sign into your Netflix account from their computer? Well, screen mirroring offers the answer.
Through screen mirroring,
You can easily share your phone screen directly onto a larger PC display, which makes it much easier to see the content and make the most of the shows and documentaries.
With screen mirroring, you also don't need to log onto your Netflix account on someone else's PC device, and as a further point of benefit, you can even use screen mirroring for other activities as well.
So, if you wanted to play your favorite mobile games – such as Ark: Survival Evolved – for free on your PC after, you could always simply stream them from your mobile phone onto your PC device for an incredible experience overall. Definitely worth considering – after all, there is a lot to love about screen mirroring, and sharing your favorite Netflix content is only one such option.
Netflix App for PC Not Working on Windows 10
Another common reason why a growing number of people are turning to screen mirroring for their favorite Netflix films, shows, and documentaries is because of errors with the Netflix app on Windows 10.
Indeed, if you experience that the Netflix app for PC is not working on Windows 10 – or potentially even on Windows 11 – screen sharing your mobile app may offer a far quicker solution than waiting for the issue to be resolved by the Netflix team.
So, if you don't want to miss out on watching your favorite shows, we definitely recommend considering a screen mirroring app such as StarzMirror.
Get Netflix App for PC Using a Screen Mirroring App – StarzMirror
With literally thousands of shows and different types of content to watch, there's a lot to love about Netflix – but there's no point watching your favorite shows on mobile if they're unlikely to be effective and large enough to give you the full story.
With this in mind, instead, using a screen mirroring app such as StarzMirror to share your Netflix app onto your PC could be a far better solution.
There's a lot to love about StarzMirror, too.
Not only is it an effective tool across many different mobile and PC types and operating systems, but it also allows free control of your mobile screen directly from your PC – a definite benefit.
Plus, the app even features highly advanced tools, such as fully seamless operations, in-app displays, and audio and conferencing software to make playing your favorite games or streaming your favorite films easier than ever before.
Whether you're running an iOS or Android device, StarzMirror might just be the tool you need and deserve.
How to Use StarzMirror
Using StarzMirror is, fortunately, exceptionally simple. There are a few different ways you can go about connecting the StarzMirror app to your device. Still, for the easiest experience, if you're not overly confident with tech, we recommend simply connecting your devices with a USB cable.
Step1: First, launch the app on both your iPhone and PC device, and then connect the two together via a USB cable.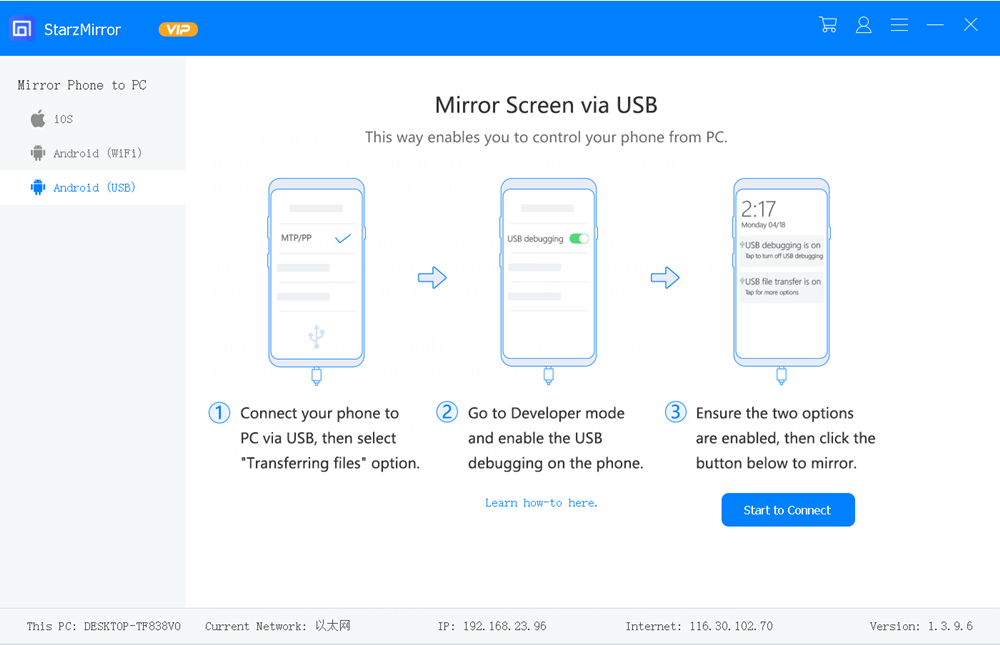 Step2: Trust both devices when the option appears and install the relevant drivers (if they are not already installed).
Step3: Then, your screen mirroring efforts should be established, and all that's left to do is pair your PC and iPhone devices and controls from your PC.
Here's the detailed User Guide of StarzMirror.
It's exceptionally easy – that's perhaps why so many people choose screen mirroring for their own content-sharing needs. So, if you've been having trouble with your normal Netflix app for your PC device or if you don't want to log in to a friend's PC device on your Netflix account, screen sharing may be the ideal tool instead.
Is StarzMirror Effective for a Lag-Free Experience?
One of the most common issues that users report with screen sharing software is lag.
Fortunately, StarzMirror has been designed with this issue in mind, working to ensure that every Netflix app streaming experience for PC is of a high-quality and free from stuttering, lags, or delays that could impact your enjoyment of the film or show.
Other Ways to Get the Netflix App Working on your Windows 10 PC
At this point, we've considered the key benefits of watching your favorite Netflix shows and content on PC and the benefits that using a screen mirroring app such as StarzMirror might provide in this regard. But are there any other options to use the Netflix app for PC?
Well, there are two key options you could consider here. You could, of course, simply access the Netflix website through your device's normal system, such as Microsoft Edge or Google Chrome.
However, this may be a little longwinded in some cases, and you might find that if your Windows PC app isn't working for Netflix, the Netflix website app for PC may also be ineffective (depending on the type of error). In these cases, screen mirroring from your mobile app will likely still be more efficient.
Alternatively, you could consider using an emulator such as NoxPlayer. Emulators may be more prone to freezing, crashing, and lagging than screen mirroring apps due to the massive demands they put on your computer's CPU.
However, an emulator, such as NoxPlayer, can still be an effective way to play your favorite films through the Netflix mobile app directly on your PC if you're not completely sold on the idea of screen mirroring.
However, the emulator option is most effective if you do not have a mobile device that you can directly mirror from; otherwise, we'd still recommend using the StarzMirror tool for a smoother mirroring experience.
Final Thoughts
So many of us love Netflix, but when it comes to paying a monthly subscription cost, you want to ensure that you're getting the most out of your Netflix app subscription.
Fortunately, the StarzMirror screen mirroring tool can help with this, directly mirroring your phone screen onto your PC device for an excellent and easy-to-use solution.
Plus, screen mirroring is effective for so much more than just sharing your screen, which makes it a versatile and valuable option to consider if you've been looking for new ways to make the most of your favorite mobile apps and games without the hassle.
StarzSoft Team
If you have any further questions about screen mirroring apps and how they work, please don't hesitate to contact our experts here at StarzMirror today, and we'll do our best to help out where we can. After all, there's a lot to love when it comes to screen mirroring apps, and our innovative tool might be just the option you need to enhance your own screen mirroring efforts.