One of the biggest innovations in connectivity has been the ability to screen share from your phone to a different screen or monitor. This allowed everyday users to mirror their phone to another screen and potentially share what they are watching with others around them.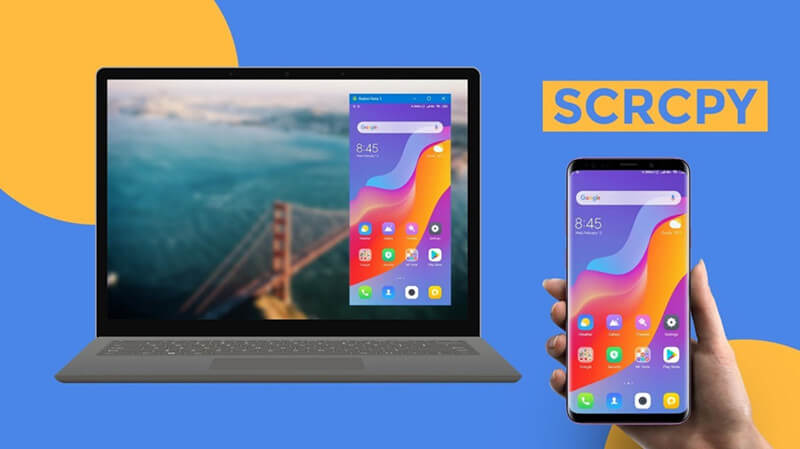 Nowadays screen mirroring can easily be achieved with the use of an app or software. One of the best free software to use for this is called Scrcpy.
What is Scrcpy?
Scrcpy is a free and open-source mirroring tool that can help you mirror the screen of your android device on your Desktop. With the help of this software, your phone screen becomes just another window on your desktop. When the two are connected you can run any application installed on your phone, share files between the two devices and even use your computer to complete tasks on your phone.
1. What is the Use of Scrcpy?
Scrcpy is so much that a simple phone mirroring application. This tool can help you fully manage your android device from your laptop or PC. This means that you will never have to miss out on any of the notifications that are normally available on your phone.
As a full tool for mirroring and managing your Android device, you can use your PC to complete tasks on your phone when the two are connected. Scrcpy can open your phone screen as an extra window on your computer. Using that window, you can run apps and control everything available on your phone.
You can also use this tool to share files between the two devices and even record what you are doing on your phone through your computer. Using Scrcpy can truly optimize your workflow by only needing to access one device to complete all of your tasks.
2. What are the Requirements For Scrcpy?
If you want to use Scrcpy you will need to have an android device that is running Android 5.0 or later. This is the only real limitation in the requirements for using the software.
To be able to connect your phone to your pc the first time you will also need to have a USB cable.
You will also need to enable USB debugging if you want the two devices to be able to properly communicate with each other.
3. What Features are Available with Scrcpy?
Several features make Scrcpy unique among the sea of available applications for screen mirroring. These mostly relate to the fact that Scrcpy does a lot more than just screen mirroring. Instead, it allows users to have full control of their android device through their PC. As such the tools and features made available through this software is a lot more extensive.
1. File Sharing
2. Screen Recording
3. Low Latency time
4. Number of mirroring options including read-only, screen off, and show touches
5. Connection options include wireless, multi-device, and even SSH tunnels
6. Displays the device screen as a window for lightness
7. Ability to open all apps available on an Android device
8. non-intrusive
9. Very quick start-up
10. Different input controls to enhance settings and performance
4. Is Scrcpy Safe to Use?
Scrcpy is open-source software that is free to download and completely safe to use. However, when it comes to downloading the software there are certain risks posed if downloaded from an unsafe website. As such, the first step to using Scrcpy is always finding a reputable site to download the software from.
Once the software is downloaded and installed you will quickly notice that it is extremely light and it will not affect your devices at all in the long run. To run Scrcpy you will not need to allow it to have root access.
How to Use Scrcpy Tool?
Setting up Scrcpy will vary slightly based on the operating system of your PC. Regardless of the type of system that you are running the first step will always be the same. To successfully install Scrcpy you will first need to download it.
1. How to Set up Scrcpy?
Step 1: Download Scrcpy. As this tool is open-source the only thing that you will need to ensure during the download process is that you are using a secure website.
For Windows:
Step 2: Once downloaded, extract the Platform tools a folder of your choosing on your PC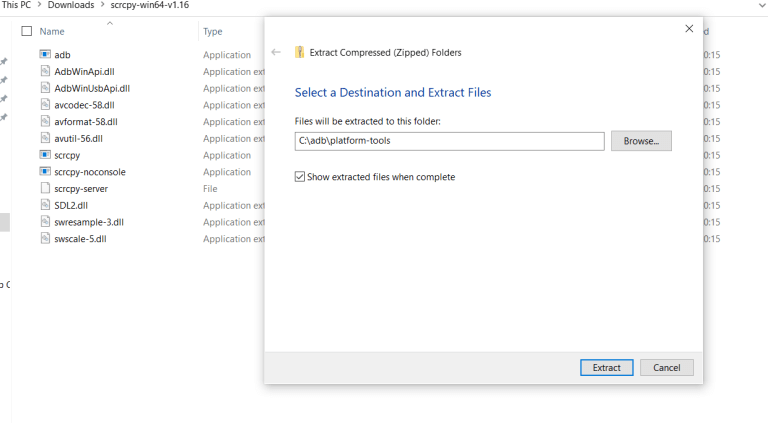 Step 3. On your Android phone go to settings and Enable Developer Options.
Step 4: Turn on 'USB Debugging'
Step 5: Use a USB cable to connect your phone to your PC
Step 6: Press Shift and then right-click anywhere in the Platform Tools software
Step 7: Select the option that opens the command window here
If you are using Windows 10 the option will say 'Open PowerShell here' instead.
Step 8: In the open command window write ' Adb devices or if you are in a PowerShell window write '.\adb devices' or ' .\adb.exe devices '

Step 9: On your phone authorize the ADB connection
Step 10: Select the option that reads "remember this PC"
For Linux
On Linux, download the software directly and install it using the appropriate command based on the Linux operating system you are using.
You can also use snap to download Scrcpy.
For macOS
On macOS, you can use Homebrew to directly download Scrcpy.
To install it you will need to write the following command 'brew install Scrcpy'.
2. How to Operate Scrcpy?
Once Scrcpy has been fully installed you will be able to access your phone from your PC.
To do so all you will need to do is open the software and start using your mouse and keyboard to control your smartphone through the screen in the window. Usually, you will also need to use either your mouse or keyboard to unlock your smartphone by inputting your password.
To make the most out of Scrcpy you can learn some of the available shortcuts that allow you to carry out functions on your device faster.
The Advantages and Disadvantages of Scrcpy
Pros of Using Scrcpy
Very low latency
Shortcuts make completing tasks faster
File sharing is quick and easy
Your phone is available as a standalone window on your computer
Very quick start-up
Cons of Using Scrcpy
Audio forwarding is not supported
Complicated initial installation
Finding a reputable site to download from can take time
Alternative: Mirror iPhone / Android Phone to PC with StarzMirror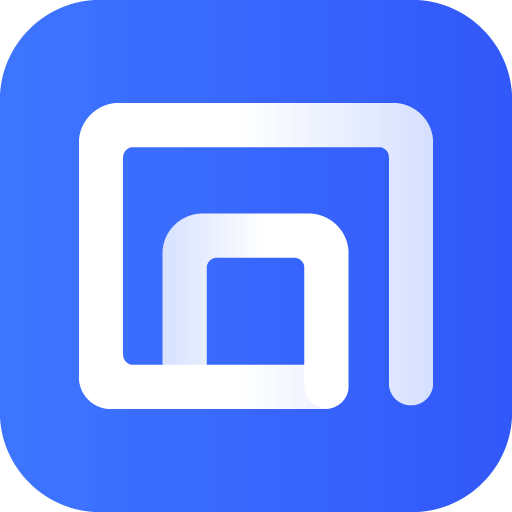 StarzMirror
Your Best iOS/Android Screen Mirror Software
StarzMirror is an app that mirrors up to 6 iPhone / Android phone to PC at the same time. By using it, you can play android games, watch movies, send messages on a PC, and control android phones from a PC with a mouse and keyboard.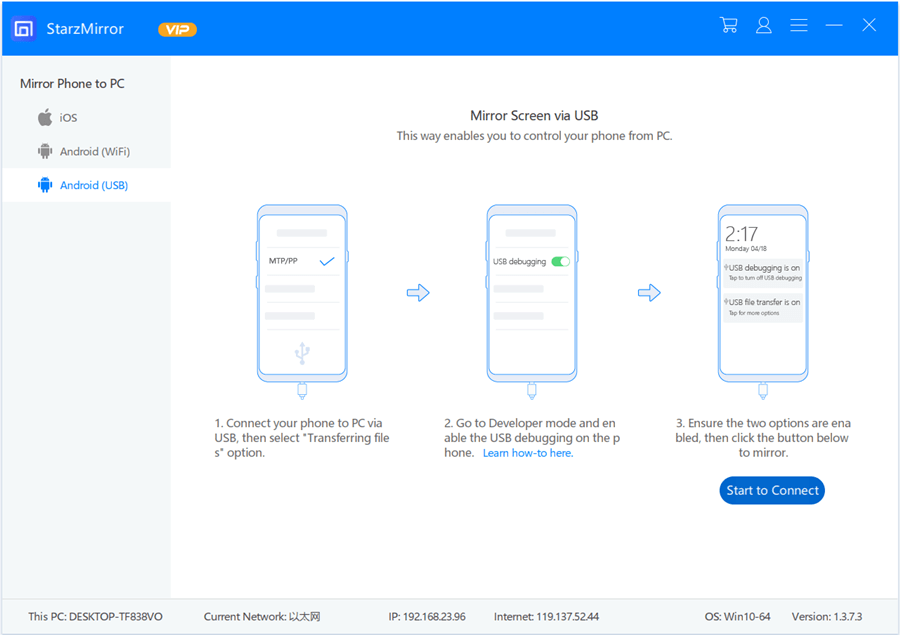 You may like: Know more about StarzMirror and how to use it.
Conclusion
Scrcpy is a great open-source tool for those who want to have access to their Android device through their PC. However, while the software offers some great features its overly complicated installation makes it harder for the average user to use scrcpy.
The lack of audio forwarding means that if you want to use the software to watch a film or video on a bigger screen you will still be stuck with your phone's audio output. When compared to other similar software scrcpy is lagging a little bit behind especially when compared with the tools that exist on both Windows and macOS devices for smartphone mirroring.