The Calendar app is pre-installed and empowers you to keep track of upcoming events. All iPhone users have appreciated this app as it helps them remember the important events of their friends and family members.
Unfortunately, scammers have used the Calendar app to promote scan sites and various ads.
If something unusual appears on your iPhone calendar, you're facing an iPhone calendar spam issue. It is annoying for various reasons, and we'll reveal the root causes of this issue.
Part 1: Why am I Getting Spam in My iPhone Calendar?
If you have encountered iPhone calendar spam, it is because you've unintentionally subscribed to a spam calendar. It might have happened due to pressing on a malicious notification. Several people start receiving spam messages after visiting adult and illegal streaming websites.
These types of sites redirect you to malicious web pages. Whenever you visit an illegal or adult website, a pop-up might appear saying subscribe to the calendar.
Or you can also receive the pop-up urging you to '"Add Calendar Subscription". When you subscribe to these spam calendars, you'll start having spam Calendar notifications.
Part 2: How to Delete iPhone Calendar Spam
If you're worried about iPhone calendar spam, you can remove the spam by following the guidelines below.
1. For iOS 14.6 and Later
1. Launch the Calendars app and press on "unwanted Calendar event.""
2. Navigate to the bottom of the screen and then press on the "Unsubscribe from this calendar" icon.
3. You'll need to press "Unsubscribe" again to confirm the action.
2. For the Earlier Version
1. Open your Calendar app and tap on the "Calendars" icon from the bottom of the screen.
2. If you find the calendar you don't recognize, you'll need to tap on the "Delete Calendar" icon.
If doing so doesn't help you eliminate the "calendar spam iPhone" issue, you can try deleting the calendar subscription. Here's how to do it.
1. Launch the Settings app and tap on the Calendar icon. Next, press the "Accounts" option and select "Subscribed" calendars.
2. Tap the Delete Account icon after finding the calendar you don't recognize.
Part 3: How to Fix the iPhone Calendar Not Working Issue
1. Use Starzsoft Fixcon When Calendar Spam iPhone

The best way to fix the calendar not working issue has to be StarzSoft Fixcon. It is a mind-blowing third-party tool that empowers you to fix 150+ iOS problems with ease.
Adding to that, Fixcon doesn't shy away from fixing all the iOS issues without causing data loss, and that speaks volumes of the credibility of Starzsoft Fixcon.
1. After visiting the official page of Starzsoft Fixcon, all you need to do is install the latest version of the software. Next, connect the iOS device to the PC and launch the Starzsoft Fixcon.
2. Please enter the main interface of Starzsoft Fixcon and then select Standard Repair Mode, as it doesn't cause data loss.

3. After ensuring that the information on the iOS device is about your iOS device, tap on Download to start downloading the latest firmware package.
4. In this phase, all you need to do is press the "Continue" icon to start restoring your iOS device.
It will take a few minutes, depending on your internet speed.
2. Check the Date and Time
If you have synced your iCloud calendar and it's not working properly, you'll need to check the date and time on each device. If there's an inaccurate date and time on any device, the iPhone Calendar won't work.
Here's how to change the date and time.
1. Launch iPhone settings and select the Date & Time option.
2. Press on "Set Automatically" and then restart your device. If this also doesn't fix your issue, navigate to the next solution.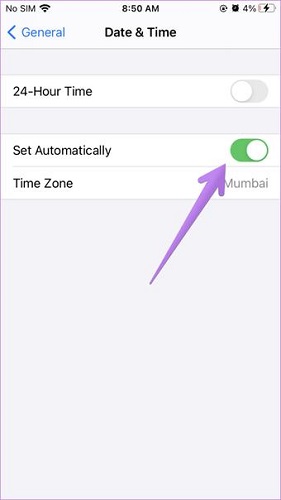 3. Make Sure that Calendar Can Access Mobile Data

If you're having trouble running the iPhone calendar, it might be due to a weak internet connection, or you haven't turned on your WiFi or cellular data network.
Here's the step-by-step guide to ensure your calendar app works appropriately even without an internet connection.
1. Launch the iPhone settings and navigate to the General option.
2. Tap on the Cellular icon and then navigate to the Calendar icon. Toggle the calendar on to ensure you can run the Calendar app without the cellular data network being turned on.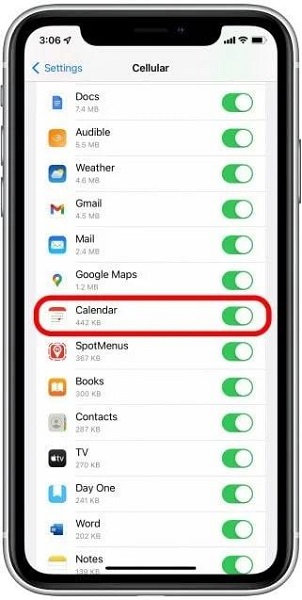 4. Update or Refresh Your Calendar
A software bug can cause the issue you're having. Thus, you might consider refreshing or updating the calendar to ensure you don't face the problem you're having.
Here's how to refresh the iPhone Calendar.
1. Please navigate to the Calendars app and launch it afterward.
2. Tap on the "Calendars" tab at the bottom of your screen.
3. Swipe down from the top of your screen to refresh your Calendar app. Once you're done updating the calendar, tap on "Done" icon.
5. Remove and Add Calendars to Solve iPhone Calendar Spam

Despite having tried various things, if the issue persists, you'll need to remove the calendar account and then add it again. Here's how to do it.
1. Launch the iPhone settings and click on the Calendar icon. Tap on the "Accounts" option and select the account you'd want to delete.
2. Press on the Delete icon and then select "Remove from my iPhone."
3. After removing the account, you'll need to tap on "Add Account" from the screen.
4. Choose the service you've deleted recently. Next, tap on continue to proceed ahead. Follow the on-screen instructions to log in with your Calendar account again. You'll need to ensure that the Calendars option is toggled before logging in with your account again.
5. Tap on "Save" to finish the task, and your iPhone calendar should be running appropriately.
FAQs of Spam in iPhone Calendar
1. Is iPhone calendar spam dangerous?
iPhone calendar spam is pretty dangerous as it can affect the functionality of your iOS device and make your data most vulnerable to a cyber attack.
2. How to prevent your iPhone from calendar spam?
If you want to protect your iPhone from calendar spam, you'll need to ensure that you don't visit adult or illegal streaming websites. You must opt for reputed streaming websites if you want to watch something on it.
3. Can you get hacked through calendar?
Hackers can hack your device through Calendar courtesy of phishing. A hacker will send you a link and urge you to open the link. Your iPhone will get hacked if you open that phishing link.
Final Words
Having struggled with iPhone calendar spam is not a good sight, and it can be not very pleasant for anyone. However, after reading this guide, you can remove the spam on your iPhone calendar.
On the other hand, if you're having an issue working iPhone calendar on your iOS device, this post helps you fix the problem through various methods.
Of all the methods to fix the iPhone calendar not working, StarzSoft Fixcon is the most recommended one due to its mind-blowing features.