It is indeed frustrating when iPhone's sound doesn't work properly. Thousands of iPhone users face this unwanted issue nowadays.
When people opt to run an application or play a song, they face "no sound from iPhone" fuss. Many factors can cause this problem, and we're going to explore these problems. Apart from revealing the reasons, we'll also show you the best methods to fix your issue. Let's start it.
Part 1: Why is My Sound Not Working on My iPhone?
If you can't hear iPhone, some factors could be behind this chaos.
1. Sometimes, when you put your fingers into iPhone speakers, the dirt on your finger can fall into the speaker. This factor can cause your speakers not to function properly.
2. Another significant factor that can create iPhone speaker not working issue is you sometimes turn on Do Not Disturb Mode. This process can mute the sound from all the applications on iPhone.
3. Turning on Bluetooth to transfer the audio files from one iPhone to another iPhone can mute iPhone applications sound.
Part 2: How to Solve No Sound on iPhone with Apple Suggestions
1. Check Your Sound Settings to Fix No Aound on iPad/iPhone
If you're having issues with the sound of some applications, you need to check your sound settings to figure out what's causing this issue. Here's the step by step guide to open your sound settings.
1. Open Settings and then navigate to Notifications settings.
2. Later, you need to select an application you've been facing sound issues with.
3. After selecting the application, enable "Allow". Later, you'll need to turn on the Sounds option.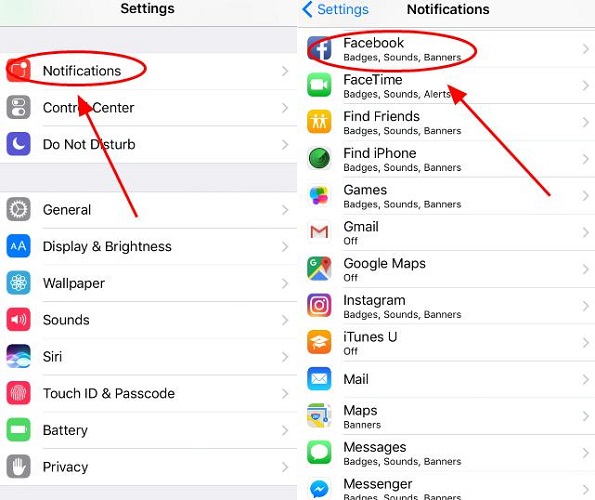 2. Clean Your Receivers and Speakers
Sometimes the dirt or debris can appear on your speaker, and the headset port can cause iPhone speaker not working.
It is why you need to clear your speaker and headphone jack with a Q tool or toothbrush. After cleaning, you need to check whether the sound is working or not.
3. Check the Sound on Your Device
To make your iPhone sound function properly, you need to check the sound settings and adjust them appropriately.
For this purpose, you'll need to open the Settings app and navigate to Sound and Haptic. Now, you can see Ringer and Alerts slider option there.
Try to increase the volume to make sure you don't face the "no sound from iPhone" issue anymore.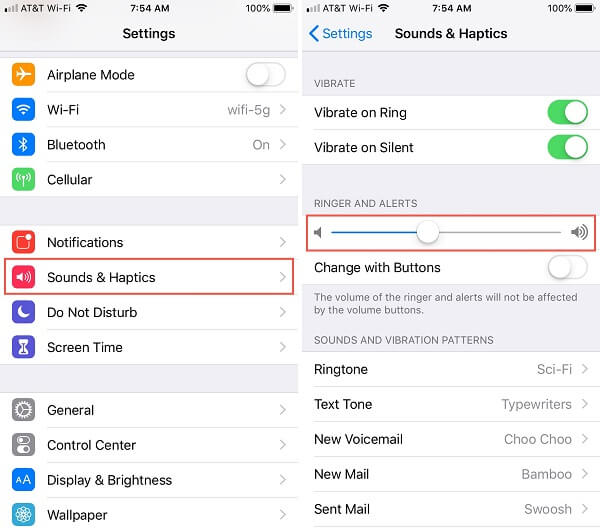 4. Try Making a Call to Check iPhone Sound Not Working
If nothing assists you in getting rid of the sound not working on iPhone issue, try making a call to your friend to assess whether the call sound is working or not. If not, you need to look for another way to solve this problem.
Part 3: How to Solve Phone Volume Not Working via Checking iPhone Settings
1. Adjust the Ring/Silent switch
Sometimes, a user accidentally turns off his sound by switching the button. In this scenario, he needs to assess the Silent Switch/Ring on his iPhone.
After switching the Ring /Silent button option a couple of times, check whether it improved the things or not.
2. Turn Off Do Not Disturb/Focus Mode
If no trick worked for you, check whether you've enabled "Do Not Disturb mode" or not. This mode mutes all your notifications, messages, and calls. It is why you need to disable this mode if it is turned on.
Navigate to iPhone settings and move to the "Do Not Disturb" mode option. From there, you'll need to turn off the Scheduled and Manually option.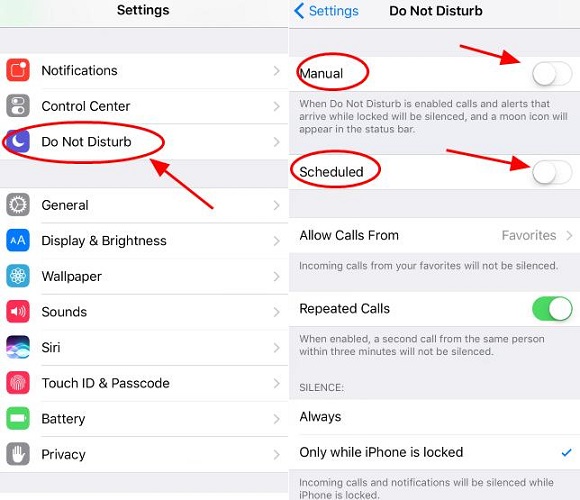 3. Reset All Settings to Fix No Sound on iPhone Video
You can try resetting your iPhone settings to get rid of the sound issue you're unfortunately facing. To reset your settings, you need to open General settings and then move to the Reset option.
Later, you need to navigate to the Reset All Settings option and give your passcode to confirm it. Next, you need to click the Reset All Settings again to reconfirm the action you're going to perform.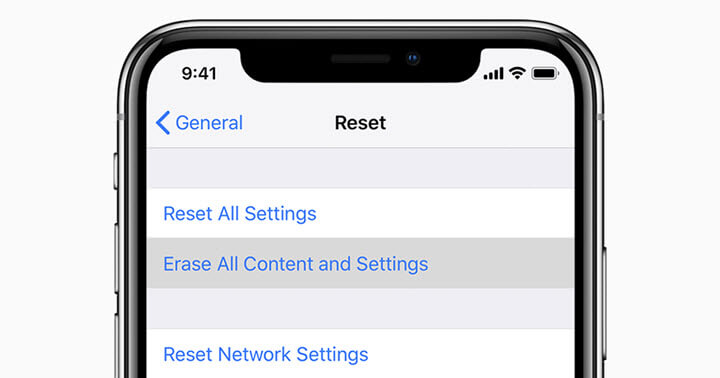 4. Plugin and Plug out Headphones
Another valuable operation you can perform to avoid sound issues will be to plug out your headphone for some time and then plug again.
This process might fix your "iPhone speaker not working" issue. If it doesn't work, you can move to the next solution.
5. Turn off Bluetooth to Solve Volume Not Working on iPhone
If you're sending the files to another iPhone via Bluetooth, you can't hear any sound. You need to turn off the Bluetooth if you're facing a no volume on iPhone issue.
1. Open Bluetooth settings and ensure the Bluetooth icon from there is turned off. After doing it, play any song and start listening to it.
2. If you don't have any issue with them, all is good. But if you're still facing a similar problem, look for other solutions.
6. Update to the Latest iOS to Fix No Sound on iPhone
Despite applying every method you know, if nothing seems to be helping your cause, you need to look for a new update. The majority of the time, you face issues because you've not updated your iPhone to a new version. Don't waste your time and install the latest update of Apple on your iOS device.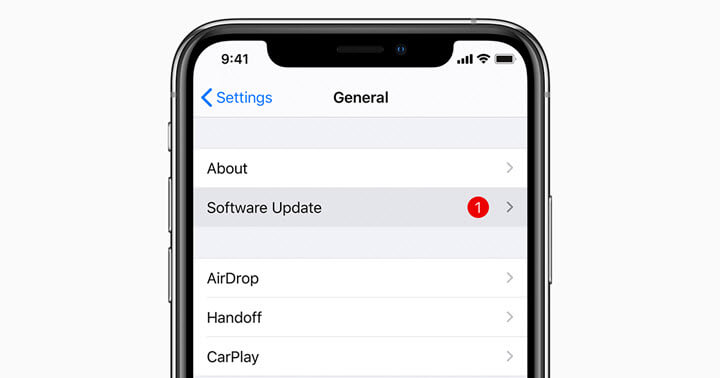 After installing the latest version, you're most likely to fix your issue. However, if this method also didn't click, you should look to consult Apple Support. After taking them on board, you'll need to let them know the issues you've been facing. They're most likely to get your problem solved.
Part 4: How to Solve iPhone Sound Not Working with Starzsoft Fixcon
StarzSoft Fixcon is a valuable asset to help you overcome every issue you face on your iOS device. Apart from being affordable, it entertains its users with a user-friendly interface. So if you're competing with can't hear on iPhone or other issues, repair your iPhone with the help of Starzsoft Fixcon.
Here are the simple step-by-step instructions to help you solve the "iPhone sound not working issue".
1. After acquiring the latest version of Starzsoft Fixcon, you'll need to launch it. Later, you need to navigate the program's home interface and select the "Standard Repair" option.

2. Now, you only need to link your iPhone to your PC via a Micro USB cable. After this, Fixcon will detect your device and take you to the next step.
3. After recognizing your device, Fixcon will provide you with the available firmware packages. All you need to do is select a preferred one and hit "Download". After a few minutes, the firmware package will be downloaded there.

4. Since you've downloaded the available firmware package, now is the time to start repairing your device. For this purpose, you need to click "Continue" to begin the proceedings.
After a few moments, when the repairing process gets completed, your iPhone will be restarted. Once your iPhone turns on, you need to test whether the sound issues have been solved.
Conclusion
To get rid of the no sound from iPhone issue, you need to perform some tasks on your iPhone. We've talked about the best possible solution to fix your issue. However, you can try StarzSoft Fixcon if you can't solve the issue after following the above-mentioned options.
Starzsoft Fixcon is a remarkable tool that sets apart its competitors pretty easily. It can solve all your iOS device issues with minimal effort.